What is internet connection test & How to pick the best internet plan?
Sep 25, 2022 - Views: 270 Share
Do you feel that your home internet connection is not fast enough for your needs? Do you plan to opt for a faster internet package?
Well, choosing the right internet plan that perfectly meets your internet needs is not easy for sure, especially when there are lots of internet package options out there. So, how to pick the best internet plan? Check this post now to get the answer to this question.
But first, why don't we spend a few minutes learning about internet speed and the internet connection test?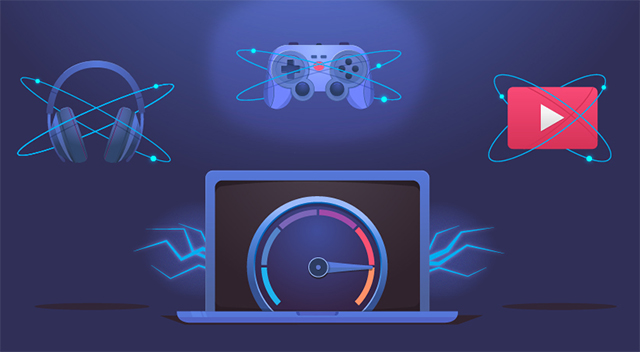 Speed test
What is internet connection speed?
Internet connection speed, of course, simply refers to how fast or how slow a connection is. 
As you probably know, every internet connection has download and upload speeds, which are both measured in Mbps - Megabits per second.
While download speed is the rate at which the data and information can be transmitted from a server on the internet to your device (computers, smartphone, etc), upload speed is the rate at which the data and information can move from your device to the internet. 
In the internet connection speed test, the Mbps values for both upload and download speeds are all measured. In addition, the test also measures the connection's ping latency, jitter, packet loss. Well, the internet speed test, to be more specific, is the test that measures the current speed between your device and a test server, using the device's internet connection.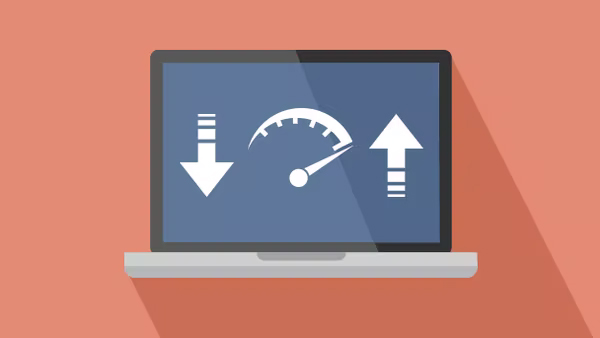 Internet download and upload speeds
Download speed is more important for the average internet user as most common online activities require downloading data. However, upload speed also matters when it comes to activities involving sending or uploading large amounts of information and data like live-streaming, uploading videos, sharing files or photos, etc. 
Well, when choosing an internet plan, download speed and upload speed are among the crucial factors to take into consideration. Let's move to the next part of this writing to get helpful tips on picking the right internet plan for your home. 
See also: What is a good internet speed: streaming, gaming, video conferences? 
Best internet plan for you
Internet Service Providers (ISPs) these days offer a wide range of options for internet packages. Well, to be honest, it's not easy to pick an internet plan, especially if you are not familiar with different internet technologies used to deliver the connection to your home.
So, before exploring tips on how to choose the best internet plan for your home, why don't we spend some minutes checking out different types of internet connections?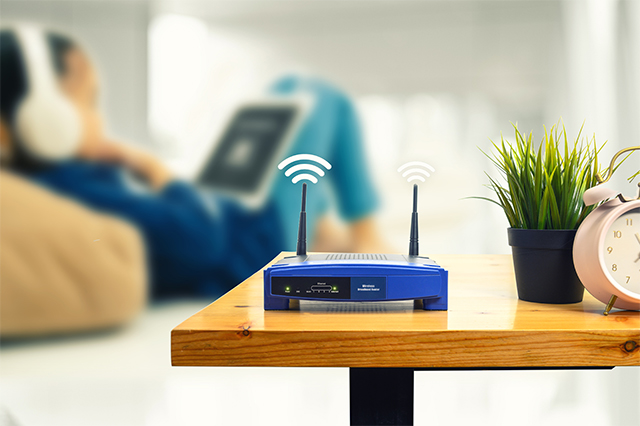 Home internet
1. Different types of internet connection
There are 05 basic types of internet connection, including fiber, cable, satellite, DSL, and dial-up. Following are basic things to know about them; let's take a look.
a. Fiber-optic internet
Fiber internet is supposed to be the fastest widely available internet technology. As its name suggests, this type of connection comes to our home via fiber-optic cables, which are capable of delivering large data amounts quickly and more reliably. 
According to CNET, fiber-optic can offer download speeds of up to 2,000 Mbps (2 Gbps). With fiber-optic service, upload speeds are also significantly faster.
While fiber is fast, it's not available in many areas as compared to other types of internet connections. 
In terms of pricing, fiber internet used to be quite costly, but most ISPs have reduced their prices in recent years. Due to that, fiber internet is now considered as competitively priced as other connection types.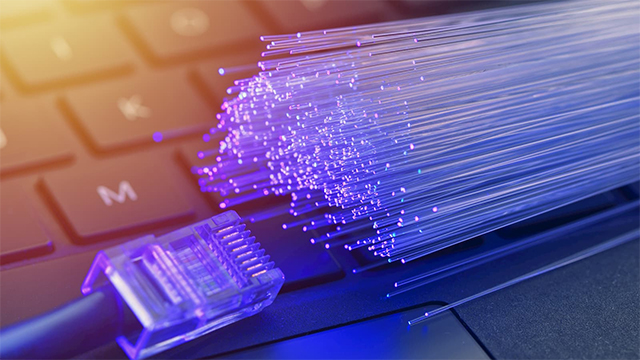 Fiber optic internet
See also: What type of internet connection is spectrum?
b. Cable internet
Cable internet is one of the most popular types of internet connections. It uses the very same type of cables that are also used in cable TV services. 
Though cable internet connection does not have the same speed potential as fiber-optic internet, it has broadband capability and can deliver high internet speeds. 
Most cable providers offer many speed options, even including a plan with download speeds of up to 940 Mbps, as per CNET. However, upload speeds seem like a different story as few providers provide upload speeds of more than 50Mbps. 
About pricing, cable internet appears to be one of the more affordable types of internet connections available out there.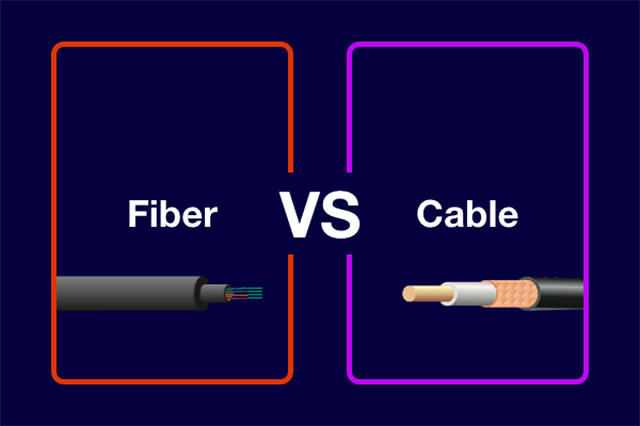 Fiber internet vs. cable internet
See also: What type of internet connection is Xfinity?
c. DSL internet
Digital Subscriber Line or DSL uses a connection that looks so similar to a phone line; however, the wiring inside is, of course, different and able to support broadband transmission. 
Though DSL internet runs through phone lines, this type of connection delivers faster and more reliable internet than dial-up without worries about incoming calls disrupting the internet.
Since DSL internet uses existing phone lines to provide internet service, ISPs can keep their prices relatively low. Compared to cable internet, DSL internet seems to lag in speeds, but it can come at more affordable prices.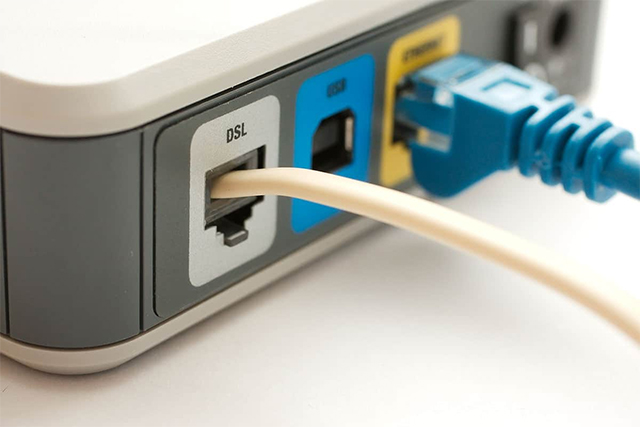 DSL internet
See also: Why is my wired internet connection slower than my wireless?
d. Satellite internet
As you probably guess from its name, Satellite internet does not rely on ground-laid infrastructures such as telephone lines, cables, or cellular towers. Instead, it uses a satellite dish to connect with geostationary satellites orbiting in space and deliver the internet.
This internet connection type is delivered wirelessly to the receiver. Since it's wireless, satellite internet is so widely available and considered a great choice for those living in remote and rural areas where landline services like fiber, cable, or DSL internet are not available. 
On average, satellite internet providers these days provide speeds typically varying from 12 Mbps to 100 Mbps.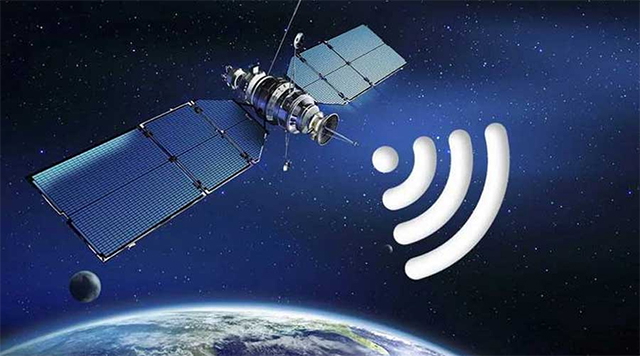 Satellite internet
e. Dial-up
Dial-up can't support broadband and, hence, has limited internet bandwidth. That's why it's considered the slowest internet connection technology. And due to its technological limitations, dial-up is almost obsolete. 
Recently, we have checked out some basics about different types of internet connections. As you can see, each connection type has its pros and cons. 
See also: Why does my phone have no internet connection?
2. Finding the best internet plan for you: How?
So, which kind of internet connection and what internet plan is right for you? 
Well, it depends on several factors, including your typical usage, your location, cost, and more. 
The first and foremost thing to consider is nothing but your typical usage. You need to figure out how much speed you do need. If you are a single person and just use the internet to surf the web, check mail, and access social media, you can get away with a low internet plan and a slower connection. However, for households with users who often play games online, upload large files for work, or stream videos, the acceptable internet speeds should be at least 25Mbps. 
Determining how much speed you do need seems like a difficult task. Following is a table with some internet speed ranges and major activities you can do with them; let's take a look.
Speeds
Works for

Less than 5Mbps

Checking email

Searching on Google

Web surfing

Streaming music on one device

5Mbps – 40Mbps

Streaming video on one device

Online gaming for one player

Video calling on Skype, FaceTime, or Zoom

40Mbps – 100Mbps

Downloading large files

Multiplayer online gaming

Streaming high-definition videos on a few devices

100Mbps – 500Mbps

Downloading large files quickly

Streaming UHD videos on multiple devices

Gaming online for multiple players

500Mbps – 1,000+Mbps

Doing a lot of almost everything on numerous devices at once.
Sources: highspeedinternet.com
Cost is also a key factor to take into consideration. While you need to pick an affordable internet plan, it is never a good idea to make the decision just by looking at the price. In addition to price, you should pay attention to the stability, speeds, and bandwidth of the connection, the service quality of the ISPs, and other features as well. Therefore, why don't you look at all the features of available internet plans first, then compare them to find one that suits you the most in terms of your needs and budget?
Besides, it is advised to opt for ISPs with a good reputation for reliable connections, good service quality, and customer service.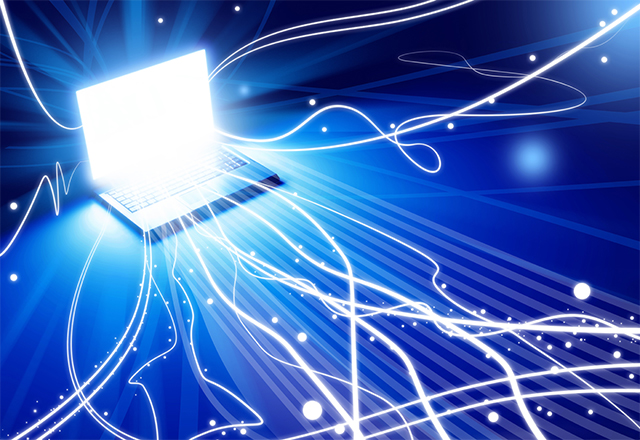 Fast internet connections
See also: Why does my laptop keep losing internet connection?
3. Common internet connection problems
We use the internet every day for work, study, and entertainment. Nothing is more annoying than slow, unstable, or, even worse, no internet connection when we are using it, right?
In actuality, problems such as Spotify says no internet connection available, Amazon Fire Stick keeps losing internet connection, no internet connection Mac, Avast is blocking my internet connection, Orbi dropping internet connection, and more are quite common.
Other issues like limited internet connection Windows 8, the computer loses internet connection after sleep Windows 7, internet connection sharing not working Windows 10, apps say no internet connection, iPhone no internet connection wifi, etc also cause lots of troubles for users when using the internet. 
Various reasons may be the causes for these problems. Well, details for reasons causing internet connection problems mentioned above in addition to other ones, including PS4 internet connection failed wifi, Facebook keeps disconnecting my internet connection, Steam no internet connection error, Google Chrome no internet connection, Android no internet connection, Twitch internet connection lost, att no internet connection, Verizon no internet connection, and so on, will all be discussed specifically in the next posts on MySpeed's blog; check them out if you find the topics interesting. Of course, MySpeed will also share tips to fix these connection issues. 
See also: How to prioritize internet connection for gaming?
Wrapping up
These are some basic things about internet connection speed and tips on choosing the right internet plan that MySpeed wants to share with you via this post; hope you found them helpful.
See also: Top 8 Tips and Tricks on How to Improve Internet Speed
Sources:
cnet.com/home/internet/internet-connection-types
highspeedinternet.com/resources/the-consumers-guide-to-internet-speed