What is wifi speed test? Find out wifi speed test online in detail
Oct 17, 2022 - Views: 713 Share
Want to cut the cord?
We do too.
So, come with us and learn everything you need to know about wifi, what is the difference between wifi and ethernet, how to check wifi speed, why is my wifi so slow on my phone, and how to boost wifi signal.
Let's get started!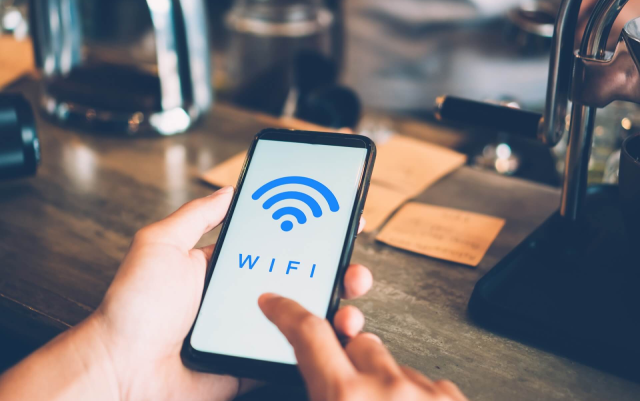 Wifi speed test
What is wifi?
Wi-Fi, short for Wireless Fidelity, is a technology based on RF (radio frequency) that uses high-frequency electromagnetic waves to allow devices (smartphones, tablets, or computers) to communicate with each other without being physically connected. 
Due to the fact that they connect via airwaves, your gadgets and personal information are susceptible to hackers, cyber-attacks, and other risks.
This is particularly true when connecting to a public Wi-Fi network in public locations such as a coffee shop or airport. When feasible, connect to a password-protected wireless network or a personal hotspot.
Read more for detailed information on what is wifi, what's the difference between wifi and ethernet, and different types of wifi connections.
What is a good wifi speed Mbps?
When shopping for internet service, we have always tried to find a provider who can offer the fastest speeds. But what do we need this speed for? We surf the web, stream videos, download torrents, Skype and voice chat, play online games and do online work, etc.
All these things need a stable connection that does not lag. A good wifi speed should be enough to accommodate those activities smoothly and allow several devices to be connected at the same time in different rooms of your house.
Selecting a good Wifi speed is dependent on your needs, your home's distance from the cellular tower, the type of internet plan you have, and the power output of your amplifier. In an effort to find the best solution for amplifying Wifi we show you the best wifi speed in Mbps needed. 
Read more to have the most satisfying answer to "What is a good wifi speed?"
Wifi speed test online for desktop 
Simply because your ISP promises particular WiFi speeds does not guarantee that you will receive them. A quick online wifi speed test is frequently all that is required to get a true picture of how well your WiFi is operating.
Wifi speed test online free
To get the most accurate result, you'll almost certainly need to run multiple tests and compare findings across numerous devices throughout the day. Additionally, it may be worthwhile to conduct these tests on multiple devices connected to your home network.
We've produced a list of the best websites for wifi speed test online free:
Speedtest.net- Wifi speed test free
Speedtest is a free wifi speed test that has a solid reputation for accuracy and consistency. Apart from its popularity, it enables you to do a free speed test on your PC fast and effortlessly. 
It selects a nearby server, performs a comprehensive test, and delivers data on upload and download speeds, latency, and packet loss. Numerous customers prefer this free wifi speed test since it allows them to view their previous speed tests.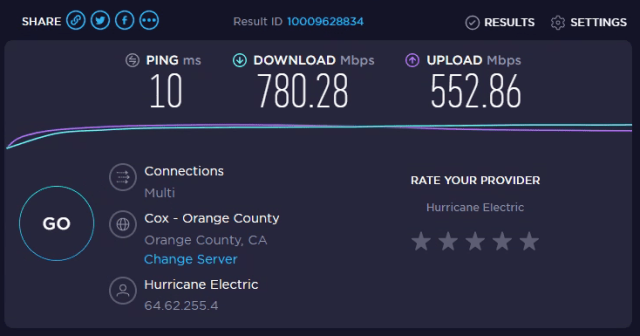 Test speed wifi online
Recent additions to the service include a video-specific speed test that determines your network's capacity to handle 4K video streams. Additionally, it includes applications that run on Windows and Mac.
Having said that, Speedtest does display banner advertisements while performing basic wifi speed test free. While this is unsurprising, it may have a minor effect on your findings depending on the strength of your connection at the time of the test.
Wifi speed test Google
Our preferred feature of the Google speed test wifi (Google Fiber) is its efficiency. This is one of the fastest speed tests available, taking less than half the time required by many competitors. Additionally, the test loads quickly and features a clean, straightforward layout devoid of adverts.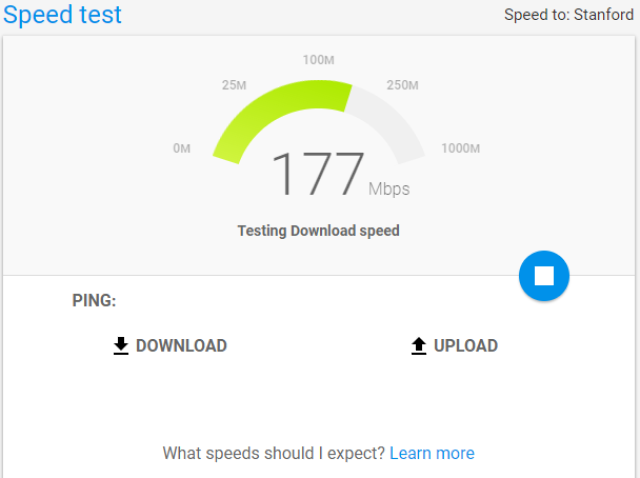 Speed test Google wifi
The desktop version consistently produces results that match both our expectations and those obtained from other competing speed tests. Additionally, the Google wifi speed test provides the testing location, which is beneficial for judging reliability.
The issue with Google Fiber's speed test is that it does not disclose much extra information, such as your IP address or internet provider information. Another concern is that no additional choices are available, such as the opportunity to select your testing site or to keep or share your data.
Xfinity wifi speed test
Xfinity speed test wifi is free of distractions, pop-ups, and other extraneous information. Its sleek design with modern graphics makes it a speed test of choice for many people. 
Using this wifi speed test Xfinity, you can quickly know your download speed and upload speed without any app download. While it is provided by Comcast, we detected no prejudice when utilizing the tool, which is available to anybody regardless of subscription status.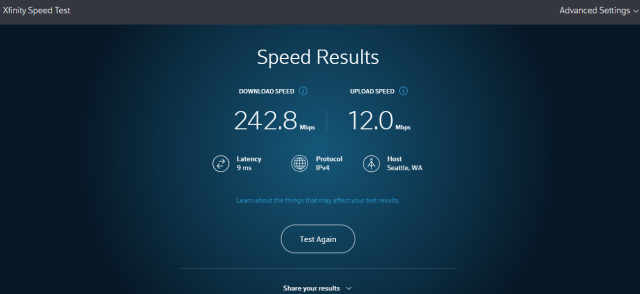 Test wifi speed Xfinity
Readings were steady and accurate. Additionally, there are a few added features, such as the ability to change the host location if you regularly work with something else. 
It includes a few ideas to assist you in obtaining accurate findings. According to our estimates, the speed test Xfinity wifi is an excellent tool whether you're trying to switch connections or simply enhance the one you already have. Its drawback is a S.
MySpeed- Free wifi speed test
If you're seeking a more comprehensive test than the standard speed test, MySpeed will be a good choice. It automatically connects to your closet server and runs a free wifi speed test.
Within a few minutes, their key metrics (download, upload, and ping) will appear. The most interesting feature of this speed test is that it saves all test results for future use.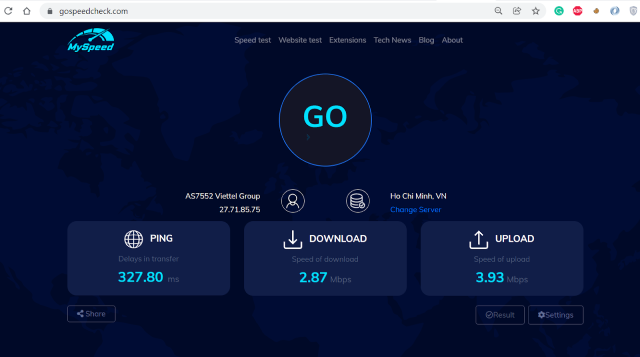 Free wifi internet speed test
There is also a wealth of documentation and simple-to-follow recommendations that can assist you in determining the source of the problem with your internet connection.
Speedof.me 
Speedof.me does not appear to be like other free wifi internet speed test websites at first glance, which we believe is a positive thing. The test plots your results over time, allowing you to evaluate not only your total speeds but also the consistency of your connection, making it an excellent choice for online gaming.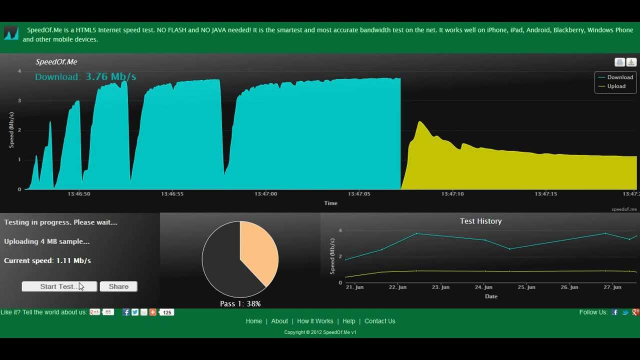 Speedof.me- free wifi test speed
Having said that, the negative is that it takes a little longer to see and analyze your data than it does with other speed testing applications and websites. It will run on the majority of devices without the requirement for an app and will conduct the exam using HTML5, which sets it apart from many other test sites. 
There are fewer servers than on some other sites on this list, and you cannot save your results, but many users will find this free wifi speed test to be their preferred speed test.
Test wifi mobile 
Not every time you can turn on your PC and run a Wifi speed test to measure your internet speed. Thus, test Wifi mobile apps are designed to solve this issue. 
With a smartphone connecting to a network, you are able to run a wifi speed test iPhone 6, iPhone 12 Wifi speed test, or Wifi speed test app Android anytime, anywhere. Here are our suggestions for the best wifi speed test app for iPhone and Android. Let's discover!
Speedtest Ookla
Speedtest Ookla app is one of the most popular apps to test wifi speed around the world. Millions of unique tests are conducted every day. This app allows users to test wifi speed on iPhone and Android as well.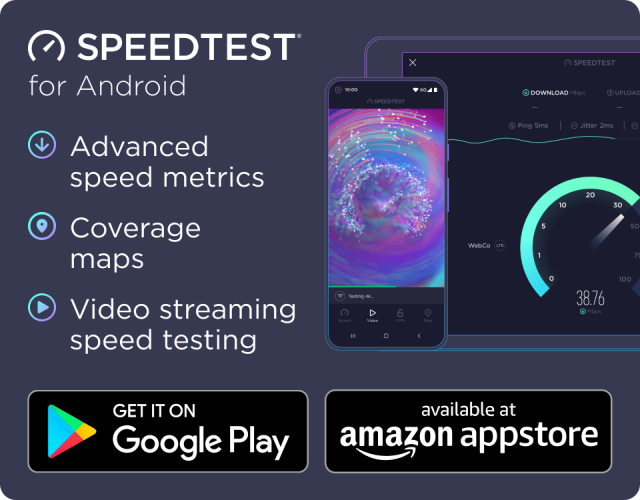 Speedtest Ookla
Furthermore, it is free to run reliable tests with 3 main important specs: ping, download speed, and upload speed. However, likely many other free speed tests, Speedtest Ookla does have ads. If you want to remove it, you need to pay more than 0.99 cents for the mobile version.
The tool also keeps track of your results history, displays the status of your cellular network on a map, and includes a VPN. 
FAST Netflix
Do you want to test wifi speed iPhone while watching Netflix? Don't miss out FAST app. The FAST app is developed by Netflix to measure the internet speed for Netflix. You will be impressed by how easy it is to use. You just turn on the app and wait. The app runs automatically and after seconds, your download speed is shown clearly on the screen.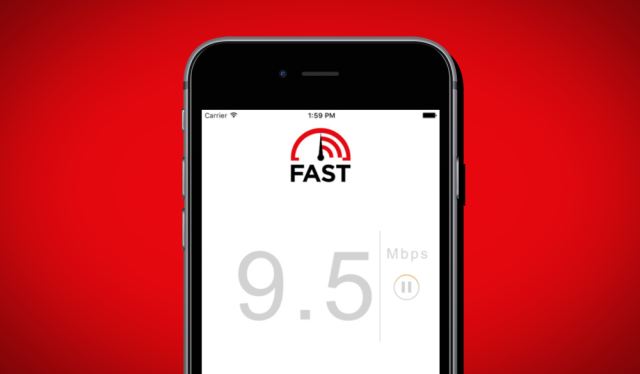 FAST app by Netflix
It's also a pretty light and simple app, so you may install it on your phone without worrying about memory space. Now, It is presently accessible for both iOS and Android devices.
Moreover, users can get more detailed information such as latency, upload speed, and your IP address. Also, FAST lets users keep records of their speed results.
Speedtest Master
Another best wifi speed test app Android and iPhone is Speedtest Master. This app is able to measure the response time for the PlayStation Network, Youtube, TikTok, Steam, and other social media networks.
A big plus point of this app is the ability to deeply analyze Wi-Fi signal strength. After testing your connection, it can assess different Wi-Fi signals and tell you which ones provide the best connection.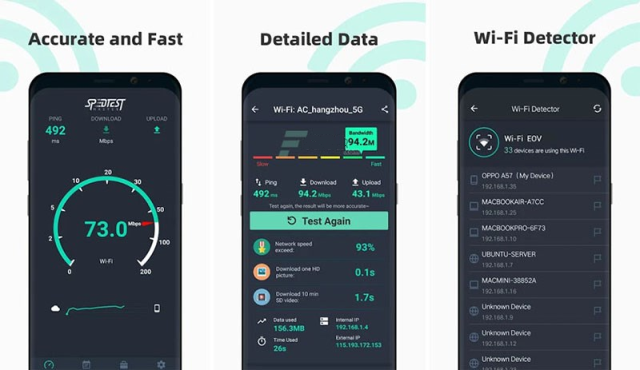 Speedtest master
However, this best wifi speed test app for iPhone and Android is not free. You may use the free version a limited number of times and advertise before having to pay $1.99/month, $7.99/year, or $14.99/lifetime to unlock limitless testing.
Of course, there are many reliable apps such as MySpeed, Xfinity speed test app, Speed check, WIFIman,... However, in the limitation of this post, we just introduce the top 3 popular wifi speed test apps. 
How to test wifi speed on iPhone? If you are wondering how to check, let's move to the next part. We will guide you step by step.
How to check wifi speed online?
How to run a speed test on Wifi? Tons of wifi speed test tools on the market can make users awkward and feel tools are too complicated to conduct. That's totally wrong. It's easy and quick to run a speed test wifi online. 
In fact, you are able to run the test anytime, anywhere you want. How to check wifi speed on PC? How to check wifi speed on the phone? In the "How to check Wifi speed online? (Fully Detailed Guide - PC, Mobile)" post, we will guide you on how to test wifi speed easily step by step in different ways. 
What causes slow WiFi speeds?
Slow WiFi speeds seem so annoying, particularly when you do online activities involving uploading or downloading large amounts of data, right? 
So, what causes your WiFi speed slower than it should be? Well, there might a lof reasons behind poor internet WiFi speed, such as:
Far distance between your device and the router

Positioning the router in an appropriate place

Having a lot of bandwidth-heavy activities

Too many devices using the network at once

Outdated router

Slow, older devices (laptops, smartphones, tablets, etc)

…
Along with these things, there are still, of course, other causes for poor WiFi performance. Want to know more details about this topic? Check out this post: "What causes slow WiFi speeds? Here're some common reasons."  
How to make WiFi faster? Here are some simple tips!
Many different factors can affect your WiFi speed and make it slow. Depending on the causes for slow WiFi internet, there are always effective ways to speed up your connection. 
So, what should you do to increase the speed? Following are some easy tips that may help you solve the problem.
Moving closer to the router

Stopping bandwidth-heavy activities

Repositioning the router

Disconnecting other devices from the network (if possible)

Using newer devices (smartphones, laptops, etc)

Rebooting the router

…
In addition to these fixes, yep, many other solutions can help, too. Read this post: "How to make WiFi faster? Here are some simple fixes!" for further information.
Devices to boost Wifi signal 
How to boost public wifi signal? How to boost wifi signal? Aside from free tips to improve your Wifi signal strength, you can use a Wifi extender or install a wifi booster app. They are basically the same thing: extend the Wifi coverage. 
If you want to find out the best wifi extender for Fios, wifi booster iPhone or Android, don't miss out on the article " How to boost Wifi signal in home? Best devices to boost Wifi signal". This post will explain the difference between a WiFi booster, repeater, or extender as well as introduce the best devices you should buy.
Wrapping up
All information about wifi speed test from the definition, good wifi speed to wifi speed test tools is disclosed clearly in this post. Besides, we also revealed potential reasons and free but effective improvements. Through those, hope you get a good wifi connection and perfect entertaining online experiences.