Best router for TV streaming: Full guide & things to consider [2022]
Oct 10, 2022 - Views: 729 Share
What are the requirements of wifi speed for 4k streaming and the best router for TV streaming?
If you want the ultimate TV and movie viewing experience, you need to watch in 4K.
So what is 4K quality?
What is the best router for gaming and streaming?
Don't miss out on this post to learn more about this concept and get some suggestions on which streaming router you should buy.
Let's go!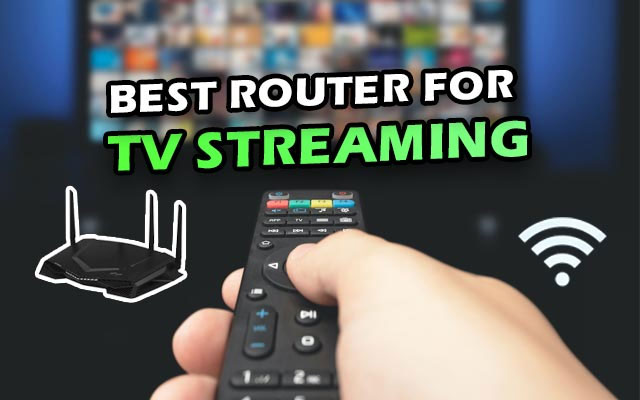 What is the best router for TV streaming?
What is 4K streaming?
Many streaming services offer 4K video, which is a 3,840×2,160-pixel resolution, about 4,000 pixels across. 
Services like Netflix and YouTube offer TV and movies at this resolution.
4K resolution offers the best possible viewing experience. 
Pictures and videos appear significantly larger because more pixels are used to fill the screen's frame. 
This also implies that 4K is ideal for large-screen displays, such as large home smart TVs.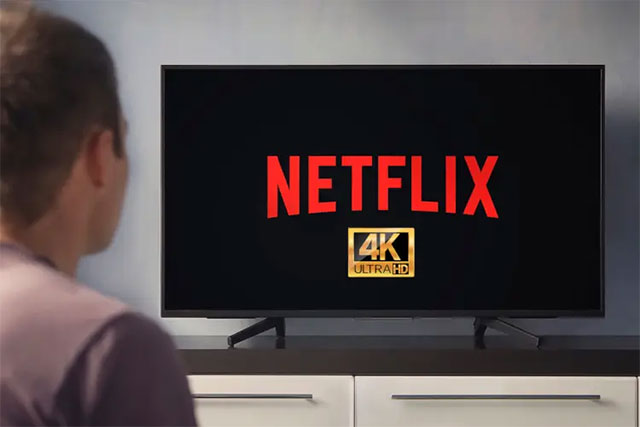 What is 4K streaming?
Currently, 4K is the gold standard for high-definition video, but it's not quite the highest quality, nor is it the only option. 
Depending on your device, service, and Internet connection, there are many different resolutions.
Look at this table:
| Resolution | Size in Pixels | Aspect Ratio | Examples |
| --- | --- | --- | --- |
| SD (Standard Definition) | 640 x 480 | 4:3 | TV broadcasts, NTSC-region DVD |
| HD (High Definition) | 1,280 x 720 | 16:9 | Preferred Twitch streaming resolution |
| Full HD (FHD) | 1,920 x 1,080 | 16:9 | Blu-ray, HDTV, Xbox |
| 2K video (Quad HD) | 2,560 x 1,440 | 16:9 | QHD monitors, smartphones |
| 4K video or Ultra HD (UHD) | 3,840 x 2,160 | 1:1.9 | Most streaming services, 4K Blu-ray |
| 8K video or Full Ultra HD | 7,680 x 4,320 | 16:9 | YouTube, PS5, Xbox Series X |
Most streaming services currently offer 4K as the highest resolution option, but not all content is available in 4K. 
Most original content from services like Amazon Prime Video and Disney+ is available in 4K, and that trend is likely to continue.
Why do you need 4K streaming?
As you can see in the table above, 4K resolution gives 3,840 x 2,160 pixels as opposed to high definition (HD), which employs a 1,920 x 1,080-pixel display.
The picture quality will improve with more available pixels. 
Thus, videos and graphics don't have to be stretched to fit your 50-inch (or larger) smart TV with 4K resolution. 
Additionally, it results in a picture that is sharper, more colorful and has a bolder contrast between black and white.
4K streaming provides better pictures
On large screens, low-quality videos, such as those in standard definition (SD), can appear enlarged and consequently pixelated or fuzzy. 
Additionally, the picture's general quality may be substantially worse; consider diminished vibrancy, detail, and definition.
Notably, the majority of movies released in theaters also use 4K resolutions because they look great on large screens.
See more: Best wifi speed test app for iphone
What do you need to stream 4K?
What do you need to prepare for streaming with WiFi?
Is it vital to get a high speed WiFi router, TV router, or a 4K streaming router?
To stream a 4K video, you need: a 4K device, a 4K streaming service, 4K-support equipment, and even an Internet upgrade.
We'll cover them in more detail in the next section, so read on…
4K streaming device
Needless to say, what you need to stream 4K is a device that supports it. 
Most phones and tablets don't have high resolution, but 4K TVs are widely available.
A 4K TV will display content in HD if you try to play it on one. 
Thus, make sure you have the appropriate screen type for your requirements.
4K TVs are available almost everywhere. 
They are usually much bigger and more expensive than HD TVs, as you might anticipate.
If you don't use streaming devices much and don't want to deal with installing boxes and sticks, picking a 4K TV is a great decision.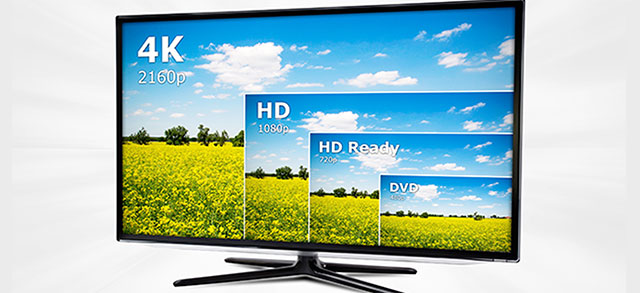 Pick a 4K TV
When you choose your preferred streaming service and sign up for a 4K TV, you can immediately begin streaming UHD movies.
In particular, if you use an external streaming device like a Chromecast or Roku, it must also support 4K streaming.
4K streaming service 
Most streaming services have some sort of 4K service, although these sometimes incur additional charges.
Netflix customers need a premium plan to watch 4K content. 
Amazon Prime Video has many 4K shows, but some are only available to rent or buy. 
Other services like Disney+, and Hulu... include all their 4K content in standard monthly subscriptions.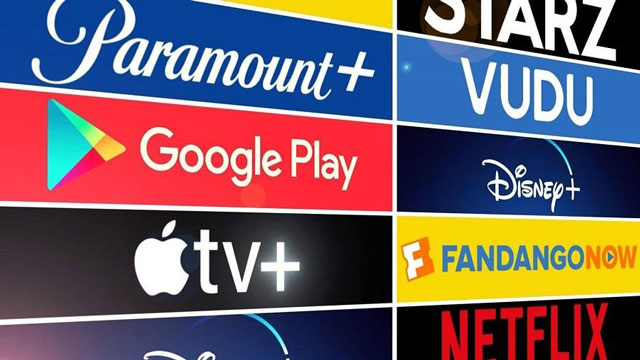 4K streaming service
4K-support equipment
You might require a 4K-compatible HDMI cable to see 4K video even if you have a 4K TV and a TV service that offers it.
For 4K content, DISH, DIRECTV, and Xfinity all have dedicated receivers. 
You might need to upgrade your receiver to one that supports 4K if you already subscribe to one of these services.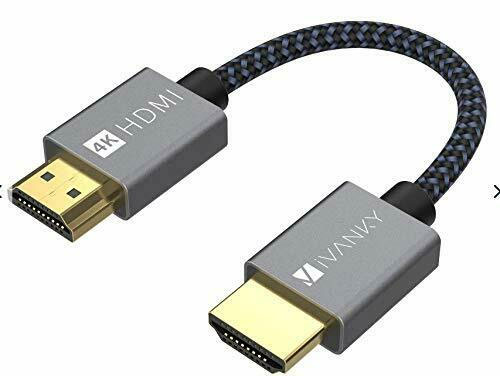 A 4K-compatible HDMI cable
You might also inquire about 4K receivers while placing your purchase for a new TV service if you're shopping around.
If you wish to stream 4K entertainment, you can do so by using built-in apps on your smart TV. 
A 4K streaming device that is compatible is required otherwise.
Internet upgrade
You know the importance of WiFi speed for 4K streaming.
Much more bandwidth is needed for 4K streaming than for the majority of other online activity. 
So, you'll need a fast Internet connection, preferably one with large monthly data allowances or no data caps, to stream 4K TV content without buffering.
To know how much bandwidth you need to stream 4 K seamlessly, don't miss out on the following part.
Just keep in mind that various factors might alter your Internet speeds.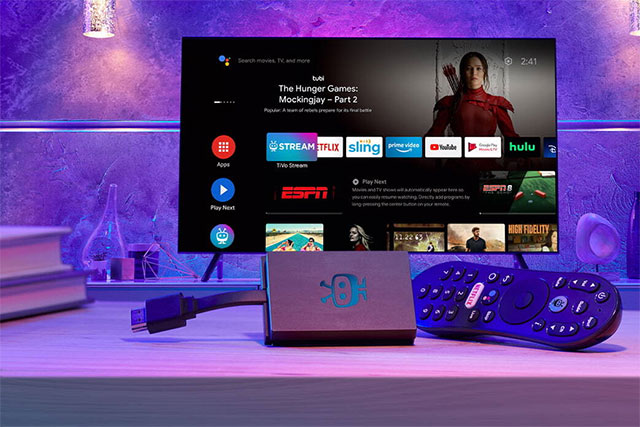 You need a good Internet connection to stream 4K
How much wifi speed do you need to stream 4K?
Here comes the main point!
Of course, for streaming, you won't need to pay attention to what is a good upload speed for wifi aspect. 
Instead, what you need to pay attention to is the download speed.
What is a good wifi speed for streaming 4K video, particularly download speed? 
For 4K streaming, the FCC advises 25 Mbps or greater Internet rates. 
Most types of residential Internet connections can achieve these speeds, but some are much better than others.
However, since 4K streaming consumes a lot of bandwidth, the best Internet plans should be those with claimed speeds higher than 25 for the best results.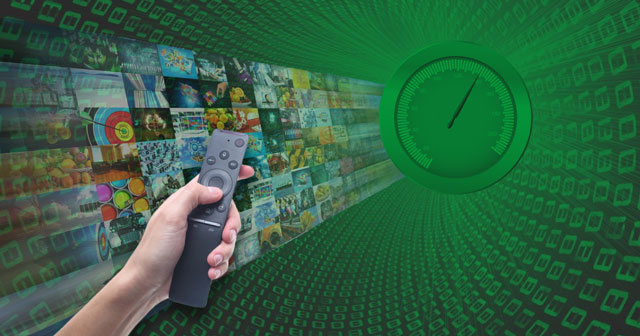 How much wifi speed do you need to stream 4K?
Remember that you need to have enough download speed for any device that is streaming. 
It means if someone is watching Netflix on their laptop while you're watching Disney+ on TV, you'll need twice the bandwidth to keep the video quality.
Even if you're paying for fast Internet service, your speeds may fluctuate, with speeds dropping during peak viewing times, such as right after business hours.
During this time, services like Netflix can compensate for a slower connection by downgrading the quality of the video you watch. 
If most of your streaming devices are connected wirelessly to the Internet, your home's WiFi network — created by your router — can also affect performance.
What are the best WiFi routers for streaming 2022?
Looking for a good router streaming?
Wonder what to choose among the hundreds of options available in the market?
If the answer is yes to one of these questions, this is what you need.
Here we will provide you with a list of the best router for streaming in 2022 and in-depth reviews of them.
Let's check them out!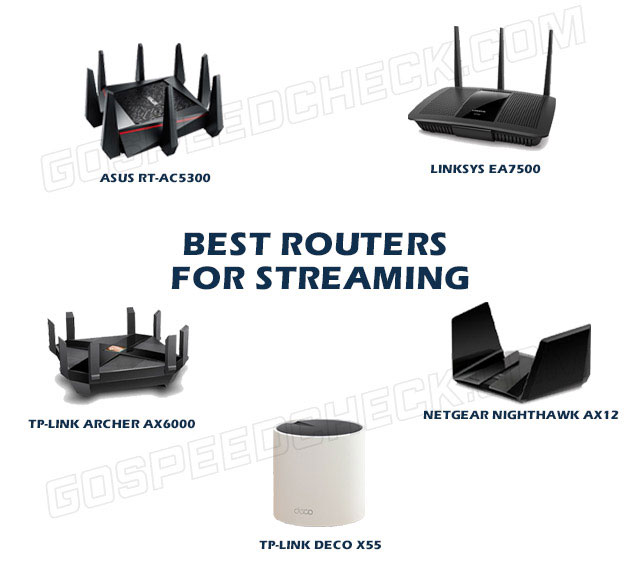 Which streaming routers are worth buying?
ASUS RT-AC5300
Specifications:
Speed: 5.3 Gbps

Ethernet ports: 4

USB ports: 2

Antennas: 8

Dimensions: 24.5″ x 6.5″ x 24.5″

Weight: 3.2 lbs.
The first choice on our list of the best routers for streaming video is the ASUS RT-AC5300, a famous ASUS streaming device.
This strong wireless router high speed Internet provides a complete answer to all of your home network needs.
It comes with an exceptional range, gaming and streaming performance, and MU-MIMO features.
Being among the most popular routers, it is indeed a good router for gaming and streaming.
Additionally, it provides a ton of administration options, such as Quality of Service functionality, for a really customized experience.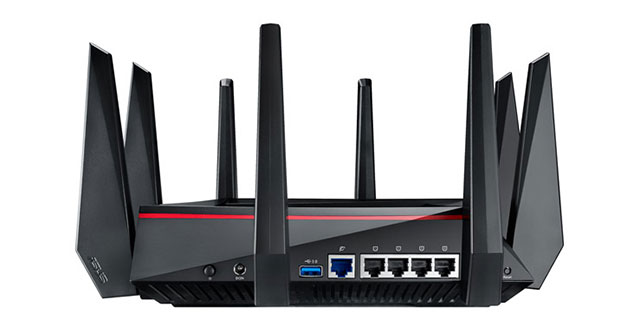 ASUS RT-AC5300
Further, this is a good router that is special as it is designed with gaming in mind. 
Of course, it will function for any purpose, and several of its gaming capabilities, like Adaptive QoS, may help give your streaming data top priority.
Pros:
Optimized for gaming

MU-MIMO functionality

Up to 5,000 sq. ft coverage
Cons:
Linksys EA7500
Specifications:
Speed: 1.9 Gbps

Ethernet ports: 4

USB ports: 2

Antennas: 3

Dimensions: 10.03″ x 7.25″ x 2.19″

Weight: 2.05 lbs
Compared to other routers on this list, Linksys gaming routers are a touch more conservative, especially in a comparison between TPLink vs Linksys.
If you wonder what Linksys router should I buy, the answer is Linksys EA7500, which achieves an excellent mix between performance and a fair price.
This router will handle 4K streaming and everything else you do online.
If you want your bandwidth to be devoted to binge-watching marathons, you may prioritize specific network devices with its network management software.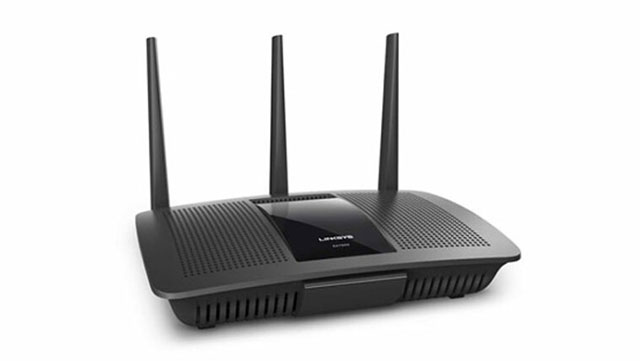 Linksys EA7500 router
Notably, this device is among Linksys router models that are simple to set up and maintain, making it ideal for folks who just want to set it up and forget it.
So, don't ignore this best router for streaming videos.
Pros:
Easy to setup

Good speeds at range

Capacity for 12+ connected devices

MU-MIMO enabled
Cons:
Bare-bones parental controls
TP-Link Archer AX6000
Specifications:
Speed: 6 Gbps

Ethernet ports: 8

USB ports: 2

Antennas: 8

Dimensions: 10″ x 12″ x 4″

Weight: 3.5 lbs
Another best router for TV streaming is the TP-Link Archer AX6000.
One aspect of this device that we enjoy is its design, namely how many ports it provides.
You can hard-wire just as many streaming devices to it using eight separate gigabit LAN ports for the most dependable and quick streaming performance.
Additionally, the Archer AX6000 provides a wide range of user management options, including excellent malware and parental controls.
You can build various profiles for various age groups and configure suitable filters using parental controls of this best brand router.
These profiles can even be used to assign QoS priorities to specific devices.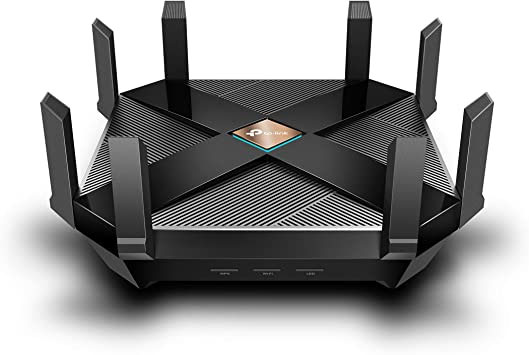 TP-Link Archer AX6000
Pros:
Best looking router

Good parental controls

Excellent design

2.5 Gbps WAN port
Cons:
NETGEAR Nighthawk AX12
Specifications:
Speed: 6 Gbps

Ethernet ports: 5

USB ports: 2

Antennas: 8 (internal)

Dimensions: 11.81″ x 8.76″ x 8.33.35″

Weight: 3 lbs
Being among the best NETGEAR streaming devices, the NETGEAR Nighthawk AX12 designed for streaming is another excellent router option. 
It eliminates dead spots and lag and provides lightning-fast streaming for 4K UHD videos. 
In this case, gamers and distant professionals who depend on a stable connection for video conferencing are not left in the dark.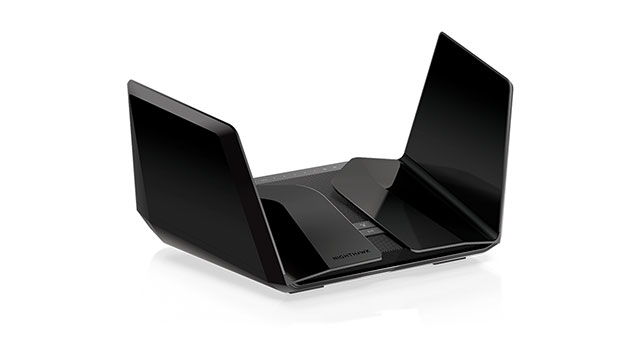 NETGEAR Nighthawk AX12
The AX12 is indeed a good choice for a router for streaming video and even the best NETGEAR router for streaming.
It is similar to other routers in that it has a design that appears to have been taken from the newest science fiction film. 
Yet, it's simple to fit on a shelf or bookcase due to its streamlined design and compact size.
Remember that if you are looking for a cheap wireless router, this device is not an ideal option.
Pros:
Provide lightning-fast streaming

Simple design

Speed up to 6 Gbps
Cons:
TP-Link Deco X55
Specifications:
Speed: 3 Gbps

Ethernet ports: 3

USB ports: 0

Antennas: 2

Dimensions: 4.33″ x 4.33″ x 4.49″

Weight: 5.8 lbs
If you have a larger building to cover, a maximum of 10 Deco units are advised.
With optimum router specs, the Deco X55 whole-home mesh system is offered in two-pack or three-pack sets. 
The X55 bundle includes three Gigabit LAN ports in each Deco and the lightning-fast WiFi 6 standard.
It promises to offer seamless coverage and eliminate dead zones.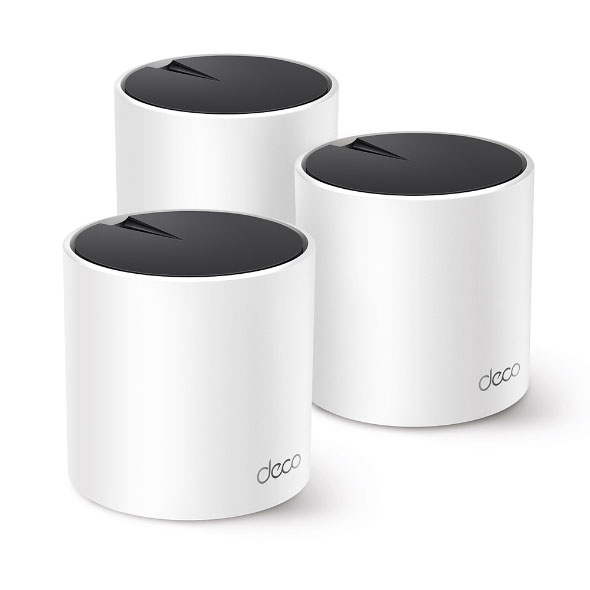 TP-Link Deco X55
In particular, the Deco app makes setup incredibly simple, making this device one of the best rated wifi routers.
Pros:
Fast WiFi 6

Easy to setup

Many LAN ports
Cons:
Below is the summary of our top 5 high quality routers for streaming 2022 and its most outstanding feature.
Have a look!
| Routers | Best for |
| --- | --- |
| ASUS RT-AC5300 | Best for overall |
| Linksys EA7500 | Best for easy installation |
| TP-Link Archer AX6000 | Best for design |
| NETGEAR Nighthawk AX12 | Best for those who previously reported issues with WiFi dead spots |
| TP-Link Deco X55 | Best for mesh system |
What to consider before buying a WiFi router for streaming?
Before picking a router for Wi Fi streaming, there are some factors you should consider.
Let's see what they are!
Price
We all want to get inexpensive routers or at least a good priced router to stream; however, the cost of routers might vary. 
The amount you ought to spend on a wireless Internet router largely depends on your spending limit.
But you'll also want to check that you're obtaining the features you require to make the most of your Internet services.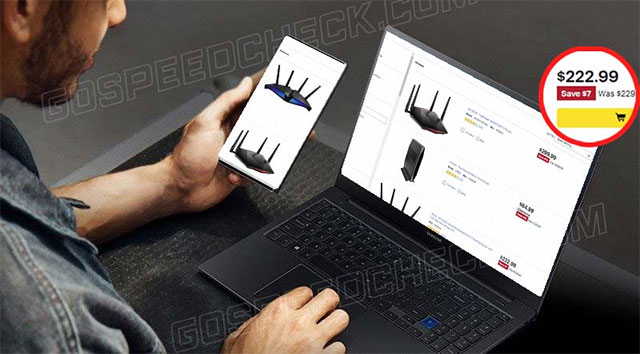 Price is an important factor
Quality of service (QoS)
What is the best router for streaming?
Well, QoS is worth considering.
You need a router that enables you to give stream service traffic priority. 
For instance, NETGEAR routers are among the best QoS router.
They include a Downstream QoS setting you may activate to give streaming traffic precedence.
Also, it lowers the priority of all other Internet traffic.
WiFi 6
WiFi router for streaming is important.
Although WiFi 6 isn't the most recent specification, it is the one most frequently found in routers today, and for good reason.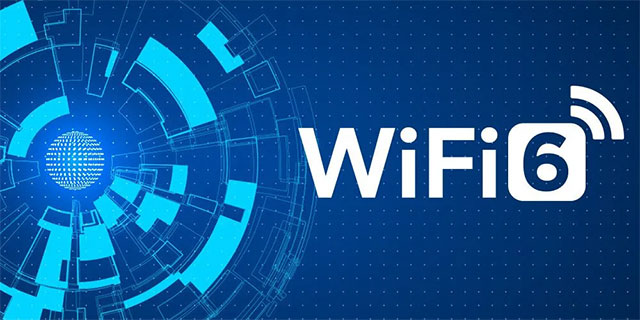 You should consider getting a WiFi 6 router
In comparison to older wireless technologies like WiFi 5, it supports more devices, offers faster speeds, and manages data more effectively. 
Additionally, the majority of current WiFi gadgets now support it, so going with a WiFi 5 router just slows you down.
Streams
The capacity for data streams of routers for streaming is crucial. 
Two users at once can be accommodated by devices like tablets, smartphones, and laptops in one way. 
Thus, you get increased latency and poorer speeds per device if your router only supports two streams on a single band and you have three laptops connected. 
These two streams must be shared by all three laptops. 
In this case, a wireless router for streaming with six or more streams is suitable.
Speed
Interested in Wi Fi video streaming?
Then, don't overlook the router's speed.
Megabits per second is the unit of measurement for wireless router speed (Mbps).
In most cases, your practical performance will be less impressive than the package's maximum rating.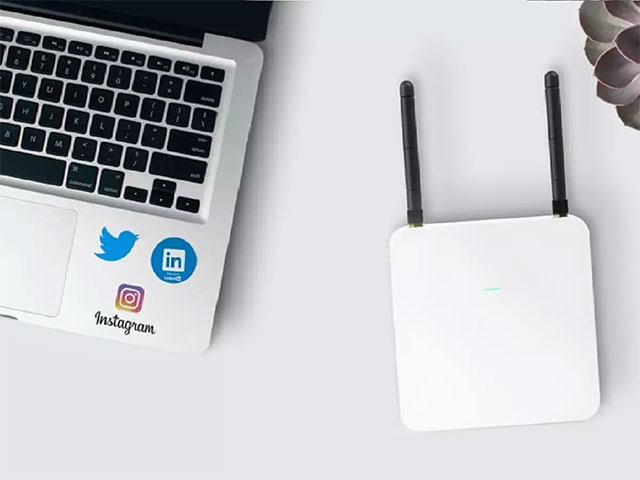 Think about the speed you want
The router and the ISP speed, whichever is slower, determine the maximum speed of a network.
So. buy a router that offers speeds that are at least as fast as those that your ISP offers in order to enhance the speed of your wireless network.
Range
The last thing to consider before choosing the best 4K router is its range.
Some single-unit standalone routers may or may not be able to provide WiFi throughout the entire house. 
But if you need to cover a large region, think about a long-range router, a mesh network coming several routers into one, or a WiFi repeater/range extender.
Frequently Asked Questions (FAQs)
Do I need a special HDMI cable for a 4K TV?
Probably not if you bought your HDMI cables in the previous ten years.
Don't feel obligated to buy HDMI cables, particularly for 4K.
It's because High-Speed HDMI cables, which allow 4K performance, were reportedly released in 2009, according to Forbes.
Most likely, those new "4K HDMI cables" are simply more expensive versions of what you already own.
Is 100 Mbps enough for 4K streaming?
A connection speed of at least 25 Mbps is required to stream 4K video for the best possible image on a 4K smart TV.
Lower-resolution content requires less bandwidth, but even streaming 1080p HD video smoothly calls for a 10 Mbps plan.
What speed do I need for Netflix 4K?
You'll need the following to view Netflix in Ultra HD:
A computer or television with a 60Hz refresh rate that supports Netflix's Ultra HD streaming

A consistent Internet connection speed of at least 15 Mbps
Conclusion
This article has provided you with useful information about best router for TV streaming. Mastering these useful details will help you have a smoother streaming experience.
Also read: How to set up a second router to extend wifi range?
Sources:
https://www.vdocipher.com/blog/video-resolution/
https://www.highspeedinternet.com/resources/4k-guide