Good websites and apps for internet speed test free
Sep 13, 2022 - Views: 646 Share
It's now easier than ever to check the internet connection speed. There are tons of internet speed test sites and apps available on the internet for us to choose from. Right below here, MySpeed is about to introduce to you some of the very popular speed test tools. They are all free and easy to use; let's check out now.
But first, let's spend a minute learning very basic things about internet speed.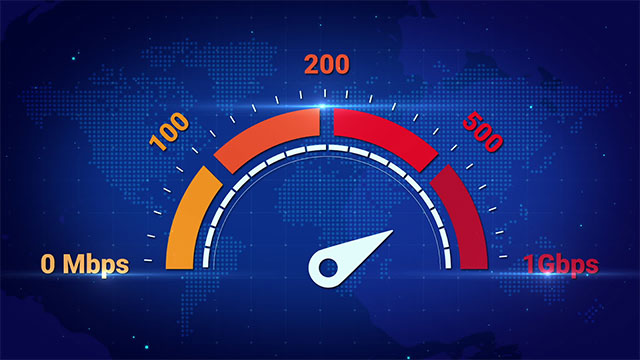 Fast internet speed
What is my internet speed?
Measured in Megabits per second (Mbps), internet speed is generally a measure of the rate at which data is transmitted from one place on the internet to another. 
About internet speed, there are 02 important metrics that you should know: Download speed and Upload speed.
Download speed refers to how fast data can be transferred from a server on the internet to your device (PC, smartphone, tablet, or others), while upload speed refers to how quickly data can move from your device to the internet. The faster the speeds, the better since it allows us to send and receive data quicker. 
As you probably notice, internet speed test results always include Mbps values for download speed and upload speed.
In actuality, download speeds are considered more important for the average internet user as most regular online activities involve downloading data. That's why download speed is always mentioned first when discussing how fast an internet connection is. 
Internet speed tests and how to check your speed connections
Free internet speed test
More and more sites and apps for internet speed test free are available on the internet these days. Following are some of the top reliable free speed test tools you might want to try.
Internet speed test sites
When it comes to reliable sites for internet speed test free, well, speedtest.net is the most popular for many of us, right? That's why Speedtest by Ookla takes the first spot in this list. But along with this tool, there are still, of course, many other good options that you can try. 
Speedtest.net by Ookla
Owned by Ookla, Speedtest.net is one of the oldest speed test tools on the web. It has a very strong reputation for consistency, making it an excellent option for anyone looking to test the internet connection, no matter what platform they are on. 
Speedtest.net has almost everything that a basic user wants from a speed test: accuracy, speediness, a massive list of servers to connect to, and the ability to view the speed test history. 
Over the years, the tool has had new features and capabilities. In addition to measuring download speed, upload speed, and ping time, Speedtest now even lets users conduct video tests to measure load time, resolution, and buffering. But note that this feature (video testing) is currently available on the Speedtest app for iOS, though it's expected to come to more platforms soon.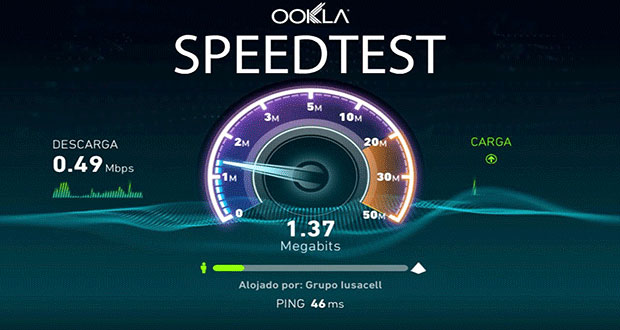 Speedtest by Ookla
Google internet speed test
Well, is Google internet speed test accurate?
Google offers a super-fast Google Fiber speed test that's reliable and, of course, free, easy to use. Plus, we don't need to subscribe to Google's Fiber service to use the test.
Available at http://speed.googlefiber.net/, the Google Fiber speed test takes about 15 seconds or even less to provide measurements of your connection's download speed, upload speed, and ping time. This internet speed test Google test also tells users what server they are using.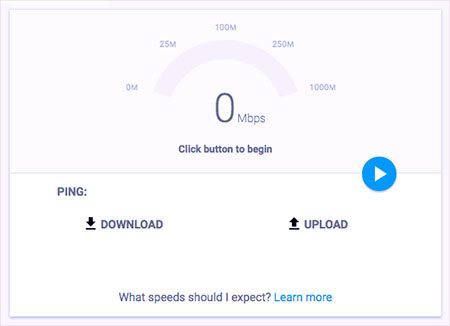 Google Fiber speed test
Internet Xfinity speed test
Wonder "how to test my internet speed Xfinity?". Yeah, here's a great tool to "check my internet speed Xfinity."
Xfinity speed test, also known as Comcast speed test, is available at https://speedtest.xfinity.com/. And yes, you can test your internet connection speed using this tool even if you are not a Comcast customer.
Similar to other speed test sites, this web-based tool is also completely free, convenient, and easy to use, allowing you to fastly check your current download, upload speeds, and latency. 
The test has a sleek and modern design. Another plus is that users can change the host location and protocol if needed.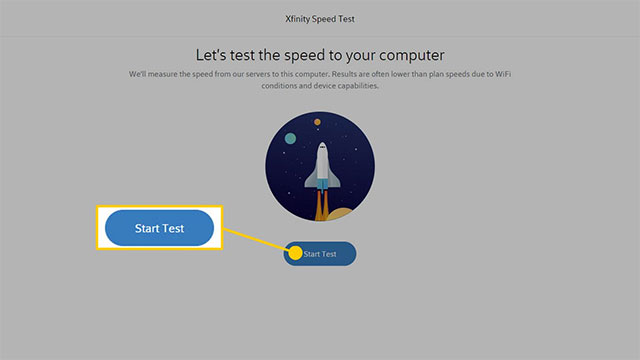 Xfinity speed test
Internet Spectrum speed test 
Look for a reliable speed test? Spectrum speed test is a popular option to consider. Testing your internet connection speed with this tool is totally free for all users. 
The test is available at https://www.spectrum.com/internet/speed-test. 
So, how to "test my internet speed spectrum?" You just need to go to the site, click the GO button to start the test. After a few seconds, a summary screen will be displayed, providing you with information about your current download and upload speeds, as well as graphical representations of your connection speeds during the test.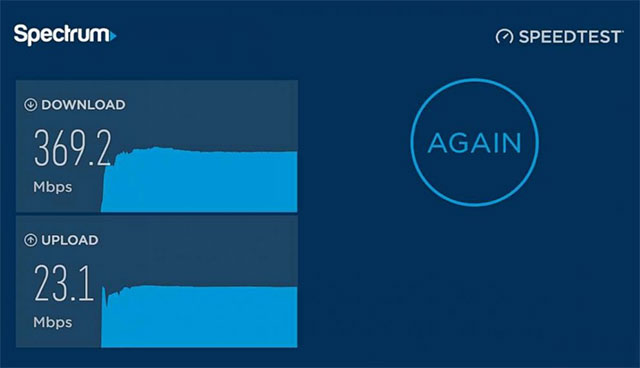 Spectrum speed test
AT&T internet speed test
AT&T internet speed test site is available for free at https://www.att.com/support/speedtest/. Every internet user can check download and upload speeds as well as ping time and jitter with this AT&T high speed internet speed test tool.
Well, it's fast, convenient, and easy to use. Visit the site and conduct as many speed tests as you want using this web-based speed test tool. 
Other speed test sites 
Along with the ones mentioned previously, there are still many other excellent options for free internet speed check that you should know. Following are some more suggestions. And, of course, they are all free. 
Fast.com by Netflix 

Speedof.me

Testmy.net

…
Also, gospeedcheck.com by MySpeed is another free speed test site that you might want to check out. It's fast, easy to use, and provides you with information about your download speed, upload speed, and ping latency within a few seconds. In the next blog post, MySpeed will give you instructions on how to check internet speed using gospeedcheck.com.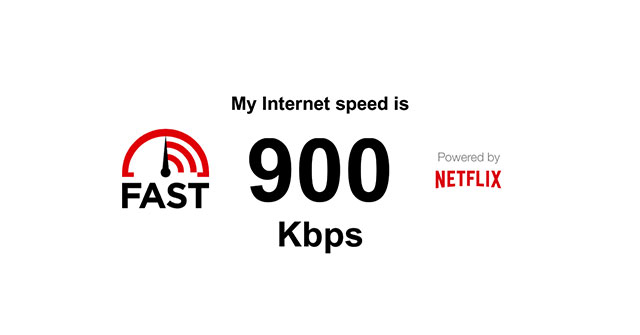 Fast.com by Netflix
Internet speed test apps
What is the best internet speed test app for Android? What is the perfect internet speed test iPhone app? Following are some top choices; let's see what they are now!
Similar to the web version, the Ookla SpeedTest app is also packed with useful features, including testing ping, download, and upload speeds, keeping track of all of the previous test results, and more. Recently, the app for iOS has a brand-new feature named video testing. In short, Ookla SpeedTest is one of the most trusted names in speed testing for mobile. According to techrepublic.com, the Speedtest by Ookl‪a now has about 10,000 ratings on the App Store. If you are looking for a great Mac internet speed test app, internet speed test app for Windows 10, Ookla SpeedTest is also an excellent choice.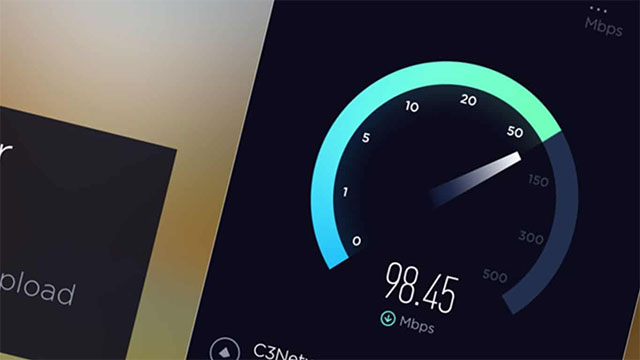 Ookla speed test app
Meteor by OpenSignal is also a trusted name. It does basic things like testing your internet download and upload speeds over 3G, 4G/LTE, 5G, and WiFi. The app also lets users test the connection for different apps on their phones.
Like Fast.com, the FAST Speed Test is also from Netflix. It is one of the best free apps for testing internet speed available on the internet these days. It's easy to open, run, and see your speeds using this tool. The test is also pretty accurate, and if you get good speeds on FAST, high chances are that there'll be no problems streaming Netflix.
FAST speed test app
As its name suggests, Speed Test Master Lite is a minimal and lightweight speed test app to use. It measures latency, download, and upload speeds and keeps a chart of all your previous speed test results. 
All of these no-charge apps are available for Android and iOS. You just need to open Google Play or App Store on your device to get one of them or any other speed test app that you would like to have. 
Wrapping up
Well, as you can see, there are a plethora of speed test sites and apps for internet speed checking. More importantly, they are all free. Picking the right internet speed test tools, which are reliable and fast, will help you have accurate measurements of your internet connection. And that's all for this writing; hope you found it helpful and informative. Don't forget to check out other blog posts from MySpeed to get useful tips, tricks, and more. 
See also: What is a good internet speed: streaming, gaming, video conferences?