Spectrum Roku Workaround: 6 Must-Try Tips [Fully Explained]
Nov 17, 2022 - Views: 9150 Share
You are suffering from the Spectrum Roku workaround and need a quick fix?
Then you have discovered the best online guide, in which we'll cover all you need to know about the app and how to fix the problem you are having.
Let's dive into the details!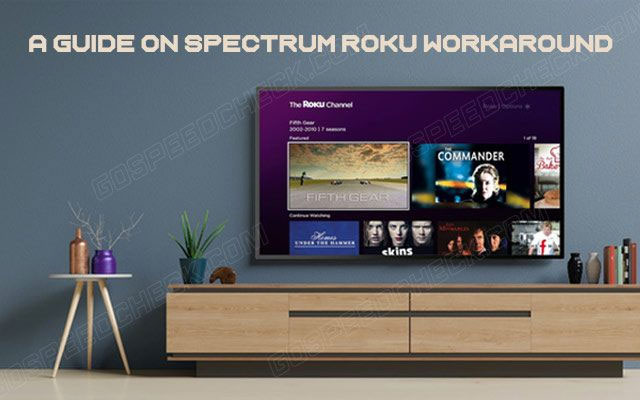 How to fix the Spectrum Roku workaround?
Is Spectrum free on Roku?
Spectrum TV, sometimes known as Charter Spectrum, is one of the country's oldest cable television networks. 
When the trend shifted to streaming applications and devices, Spectrum TV followed suit. Spectrum TV is now one of the greatest streaming platforms in the United States. 
All of the channels are also accessible in HD and all you require is a steady Internet connection. 
Besides, it is a top-rated streaming app in both the Google Play Store and the Apple App Store. 
Spectrum TV is an app that you must have on your Roku streaming device.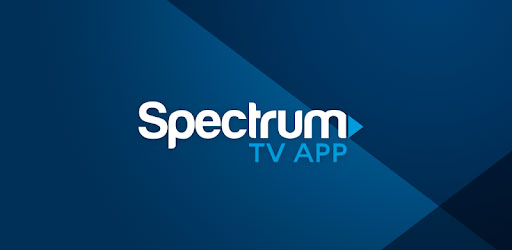 Spectrum TV
If you have Spectrum TV and Internet, there is no additional payment. The Roku app is simply a portal to material that you have already paid for.
Of course, the expense for everyone else is changing Internet and/or TV providers. 
There's little incentive to do so, not with so many on-demand streaming services and Internet-based live options like Sling TV or YouTube TV available.
How to get Spectrum TV on Roku?
The first step you need to take is to have a subscription to "any Spectrum TV and Internet plan," as the company puts it. 
If you use other providers, there is no option to stream the service. 
In fact, once Spectrum subscribers stream away from their home network, they view less programming.
So, it is simple to begin watching if you're a subscriber. 
Roku has its own app shop called Roku Channel Store where you may install apps on your device and the Spectrum TV app may be found in the Roku Channel Store.
Follow our instructions below:
Scroll down to the Search option on the Roku Home Screen.

Type Spectrum TV into the on-screen keyboard. On the left side of the screen, you will see a suggestion.

Select the Spectrum TV app from the list of suggestions.

On the following screen, click Add Channel.

The download will begin; please wait for it to finish.

When the download is finished, press the OK button.

Now, press the Go to channel button to launch the app on your Roku device.

A guide on how to install Spectrum Roku
As you launch the app on your Roku, you will be required to enter your Spectrum login information. That's all there is to it; you're ready to go. 
You can watch live TV, view a programming guide, and select on-demand video.
The Spectrum app is compatible with the majority of Roku products. 
All Roku TV, Premiere, Express, Ultra, and Streaming Stick models, as well as the Roku 2, 3, and 4, are included.
Spectrum TV app Not Working on Roku errors
Each streaming platform has its own set of flaws and problems. The following errors may occur when using Spectrum TV on Roku. 
Let's see!
Spectrum App won't open or keeps closing
This is one of the most prevalent Spectrum TV app issues. If you are experiencing this problem, remove the program. 
Your membership will not be canceled if you uninstall the app. 
Then follow the steps above to install the app, which will solve the problem.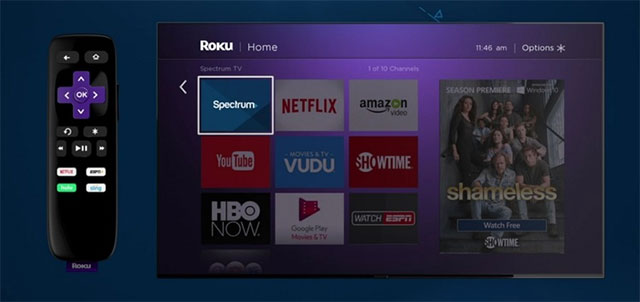 There are 2 main issues to Spectrum Roku
Display RLP-999, RLP-1999, RLP-1010 code errors
These are the trouble codes associated with Internet connectivity. 
When the Internet connection is not reliable enough to stream the information, this error can occur. 
If you receive these notifications, disconnect your Roku device from the WiFi network.
Then, restart both your Roku and your WiFi devices.
Why is Spectrum Roku workaround?
Several things could have gone wrong if you're having trouble with the Spectrum app on your Roku TV.
Before we get into the details, the first thing that could have happened is that your subscription expired. 
Users frequently misinterpret the subscription deadline and get duped on the actual date.
If everything is fine with your membership, here are some alternative possibilities: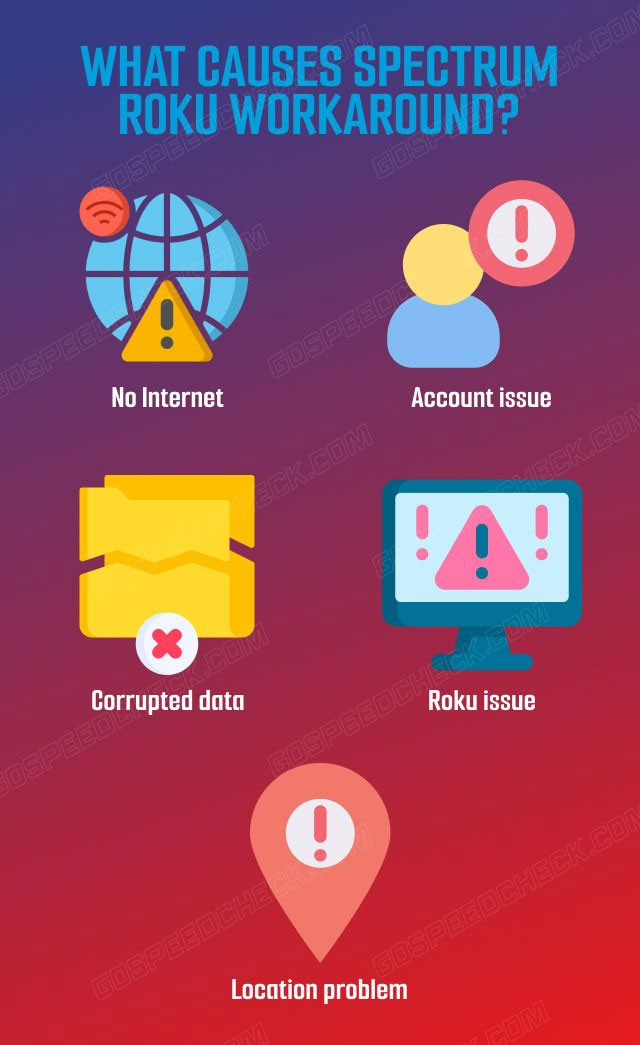 Some common factors that cause Spectrum Roku workaround
No Internet
If your Roku device is not linked to a reliable Internet connection, you will have to deal with slow WiFi speeds. 
Consequently, you'll either be unable to view the app or all shows will significantly lag.
Account issue
If your account is restricted or there is a security breach, you may be locked out of the Spectrum app.
Consequently, workaround for Spectrum app on Roku will happen.
Corrupted data
The Spectrum app may fail to load if there is corrupted data within the program or if you have destroyed a critical system log.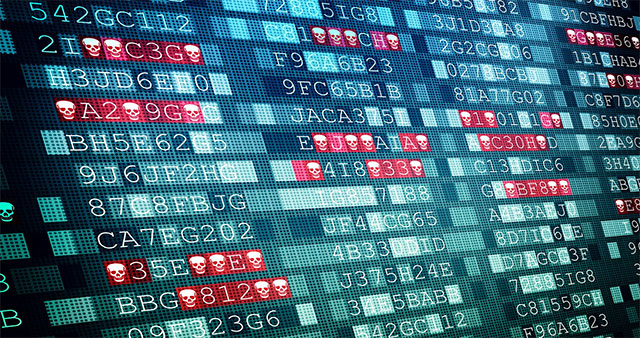 Corrupted data
Roku issue
If there is a problem with your Roku device, you may be unable to access Spectrum and other apps.
Location problem
Access to Spectrum servers will be blocked if you have changed the location of your Roku via VPN or another location service application.
Other possibilities include a temporary OS problem with the app or the Roku. So we'll cover them all next.
How to fix?
Before we begin, have you tried logging out of your Spectrum account? 
Roku may frequently reject access to Spectrum servers, but with a simple relog, you may be able to get things going again.
If it doesn't work, here are other ways you can try to fix workaround for Spectrum app on Roku.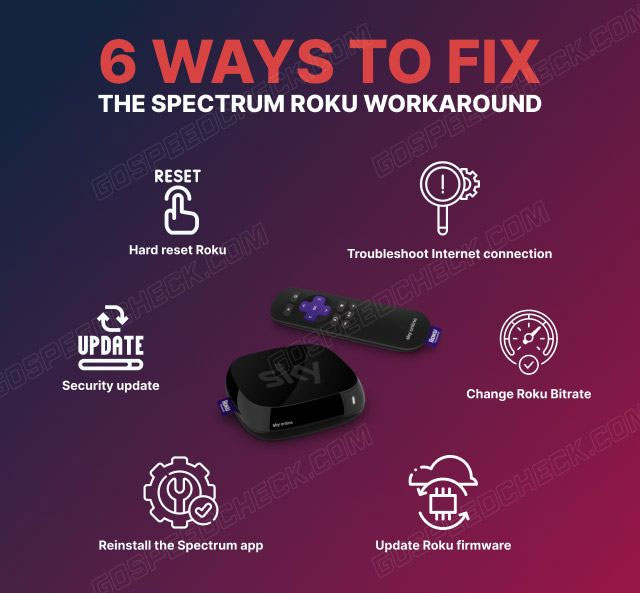 A guide on how to fix Spectrum Roku not working
Hard reset Roku
If you're not sure what a hard reset is, it's a method of discharging your devices and removing any potential power issues that may have occurred over time.
It is also regarded as a power cycle, and all that is required is patience and waiting for the power to completely flush.
This step is effective in solving many issues, such as modem keeps dropping Internet.
Here's how to conduct a hard reset of a Roku device.
Turn off your Roku device

Disconnect the Roku drive and the device's power adapter

Wait 5 minutes

After that, reconnect the adapter to the power supply and the drive
To avoid power interferences with strips or dividers, connect the Roku device directly into a wall socket.
Troubleshoot Internet connection
It is conceivable that your Roku has lost network connectivity, leading to errors when attempting to connect to Spectrum servers.
To explore Spectrum regularly and enjoy the middle and minimal resolution average of shows, you would need Internet with a speed of at least 40 Mbps.
But how do you know your Internet speed? - You can run a Wifi speed test.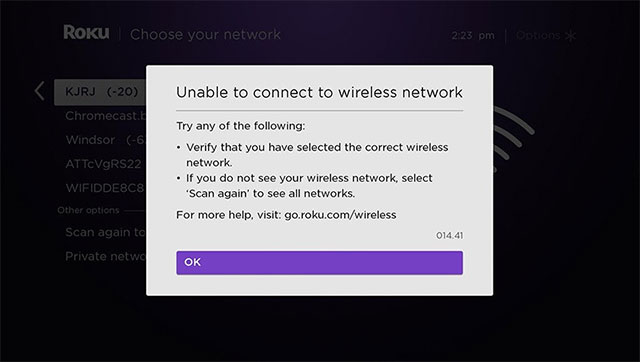 Roku disconnects from Wifi
Below are some troubleshooting tips if your Roku lost Internet connection or the connection is too slow:
Reset your router or modem
Disconnect the power adapter and wait 5 minutes to hard reset your router/modem. Then, reconnect the power adapter and test.
Make sure your Roku and network router/modem are within a reasonable distance of one another.
Stop uploading, downloading, and seeding, and disconnect any unneeded devices from your network before testing the Spectrum status.
To test if you have an Internet connection, log on to any other device linked to your network, like your phone, and verify the Wifi status.
If your connection is fine but your access to Spectrum is still denied, try our next solution.
Security update
Many people claimed that they have been inputting their password incorrectly all along, which is why their access to Spectrum has been banned.
If you are convinced that your login and password are accurate, try changing the password because there may be a security breach.
If you do not know how to change your password, follow these steps:
On the login screen, click the Forgot Password

Enter your email address to receive a confirmation email

Go to your email and select the note

Verify the new password by typing it twice in both fields on the following screen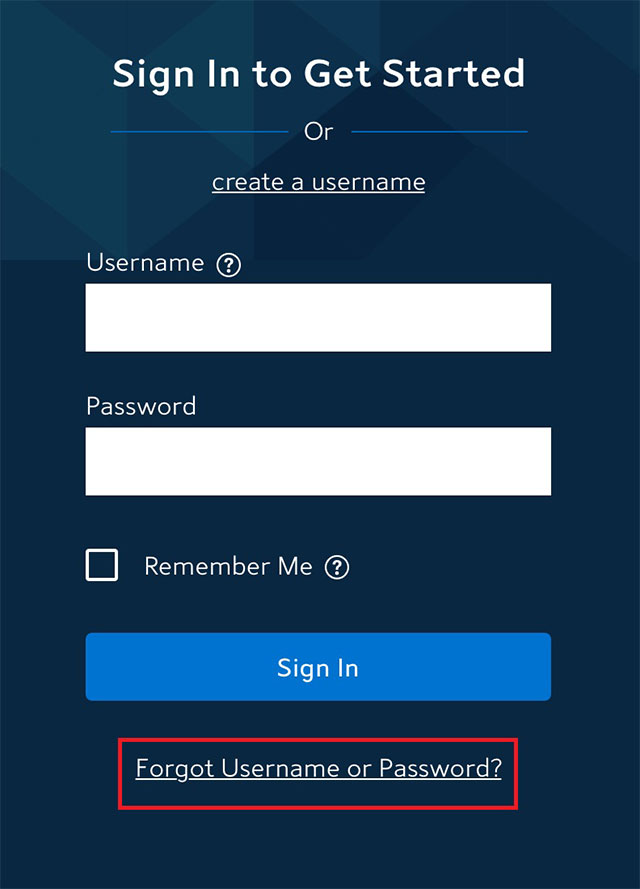 Choose Forgot password option
When you are finished, try logging in with your new password. 
If you failed to send a confirmation note in the first place, your account has most certainly been hacked, and you should contact Spectrum instantly.
Reinstall the Spectrum app
If your network is operating normally, you should reinstall the Spectrum app. If there is corrupted data, a reinstall should resolve the issue and restore your Spectrum access.
Follow these instructions to reinstall the app:
Navigate to your Roku's storage unit

Find the Spectrum app

Select the delete button and wait for the uninstallation to complete

Visit the app store and manually download the Spectrum app

After that, try signing into Spectrum again
If it's still not working, let's go on to the next option.
Reinstall Spectrum app
Update Roku firmware
If Spectrum is not working on Roku right now, another possibility is that the Roku firmware is out of date.
Outdated Roku versions may not handle the most recent shows and resolutions, causing the app to crash or your access to be denied if the old firmware is discovered.
Follow the following steps to verify and upgrade your Roku firmware:
Go to your remote's settings by pressing the Home button on your remote

Locate and enter the System tab

Navigate to System Update and select Check Now

When the check is finished, click the Update button

Wait for the update to finish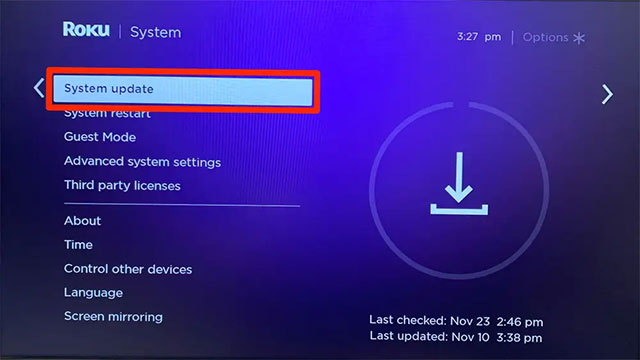 Select System update
Your device may restart during the update, but it will not be turned off.
This may cause enough damage to the firmware that you will need to manually apply the upgrade packages later.
Change Roku Bitrate
So far, we have covered every important aspect of your Spectrum configuration, and now we will focus on your Roku device.
You can reduce Roku data usage by altering the Bitrate, which improves application compatibility and performance.
Here is how to get to and reduce the Roku Bitrate:
5 times press the Roku remote's Home button

Navigate to Manual selection

You can experiment with 5 Mbps, 7.5 Mbps, and 1.2 Mbps
For example, 7.5 Mbs requires up to 3.4 GB of data per streaming hour. That amounts to approximately 200 GB in total for one month.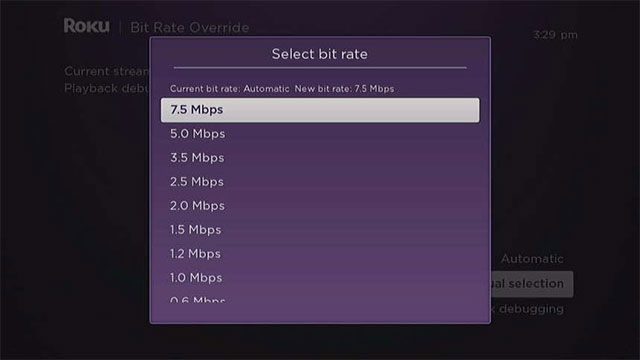 You can change the Roku Bitrate
By now, we have gone through 6 ways to fix the Spectrum Roku workaround. 
If your Spectrum is not working on Roku after trying our methods, you should be able to fix it or, at the very least, figure out where the problem is.
If the app still does not work after trying all of our options, the next best step is to contact Spectrum support for assistance.
Read next: Cannot connect to the wifi network within the time limit
Frequently Asked Questions (FAQs)
How to update the Spectrum app on Roku?
To update Roku apps, you must first update your Roku. There is no separate app update option on the Roku device.
Follow these steps:
Start your Roku by pressing the Home button on the Roku remote.

Using the right arrow on the remote, scroll down and select Settings.

Select System on the following screen.

Select System Update and click it.

To manually search for firmware upgrades, select Check Now. Roku will begin searching for an update.

You will get a notification that states Update available if there is a new update available. There is no update if you receive a notice that says All Software is up to date.

Now click Update. Your Roku device will now automatically download the most recent software.

After downloading, your Roku device will reboot to install the latest firmware. After restarting, the device will be running the most recent version.
How much is Spectrum on Roku?
Spectrum TV Essentials is a $15/month live TV streaming service that comprises live entertainment, lifestyle, and news channels.
Which Roku works best with the Spectrum app?
Spectrum TV is accessible on the following Roku devices: Roku Ultra, Roku Premiere, Roku Premiere+, Roku Express, Roku Express+, Roku TVs, Roku 2, Roku 3, Roku 4, and Roku Streaming Stick.
Conclusion
Finally, the solution to a non-working Spectrum app on Roku entails performing a hard reset on your devices, performing an Internet inspection, and reinstalling the software. To take troubleshooting a step further, try alternate Roku bitrate settings and keep the app updated. We hope you will find these Spectrum Roku workaround tips useful!