[Info] How much Mbps is good Wifi all over the world?
Apr 04, 2021 - Views: 1224 Share
According to a recent report in April 2020, Taiwan has the fastest average speed in the world. And if you think internet connection in the USA is the fastest, when you see the infographic below, you will change your mind. How much Mbps is good Wifi and does your area have good speed? Let's check it out.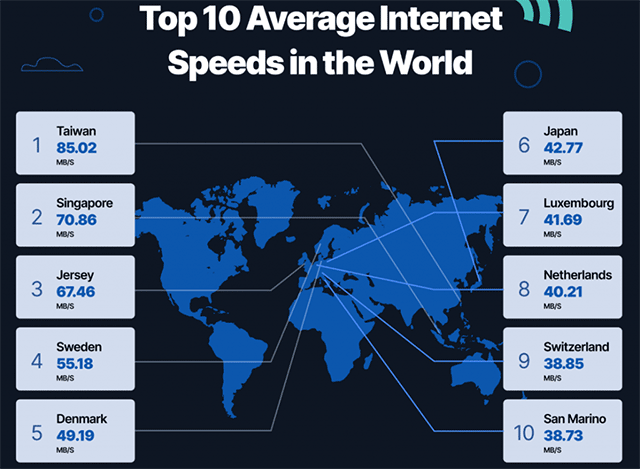 As you have seen in the picture above, the first position is Taiwan with an average internet speed of 85.02 Mbps. Followed by Singapore with 70.86 Mbps which is really good Wifi speed. Ranking in the 10th position is San Marino. 
What about the US? It ranked in the 15th position with an average internet speed of 32.89 Mbps. 

This speed is really higher a lot than the average speed of global, more than four times of global internet speed, considering the worldwide Internet connection average just surpasses 9 Mbps.

Moreover, in fact, as you will see below, many states have average connection speeds higher than the national average, thanks to the increasing availability of faster options like Google Fiber and Verizon FiOS.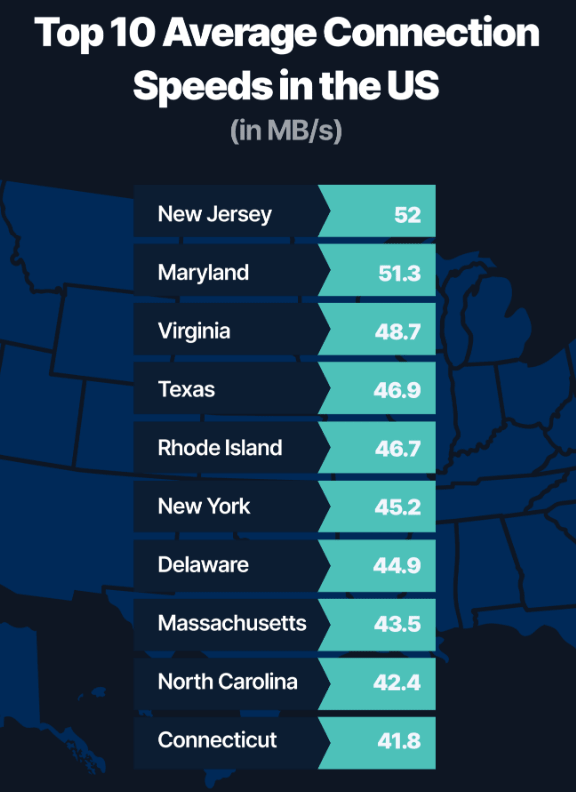 52 Mbps, is it so great? If you want to have the best internet speed, let's move to New Jersey. Or in other areas, using a reliable speed check Wifi, do you get such a fast average speed as the number in the picture? If not, you should find some possible way to speed up your internet such as upgrade your router, turning off some unnecessary applications ( bandwidth-hogging), etc.  
Another list of the top 10 average connection speed on mobile. Your Speedtest Mobile result is good or not?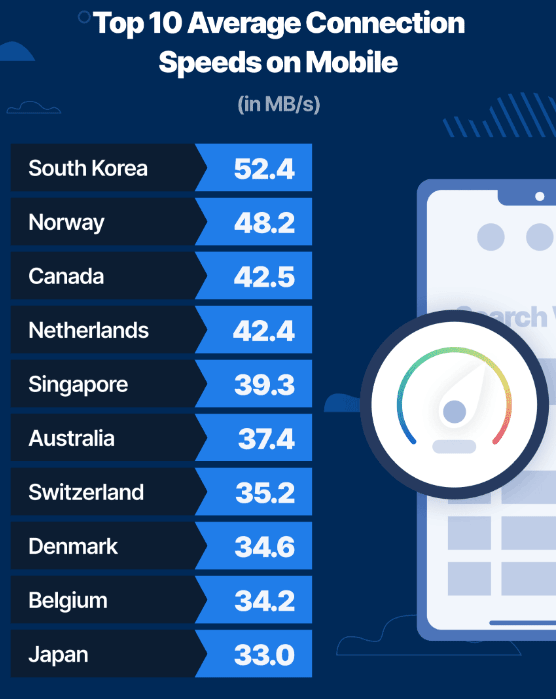 Once again, the US has not the fastest internet connection speed. South Korea is the winner of this list average connection on mobile. Here are the top 10: 
South Korea – 52.4 Mbps

Norway – 48.2 Mbps

Canada – 42.5 Mbps

The Netherlands – 42.4 Mbps

Singapore – 39.3 Mbps

Australia – 37.4 Mbps

Switzerland – 35.2 Mbps

Denmark – 34.6 Mbps

Belgium – 34.2 Mbps

Japan – 33 Mbps
See also:

Source from https://www.webfx.com/blog/internet/fastest-internet-connection-infographic/