What should my download speed be for video game & streaming [UPDATED]
Sep 24, 2020 - Views: 2557 Share
What should my download speed be for online entertainment?
Entertainment is an indispensable part of life.
Thus, it's so bad if the Internet speed is not sufficient for online entertainment.
Let's find out the standard speed for basic - Internet activities such as streaming, online video, and music in the article.
From that, you can easily know if your Internet speed is sufficient or not.
Check them out instantly!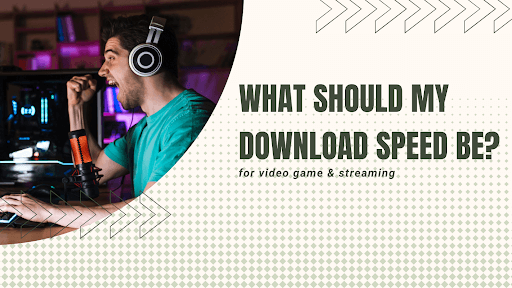 What should my download speed be?
What is download speed?
Internet speeds are measured in megabits per second (Mbps), which is how much data your Internet connection can transmit each second. 
The Internet speeds displayed in Mbps represent the pace at which a provider transmits Internet data to and from your residence.
Also, it's commonly referred to as downloading rate.
Data travels in both directions – you download and upload data from the Internet.
Hence, each Internet connection has download and Mbps upload speeds.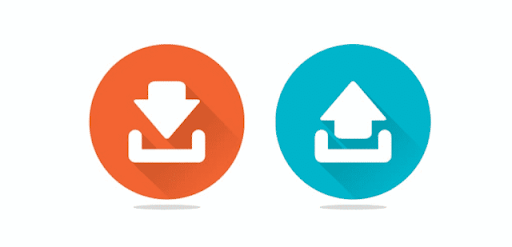 Download vs upload
Download speed refers to the number of megabits of data per second required to download data from a server in the form of photos, videos, text, audio, etc. 
Downloading data is required for activities such as listening to music on Spotify, downloading big files, and streaming videos on Netflix. 
In general:
Download rates of at least 25 Mbps are considered good. 
In contrast, the upload speed of your computer determines how quickly data moves between your computer and your network. 
It's used for a variety of purposes, including streaming video conversations and conferences, as well as file or photo sharing in the cloud.
The Internet service provider provides Internet plans with faster download speeds than upload rates. 
AT&T, for example, might have a 400 Mbps gap in download and upload Internet rates.
What is Online entertainment?
Entertainment is reducing stress, making people feel relaxed, and comfortable after tired, long working, and learning hours. 
The phrase "online entertainment" presents activities bringing enjoyable moments to people.
They essentially involve accessing online material such as music and films over the Internet connection.
This can be watching or listening to programs as they happen (live streaming).
Alternatively, keep it on your device to enjoy at a later time of your own choosing (downloading).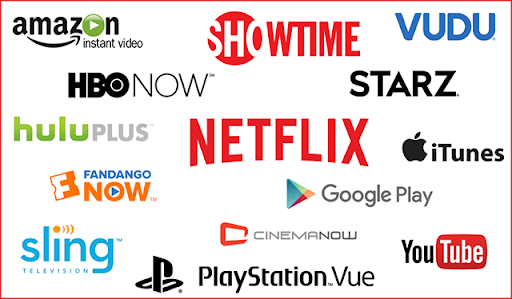 Online entertainment involves accessing online material
Many different forms of online activities are available, including
Online books (e-books)

Online music (streaming or downloading from albums, playlists, or radio stations)

Online TV and film viewing (streaming or downloading)

Online games
To have a good online experience, it is necessary for you to test the Internet speed streaming video and conduct a download speed test.
It's to check whether fast Internet speed for each based- Internet activity or not. 
Conducting the Speed check Internet to know that or based on the test result, you can consider upgrading your Internet plan. 
So, whats a good download speed Mbps?
Let's find out in the next part!
What are good download and upload speeds for online entertainment?
Each activity will require an average rate. 
Depending on the different usage needs, the bandwidth you need will also be different. 
Let's go through some of the following common needs to clarify and how much bandwidth you will need is enough. 
Then, you should conduct the Internet speed test and compare good levels for each based-Internet activity.
Online books & Online stream music
When you sign up for the Internet service, you may be offered speed group packages at different levels.
So What should my download and upload speed be for online books or music?
Well, 1-4 Mbps download speed is minimum for today's home network, offered at a lower price and currently limited to copper cable lines.
At this speed, if only one user is connected to the Internet, you can enjoy most basic applications without latency or buffering and wait for content to load. 
However, if 3 people use the Internet at the same time, you will be very upset.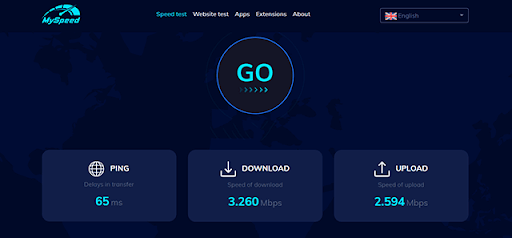 At a 3.26 Mbps download rate, you can read online books
With up to 3 Mbps download speed, you completely have a peaceful mind in listening to music day by day without waiting for loading. 
Your listening - music process will become more interesting a lot. 
Online TV and stream film
Another entertaining activity helping people reduce stress and have funny moments is watching TV and movies. 
What should your download and upload speed be? 
6-10 Mbps is a good average connection speed for most home subscribers, especially those prefer watching TV or movies on a home computer or smart TV. 
Entertainment enthusiasts see this as the minimum upload speed and the most popular that people choose.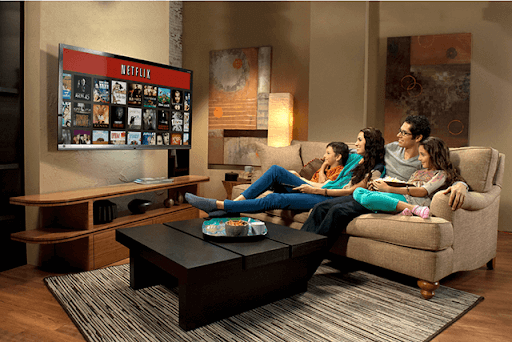 6-10 Mbps is suitable for most home subscribers
However, the demand for watching videos, and movies on Netflix or other streaming platforms is surging and more people like to watch on smartphones. 
So, at 10-15 Mbps, broadband subscribers will notice fast Internet speeds with a drastic increase in downloads, web browsing faster, and a strong Wifi signal.
If you test Internet speed streaming video, it is shown that your test result is at that level, and all members of your family will have a better experience. 
They can watch streaming tv, and videos in full HD on Youtube or Netflix freely without a lag.
What is a good download speed for movies with 4K resolution? 
Watching movies in high resolution or HDR content will require a decent level of bandwidth. 
To watch a 4K video or FullHD HDR video without interruption, you'll need fast Internet from 15-25 Mbps.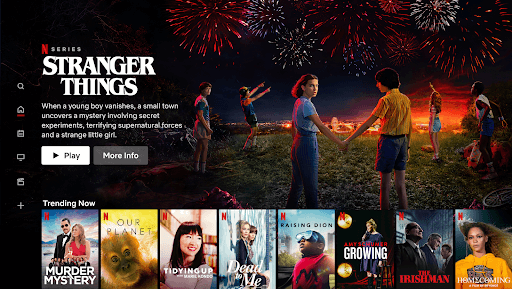 15-25 Mbps is ideal for streaming movies in 4K quality
However, this is only the minimum.
Thus, it will only be true under ideal conditions. 
To ensure a smooth experience in all cases, you will need a bandwidth of about 40 to 50Mbps. 
It will give you a backup when the connection quality is worse. 
Online video games
To relax, many young teenagers choose to play online games.
Luckily, with some basic online games, there is no need for a too-fast download speed. 
What should my download and upload speed be for gaming? 
Basically, your machine and the server will only exchange signals to synchronize the actions of you and the other players so that we can interact with each other.
Is 10 Mbps download speed good for gaming? 
If you turn on voice chat, the 10Mbps bandwidth will still be a safe level for you. 
The minimum speed to play heavy- graphics like this is at least 25 Mbps.
However, in some cases of having many users or other worse situations, over 40 Mbps is the best.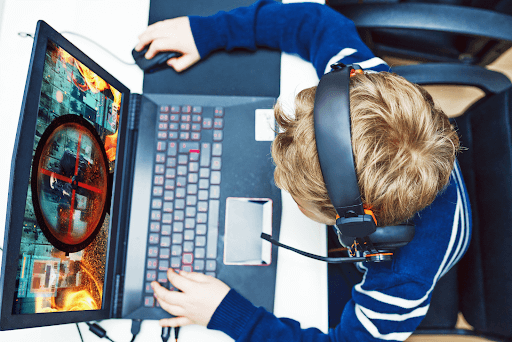 Online games require at least 10 Mbps
Still, it's worth noting that professional gamers care more about the ping speed - the round-time trip between their devices and the server. 
The lower the ping is, the better playing-online games time is. 
This is why gamers often run the online game speed test to assure ping is good enough for their online matches.
Now, let's sum up the minimum download speed requirements for online entertainment:
Activities
Download requirement
Online books & Online stream music
At least 1-4 Mbps
Online TV and stream film

At least 6-10 Mbps

At least 15-25 Mbps for 4K resolution

Online video games

At least 10 Mbps

At least 25 Mbps for heavy- graphics games
How much Mbps do you need?
Usually, the cheap packages are enough to meet basic online demand. 
Yet, if you want to use a single line for multiple devices, you should base on the aforementioned levels to calculate for each device.
Then, bring the total to calculate.
How much speed do you need for watching Netflix? 
Suppose that your dorm room has 4 guys. 
All have PCs and are playing basic online gaming and watching FullHD movies of all kinds. 
Calculating that each guy will need about 10Mbps, 4 boys need 40Mbps.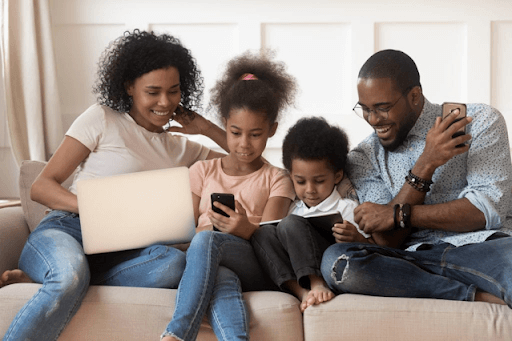 How much Mbps do you need for Netflix?
If you test the Internet speed streaming video and get the download speed for Netflix is just 30 Mbps.
Then, you need to call the support center of your Internet provider to ask for help.
Frequently Asked Questions (FAQs)
Why does download speed matter?
Most Internet usage for the majority of people depends on quick download rates.
Everything is impacted by download speed, from playing music, downloading files, and streaming video to how quickly web pages and graphics load.
A quick download speed is especially vital for streaming activities.
Without it, you can see a lot of buffering, unresponsive pictures, or slowly loading websites.
What is the difference between download and upload speed?
Well, both are parts of Internet speed.
It all depends on how quickly data can move between your computer and other devices.
The upload speed is the rate at which data can move from your computer to the Internet.
On the other hand, the download speed is the rate at which it can move from the Internet to your computer.
How to improve my download speed?
If you have run a speed test and the result isn't as good as you expect, apply the following tips:
Reset the router

Clear your cache

Try another Internet service provider (ISP)

Turn off background apps

Switch DNS servers

Switch web browsers

Download one thing at a time
The bottom line
After tiring working and studying hours, watching movies, or playing games to relax is the perfect thing. However, it will be annoying if the home network is too slow or lagged.
Therefore, by conducting the Internet speed test tool to check the current Internet speed as Internet providers promised. It is a helpful tool to help you answer the question: "what should my download speed be? for online entertainment?" After that, you can have improving plans to enjoy online moments.