How to increase league of legends download speed: 5 EFFORTLESS tips
Apr 26, 2022 - Views: 1221 Share
How to increase League of Legends download speed?
Well, League of Legends - is an interesting game that drives gamers crazy because of its fast gameplay and full competition.
However, many gamers have also complained about its slow download speed.
So what is to blame for this and how to speed it up?
You will get a detailed answer in this article.
So check it out now!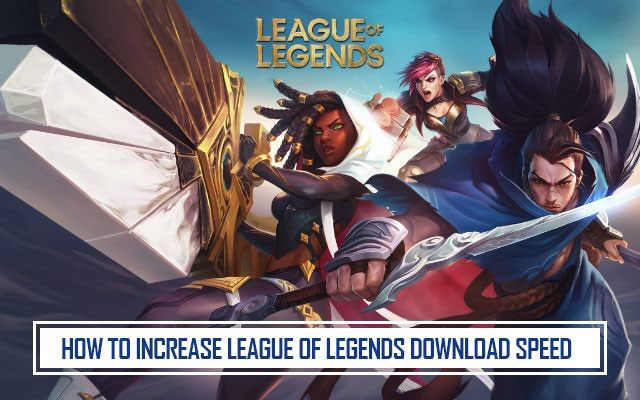 How to increase league of legends download speed?
What type of game is League of Legends?
League of Legends (LOL) is one of the world's most popular video games developed by Riot Games. 
It has a competitive team-based game mode focusing on strategy and outplaying opponents. 
In this game, players collaborate with their team to destroy the opposing Nexus before the opposing team destroys their own. 
Well, League of Legends is a challenging game that requires both advanced planning and quick skill. 
Competent players are aware of how to defeat the opponent in front of them while keeping in mind the macro-elements to help their team win.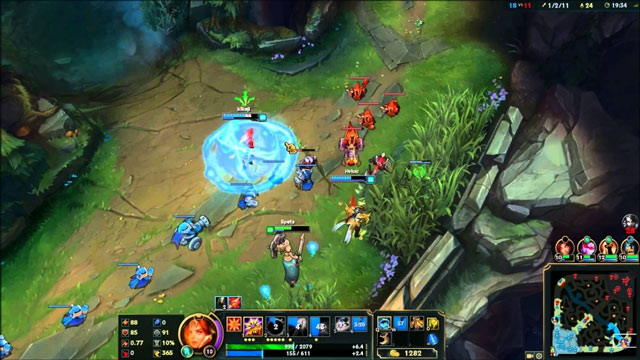 LOL gameplay
According to data from LeagueFeed, the League of Legends player base will reach 180 Million monthly players in 2022, making it the King of Games. 
League of Legends has become one of the most popular games in the world because of the regular release of new Events, Tournaments, and Champions.
Why is your League of Legends download speed slow?
Being so attractive, yet, slow League of Legends download speed is a popular problem facing a lot of gamers. 
This problem may arise if the LOL game server is momentarily down, is undergoing maintenance, or has some other problem. 
Besides, you will need to wait until the server issue is rectified because it is not in your control and cannot be fixed from your end.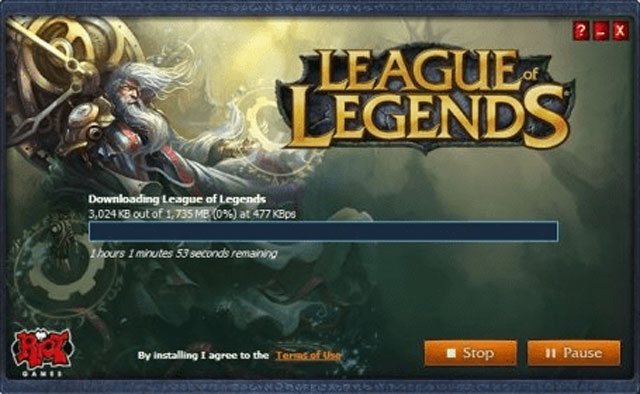 Many factors cause LOL's slow downloads
The "League of Legends delayed download" issue can also be brought on by issues at your end, such as poor or unstable internet connections.
LOL game permissions aren't granted on your device, problems with security software installed, and incorrect network settings can also be the causes.
How long does it take to download League of Legends?
League of Legends now takes about 6.5GB of bandwidth to download. 
The game will use about 14GB of space on your computer once the files have been downloaded and installed.
Let's check the download time for 6.5 GB, according to Unranked Smurfs:
| | |
| --- | --- |
| Download speed | Time duration |
| 1 Mbps | 15 hours 33 minutes |
| 5 Mbps | 3 hours 6 minutes |
| 10 Mbps | 1 hour 33 minutes |
| 30 Mbps | 31 minute |
| 50 Mbps | 18 minute |
| 70 Mbps | 13 minute |
| 100 Mbps | 1 minute |
Remember that it's just an estimation.
In fact, the aforementioned reasons can make your downloading process longer.
How to increase League of Legends download speed? 
Before proceeding to how to increase download speed, be certain that the sluggish speed issue is exclusive to LOL and not your internet speed. 
You may find out by downloading any other type of file. 
If other apps' download speeds are poor, you'll need to troubleshoot your internet connection first.
Try the following options to fix the sluggish download of League of Legends that we discovered:
Change the League of Legends Launcher 
The LOL launcher may ask for administrator credentials to access particular files and services. 
If the game is run with non-administrative access, the user may have a League of Legends sluggish download issue. 
Run the program with admin access to avoid this.
Select Task Manager by right-clicking on the Task Bar.

In Task Manager, right-click any LOL process, such as LeagueClient.exe, and select End Task.

Right-click the League of Legends shortcut icon on your PC, then select Open file location.

Locate LeagueClient.exe by going to the League of Legends file location.

Right-click on the context menu and choose Run as administrator.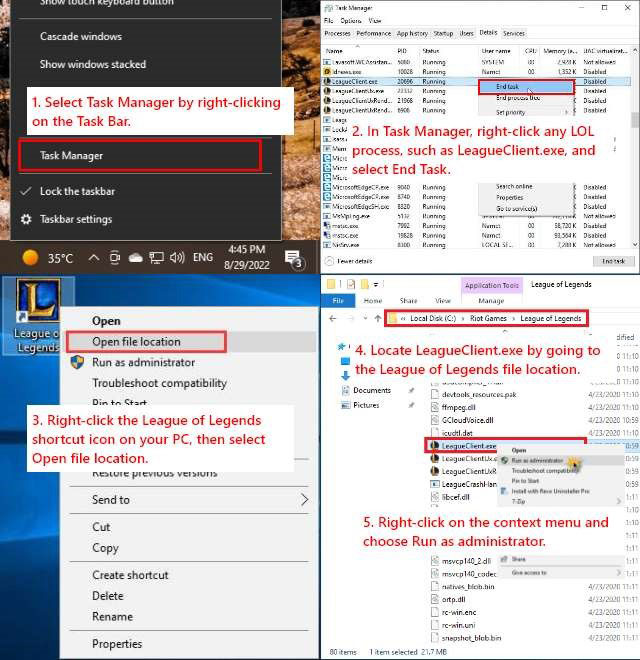 Change LOL Launcher 
Check to see if the slow download speed issue in League of Legends has been resolved. 
If this is not the case, go for the next method.
Turn off the Windows Firewall
Well, turning off the Window Firewall can also be an answer to How to increase firefox download speed?
So great, right?
Antivirus and firewall software placed on the PC might obstruct online gaming.
They're supposed to safeguard your computer from malware.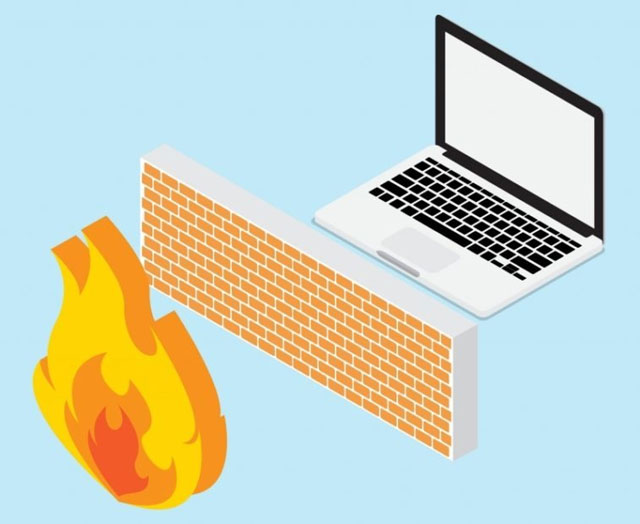 Windows Firewall
However, they frequently cause false positives by preventing legal programs like LOL from running. 
This implies that LOL may be unable to access some device files and tools, delaying the download pace of the game.
It is clear that turning off the firewall and deactivating anti-virus software should be effective to solve the League of Legends download problem. 
Start the game to test if the download speed has improved after the antivirus was off. 
If the game plays smoothly, add the game file to the exceptions list in your antivirus application. 
Disable any third-party firewalls you may have on your Computer.
Follow these steps to disable Windows Defender Firewall:
Click the Windows button, type "windows firewall" in the search box, then press Enter.

Select Turn Windows Defender Firewall On or Off from the left panel.

For all network types, including domain, private, and public networks, turn off Windows Defender Firewall.

Then hit the OK button.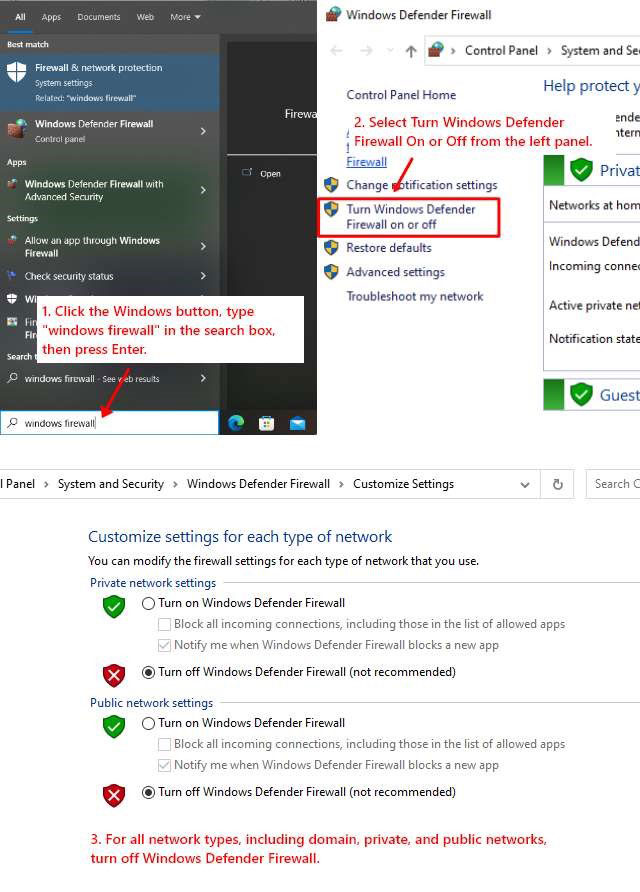 Disable Windows Firewall
If your download speed has risen after disabling your antivirus and firewall, create a game exception in your anti-virus and firewall settings. 
Continue to the following step if the download speed does not increase.
Reset Network Configuration
The League of Legends config file works with the network's default TCP/IP settings. 
Assume your system's settings aren't the same as the defaults. 
As a result, the patcher will not function correctly, and you may have League of Legends sluggish download issues. 
In this instance, we used Winsock to reset TCP/IP settings to their defaults, which should fix the problem.
Press the Windows key and type "command prompt" into the search box.

Select "Run as administrator" on the right side of the screen.

Type "netsh winsock reset" and press Enter

Your computer should be rebooted.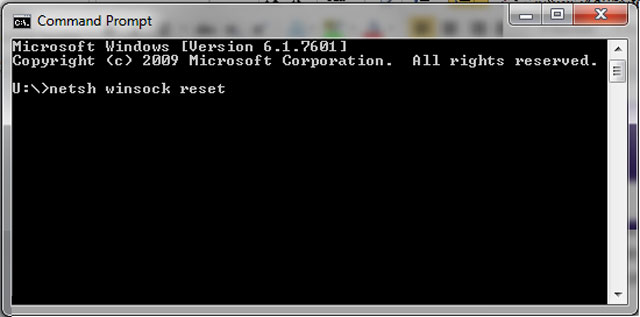 Reset Network Configuration
Check to see whether the slow download speed issue in League of Legends has been resolved.
Install the.NET Framework 3.5 
League of Legends requires the Microsoft.NET Framework 3.5 software platform. 
If the.Net framework is missing or faulty, it might lead to a host of issues. 
Users commonly assume that if they already have a.Net Framework version, such as 4.7, they will not require the 3.5 version. 
Because this is incorrect, you must still install it.
Follow our instructions:
Restart your computer after installing the.NET Framework 3.5.

Open League of Legends right now, and if the download speed hasn't improved, try the following method.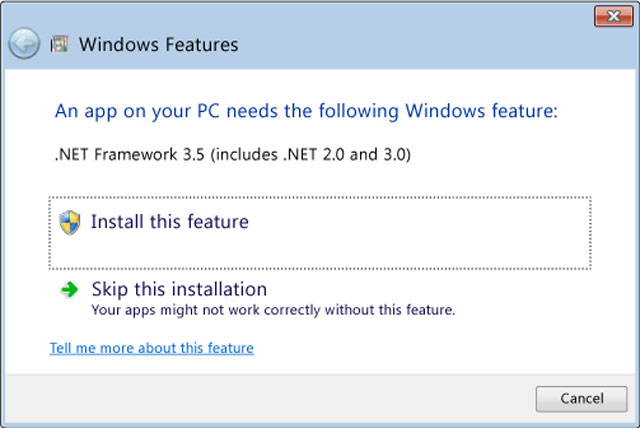 Install the .NET Framework 3.5
Use a virtual private network (VPN)
Some services may be limited by your Internet Service Provider, resulting in a League of Legends slow download issue. 
As a consequence, the download speed issue should be addressed by employing a VPN.
It will allow network traffic to flow freely and eliminate service obstructions.
This is how you should go about it:
Make sure your VPN of choice is legal and compatible before installing it.

Connect to your VPN.

Select a server from the list of available regions.

Check your download speed to see if it has improved.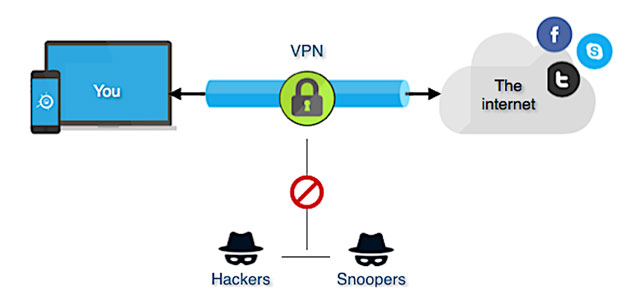 Virtual private network (VPN)
Also read: How to increase steam download speed 2022?
Frequently Asked Questions (FAQs)
1. How do I limit download speed in League of Legends?
It's easy to do.
Follow these steps:
Visit Settings => Update & Security => Windows Update => Advanced Options => Delivery Optimization => Advanced Options

Adjust this setting to "Limit how much bandwidth is used for downloading updates in the background."
2. Why is LOL not installing?
After downloading, unless you have administrative access to your computer or network connection is being interfered with, LOL installation may not succeed.
The installation of League can be problematic if your version of Windows needs to be updated.
3. What is the size of League of Legends?
6.5 GB is the download size for League of Legends.
Players should also make sure they have a strong internet connection because it is an online game.