How to connect WiFi extender to Verizon router? Here is an easy guide
Nov 10, 2022 - Views: 3344 Share
Do you know how to connect wifi extender to Verizon router?
If not, this article is for you!
We will help you know the process of setting up a connection between a WiFi extender and to Verizon router.
It is simple and quick to accomplish. Keep reading for further details!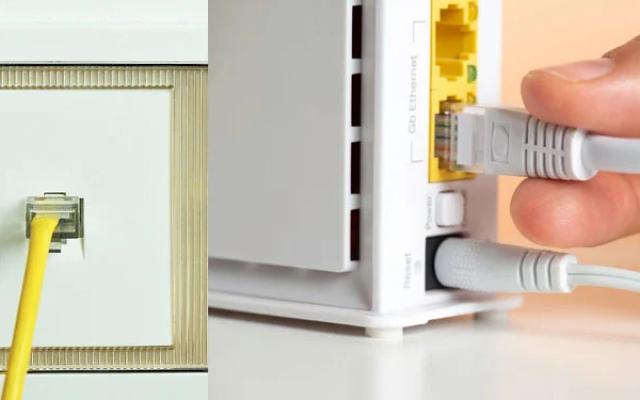 A guide on connecting to WiFi extender to Verizon router
Do You Need a Wifi Extender?
Below are some benefits you can get when using a WiFi extender:
It is simple and quick to set up within a few minutes. 

It is necessary for a big house area or large family with many members. 

The standard router can handle multiple users simultaneously.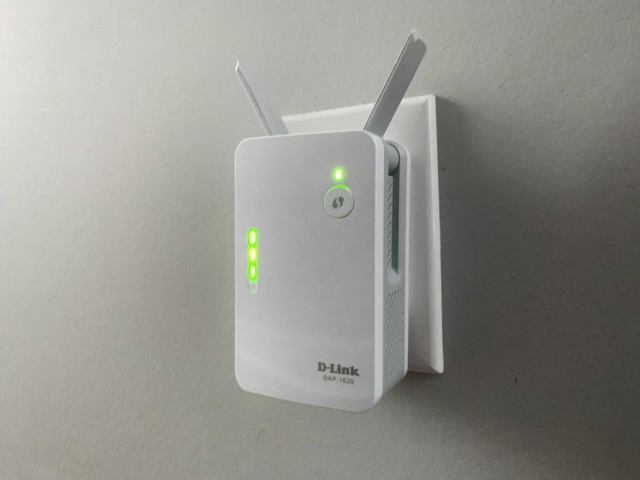 A WiFi extender gives you various benefits
With a cable and the necessary instructions, it may feel like installing a Wi-Fi extender. 
It can be a great challenge, but it's not.
Setting up only takes a few minutes, with about 3-5 steps. 
 It usually takes 30 minutes, the longest, to figure things out.
What are Your Wifi Extender Options?
You can use a Verizon router or gateway when you are a Verizon customer. 
Then, the first important decision is buying a Verizon Wi-Fi extender or another brand. 
Every option has its pros and cons.
But if you choose a Verizon Wi-Fi extender, you may rest assured that it's compatible and the setup process is seamless. 
Finally, the Verizon Wi-Fi Extender can pair with Verizon routers. 
Yet, if you already have another brand or want to purchase another because of cost, loyalty to another brand, or unique selling point. 
Setup may require a few additional steps, but a compatible extender will still work.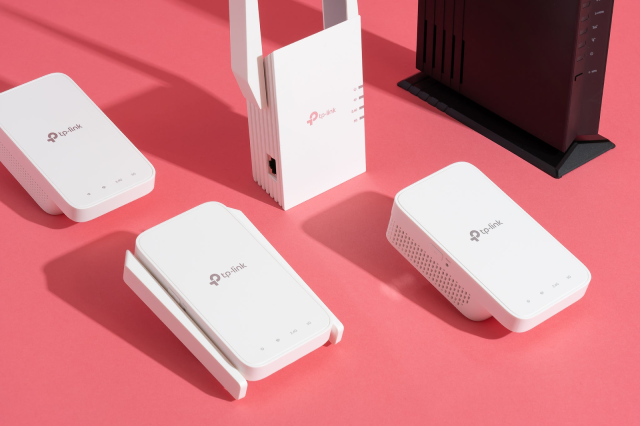 Your WiFi Extender options
How to Connect WiFi Extender to Verizon Router?
There are two methods to connect the Fios Extender to your Verizon router.
It's easy to implement without outside help. All you have to do is follow an ultimate guide. 
Here's how to connect your WiFi extender to your Fios router via cable:
Wired Connection
Wired connections have their strengths and weaknesses. One is to provide a virtually lossless connection from the main router. It means that all data is sent over the wire, and nothing is lost. 
However, this also means two things: The main router is required, and Wi-Fi extenders are close together. 
Or if you want to use it for a little longer, you need to use a very long Ethernet LAN cable.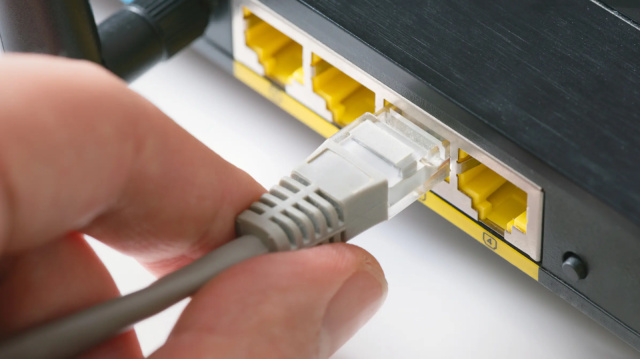 Connect WiFi extender to Verizon router through wired connection
To connect your Wi-Fi extender using a wired connection, follow the simple steps below:
Step 1 - Connect the cable. 
The first step is to connect the extender containing a coaxial splitter to the coaxial cable that is available to be used. You should install the extender at a place where there is strong WiFi.
Step 2 - Power on your router and extender. 
The next step is to connect the router and extender power cords to a power source.
Then wait 10 minutes for the extender's indicator light to appear and turn white. 
Step 3 - You can do the same for the Ethernet. 
Your WiFi extender is successfully connected to your main router. 
The same steps apply if you are connected via an Ethernet cable to replace the coaxial part with an ethernet cable.
Through WiFi
The steps to connect a Wi-Fi extender directly to a Fios router through Wi-Fi are similar to a set with a wired network connection. 
However, the difference is in latency. It is well known that wireless connections contain some packets. How to wirelessly connect a WiFi extender to your router? Here is a complete guide including the detailed steps. 
Step 1 – First, connect using an Ethernet cable.
The first step is that we need to make a connection between the extender and the main router via an Ethernet cable.
After connecting the extender to power, connect the extender to your router via Ethernet. 
Step 2 - Wait for about at least 10 minutes until you see the indicator light turns into white color. 
This means the link is finished. The two devices can then be disconnected from the main power.
Using WiFi to connect WiFi extender to Verizon router 
Step 3 - Determine the location to place the WiFi Extender
It is as important as the router antenna position.
You should allow the signal range to stabilize and reconnect to power. 
When powered on, the indicator light will turn white again to indicate it is still connected.
You have successfully set up a WiFi extender directly over WiFi.
You can try these methods as to how to connect TP Link wifi extender to Verizon router. If you have any difficulties, feel free to contact us!
Can You Use a Third-Party WiFi Extender?
The short answer is yes. You can use this Wi-Fi extender from a third party with the issued one.
It also means more research time for you. 
One of the advantages of purchasing Verizon's Fios Extender is the cost savings.
So, find a Wi-Fi extender suitable for your router. Not all extenders operate with all routers.
It doesn't work, so it's wasted.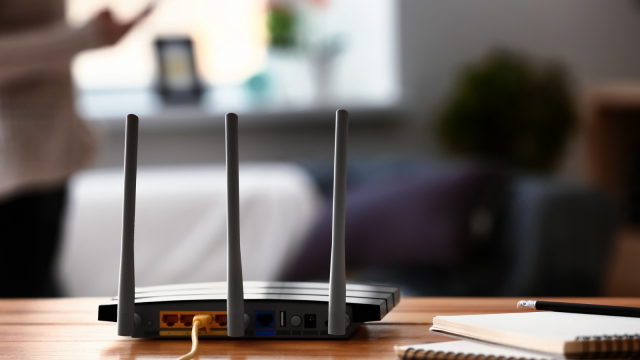 You can use third party to connect WiFi extender to Verizon router
How to connect other brands of Wifi extenders to Verizon router?
If you use another brand of extender, you can still connect WPS to your router.
If, for several causes, this fails, or if your extender doesn't support WPS, you may set it manually.
Connect your WiFi extender to the same location as your router during the configuration process for convenience. 

Use your laptop or phone to scan for available wireless networks once powered up. 

Look for the one with a similar name as the Extender model. Connect it to that network after you found. 

Open a web browser and type the IP address printed on the extender.
Note: Some brands feature an app for the setup process, so inspect the documentation that came with your extender.
After accessing the extender's admin panel, follow the simple setup steps to connect to your router.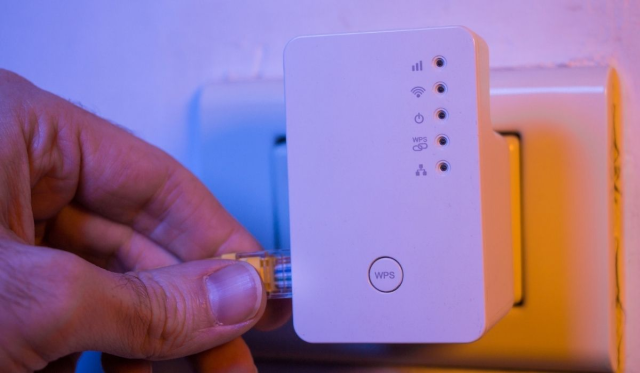 Guide on connecting other brands of WiFi extenders to Verizon router 
After finishing, you can run a Wifi speed test to make sure your Internet connection is good.
How to get the right Wifi extender for Verizon router?
When you pick the best Wi-Fi extender for your Verizon router, you should consider some basic features.
Profile
When it comes to the profile of your extender, you need to check whether the extender is plug-and-play or desktop, antenna type, and other physical factors.
Wall plug extensions are the most convenient and space-saving. Simply plug it into any available wall outlet, and it will work.
Advanced Wi-Fi Extenders are designed as desktop options. These resembled routers with internal or external antennas. 
These need to be installed on a flat surface, requiring a little more space.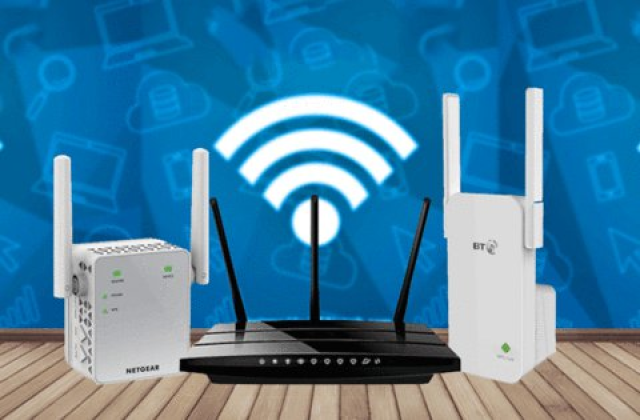 You need to check the extender's profile 
Frequency
Wi-Fi extenders are available with either single 2.4GHz, dual-band 2.4GHz, or 5GHz frequency support. 
Most extenders on the market operate on a single 2.4GHz.GHz frequency range.
A dual-band extender would best suit your needs, but you should make sure your router supports dual-band frequencies.
Generally, the best option is a dual-band 2.4GHz or 5GHz frequency extender.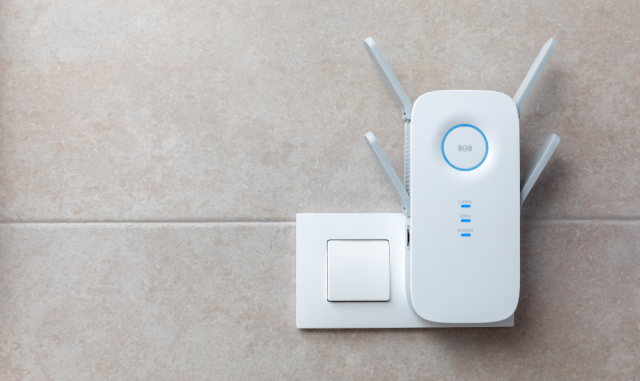 Consider the extender's frequency
Performance
Apart from the range, you should check the WiFi extender's performance measured in bandwidth.
Yet, how properly the extender works depends on your router's limitations. This will give you the maximum bandwidth and throughput your extender may support.
Performance may be described as: AC1900, AC750, AC1200, N300, AC1750, and AC2200.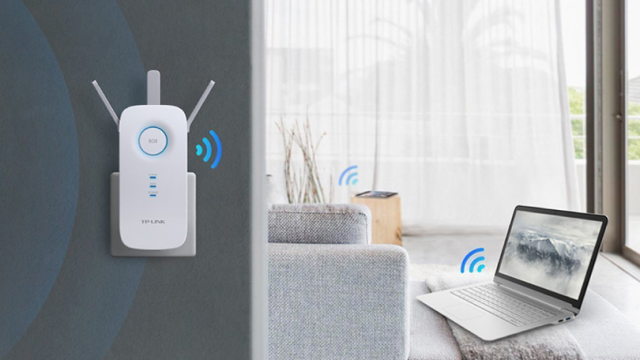 Check the extender's performance
Standard Capability
To know the standard features of your router, you need to read your router's specs to see what standards it supports.
Once in doubt, pick a global extender that works with all 802.11 a/b/n/ac routers.
Compatibility is necessary to integrate the extender into your router's network successfully. 
In some situations, purchasing a router covering a wider area may be advisable.
Security
Most modern Wi-Fi extenders support WPA2-PSK security, an ideal level of security for home Wi-Fi connections.
However, inspect to see if the extender can protect your wireless network and its gadgets.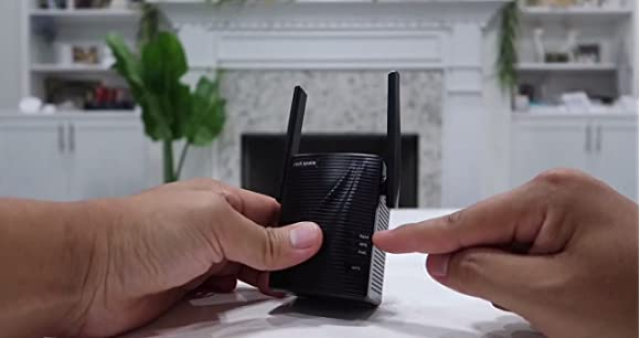 You also check the extender's security
Ports
The superior Wi-Fi extenders can be available in an Ethernet port for wired connectivity. 
The plug-in extender comes with 1 or 2 Ethernet ports, and the desktop port can come with up to 5 ports for various machines.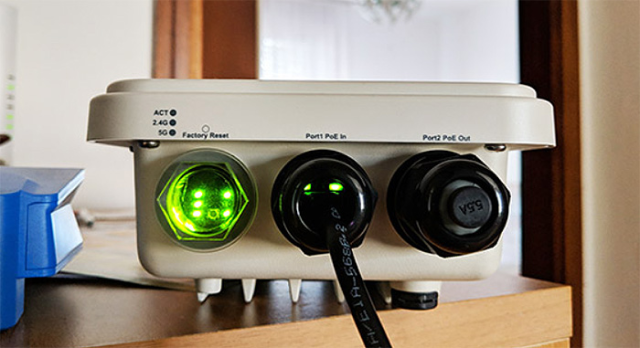 Ethernet port on WiFi extender
Compatibility
It is suitable to use extenders from the same manufacturer as your router. 
Yet, the most important aspect to consider is extender frequency and compliance.
Generally, if your router frequency is 2.4 GHz, a suitable extender may support the same frequency range.
As long as the specs of the router and extender match, integration is guaranteed.
Read more: How to turn off Xfinity Wifi at night?
Frequently Asked Questions (FAQs)
What is the difference between Wifi extenders and Wifi repeater?
The answer is somewhere between yes and no.
Both are WiFi boosters as they enhance and improve the overall Wi-Fi of the original router.
On the other hand, it's good to know that different people have different ways of boosting Wi-Fi.
A Wi-Fi extender extends the range of a Wi-Fi signal, while a Wi-Fi repeater can extend it.
Using a signal essentially "doubles" the strength and stability of the signal, thus boosting it. Its name is "Repeater".
Do devices automatically connect to a WiFi extender?
Most new WiFi devices automatically connect to the strongest signal available.
Some WiFi devices may or may not require additional setup to do this.
We recommend checking this Wi-Fi connectivity capabilities on your device before continuing.
How to connect the Netgear Wifi extender to the Verizon router?
Do you want to connect the Netgear extender to the Verizon router? Follow the useful and simple tips to make an easy and quick connection.
On the setup page, click to choose NEW EXTENDER SETUP.

If prompted, tap Yes or I Agree

Set the admin credentials for the extender

Set your secret question, and click Next.

Enter your WiFi network password (if you have one) and click Next.

Choose her SSID and password for the Netgear extender and click Next.

Choose "settings" and wait a few minutes.

Now, you may connect to Netgear WiFi with the password you set before.
Conclusion
Hopefully, you've got an easy guide with detailed steps you can follow to connect your WiFi extender to the Verizon router successfully. Besides Wi-Fi extenders, you can also use Wi-Fi boosters to boost your signal. Now, you can feel it's easy to learn how to connect wifi extender to Verizon router.