Twitter has been surveying user attitudes to its implementing emoji reactions for tweets. 
"We're exploring additional ways for people to express themselves in conversations happening on Twitter," said a Twitter spokesperson. 
The spokesperson stressed that Twitter is still in the early stages of research and noted that emojis wouldn't replace the "heart" button, but exist near it.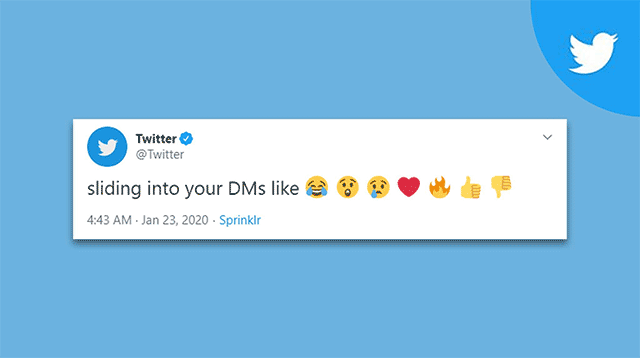 Twitter is considering bringing emoji reactions to tweets
In the survey, some mockups of this new reaction system are shown to ask for users preferences. One concep show reactions such as Like, Funny, Interesting, Sad, Awesome, Support, and Angry. In another concept, the Awesome reaction shows a fire emoji rather a surprised face, the Support reaction uses raised hands rather than a hugging emoji.
Read also: Twitter to Let iOS Users View YouTube Videos In-App
The screenshots of the survey shared by a Twitter user show that the proposed emoji reactions could be similar to Facebook's reactions, which let users react to a post with an emoji such as a laughing face with tears, a thinking face, a crying face, shocked faces, angry faces, fire emojis.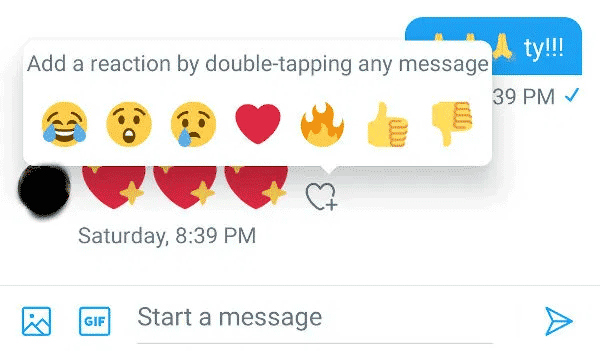 Twitter May Add Emoji Reactions to Tweets
Moreover, Twitter is also considering adding a downvote to let users express that they dislike a tweet. However, the company is aware of how challenging it is when introducing emoji reactions that could mean negative sentiments. 
Twitter asked the participants their possible use cases of a downvote or dislike. For instance, whether they would choose an emoji instead of replying to a tweet, or whether they would give a downvote to irrelevant or offensive tweets.
When asked about the reaction to receiving a downvote or dislike on Twitter, one user said "I may hesitate to Tweet in the future for fear of receiving negative reactions."
A few enigmatic tweets of Twitter's design chief also suggested that such features might be coming soon.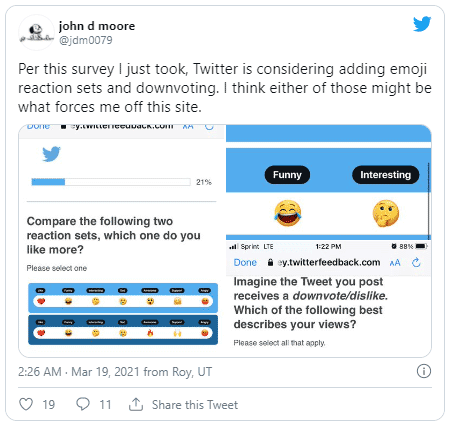 New emoji reactions added to tweets
Facebook employs a set of emoji reactions. Downvotes have also been used by Reddit and YouTube comments as a central feature. However, they tend to operate more anonymously than Twitter and Facebook, in which users appear more commonly and post their individuals.
Read also: