Wonder How to Test Jitter? Here Are 2 Simple and Practical Ways
Jul 03, 2022 - Views: 1282 - Share this post if you find it interesting!
Jitter is particularly troublesome in real-time communications. So how to test jitter? This post will provide you a complete guide.
Also see | Latency vs Ping: Is ping the same as latency? Or are they different???
What is jitter in speed test?
Jitter on speed test is a component of latency that refers to the degree of variance in delay when performing numerous ping tests. Typically, it is measured in milliseconds (ms). Network jitter occurs as a result of network congestion, interference, route changes, and other factors.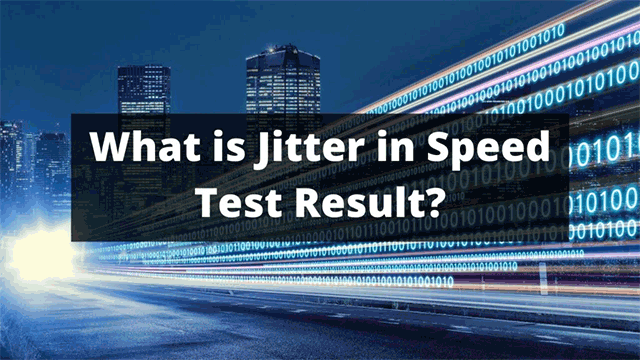 Jitter click speed test
Wired connections (cable, fiber, DSL) will always have lower latency than wireless connections (satellite, LTE, and Wi-Fi).
When is Jitter Important?
Jitter is a drawback of the network. It has an impact on latency-sensitive applications and degrades the user experience. Jitter introduces inconsistencies that affect connection quality and data transfer speeds.
It has an impact on all real-time communications, including video streaming, video conferencing, VoIP calls, streaming media, and online gaming, etc. Web browsing isn't particularly influenced by response times and their variations, but ping and jitter are vital indicators of your connection's quality if you need real-time data. Jitter reduction is advantageous in online gaming and VoIP conversations.
How to test jitter?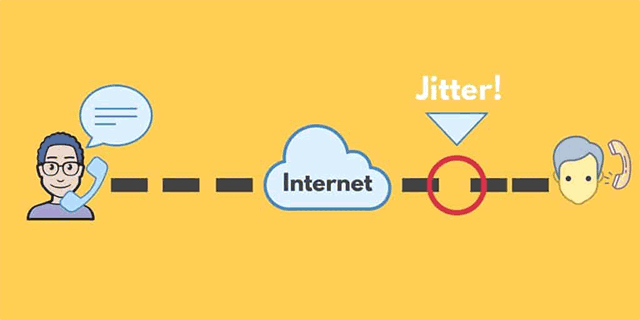 What is jitter speed test?
Use a jitter test tool
You can use the DSLReports utility to run a jitter test.
Step 1: Go to the website dslreports.com/tools/pingtest and click the "GO" button.
Step 2: The test will then collect thousands of ping readings from servers all across the world. This should just take a few minutes, but if you have a really sluggish internet connection, it may take longer.
When the ping and jitter test is finished, it will provide a graphical depiction of the ping tests on the upper left side of the screen, a test chart on the right side of the screen, and a grade on the lower left side of the screen.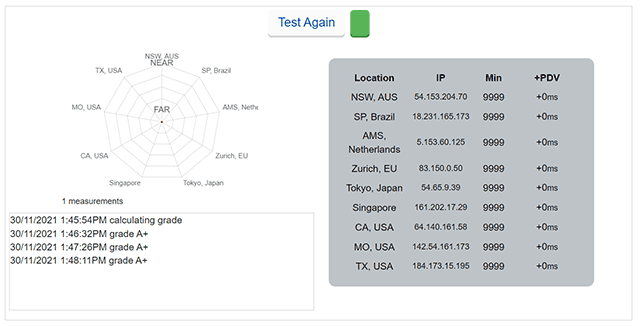 Jitter speed test
Grades of A+ are preferred, which signifies very low latency and jitter. The lowest latency measured between your computer and the server is listed in the Min column. The next column is the Packet Delay Variation ( +PDV) is the jitter or the difference between the mean latency and the lowest latency. The PDV number should ideally be as low as possible. This will prevent difficulties like stuttering while playing online games, stuttering while video teleconferencing, and delayed voice transmission in VoIP interactions.
If the +PDV shows +0ms as above, then there is no jitter.
Test jitter using command prompt
A ping jitter test can be performed by calculating the mean round-trip time and the minimum round-trip time for a sequence of packets.
To determine network jitter, use the "Command Line" or "Terminal" and ping any target. In the following example, a PING was sent to the following IP address.: 27.71.84.201.There are 4 packets sent and received with 0% loss. The jitter is calculated by averaging the time difference between each packet sequence.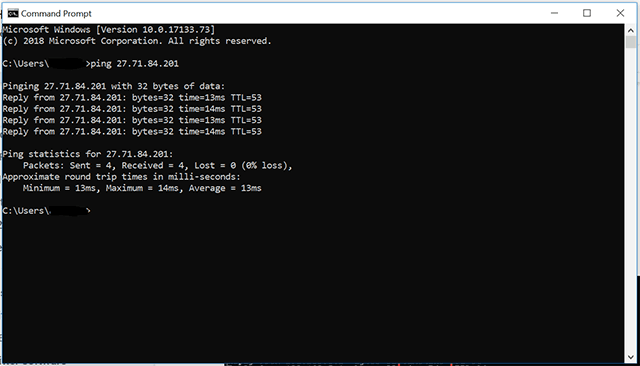 Speed test with jitter
Take a look at the ping jitter test result above, we notice Ping simple set (ms): 13, 14, 13, 14.
Here are the differences between each consecutive ping sample.
| | | |
| --- | --- | --- |
| Latency 1 | Latency 2 | Difference (ms) |
| 13 | 14 | 1 |
| 14 | 13 | 1 |
| 13 | 14 | 1 |
There are 3 differences. The jitter = (1+1+1)/3 = 1ms
A delay of 30 ms or more might cause call distortion and disruption.
Jitter should be less than 30 ms for video streaming to perform properly. If the receiving jitter exceeds this value, it may begin to slack, leading to packet loss and audio quality issues. Also, packet loss should not exceed 1%, and network latency should not exceed 150 ms in one direction.
Conclusion
Hopefully, this post has given you some insight into how to test jitter with easily. If you're experiencing stuttering phone calls, for example, you can simply perform a latency and jitter test to determine whether the problem is originating from your end or the distant end, and then troubleshoot accordingly.