How to speed up Uplay downloads? Solve slow issue with 2 easy tips
Sep 13, 2022 - Views: 4332 Share
How to speed up Uplay downloads?
Currently, many players have encountered problems such as " Uplay download speed is too slow" or " Uplay download speed is unstable", ...
They all cause game loading time to increase.
If you are also facing the same problem, then this article is for you.
Let's learn how to increase Uplay downloads for a comfortable experience.
Check it out!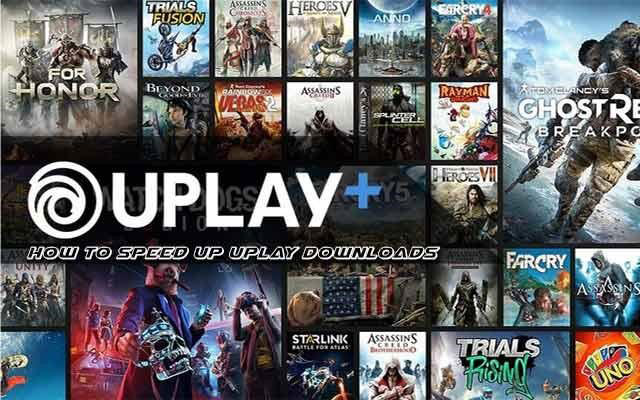 How to speed up Uplay download?
Some information about Uplay
Uplay is a service created by Ubisoft, which is a cross-platform service available in more than 50 games. 
It enables actions, rewards, and social interactions. 
Joining Uplay, you will be a part of a worldwide community of Ubisoft players with access to the same services whether you play on a PC or a console.
With Ubisoft Uplay for PC, the more you play, the more you win.
Uplay is now Ubisoft Connect!
Through this platform, gamers can experience distributed games. 
Uplay supports players to choose and search for better gameplay. 
At the same time, players can also learn from other players' experiences in the world on the Uplay platform.
Also, you may always see your statistics and make friend comparisons while enjoying the game.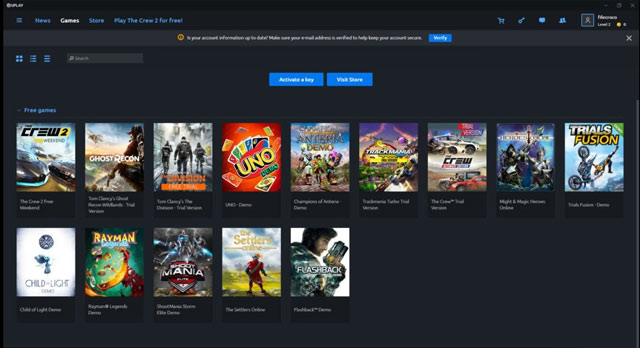 Uplay service
Download speed versus upload speed isn't really a concern on the Uplay platform. 
What users wonder about is that they often encounter the situation of slow Uplay download.
For this reason, the question of how to increase download speed is commonly asked.
To know tips to swipe the problem away, read the next part!
What is a good download speed for gaming?
Your gaming experiences will probably be quite annoying without proper Internet connection speeds, regardless of the type of online game you play.
What download speed do I, therefore, require for gaming?
Well, the better your gaming experience, the faster the download speed.
According to the FCC, a satisfactory broadband connection for basic Internet demands offers download speeds of 25 Mbps and upload speeds of 3 Mbps.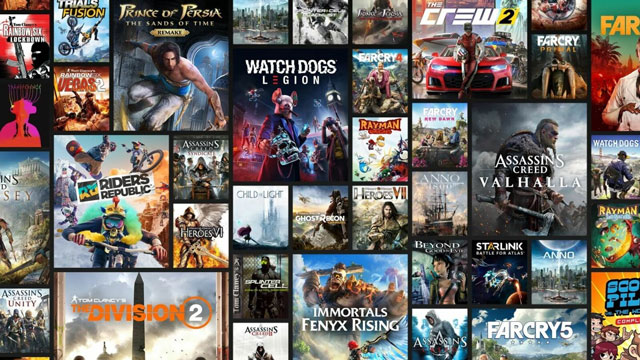 What is a good download speed for gaming?
Gaming will use a lot of data when playing online games with heavy graphics.
Therefore, you might just require an Internet speed of about 30 Mbps.
It is believed that playing games, particularly multiplayer or "competitive" games, calls for an Internet connection with a minimum of 20 Mbps.
Any speed below 20 Mbps may fall into the "lag zone."
How to speed up Uplay downloads?
How to speed up Internet downloads for Uplay?
In fact, most of the reasons for this problem are due to the configuration of the DNS file or the server. 
Besides, the latency of the server you are loading and the connection is too high also results in no load or too slow.
When you think your Uplay download is slow, the first thing to do is to run a speed test to check your current Internet connection.
Many free online websites can help you.
However, the one that we highly recommend is MySpeed at https://gospeedcheck.com/. 
By visiting the website and clicking the "GO" button, you'll know your download, upload, and even ping rate.
MySpeed's interface
Is your download speed slow?
If yes, try the following methods to solve this problem!
Set the rate limit to another value
How to increase Uplay download speed? 
In fact, you may need to change the bandwidth usage limit from None to another setting with these steps:
Step 1: Open Settings by clicking  
It's the three-line menu icon in the top-left of your screen.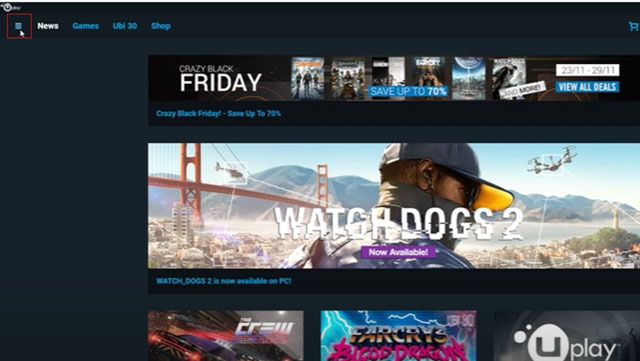 Step 2: In the Settings menu, select the Downloads tab or scroll down until you see a slider letting you manage the download speed for Ubisoft Connect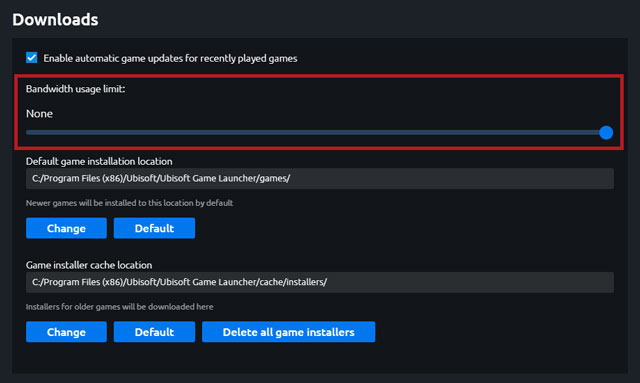 Step 3: Using the slider, set the rate limit to the value closest to your connection speed.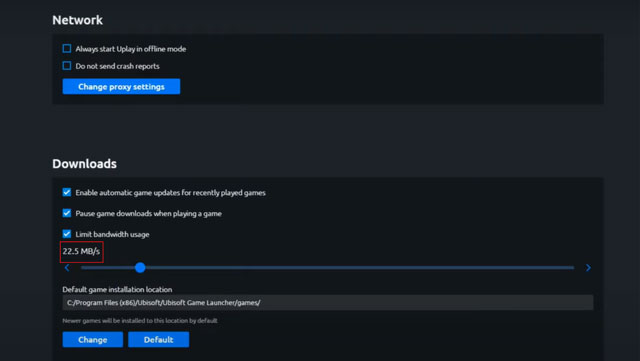 Step 4: Save the changes and check your downloads for improvement.
Try different values
If the problem still doesn't change, try to reduce the limit step by step. 
One piece of advice for you is to experiment with different values ​​to find the one that best suits your situation.
Also, make sure your network is set up correctly. 
Network configuration may vary depending on your hardware and software. 
To resolve common issues, try the following steps:
If you are connected via wifi, try connecting your PC with an Ethernet cable.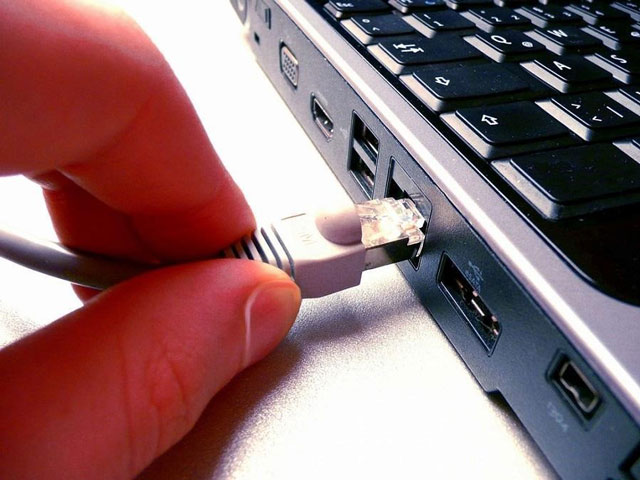 Connect your PC with an Ethernet cable
Check that you are using a private network and not a public network.

If you get a smartphone, create a wifi hotspot (3G/4G) to unlock downloads or check if there's an issue with the main network connection. 
Please note that if you try to download a full game through your mobile device, your mobile carrier may charge you for data. 
Therefore, you should only use this step as a step to confirm whether your network configuration affects the download.
Also read: Why is my wifi download speed so slow?
Frequently Asked Questions (FAQs)
1. How do I reinstall a game on Uplay?
To reinstall a game on Uplay, follow our instructions below:
Step 1: Click Games on the Uplay PC client.

Step 2: After that, select the game you want to download or install.

Step 3: To access the download prompt in the Uplay client, click Download.
2. What to do if Uplay is not downloading at full speed?
When Uplay seems not to download at its full speed, you should follow the following steps:
Run Uplay when logged in as an administrator.

Windows Firewall should be disabled while using Uplay.

Check to make sure your game has enough disk space.

Play the game while the initialization is selective.

Set a download bandwidth limit.
3. How do I download from Uplay?
Here are what you should do to download a game from Uplay:
Install the Uplay Client for PC to get started.

Use the same email address and password from your Ubisoft Account and your purchase to log in after the installation is finished.

In the Uplay games list, look for your game.

Choose Download.

After the download is finished, click Play to launch the game.
Some ending words
At last, if you feel that your game experience in Uplay is unstable, don't hesitate to immediately apply the tips in this article to improve game download speed quickly and effectively. Get the answer for how to speed up Uplay downloads? Comment below if you have any questions!