How to check Wifi speed on iPhone 11? These tools definitely help
Oct 06, 2022 - Views: 401 Share
You're getting poor internet connections on your iPhone when you connect to Wifi but don't know how to check Wifi speed on iPhone 11. You can verify the performance of your Wifi network, and your connection speed, using various free apps and websites. This article guides you to do simple Wifi speed tests on iPhone using free software.
Speedtest
Ookla's Speedtest is a simple and free speed testing alternative. You may test your Wifi speed from anywhere in the world using testing servers. While you won't get information about local Wifi access points, this option is fast and simple for checking network speeds while connected to Wifi on your iPhone.
Visit https://www.speedtest.net to use this basic free network speed analyzer. Choose "Change server" to change server and click the "Go" button to check your Wifi Speed. Note the testing results, including download, upload, or ping.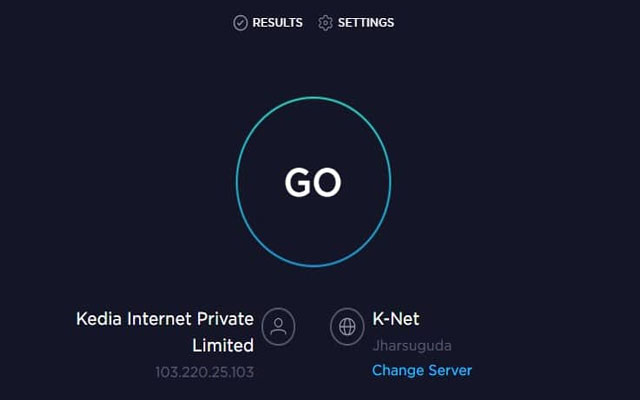 Check your Wifi speed with Speedtest
SpeedChecker
SpeedChecker is an excellent free tool for checking the speed of your Wifi network and your overall internet connection. This basic free program allows you to test your internet speed by pinging a distant website and viewing your Wifi network statistics. 
In the test results, you may also view the average download time for individual jobs, such as movies in various formats (HD versus SD), TV shows, and songs.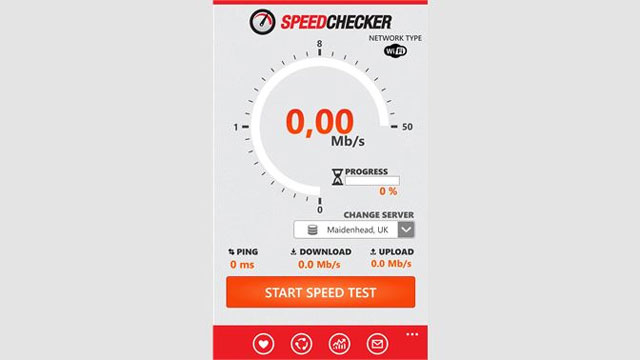 Use Speedchecker to test your Wifi speed on your iPhone
MySpeed
MySpeed allows you to check Wifi speed on your iPhone whenever and wherever you want. 
You can get upload, download, and ping speed results with only one click in a few seconds of waiting. From there, you can see a complete picture of your network connection.
How to run a speed test on Wifi with this tool? Go to the official website: https://gospeedcheck.com/.
Click the button "Go" and wait for a few seconds to check the download, upload, and ping results.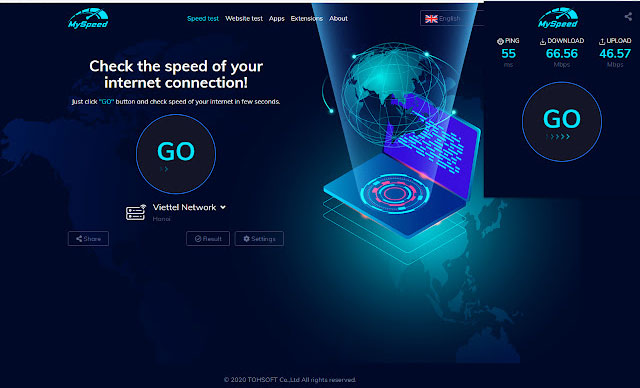 How to test wifi speed on iPhone with MySpeed
SpeedTest Master
SpeedTest Master is a well-liked free app with in-app purchases. This software has a limited number of free tests, but they provide useful information. If you want to compare Wifi signals to discover which is superior, this is a wonderful tool. You can pay a little price to use the unlimited speed test option.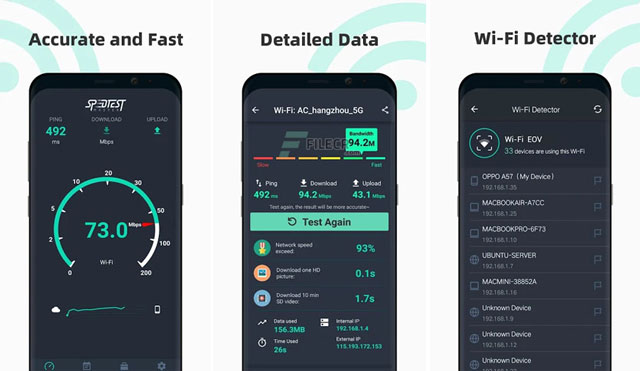 Check your Wifi speed on your iPhone by installing Speedtest Master
SpeedSmart
SpeedSmart will provide you with real-time internet and Wifi speed statistics. This free program contains advertisements, but you may eliminate them for a modest price. How to check Wifi speed on phone by using this tool? 
Download the official iPhone app for more in-depth metrics like average latency, upload and download speeds for your ISP, Wifi, and an average history for the last month.
Visit https://speedsmart.net to use SpeedSmart on the web.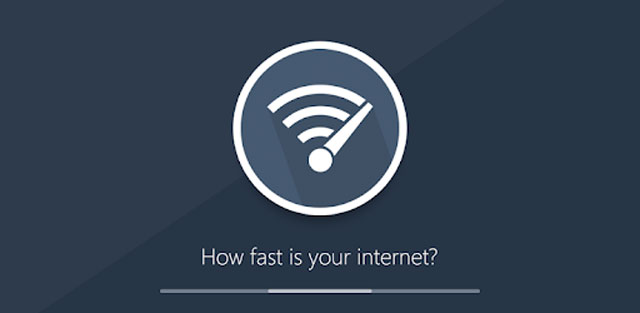 Use SpeedSmart to test Wifi speed on your iPhone
See more: How to check wifi speed on mac
Meteor
OpenSignal's Meteor is a simple and free speed-checking tool. Meteor helps you test network performance on specific apps, such as pinging the server in Pokemon Go, checking download and upload speeds, and ping. Visit the official website: https://www.meteor.com/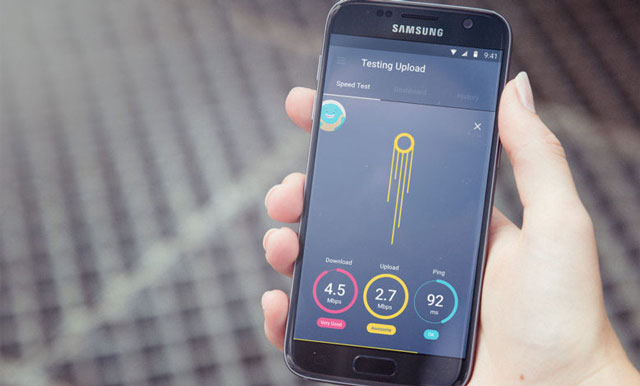 Meteor gives you a Wifi speed test on your phone
Google Speed Test
Search Google for "speed test" to get a quick internet speed test. You can do a fast network speed test without downloading any additional software. To find out your download and upload speeds, simply tap "Run Speed Test".
While you won't see data related to your Wifi network, it's a quick method to assess how fast your connection is in general.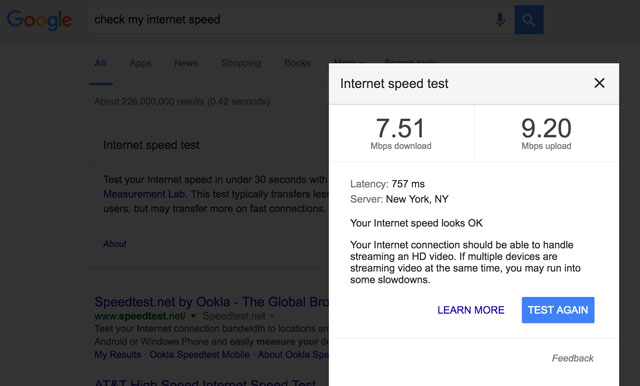 Check your speed with Google Speed Test
Internet Speed Test Speedcheck
Test Your Internet Connection Speedcheck is a free ad-supported app that functions as a Wifi locator. The app allows you to test Wifi and network speeds wherever you have access to Wifi, and the findings are saved in your Wifi speed database. When you're not at home, use the Wifi finder to locate the nearest Wifi connection.
How to test Wifi speed on iPhone with this app? Hit "Begin test" to see the ping, download, and upload speeds of your Wifi by default. Swipe left to reveal more options, including the option to test from a different server.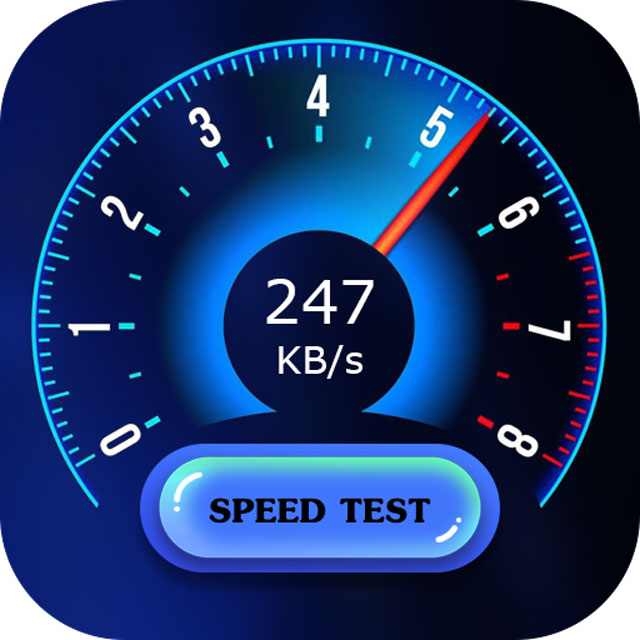 How to check wifi speed on iPhone
See more: How to test wifi speed on android
Conclusion
Now, you can know how to check Wifi speed on iPhone 11 easily and quickly. Different apps and websites offer you free and fast Wifi speed tests on your iPhone, such as Speedtest, Speedchecker, MySpeed, Meteor, or Google Speed Test.
You can freely choose the best tool to run a test on your iPhone to check the overall Wifi speed and network connection within a few seconds.
See also: How to check wifi speed on Mac?
References:
https://www.gadgetbridge.com/how-to/top-5-methods-to-check-internet-speed-on-your-apple-iphone/
https://apps.apple.com/us/app/internet-speed-test-speedcheck/id616145031