How to check ping on Roblox? Different easy ways to check Roblox ping
May 22, 2022 - Views: 882 - Share this post if you find it interesting!
In 2020, more than half of all children under the age of 16 in the United States used Roblox. It's not a game but is a good place where people play online games. So, How to check ping on Roblox? Have you ever wondered that question? In this article, we will guide you on how to check ping in different easy and quick ways. Let's find out.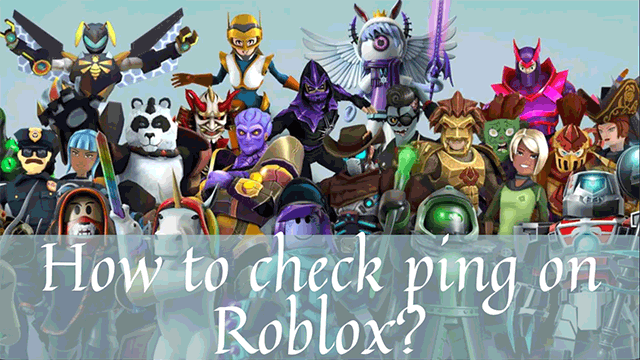 How to check your ping in Roblox?
How to check your ping in Roblox?
What if you don't see the network stat display setting on Roblox? Luckily, it creates many shortcuts for users to do custom settings easily on this platform. Players remember some key shortcuts which are often used and do them, which will save lots of time.
Check ping game does too. You just press "Ctrl + shift + f3" at the same time and you will see the ping information on the top left corner. This key combination is used to show detailed network stats.
Others, if you want to see a summary of stats data, let's press "Ctrl + Shift + F5" simultaneously. The summary is included ping ms, fps, send/ received/ incoming/ sent packets, etc.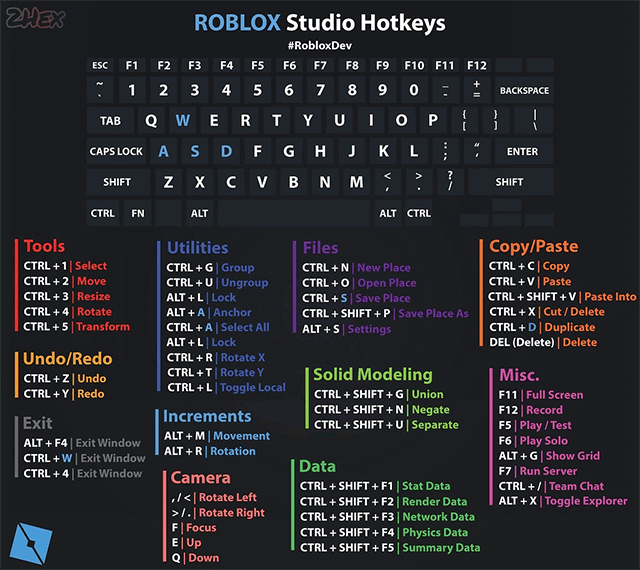 Key shortcuts on Roblox
Aside from measuring ping while playing online games, players are able to check it before matches with the help of a ping test online or ping test server.
A ping test online
To find answers to how to check ping in BDO, Roblox how to check ping, you need to find a reliable ping test online. You should consider some criteria to pick a good tool such as:
Easy to use

Simple interface

Easy to read testing results

Provide exact results ( Freedom from bias)
There are several names that you can try out such as MySpeed, Speed test Ookla, FAST, Speedof.me. These are free testing tools so that you can be comfortable checking the network connection.
Checking ping rate with MySpeed, follow simple steps:
Step 1: Hop into https://gospeedcheck.com/
Step 2: On its homepage, you will see a blue word "Go" on the circle icon, click it
Step 3: When the test starts, it will measure ping ms first. After that, download and uploads are calculated.
The process occurs in some seconds or it can take longer due to your internet quality.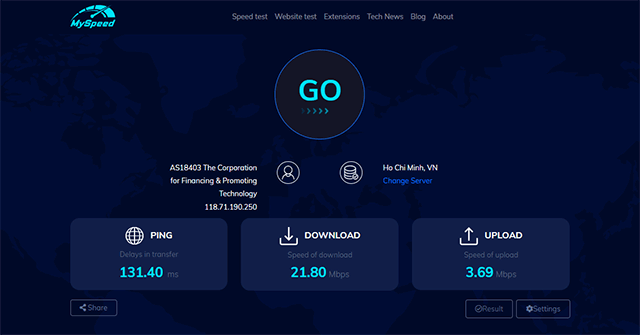 Ping test online
MySpeed allows users to share their results on social media so that if you want, you can share them with your friends to discuss your speed.
Task Manager
Another way to check ping on PC is using task manager. In this way, you can know which program is using more Network, how much latency Roblox is, etc.
Step 1: Press Ctrl + Shift + ESC at the same time on your keyboard
Step 2: Click Performance and open resource monitor to see information about network activities
Step 3: Expand the TCP connections to find ping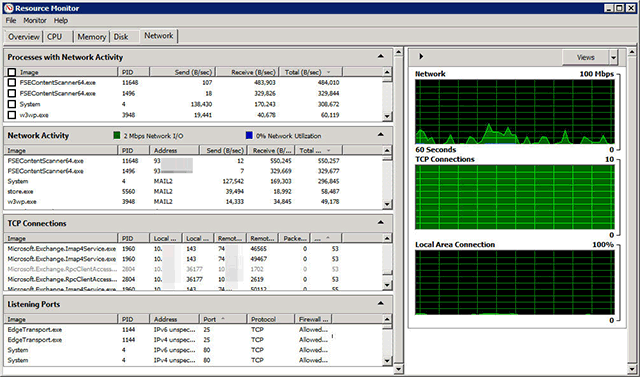 TCP connections on Resource monitor
Let's look at the Latency column, that's the ping rate you are finding. This is measured in milliseconds (ms). Besides, you also get information on the local ports of connections, remote addresses, remote ports, and loss packets.
Ping test server
If a ping test online measures your internet performance, a ping test server can check all ping in different gaming servers. This is helpful when you are confused to select the best gaming server with the lowest ping.
How to check ping in Roblox with a ping test server online? Ping Server Status is a good site gamers often use to check Roblox's server status from their current location.
It's also easy to run the test, follow steps:
Step 1: Visit https://pingserverstatus.com/roblox.php
Step 2: Scroll down and you will see a blue rectangle Ping, click it. This tool shows available Roblox servers and then runs ping tests of all these servers.
Step 3: After seconds, you will get a result table below

Ping test server
As the pic above, you can know that there are 4 available Roblox servers including US East, US West, EU West, and EU East. Among them, the EU West has the lowest ping of 10 ms and the US West server's ping reaches 160 ms.
Wrap up
That's all ways to check ping on Roblox including using shortcuts, a ping test online, task manager, and ping test server. All are easy and quick to do. Hope you enjoyed it!