How to check download speed on Mac? Quick ways to run a speed test
Jul 01, 2022 - Views: 1458 - Share this post if you find it interesting!
How to check download speed on Mac and Windows? Have you already known 3 different ways to test your network connection performance? Keep reading the article, you will see why we should run a speed test as well as learn ways of testing internet speed quickly.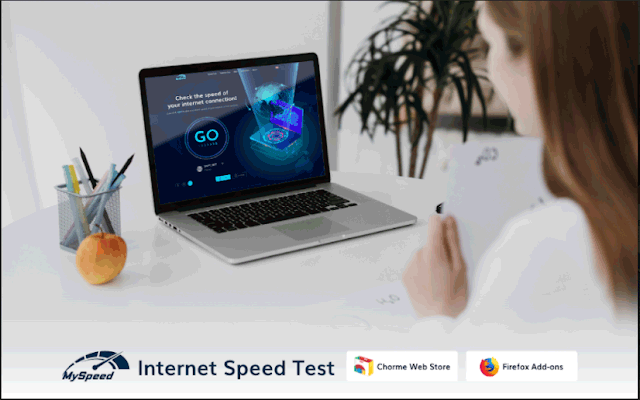 Test internet connection quickly and easily
Why should we run a speed test?
Why should we conduct a speed test online? Surely there are many people asking that question.
There are many cases that after registering for an internet plan, the initial speed of Internet access is very fast, but later on, the internet is slow, the network flickers sometimes without knowing why.
Through a download speed test, people can evaluate a network connection whether fast or not.
If users only access normal websites, users can't determine whether it is due to a transmission error or not. You should have a specific and detailed speed test method.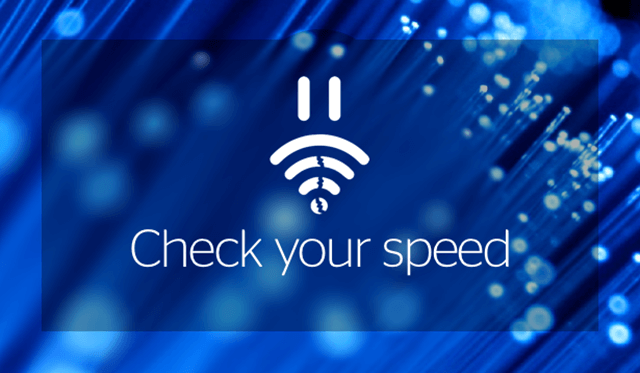 Why should use a speed test internet?
After testing, if you find that the actual usage speed matches the speed recorded on the network contract, you can use the service with complete peace of mind.
However, if the actual speed is much slower, you should contact your network provider in order to ensure your benefits.
Furthermore, you also know the network coverage for the whole house through the test result. Does the internet speed at different places in your house have a huge difference? The speed test internet will tell you the answer.
Everyone wants to watch movies smoothly, play online games like PlayStation, PUBG with fast speed. It will be a bad experience if your streaming movie is often interrupted, laggy or every action in games is always slower than that of other members.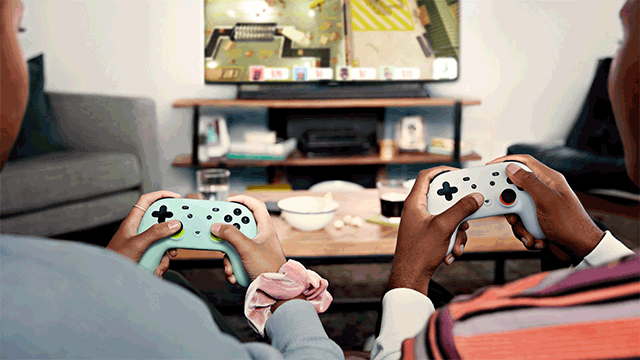 Using a speed test to know when a peak hour is
When you know the peak and low internet hours of the day, you can use the internet effectively thanks to the internet speed test.
So, check download speed or connection speed is an essential activity while using a network connection.
How to test download speed on PC?
Method 1: Speed test website - MySpeed
The first method we introduce in this article is using a speed test website.
MySpeed is a popular download speed check that is quick and accurate about what upload speeds, download speeds, and ping stats are. It is available on both mobile and desktop devices so that check download speed Mac, Windows or even check download speed Comcast is possible.
The easy way of measure network is as follows: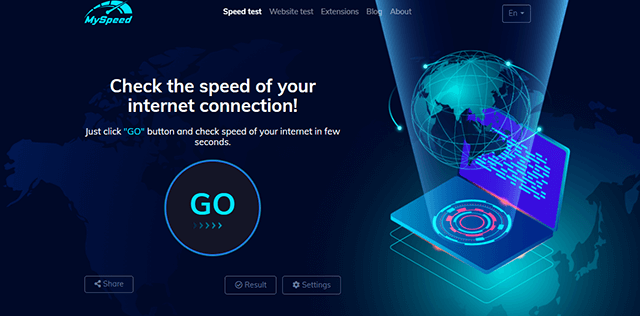 Measure upload and download speeds - MySpeed
During the test, after a few seconds, a table will appear containing information about your network speed:
Download speed: the rate of downloading data on the web returning your device. A rate above 2Mbps is considered fine.

Upload speed: the rate of uploading data from your computer to the web. Unit: Mbps (Megabyte), usually the upload speed is about 1Mbps.

Ping: the round-trip time for messages sent from the originating host of a destination computer that is echoed coming back the source. (unit: milliseconds (ms)).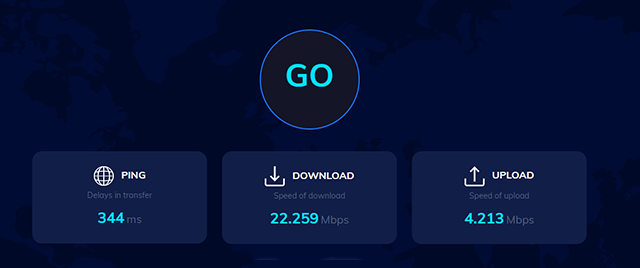 Test download and upload speed
Note: During the implementation, get the correct results by making sure there are no programs on the computer downloading or any computer on the local network using the internet connection. This also limits the situation of "why does my download speed not match speed test ?".
Advantages of MySpeed:
It's free and can be accessed by anyone

Simple interface, users can easily test the network

No-ads

Automatic choosing server

A quick test and a full display of parameters. The results are displayed friendly with the user.

Measure the internet connection speed from different network providers.
Method 2: Test on Mac OS
If you test Wi-Fi speed on a Mac computer that is running an older version of Mac OS X, you may use Network Utility. All network information is displayed in this part.
Step 1: Open the "Finder"
Step 2: Click "Application" and then choose "Utilities"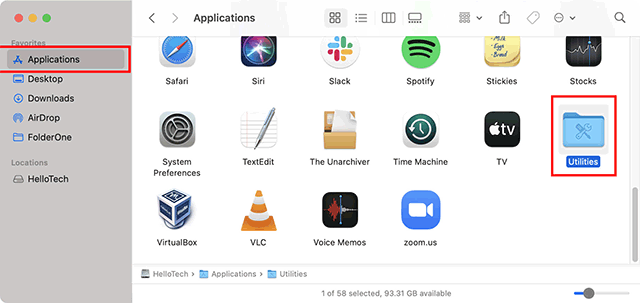 Double-tap to open "utilities" folder
Step 3: Find Network Utility and tap it.
Scroll down, under the Link Speed, you will see a line "Wifi speed". That's the download rate of your network connection.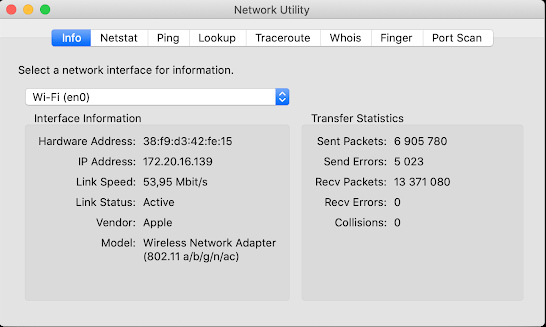 Network Utility on Mac OS
Besides, if you are using Big Sur, unfortunately for you when Network Utility is not available on Big Sur. However, you can see internet download from the menu bar.
Hold down the Option key and click on the WiFi icon, a short notification of Wifi connection speed parameters will be shown as a photo below: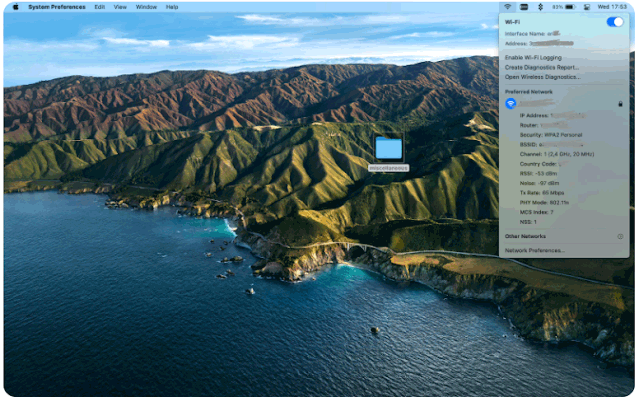 Measure internet downloading rate on Big Sur Mac
Method 3: Test Internet speed on Windows
Before testing the connection, be sure that you connect the computer to the router via an Ethernet cable.
Step 1: Open the Windows icon in the bottom left corner of the screen computer -> Settings -> Select Network & Internet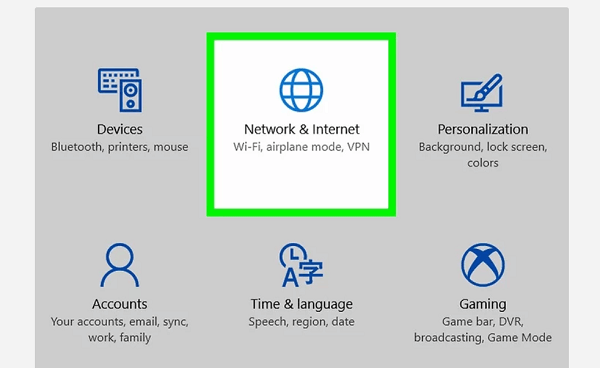 Step 2: Select Ethernet -> Change adapter options -> Double-click the Ethernet connection icon.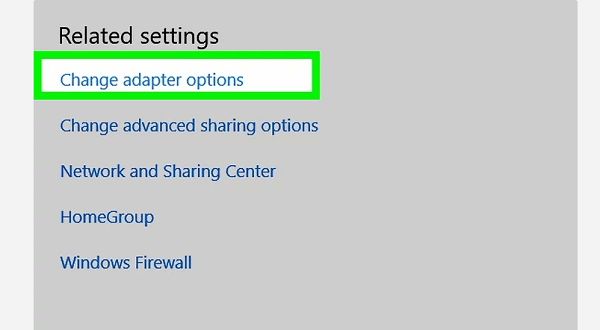 Step 3: Test the internet connection speed and the result is in the table as shown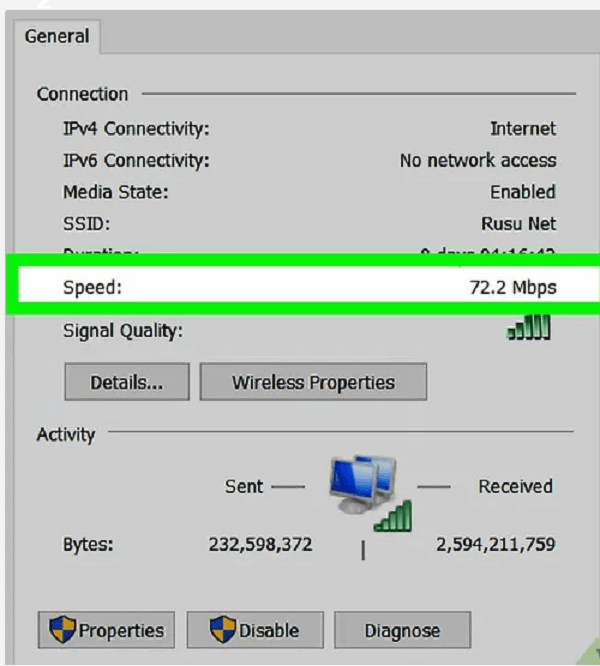 The speed line of 72.2 Mbps here means the downloading speed of your network connection. In other words, you can do downloading activities at 72.2 megabits per second.
Method 2 and 3 just show download rate along with other basic internet connection information such as IP address, protocol, name. Therefore, if you want more about your network, method 1 is a better choice.
Why is my download speed slower than speed test?
After test internet connection speed, many people realized that downloading is slower than internet speed tests. It means that the test result is good but they often experience choppy, jerky situations.
The reason can be "up to" speed. The internet provider offers a higher speed than its actual rate because it is assumed in an ideal condition like just one device using the network at a peak-off hour. In reality, that is difficult to happen.
The testing tools recommended by your ISP can cause the contraction. These tools are not objective and don't reflect the actual speed. Choosing another independent testing tool is the best way. They can be MySpeed, Speed test by Ookla, Fast.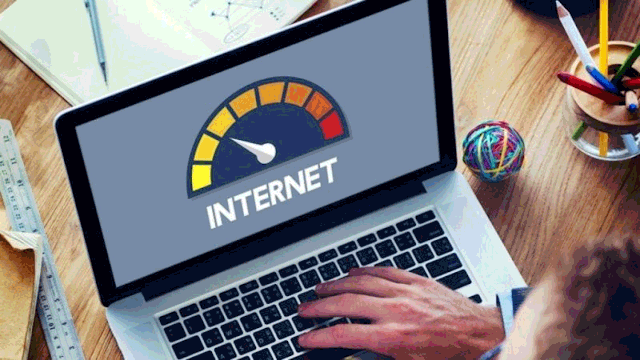 Should use independent internet speed test
Last but not least, the common mistake causing download speed not matching speed test is running a speed test in the wrong way.
Enable too many programs to run while conducting a test or turn on VPN that will influence the testing process. VPN is a virtual private network and it is not your real internet connection. Thus, when enabling VPN, the speed test internet will measure the speed of the VPN instead of your internet speed.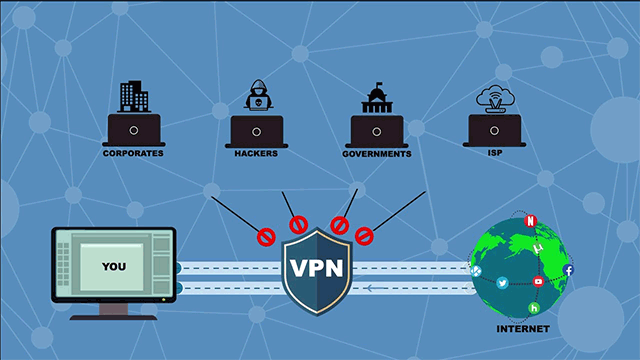 Do not enable VPN while using a speed test
Moreover, every internet speed test internet measures download speeds at that time. If you get reliable results of network signal strength, measure the speed several times per day or even per week then take the average result.
How to speed up downloads on Mac?
After finding some possible reasons for slow rate, are you finding "how to speed up my downloads for free?"
Here are some ways helping you get a correct speed test result:
Turn off unnecessary programs, applications

Disable VPN, malware

Conduct a speed test online at different times per day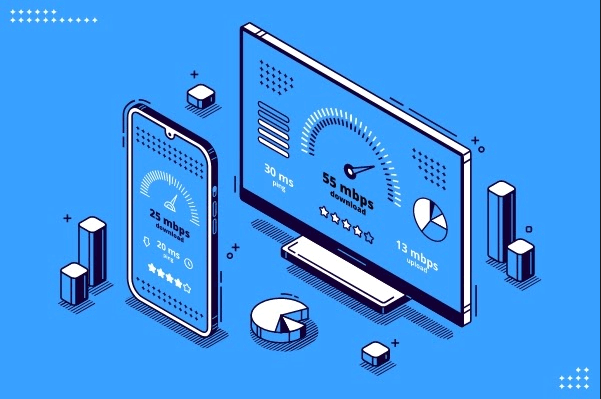 Measure your network connection at different times per day
Stop downloading large files or playing online games that take up a large amount of downloading data

Limits effects of Wifi interference such as Microwave, Bluetooth, building material (glass, wood, concrete), router.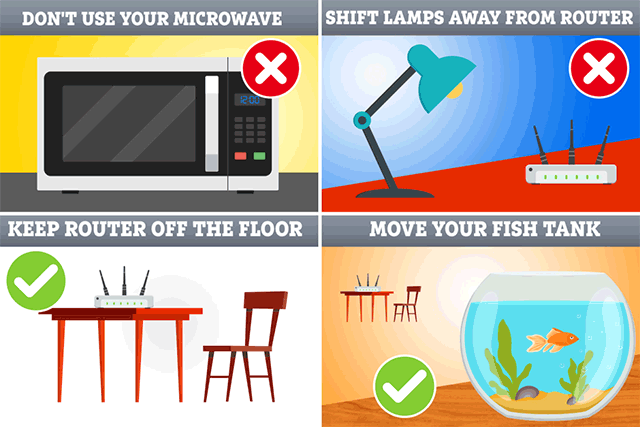 Limit Wifi interference
If you are using a wireless connection, restarting and resetting your router can improve the internet performance as well as limit unequal between actual and testing result.

Call your ISP if all your tries seem to have no improvement.
The bottom line
To sum up, 3 ways of speed test internet are disclosed clearly and each method has its strong and weak points. However, using the speed test is more appreciated. It shows more useful information as well as suggests the next action for users to improve the internet performance.