Ping
Delays in transfer
ms

Download
Speed of download

Upload
Speed of upload
What is Mbps download? How to run a download speed test?
May 26, 2022 - Views: 1358 - Share this post if you find it interesting!
Not sure about download speed test, what is Mbps download, what's a good download speed, and how to test download speed?
Don't be worried. This post will clear the air, provide tips on how to increase internet performance, and help you figure out what speed may be right for your needs.
What is download speed?
Speed test works to measure the speed test of a home network including download, upload, and ping time. Download speed refers to how fast data travels from a server in the form of photos, audio, videos, text, files. It is measured in Megabits per second (Mbps).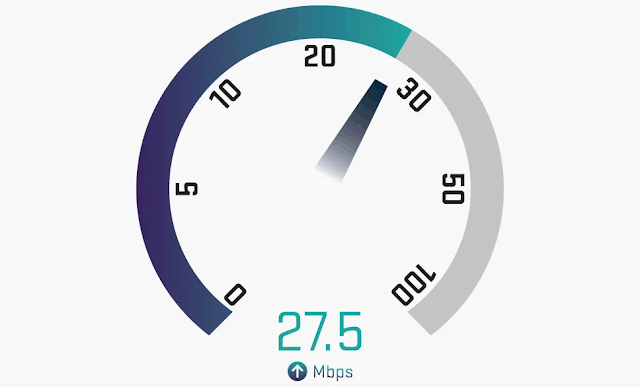 What's my download speed?
A megabit equals 1,024 kilobits, meaning that 1.0 megabits per second are 1,000 times quicker than 1.0 kilobits per second (Kbps).
There is a wide range of activities requiring you to download data such as streaming videos, listening to music on Spotify, downloading files from social media. Want to know "What's my download speed"? Run a speed test.
What is NASA download speed?
NASA download speed is around 91 gigabits per second (GB/s). It is approximately 13,000 times faster than your current speed, and it is nearly difficult for you to obtain it anytime soon.
Mbps vs. MBps: What's the difference?
When it comes to the Internet, there are a bunch of confusing acronyms. One of them is Mbps vs MBps.
Though interrelated, they are different measurements of connection quality. The key distinction between the two terminologies is bits vs. bytes.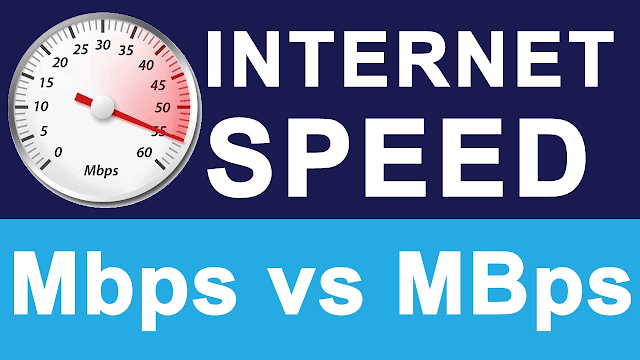 Mbps vs MBps: What is the Difference
Mbps: Stands for Megabits per second, which is a unit of measurement for download and upload speed.

MBps: Stands for Megabytes per second, which indicates how much of a file is downloaded or uploaded per second.
Bandwidth vs. speed: What's the difference
Speed refers to the maximum speed at which data may be transmitted via an Internet connection, commonly measured in megabits per second (Mbps).
Bandwidth refers to the maximum amount of data that can be transferred via your connection, also measured in megabits per second (Mbps).
Bandwidth vs speed
Understanding the distinction between speed and bandwidth will assist you in selecting the best internet service for your needs.
Some small-business internet alternatives, for example, are actually shared connections built for homes that are just backed up with stronger assistance.
Why does download speed matter?
The majority of individuals rely on high download speeds for their internet usage.
No doubt, the download speed can make or break your online experience. For instance, streaming activities require a fast download speed.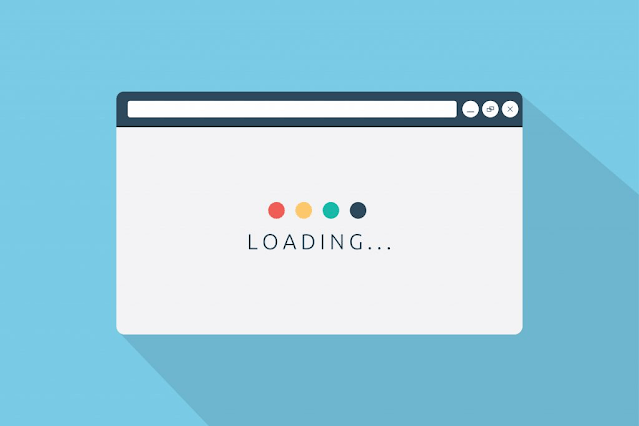 Why download speed matters?
Without it, chances are, you might encounter frustrating problems such as buffering, images that can't be downloaded, or web pages that take forever to load. Here are major situations that require fast download speeds:
Watching streaming video Netflix
Download speeds are important to stream Netflix videos. If your download speed is not good enough, you might experience a buffer and jitter.
How do download speeds matter to online gaming? Well, when you want to download games from Steam, download high-definition graphics, or give games updates, all those activities involve the download of a large amount of data.
Watching Youtube videos, movies
You may need download speed for watching YouTube in HD, 720p videos, or download engaging videos from the platform to your computer for later watch.
Others: Listening to music, downloading files
Apart from those activities, there is a wide range of other tasks that require download speed such as downloading files, loading a website, browsing social media, etc. As long as you retrieve data from the internet, then download speed matters.
What is a good download speed?
When it comes to Internet speed, we generally talk about download speeds as the majority of common activities are download-heavy. But what is good download speed? What is a good download speed for gaming? or what is a fast download speed?
Basically, how much internet speed you need depends on what tasks you use the Internet for. If you perform basic activities like web surfing, the recommended download speed is 10 Mbps per person. However, for bandwidth-intensive activities like video streaming, 25 Mbps is considered good.
In addition, it's also necessary to keep the number of connected devices in mind. If multiple devices are connecting to your home network at once, you'll need a faster connection to avoid network congestion or collapse.
Not sure what is a good download speed for specific activities? Read more here.
Download speed and upload speed
When it comes to internet speed, there are two metrics you may need to consider: Upload and download speed. So What does download and upload speed mean? what is the average upload and download speed?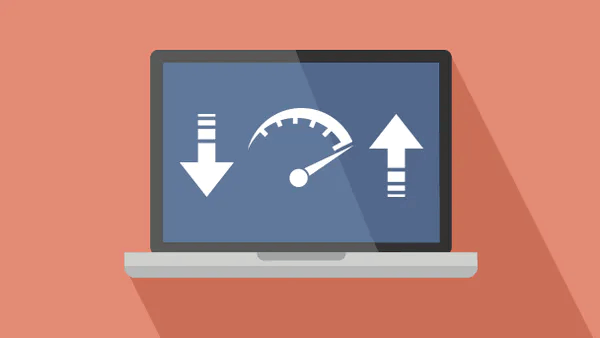 What's the difference between upload and download speed?
What is the difference between upload and download speed?
Regarding what are download and upload speeds, there is a wide range of interpretations about these two terms. Here is the upload and download speed explained:
Download speed refers to how fast data is delivered from the Internet to your computer.

Upload speed dedicates how fast data is sent from your computer to the Internet.
So what is a slow download speed? What are good download and upload speeds? What are fast download and upload speeds? What is a good upload and download speed for gaming? The Federal Communications Commission (FCC) recommends that download speeds of less than 25 Mbps are considered slow and a broadband internet connection needs to offer download and upload speed of at least 25 Mbps and 3 Mbps respectively.
What is more important upload or download speed?
The majority of internet service providers offer internet plans with faster download speed than upload rates as most of the users' activity depends on download speed.
Whether you're accessing a website, viewing Netflix, or updating your operating system, all of that data is coming from somewhere and moving through your connection into your home. Download speed is, of course, important in these cases.
Does streaming use upload or download speed? The table below illustrates how to upload download speed matters to different activities.
As you think about what activities you do on the internet at home, you may decide on having low download high upload or vice versa.
The table below illustrates how to upload download speed matters to different activities.
| | |
| --- | --- |
| When download speeds matter | When upload speeds matter |
| Streaming Netflix movies and shows | Video calls or video conferencing |
| Watching Youtube videos | Sending emails with large files |
| Scrolling through social media | Uploading videos on social platforms |
| Online shopping | Backing up data to cloud service |
| Reading online articles | Working on cloud-based documents |
Download and upload speed
Is upload or download speed more important for gaming? The answer is uploading speed.
Why are my upload speeds faster than download?
A common case is download speed fast upload speed slow. However, after running an internet speed test, you find that download speed is slower than upload or download speed slow upload speed normal. You may ask "why is my upload speed faster than download?", "Why would my download speed be slower than upload?"
It's not really the problem. Many fiber and internet plans provide equal download upload speed tiers. Moreover, because download speed is the majority of practically any internet-based application, it is undoubtedly slower.
Simply put, there is a lot of traffic in your network, your ISP's distribution network, and the server you are trying to visit. So, download speed slow but upload speed fast is nothing to do with your connection being weird.
It's more important to compare your average download and upload speed in speed test with what your ISP promised to offer.
If what you're getting is much less than what is committed, it's time to figure out the reasons behind it and call your ISP for better connections. How to check these rates? Let's move on to the next part.
Google download speed test
When talking about the best internet speed tests, the Google Fiber speed test will be one of your choices.
This tool measures your download speed by checking your network connection between your device and another server. Besides, uploading speed and ping rate are also tested.
Like other products from Google Giant, this Google Fiber download speed test has a clean, minimalist interface. Thus, most users have no difficulty in running a test, just click the Play button and wait for results.
Moreover, different from other free internet speed tests, Google Fiber is free from cluttered ads. This is a big point that users get impressed with this tool.
Last but not least, some people who do not know about network connection well when getting a bad result, want to speed up Google Chrome download, there is a list of understandable informative articles for them. It's so helpful.
Does Google Chrome throttle download speed? Check it out!
Pros

Cons


Clean, simple user interface

No Ads

Free

Available on mobile and desktop devices


Potential bias due to not having an ISP

Lack of information about speed up your internet, troubleshooting
How to use Google Fiber speed test?
Before going to find answers to "How to increase google download speed?" or "how to increase download speed on Google Chrome?", you need to make sure Google Chrome download speed slow or not.
Follow the simple steps below to test internet speed.
Step 1: Visit the website http://speedtest.googlefiber.net/ or search "Google Fiber speed test" on the searching bar of Google.
Step 2: Click the Play button => click continue
Step 3: Take results of download speed, upload speed, and ping after seconds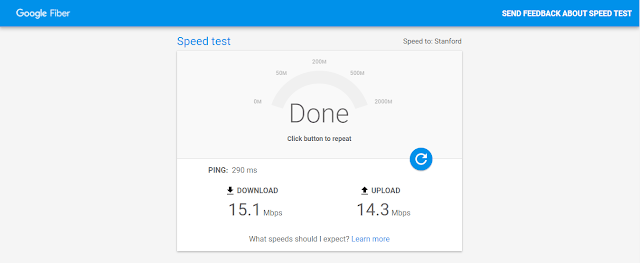 Google Fiber download speed slow
Xfinity download speed test
The download speed test Xfinity belongs to Comcast Cable Communication which is the second-largest broadcasting and cable television company in the world. Therefore, this internet speed test is precisely what many people are finding.
Not only measuring download speed but the test also shows uploading speed and even which latency rate is across your connection. Besides, your protocol and host information is also displayed in the "Show more" part.
It, like other comparable services, picks a host to ping in order to measure your speeds. You can, however, choose your own testing place if you like. The service is not hampered by advertisements, which is fantastic.
Another plus point of the Xfinity download test is that it recommends you some proper online activities. In detail, the test provides some bullet points on what activity you can do with your current Mbps download speed.
Pros

Cons


No ads

Test runs on a secure HTTPS protocol

Can choose a testing location

Support for both protocol IPv6 and IPv4

Test results can be shared

User-friendly interface


No graph display

Too cluttered screen for some people

No save test
How to use the internet speed test?
Xfinity website:
Step 1: Visit the website https://speedtest.xfinity.com/. You can access it on both mobile and desktop.
Step 2: Click the "Start test"
Step 3: It takes some seconds to show results. Wait for it.
Step 4: Tap "Show more" if you want to know the upload and latency rate.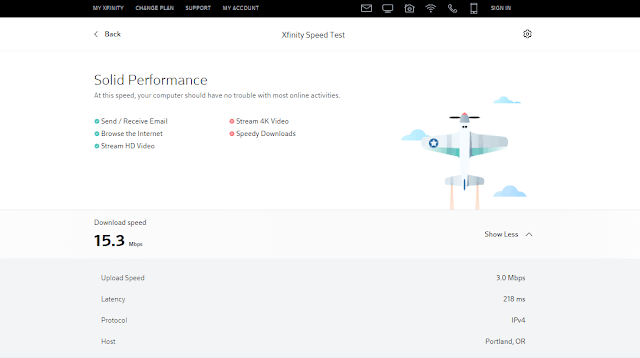 Xfinity download speed test
If you got a slow download speed Xfinity, improve the internet with some recommendations in the last part of the article.
Xfinity download speed app
Link download :
https://play.google.com/store/apps/details?id=com.xfinity.digitalhome&hl=en&gl=US (Android device)
https://apps.apple.com/us/app/xfinity/id1178765645 (iOS device)
Step 1: Download the Xfinity download test by clicking one of 2 links above
Step 2: Open the app and now, you can get results of both the speed to your Gateway as well as to the device you're using to access xFifi

Xfinity test on app
Xfinity download speed slower than expected, The Speed to Gateway test will be shown immediately on the results page.

Speed test results
MySpeed speed test
Another good internet speed test we want to introduce you is MySpeed. Many people try to use it and are really into it due to its simple interface and easy to use.
With only one click, you can run the Wifi download speed test. It shows you not only the download Mbps results but also upload speed and ping rate. The process occurs quickly and you are able to get the best results of the internet connection after a few seconds.
What is different about MySpeed is that it provides users helpful information about your network connection, speed test tools. When accessing the MySpeed website, you can read updated news or technical articles on the blog bar.
MySpeed speed check Wifi is available in 3 forms: website, app, and extension browser. Therefore, users can access it on both mobile and desktop devices.
Pros

Cons


Simple interface

Easy to use

Free

No ads

Informative blog

Have 3 forms: website, app, and extension browser


A small number of servers to choose from
How to use MySpeed?
We are going to guide you on how to check in the website and extension browser. Follow the article.
MySpeed website
MySpeed website is accessible on mobile and desktop. Thus, you can access MySpeed through google.com on a laptop or browsing such as Google Chrome of Android OS or Safari on the iOS operating system.
Step 2: Click "Go" to run the test
Step 3: Wait for some seconds, the screen will show results of 3 parameters ping, download speed, and upload speed.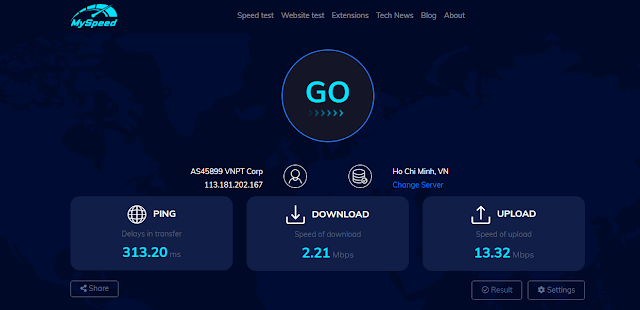 MySpeed- Wifi download speed test
Ping rate is measured in milliseconds (ms) which refers to the round trip time a packet data sent and returned from a device to another.
Download and upload speed will be represented in Mbps. They are average download speed Mbps and average upload rate.
MySpeed extension browser
Aside from accessing MySpeed directly through its website, you are able to get it as an extension browser. To do that, you follow the steps below ( for desktop devices only):
Step 1: On Google.com, type "MySpeed extension for Chrome" on the search bar.
Step 2: Click "Add to Chrome"
Step 3: A notification appears to make sure you add MySpeed. Click " Add Extension"
Step 4: Pin MySpeed on the extension bar
Step 5: That time, when you want to do a Wifi download test on whatever website, click the "Go" button
Step 6: Results will be displayed in a few seconds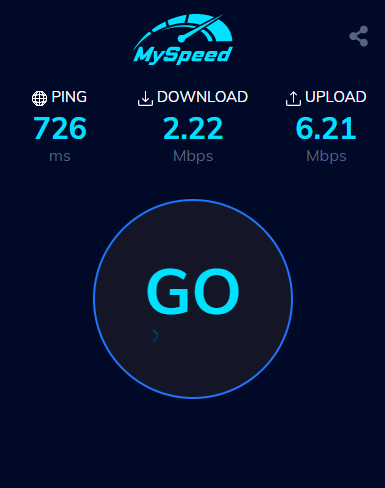 MySpeed- Extension for Chrome
Quick manipulation with only a click, you can get the best results of the current network connection. That's why users get into it.
How to test download speed on PC?
Aside from using an internet speed test, you can test this rate right on your PC. How to check download speed on Windows?
Step 1: Open Control Panel => "Network and Internet" => "Network and Sharing Center"
Step 2: Click the Change adapter settings, click the network adapter
Step 3: Download speed is the "speed" line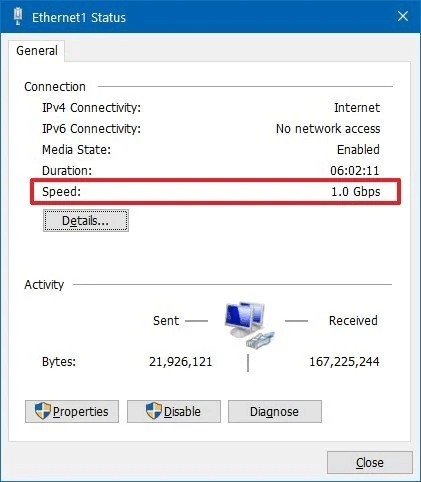 Upload download speed test
Check download speed Mac is also simple. You open "network utility" and click the "info" tab. Change the type of network connection which you want to know its speed.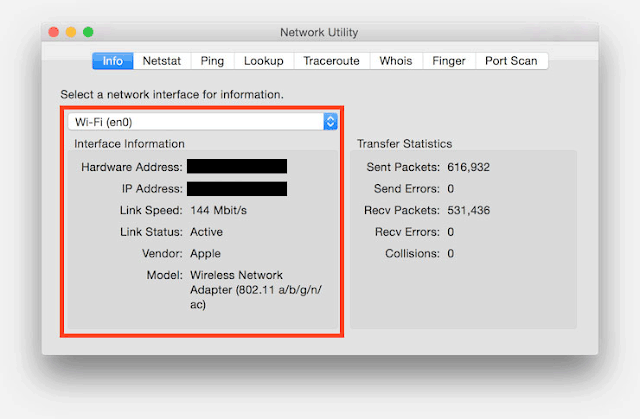 How to check download speed on mac
Why is my download speed so slow?
When it comes to the causes for slow download speed, especially WiFi speed, many factors affect should be mentioned. Following are common reasons behind poor signal strength; let's take a look:
Low bandwidth caps

Problems with the router (outdated router, bad router position, etc)

Background programs and applications

Viruses, malware

WiFi congestion

WiFi interference

Slow, outdated devices

...
As you can see, slow internet download can result from various factors.
In fact, both wired and wireless internet connections can get slowed due to external and internal factors. However, since WiFi signals are transmitted through the air, they are more susceptible to these things.
To know details on "why is my wifi download speed so slow" or "why is my download speed not what I pay for," click here to learn more.
How to increase download speed?
As you can see, many factors affect a slow internet download speed. So, in order to find the best solutions to improve your internet speed for downloading data, the first step always should be to figure out the source of the problem, right?
Depending on the causes, there are different ways to deal with your poor internet download performance, such as:
Upgrade internet plan

Fix router issues (change WiFi router location, upgrade the router, or just simple reboot the router)

Disable background programs

Protect devices from viruses and malware

Use newer devices instead of the older ones

...
Want to know more on how to improve your download speed??? If so, please visit this post to get full details of how to have faster internet.