UK Ranks 6th out of 169 Countries for 2021 Internet Accessibility
Mar 06, 2021 - Views: 651 Share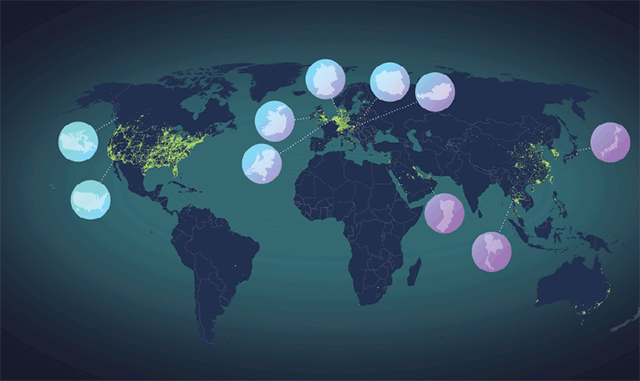 A new 2021 Worldwide Internet Accessibility Index has just been published by comparison site Broadband Choices. This list ranks 169 countries and territories on the quality of their broadband and mobile infrastructure to find the world's most connected countries. Interestingly the United Kingdom positioned 6th overall.
The accessibility index valuation based on several key indicators such as fixed-line broadband speeds, the price, and affordability of home internet packages (business broadband and bundle deals are excluded), the cost of mobile data (per 1GB) on SIM Only plans, the percentage of the population with access to the internet, mobile internet (3G, 4G, etc.) coverage, the number of public WiFi hotspots and the percentage of webpages by national language.
See also:
Overall, Denmark achieves the top of the table this year. Unusually, Danish internet users receive affordable internet and some of the best connection speeds in spite of one provider dominates the market heavily. "Less than 0.1% of web pages are written in Danish, however, with a large majority of Danes speaking English as a second language, it is unlikely to be a significant barrier to accessibility," said the study.
Although the UK has a low average download speed, it still ranked an impressive 6th place with the help of a good level of affordability in both fixed and mobile broadband connections. 
Sadly, the full results are not shown so it is hard to know where the other positive results came from, although they are well done including public WiFi availability, general internet availability, and the percentage of webpages by national language that may be disproportionately high for English as a global standard.
In terms of affordability, the study weights some of its scoring by the average (median) salary for each country in $ USD (i.e. the cost of the average monthly broadband deal as a percentage of median household salary), which is a good thing to do.
Otherwise, the index gets its data on broadband speeds from M-Lab, which showed that the United Kingdom had an average (median) download speed of just 20.06Mbps. However, this number is different from the 64Mbps (download) recorded in Ofcom's 2020 and the 76.49Mbps via Ookla's end of 2020 data. 
Equally, any speed testing-based reports should always be taken with a pinch of salt because they can easily be misinterpreted. Besides, we need to consider the impact of other factors such as  poor home wiring, user choice of package, local network congestion and slow home WiFi, etc.
Here is the list of the top 50 countries. 
| | | | | | | |
| --- | --- | --- | --- | --- | --- | --- |
| Rank | Country | Download (Mbit/s) | Cost Per Month ($) | Affordability | Cost 1GB Data ($) | Score |
| 1 | Denmark | 99.08 | 55.1 | 1.30% | 1 | 97.07 |
| 2 | Liechtenstein | 187.35 | 77.8 | 0.80% | 6.7 | 94.85 |
| 3 | United States | 34.14 | 60.4 | 1.44% | 9.6 | 93.45 |
| 4 | Hong Kong | 81.63 | 50.4 | 1.51% | 3.2 | 93 |
| 5 | Sweden | 71.56 | 48.4 | 1.37% | 2.6 | 92.2 |
| 6 | United Kingdom | 20.06 | 38.7 | 1.35% | 3.4 | 92.13 |
| 7 | Australia | 20.04 | 59.1 | 1.51% | 1.4 | 90.94 |
| 8 | Luxembourg | 56.67 | 58.2 | 0.95% | 3.8 | 90.32 |
| 9 | Switzerland | 95.26 | 77.7 | 1.18% | 12.8 | 90.25 |
| 10 | Andorra | 67.78 | 48.6 | 1.71% | 9.5 | 89.25 |
| 11 | New Zealand | 25.76 | 64.3 | 2.09% | 7.3 | 89.15 |
| 12 | Finland | 54.06 | 48 | 1.45% | 1.6 | 89.12 |
| 13 | Russia | 6.74 | 8.2 | 1.33% | 0.7 | 88.91 |
| 14 | Ireland | 13.77 | 58.2 | 1.60% | 3.4 | 88.82 |
| 15 | The Netherlands | 54.56 | 52.1 | 1.50% | 4.9 | 88.64 |
| 16 | Canada | 19.23 | 61 | 2.04% | 11.1 | 87.51 |
| 17 | Bahamas | 21.98 | 82.6 | 4.54% | 6.2 | 87.45 |
| 18 | Spain | 23.93 | 45.5 | 2.38% | 3.5 | 86.89 |
| 19 | Iceland | 35.25 | 73.3 | 1.78% | 3 | 86.32 |
| 20 | Belarus | 5.08 | 11 | 2.52% | 1.3 | 86.14 |
| 21 | Estonia | 24.54 | 32.6 | 2.38% | 2 | 85.71 |
| 22 | Poland | 23.87 | 17.8 | 1.76% | 1 | 85.61 |
| 23 | Romania | 28.26 | 10.3 | 1.28% | 1.5 | 85.46 |
| 24 | Israel | 16.88 | 24.5 | 0.84% | 0.6 | 85.37 |
| 25 | Barbados | 27.23 | 91.2 | 6.35% | 8.8 | 85.13 |
| 26 | Austria | 18.85 | 44.8 | 1.45% | 1.5 | 85.11 |
| 27 | Belgium | 32.33 | 54.4 | 1.83% | 7.1 | 84.65 |
| 28 | Hungary | 34.02 | 17.8 | 1.75% | 5.2 | 84.42 |
| 29 | Lithuania | 22.71 | 13.5 | 1.29% | 2.7 | 84.31 |
| 30 | Norway | 37.13 | 82.5 | 1.82% | 7.3 | 84.16 |
| 31 | Turkey | 4.75 | 13.8 | 2.61% | 1.8 | 84.09 |
| 32 | France | 10.27 | 33 | 1.17% | 2.2 | 84 |
| 33 | Germany | 22.67 | 38.6 | 1.18% | 4.8 | 84 |
| 34 | Slovenia | 20.27 | 37.1 | 2.73% | 2.8 | 83.61 |
| 35 | Japan | 32.27 | 48.7 | 1.64% | 5.6 | 83.42 |
| 36 | Serbia | 13.49 | 19.4 | 3.49% | 2.8 | 82.88 |
| 37 | Dominica | 7.36 | 56.5 | 14.36% | 7.3 | 82.8 |
| 38 | Italy | 11.88 | 36.3 | 1.71% | 1.1 | 82.73 |
| 39 | Brazil | 4.86 | 29.1 | 5.85% | 3.5 | 82.62 |
| 40 | Indonesia | 3.16 | 32.5 | 10.28% | 1.4 | 82.62 |
| 41 | Egypt | 3.52 | 17.4 | 7.81% | 1.2 | 82.59 |
| 42 | Slovakia | 19.55 | 20.8 | 2.03% | 4.6 | 82.46 |
| 43 | Kazakhstan | 1.39 | 11.5 | 2.72% | 0.9 | 82.45 |
| 44 | Chile | 4.17 | 37.1 | 4.32% | 2.4 | 82.29 |
| 45 | Kuwait | 3.35 | 69.7 | 3.90% | 3.5 | 82.2 |
| 46 | Croatia | 13.98 | 33.5 | 3.23% | 3 | 82.15 |
| 47 | Virgin Islands (U.S.) | 9.58 | 94.5 | 4.57% | 6.8 | 82 |
| 48 | Latvia | 14.22 | 18.4 | 1.96% | 5 | 81.98 |
| 49 | Bulgaria | 18.44 | 15.7 | 2.32% | 3.6 | 81.97 |
| 50 | Taiwan | 20.59 | 28 | 1.98% | 7.3 | 81.96 |