Twitter's Communities & Super Follows will Add More Value for Creators
Mar 08, 2021 - Views: 663 Share
Twitter has unveiled its multiple upcoming features that could significantly change the way people interact with one another on the platform. 
These features are believed to make the platform more versatile and more like some of its competitors. Here are some of the highlighted ones.
Communities
Twitter's new Communities is the Witter version of Facebook Groups. It's where Twitter users who share common interests or locations gather together.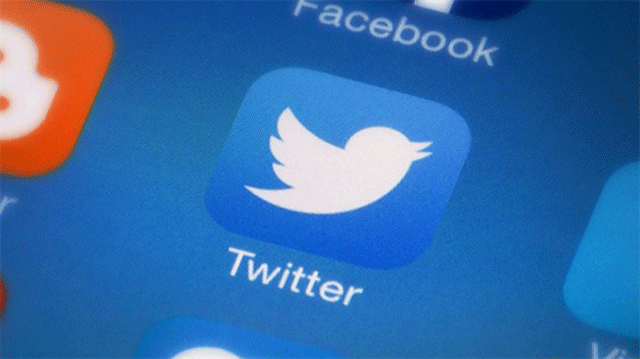 Twitter's 'Communities'& 'Super Follows' will Add More Value for Creators
Communities will make it "easier for people to form, discover, and participate in conversations that are more targeted to the relevant communities or geographies they're interested in," Twitter said.
Twitter introduced several hypothetical groups for social justice, plants, cats and surfing. 
Read also: Twitter launches 'Birdwatch,' a new forum for fight misinformation
Super Follows
Twitter's Super Follows make it more like Patreon, allowing Twitter users to become 'super followers' of their favorite online accounts. Twitter is teasing some exclusive perks such as exclusive content and newsletters, discounts, supporter badges, and super-followers-only conversations.
Creators can take advantage of this to monetize their Twitter following, without having to ask people to leave the platform. 
Moreover, the company also teased some kinds of tipping features for creators but did not mention much about how it would work. It did have a $4.99 /month subscription price in a mockup.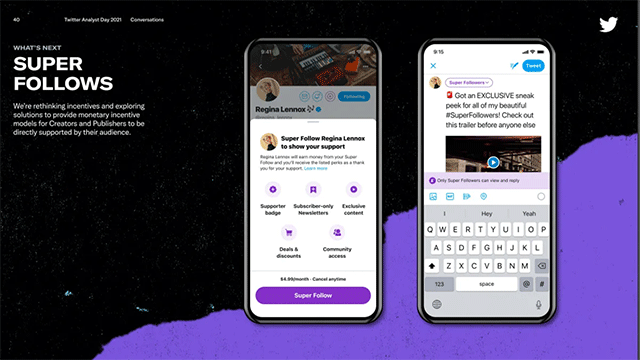 Twitter Super Follows
In addition to these new features, Twitter also featured some upcoming features that have been talked about over the last few months.
Revue
Revue makes it easier for Twitter users to publish newsletters for their audiences. This can be free or be behind a paywall. 
A revue is also a place for you to post your longest tweetstorms, which made the rounds last month.
Spaces
Those who follow social media closely may no strange to Spaces, which is essentially Twitter's version of Clubhouse. 
Specifically, it's a hub for people to talk using honest-to-goodness audio, though it also has live AI captions for conversations.
Although it's still unclear when these features will land, they are being tested publicly, so it's sooner rather than later.
Read also: