If you want to run your online business successfully and offer a great experience to your customers, then running a website test is nothing short of important. 
But how?
Let's explore!
What is website testing? 
Website testing is a practice executed to test the web applications hosted on the web for potential bugs and errors before it is launched. You can also run a website test to discover specific aspects of a website that need to be improved for better performance.
Why Does Website Testing matter?
There are various reasons why website testing matters to every business. However, only mentioned the most common ones.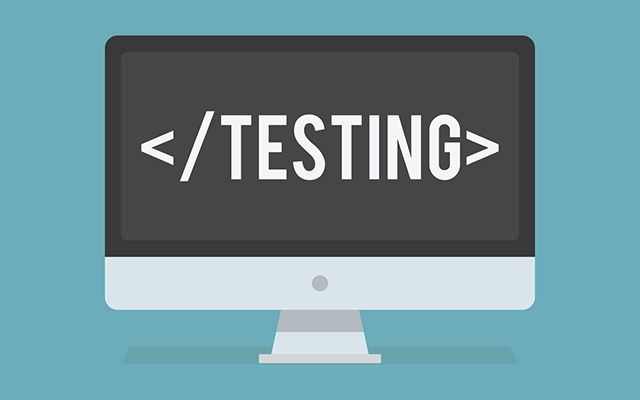 Why is running a website test important?
To Make Sure It Works
There are simple errors that are often overlooked when launching a website or even after it is running online such as broken links, image loading, search functions not working, or forms not submitting correctly. 
These errors can significantly affect your website performance. So how to fix them? A simple web testing definitely helps.
To know if it works fine on Mobile Devices
With more people using mobile to browse the internet, it's crucial to ensure your web application works smoothly on mobile devices. By doing a website test, you will get a grasp of how your website displays on mobile devices, and what you can do to make it accessible across mobile devices. You can test your website on a mobile device using website test tool free.
To ensure website accessibility 
Poor access to web applications hurts not only the brand image but user experience. So, testing accessibility has become a major concern for organizations to ensure your website is accessible to every person.
To ensure Compatibility with Cross-Browsers
Commonly, there are different browsers for web suffering. However, each has its own functionality and uses different rendering engines to display web pages, so your site is not necessarily displayed the same in these platforms. This means you need to make sure your site looks good across all web browsers.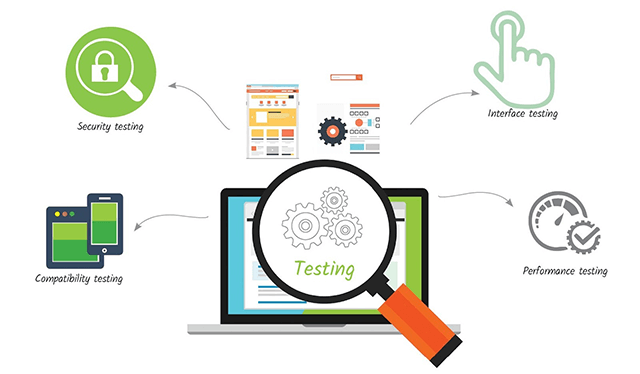 Different types of website test
To make sure Website SEO is Working Properly
Common SEO issues can be easily found in a website are broken links, missing meta description, not updating the site map, duplicate content, and other. But it's sad that only when
the company loses its ranks on search engines or the number of visitors on their site, do they realize the SEO mistakes. Running a website test in general and site SEO, in particular, will keep you ahead and ensure your website is still appreciated.
Monitor Website Performance
There is no denying that users don't like to scroll through a website that takes forever to load. Plus, slow sites are also not highly ranked by Google. Thus, it makes sense to spend some time testing your website performance, finding out factors that make your website slow, and steps to improve website performance.
Your Website is secure
One of the main concerns for every organization is cybersecurity, especially when the rate of website hacking is dramatically increasing. Therefore, it's important to make sure your website is free from all kinds of threats. But how can you know if your site is secure or not? Not surprisingly, running a website test is the only way.
Types of Website Testing 
There are various types of website testing. Here, we will discuss five main types and their benefits for a business.
1. Usability Testing
Usability testing, also known as User experience testing, refers to a technique to check the functionality of a website through the observation of real users when they try to complete tasks on it. Specifically, a small set of target end-users participate in the test to experience the website and find usability defects in it.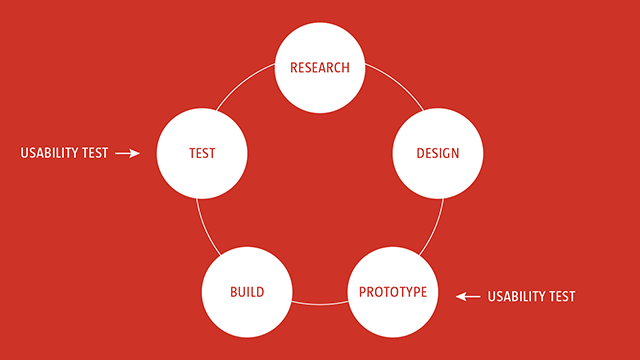 Website test: Test the usability of the website
Key benefits:
Usability testing when running a website test plays the most vital role in the success of a business website. 
It focuses on the ease of use and flexibility of the web application. The ultimate goal of usability testing is to uncover areas of confusion and errors to improve the overall user experience.
It aims to provide many benefits that are crucial for business success as follow:
• Ensuring users have no trouble completing their tasks on site.
• Making sure users are satisfied with different web pages.
• Identifying usability-related issues to avoid redesign costs.
• Saving your money spent on support.
• Finding out the reasons your website is not attracted to new users.
• Reducing shopping cart abandonment rate while increasing business sales.
Usability testing enhances the overall user experience of your website because, without good user experience, your business website will not survive in the market.
2. Functionality Testing
The purpose of functionality testing is intended to evaluate how individual functions perform in a web application. This type of website test ensures the website and all its components work as expected in the real world, and offers users a smooth experience throughout.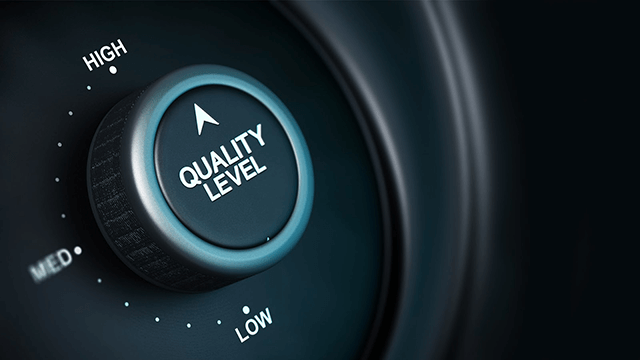 Functionality Testing is one of the key website test types
Key benefits:
Website functional testing makes a great contribution to your site. The advantages of functionality testing include:
• Evaluating the overall performance of a web application before it is launched.
• Helping avoid potential pitfalls down the line 
• Ensuring all components work fine ( the web pages, links, contact forms, etc).
• Making sure the website meets all the business requirements.
3. Interface Testing
Interface Testing is a type of website test that verifies if there is proper communication between two different software systems. It is all about gauging how the end-user reacts to your website so that timely changes can be made.

Website test: Test user interface to know how the end-user reacts to your website
Key Benefits:
Interface testing helps the organization achieve specific goals in these following ways:
Getting a feel of how the end-user is reacting towards the website and what they expect. Businesses can then make some modifications to the interface to make it up to the mark before it goes live.

Making sure that end-users have no issues with the website working.

Determining if the website is user-friendly or not.

Checking the security requirements of a website when systems communicate with each other. 

Ensuring the in-built solutions can handle any problems between the server and the site.
4. Speed Testing (Performance testing)
Web page loading is one of the key components to the success of a site. If your website takes forever to load a page, then chances are visitors will leave for another one. Thus, running a website test is important to uncover factors that affect your page loading speed, and find out ways to make your site load quicker. The market is flooded with a wide range of website test tools, so you should have no trouble picking the best one. One of them is  MySpeed, which is designed to help in testing your website performance. With MySpeed, you can get insight into how your site is performing.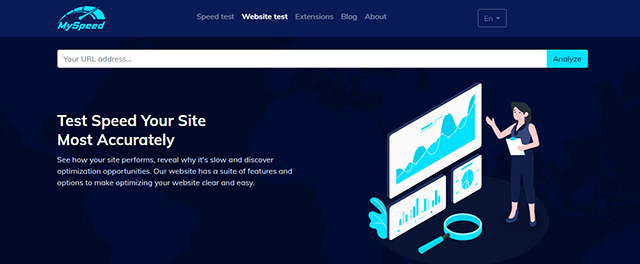 MySpeed offers free website test on all devices
Key benefits:
Performance testing can improve the page loading as well as the image loading speed of your website. It includes various benefits, such as:
• Helping in increasing your website's conversion rate
• Leveling up your website's ranking on different search engines
• Identifying improvement areas of your website
• Allowing optimizing images, videos, and other graphics on a site
5. Cross-Browser Testing
As a key website test type, Cross-browser testing is aimed to check how compatible a website or web application is with different browsers and platforms. 
Key benefits:
Cross-browser testing makes sure that your web application works fine across all platforms and web browsers. Its enormous benefits for businesses and users are listed below:
Address Issues That Can Stop the Vital Functions of Website
A web application doesn't necessarily perform exactly as expected in every web browser. It may have some issues that can stop the critical functions of a website from working simultaneously. A Cross-browser website test can help in resolving these issues and make your site compatible with every web browser and other platforms.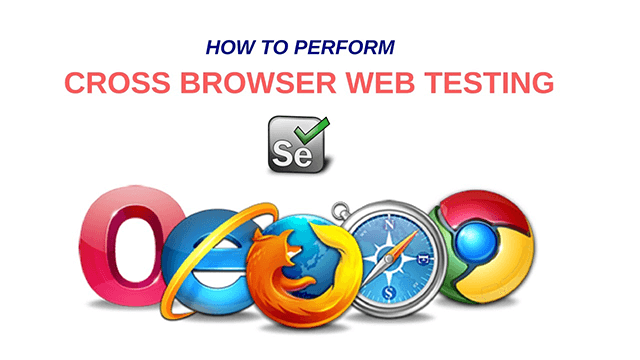 Performing a cross-browser website test
Attract More Customers to the Website
Google Chrome is reportedly the most commonly used web browser while Internet Explorer is left behind. Therefore, it's best to web browser test all the web browsers for your website compatibility. This type of test will ensure your website works properly smoothly on all browsers and increase traffic to your website.
Improve the Functionality and user satisfaction
Your internet web application may not behave well in every browser, this poses a threat while affecting the functionality and overall feel of your website. So, there is no testing but a cross-browser website test that is able to correct the functionality of your site. It also checks the differences between different browsers in terms of actions being taken and the information being displayed.
Automated testing is one of the most noticeable advantages of cross-browser testing as it lets you test all browsers within one program, thus saving you a lot of time on doing separate tests. Being aware of what cross-browser testing brings about, you definitely want to perform these tests on your web application. For more information, read how to do a website check in different browsers?
Conclusion
You've learned overall information of website testing, different types of web testing, the enormous benefits that they offer. Improving your website performance is undoubtedly critical for satisfying customers and growing your business. If you don't take running a website test seriously, you might end up losing the customers. Do you expect this? 
You may also like...