Zoro.to Explained: A Definite Guide That You Should Not Ignore
Nov 07, 2022 - Views: 2754 Share
As the number of anime fans grows, so does the demand to watch anime online, mostly as a way to view them for free. This is where Zoro.to comes in.
One of the greatest free anime streaming websites, it allows you to watch anime series, anime movies, and other types of anime content online.
Is Zoro.to safe to use given that many websites offer a risk to our device and identity owing to harmful ads?
Find an answer in this article right away!
What Is Zoro.to?
Thousands of subtitled and dubbed anime series, including the most recent releases, are available on the new free anime streaming website Zoro.to.
This website is fantastic since you can watch a huge variety of anime videos there for free.
Additionally, even though the website is marketed as a streaming resource, you may download content to stream it at your convenience and offline.
Read next: WiFi speed test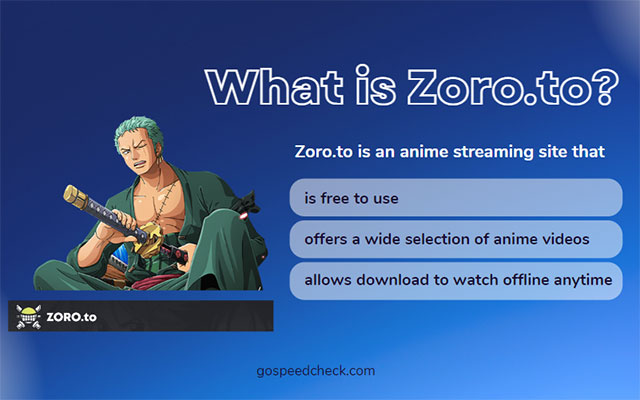 Zoro.to provides many good features
What Safety Issues Might Come Up With Zoro.to?
 Zoro.to and anime streaming websites appear to experience a lot of issues more frequently than other areas of the Internet. There is no doubt that each risk differs from the others. 
So, you'll see why Zoro.to handles each problem successfully or poorly as we go through them.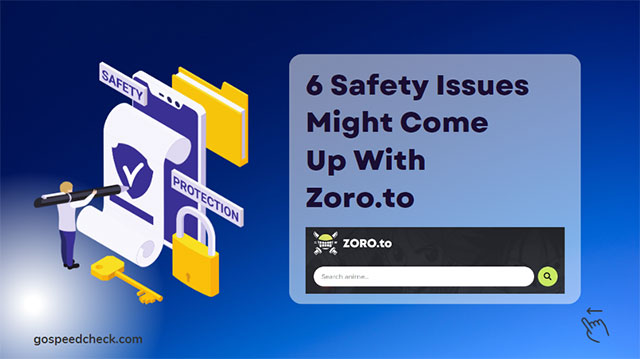 Some common safety issues with Zoro.to
Malware
Malware is neither sponsored by or distributed by Zoro.to. It has nothing to do with that industry, and it isn't situated in a way that virus may unintentionally use the site to reach you.
Yet, there are always worries that malicious actors may do awful things without the site's knowledge or consent, even if the website isn't specifically malicious.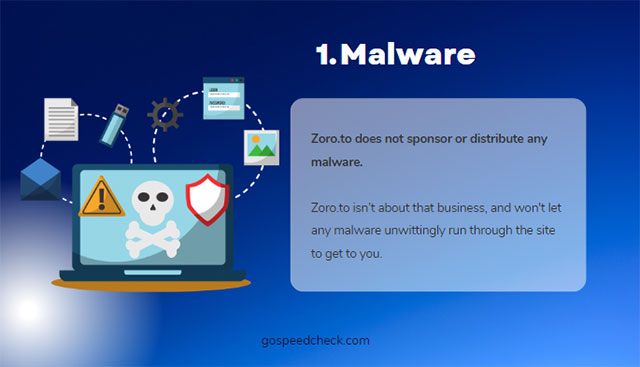 Malware issue with Zoro.to
Ads
One of the biggest issues with anime websites are advertisements. Zoro.to, fortunately, doesn't feature any advertising at all.
Thanks to this feature, you are shielded not just from harmful software but also from unwanted or bothersome adverts.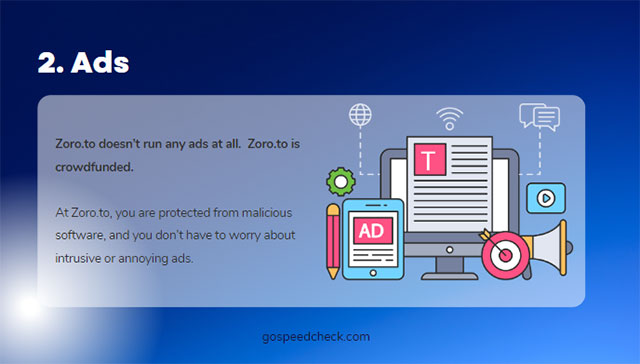 Zoro.to is ads-free
Personal info
Unlike other websites, Zoro.to doesn't leak personal or financial information or expose your identify.
The website doesn't even have a way to collect your payment card information. So long as you select a strong password and an email that conceals sensitive information, you should be alright.
Your personal info is protect when using Zoro.to
Legality
There is undoubtedly a legal risk because Zoro.to does not formally license the rights to broadcast the anime you can find there. You can incur a fine for your involvement, based on where you live and how the matter is handled.
The larger danger is associated with content downloads. So it is wise to refrain from downloading anything from Zoro.to if you have any concerns.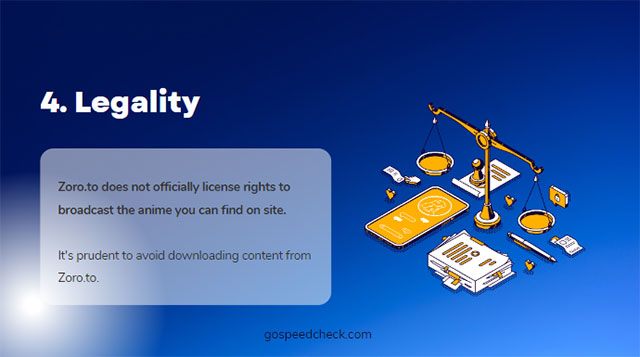 Be careful of legal risk while using Zoro.to
Community
Like many anime websites, Zoro.to offers tools for participation in the local community. Also, there is a comments box below each uploaded video where you may submit or read what other people have to say.
Some expressions are prohibited on Zoro.to, however the system is not totally automated. Thus, it is still possible for someone to post things that are against the rules, and those posts may remain up for a while.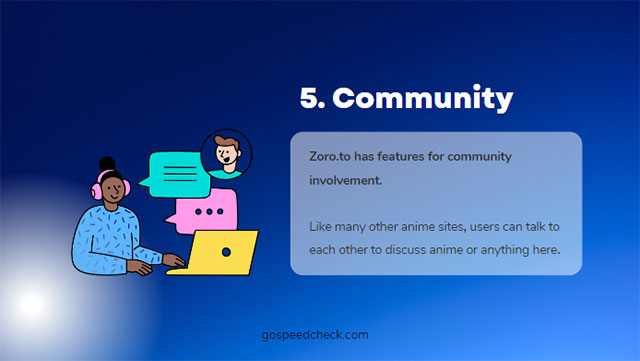 Zoro.to provides a community involvement
Watch together
Users can connect with these community groups through the website's Watch2gether function to sync videos and host a remote viewing party.
There is a risk that someone in the group will have negative intentions because this encourages user communication. If their children use the site, parents should definitely bear this in mind.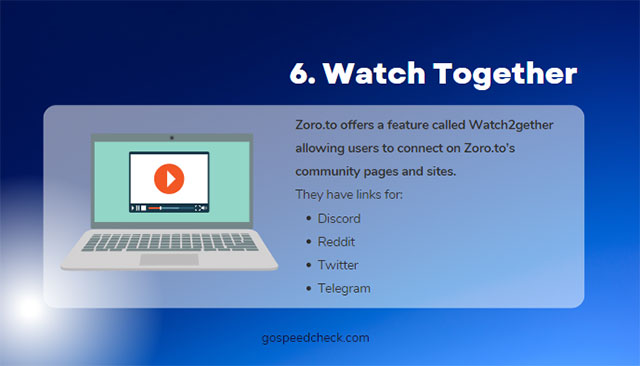 Zoro.to provides a Watch together feature
These are 6 common safety issue with Zoro.to that you should be aware of. Malware, advertisements, financial security, legality, and the suitability of the site's content are frequently the major problems.
Let's sum up!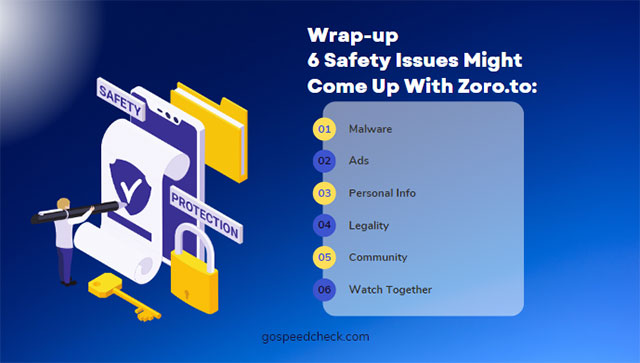 Zoro.to's safety concerns
How Does Zoro.to Protect You?
In addition to the previously listed problems, there are additional hazards that exist and that require attention.
Thankfully, Zoro.to provides a few actions on handling safety and associated issues. They do provide you a little more that you can rely on, and they can make your experience more satisfying overall.
The availability of customer service creates more alternatives for how you can use the website. This results in additional chances to utilize the website in a responsible and safe manner.
Unless you like one of the sources, you can choose a another one because Zoro.to embeds streams from other sources. Users are better protected by this function from needing to use mirrors that damage their electronics.
To manage the forums and regulate content in accordance with the established regulations, Zoro.to employs a combination of automated and human monitoring. Thus you are somewhat shielded from content that you might find objectionable, making this site safer than many of its rivals.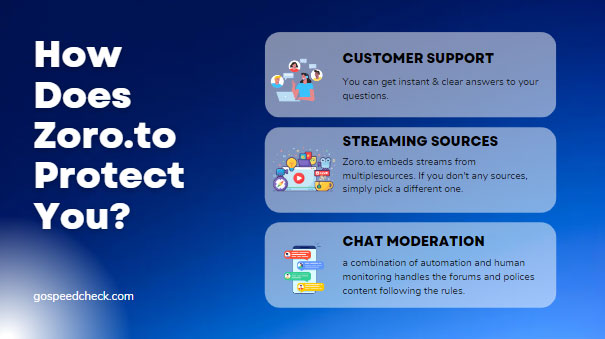 Zoro.to offers 3 ways to protect users
Conclusion
Zoro.to appears to be just like another anime streaming website, but it is actually rather different. It offers its subscribers a number of exclusive premium services and customer assistance. To give users a seamless user experience, they also constantly watch the site's conversation and communication. Hence, if you like anime, try Zoro.to instantly!
HOW SAFE IS ZORO.TO?