Instagram users can now restore deleted posts due to this new feature
Feb 04, 2021 - Views: 723 Share
The Facebook-owned platform, Instagram, has rolled out a helpful 'Recently Deleted' feature that enables users to recover posts, consisting of videos, photos, stories, and more. Keep reading on for more details and how to recover your deleted Instagram posts.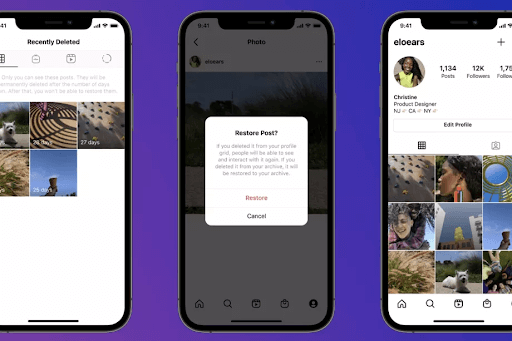 Instagram is now making it easier than ever to bring back deleted posts
By providing app users with a brand new "recently deleted" feature, Instagram is now making it easier than ever to bring back deleted posts. Thanks to the feature, you can now review content you have deleted, including videos, photos, IGTV videos, stories, and reels, as well as restore them if you want. 
Instagram is positioning this new feature as helpful against hacks, especially if hackers take control of an account and then start deleting content, according to The Verge. Starting February 2nd, users of this platform will have to confirm they are the account owner through either email or text in order to delete permanently or restore content.
How to restore the deleted Instagram posts?
Deleted items will be kept in the folder for 30 days. After that point, they will be automatically removed if not touched. However, deleted stories are the exception since they'll only stay in the recently deleted section for only 24 hours before they are permanently deleted.
Here's how to restore your deleted Instagram posts:
Open the app, tap the profile tap (person icon) in the bottom right corner.

Then, tap the three-line icon in the screen's top right corner > Choose Settings

Tap "Recently Deleted" (check back soon if the feature is not available)

Choose a post/story/video > Tap Restore. 
See also: Bandwidth hogging: Top things eating up a lot of internet bandwidth
Sources:
theverge.com/2021/2/2/22262154/instagram-recently-deleted-feature-update
9to5mac.com/2021/02/02/how-to-restore-deleted-instagram-posts/