Complete Guide on How to Test Internet Speed on Phone?
Jul 04, 2022 - Views: 1322 - Share this post if you find it interesting!
Of course, keeping track of your Internet speed is a great idea, but how to test Internet speed on phone with accuracy is paid much attention by online users, especially gamers who love and regularly use Android phones, iPhones to play games or live streams. In this article, we will walk you through easy steps to check network speed on phone.
By doing this, you will get a grasp of your Internet connection on your device and know if it is strong enough for games and downloading.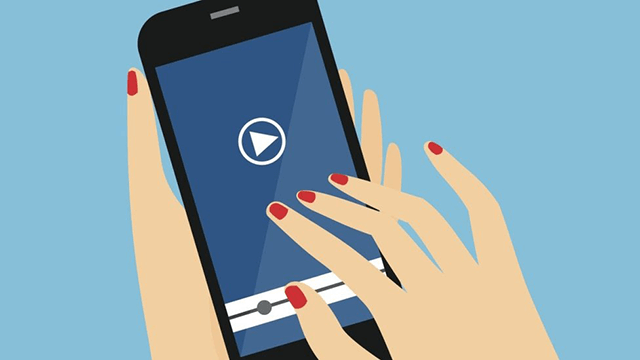 Complete Guide on How to Test Internet Speed on Phone?
Why should I speed-check my internet connection?
There are two main reasons why it's necessary to test internet speed in my area:
1. To ensure that the speed I am getting is correct as committed by the internet service provider.
2. To help me adapt my expectations about what applications you can run to have a smooth network experience.
Now take a look at the guide on how to test Internet speed on a phone.
Guide to check the network speed on the phone
Check Internet speed on Gospeedcheck.com.
When you need to perform a quick test of Internet speed on your smartphone, MySpeed is probably your best option. This is a free speed test website that provides accurate information about upload speeds, download speeds, and ping.
Don't judge it by the simple UI, it offers more than download speed, exactly what you expect from a reliable download speed test tool.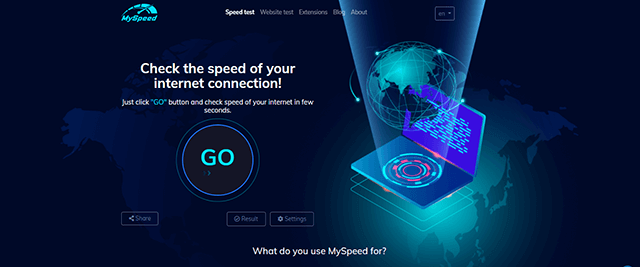 How to Test Internet Speed on Phone with gospeedcheck.com
Advantages of Gospeedcheck.com
It's completely free and can be accessed by anyone at any time, anywhere

Simple interface for users to easily test net

A quick check and a full display of parameters.

Check the internet connection speed from different network providers.
Here is how to test internet speed on phone:
Step 1: Visit http://www.speedtest.net. The main interface appears -> Click Go to start the test

Step 2: Click the Go button.
After pressing Go, a speedometer will appear and it will start showing the download speed of data from the computer to the selected server and the speed of sending data. It will take a few minutes or a few seconds depending on your connection speed.
Step 3: View the result of the network speed test
When the network speed test is complete, you will see three main metrics: Upload, Download speeds, and Ping.
Download - The speed of data transferred to your device. Download speeds above 2MBps are considered fine.

Uploads - Speed of uploading data from your computer to the web. Unit: MBps (Megabyte), usual Upload speed is about 1MBps.

Ping - Time for 2 computers to connect (unit: milliseconds (ms)). In Vietnam, if the Ping parameter is below 50ms, it will be considered as good, while abroad it is <150ms.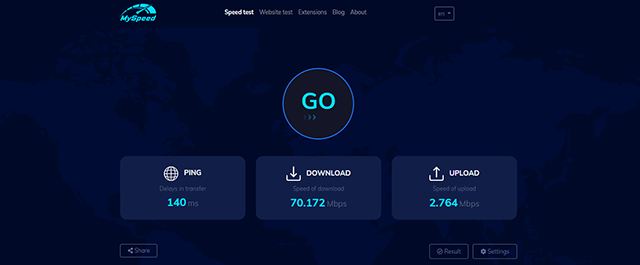 How to Test Internet Speed on Phone using speed test tools
*Note: During the implementation, to get accurate results, make sure no programs on the computer or any computer on the local network are using the internet connection.
That's it! This guide on how to test Internet speed on phone is easy to follow, so you should have no trouble running a speed test. The same ways are done if you want to test internet speed on laptop/windows.
After checking the network speed, if the network speed is correct as the package provided by your carrier, you can skip it. However, if the displayed parameters show that the network speed is not correct compared to what you paid for, you should test the net some more times.
Because no conclusion can be made based on just one test. After you have done many checks and still have the same results, quickly contact your network provider to ask them to resolve the case.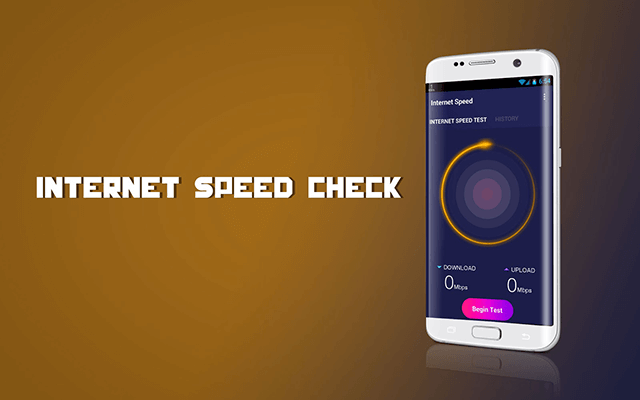 How to check internet speed on phone quickly
Reasons for slow Internet
Below are five main causes of your slow internet connection:
1. An error from the internet service provider
It can be said that the slow network phenomenon often occurs in many families, and the root cause can be from nowhere but service providers. After knowing how to test Internet speed on phone, you should run it immediately to find out whether your internet service provider is delivering the right speed.
2. A problem with your test device
Another reason is that problems with your computer or mobile phone, may be due to a virus, or a damaged network card leading to poor information transmission.
In particular, there are some viruses born for the purpose of installing hidden software to virtual money. This software will consume all the resources on your computer to serve for mining virtual money, making the computer slower than ever. Now you should reinstall Windows for your computer, set up firewall protection, install quality anti-virus software to avoid this phenomenon.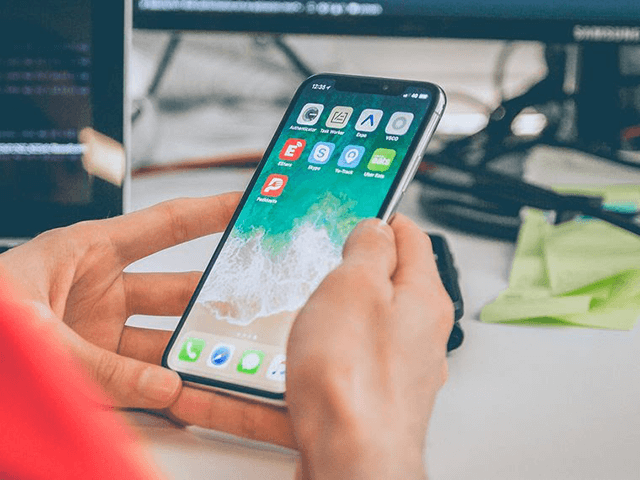 How to properly test internet speed on phone
3. Out-of-date Modem or Router
Faulty transceivers can also cause slow network speeds, and a serious failure can lead to net loss.
Need to check device settings again, reset and reinstall, for damaged devices need to conduct a new replacement immediately.
4. Access blocked and speed restricted websites
Some websites are specifically prohibited from accessing from carriers, or some have limited speed, you should check with many different websites to see if you are on a website. prohibited or not.
5. Network congestion
You register a package for 3-4 users, but when you check, there are more than 10 devices connected, so the data capacity will be broken down a lot, making the network speed slower than ever. So one effective tip on how to test internet speed on a phone is reducing as many devices using the same network as possible.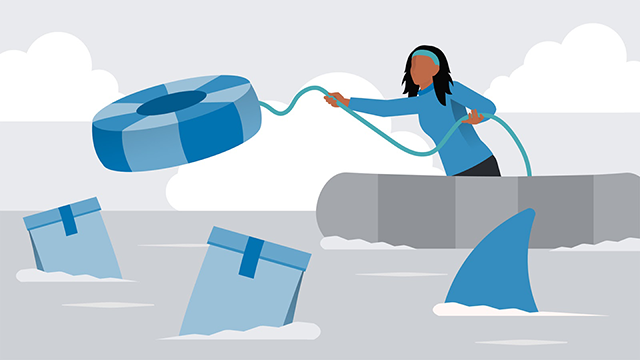 Internet test your speed
Tips on how to run mobile internet speed accurately
While running a speed check on your phone, you might make some mistakes that lead to the wrong results.
Take a look at the following tips to get an exact view of how good your connection is:
Use a wired network if possible
Your slower connection can be caused by your Wi-Fi connection, not by your ISP itself. Thus, If you want accurate and consistent mobile speed test results, use a wired connection.
Running multiple tests is one of the most effective tips on how to test internet speed on phone. Never conclude your connection is good or not after just one test because there can be many other factors that affect the results. We suggest running the test many times and then average the results for more accuracy.
Run a test with only one or multiple devices
Whether your Internet connection is slow or not also depends on how many devices are connected to your network. Therefore, make sure only one device is connected to the network while testing speed and use multiple devices connected to the network to run another test.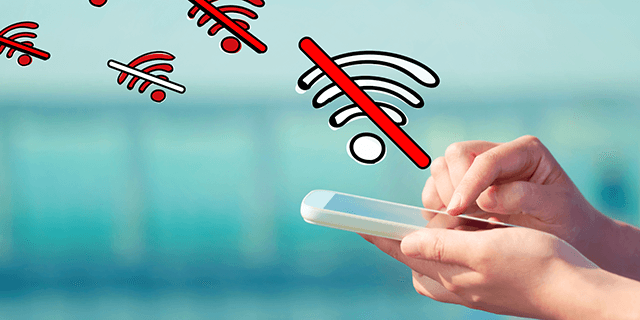 How to get accurate internet speed test: Run a test with only one or multiple devices
Perform a speed test in different locations
The further you are from your router, the weaker the strength of your wireless. Thus, make sure to run a speed test in the place that is close to your router as much as possible and in other places further away to see how much the results vary. This is also an interesting tip on how to test Internet speed on phone.
If your wired results are way lower than advertised, a consistent 20 to 30 Mbps difference, perhaps, there might be something else going on. Give your internet service provider a call.
Conclusion
How frustrating it is when downloading a large file then the bandwidth is near a dial-up level. We hope this simple guide on how to test internet speed on phone will help clear up your annoyance. If you find any other effective ways or tools, please share them in the comment below. Cheers!
RELATED TOPICS