Here's An Ultimate Guide on How to Run a Ping Test Using Ping Tools
Jul 04, 2022 - Views: 707 - Share this post if you find it interesting!
Want to test the quality of your internet connection? Here's how to run a ping test in the most popular operating systems and how to read the ping test results.
What is a Ping Test
The ping using your internet connection is to measure the amount of time required to send the data packets to a specific address and send those packets back to your device.
A good ping test will provide you with helpful information about the connection between your physical location ad server, as well as tell you if there is any packet loss during the process.
How to run a ping test in Windows 10/ Mac
Many questions related to ping tests have been thrown on online communities such as how to check ping in overwatch? ffxiv how to check ping? How to check ping in smite? How to check ping in minecraft? How to check ping on fortnite? How to check ping in wow.
Check your ping
There are two main ways to check your ping: Using an online ping tester and using Comand Prompt (CMD). These ways are also helpful for those who seek how to check ping osrs, how to check ping in heroes of the storm, warframe how to check ping, how to check blade and soul ping, how to check ping in league of legends,
How to check pings with a ping tester
Run a ping test after connecting to a server. You'll get a sense of how well your local network is operating.
There is a bunch of online ping testers available out there for you to choose from. You may consider Speedtest.net, Fast.com, Gospeedcheck.com. Using these sites, you are able to ping test and check your internet connection anywhere, anytime.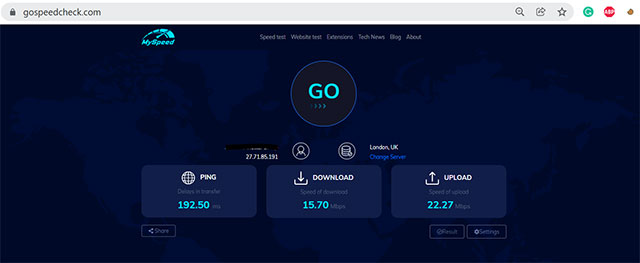 Ping test with MySpeed
Whatever you use, begin by resetting all of your electronics, then connect your laptop directly to your router using an Ethernet cable. A speed test will then tell you what your internet speed and ping are before your network begins sending the signal across your home.
The instructions for doing a ping test vary depending on the operating system.
How to check ping windows 10 with Command Prompt
If you are wondering how to test ping in cmd or how to check ping windows 10, follow these steps:
Go to Search in the taskbar, Enter cmd into the search and click on "Command Prompt". The Command Prompt windows will then appear.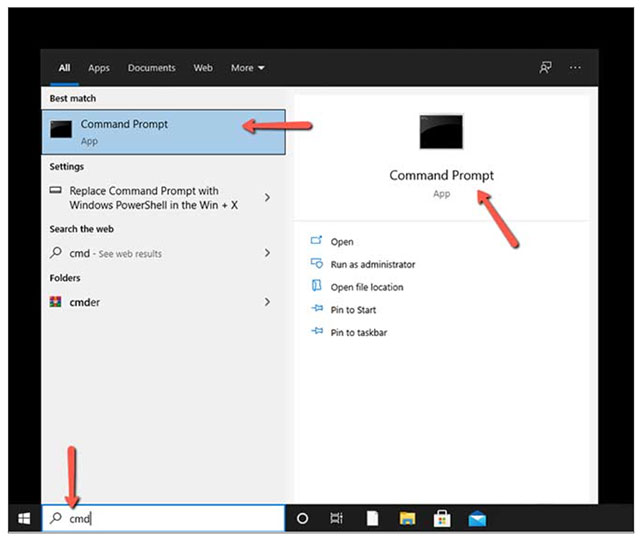 When a black window appears, type "ping" and simply press the "space" bar. Next, type the IP address/ domain you want to ping and wait for the ping results. For example, you'd like to ping the id "27.71.85.191", you should type "ping 27.71.85.191" then Enter.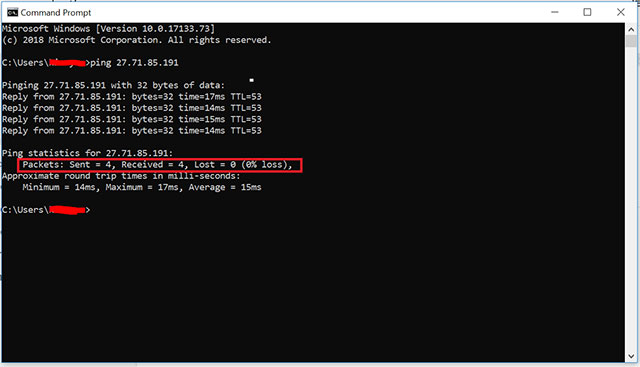 The image above shows that you've run successful ping tests in Windows 10. Now it's time to read the ping test results.
The first line you'll notice is the host name of the server. This will ensure that you are connected to the server. Following that is the number of bytes transferred to the server, which is normally 32.
The next four lines illustrate the server's response time, specifically the number of bytes of data that were returned, and the number of milliseconds for the response to return. TTL stands for "time to live", meaning the total routers the packet will travel through. If you read "request timed out," it means that the packets were unable to locate the host, indicating a connection problem.
The Ping statistics section displays the process's total numbers. The data packets line displays the number of packets sent and received as well as the number of packets lost. If there were, there would be a connection problem.
Sent: Show a signal that has been transmitted to the specified IP address from your computer.

Received: Indicate the recipient IP address got your signal and responded.

Loss: Tell us the number of packets lost. Any packet loss could result in visible problems. In an ideal world, you would have a 0% loss. Any positive value suggests a possible problem with your network.
Finally, approximate round trip times demonstrate the connection speed. The longer the period, the more erratic the connection.
Is this guide on how to check your ping with cmd helpful for you?
How to run ping test on mac
To run Mac Os ping test, follow the steps below:
Step 1: Open a Finder on your Mac.

Step 2: Simply click on Applications in the bottom left side. If you don't see it, hit the Command + A keys on your keyboard.

Step 3: Open the Utilities folder.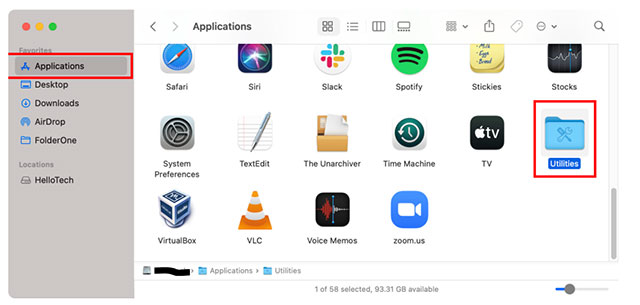 Step 4: Open the terminal app
Step 5: Type ping, then hit space and an IP address/domain you want to ping. (e.g: If you ping www.bbc.net.uk, type ping www.bbc.net.uk )

Step 6: Enter and wait for the ping test results.

Step 7: Press Ctrl + C if you are looking for how to stop a ping test
This guide on how to do a ping test in Windows and Mac is also applicable for how to check ping in archeage, tera how to check ping, how to check ping in pubg, how to check ping on roblox, how to test ping on ps4, how to check ping in dota 2, how to check ping in bdo.
How to troubleshoot ping connectivity errors
check ping on roblox, how to test ping on ps4, how to check ping in dota 2, how to check ping in bdo.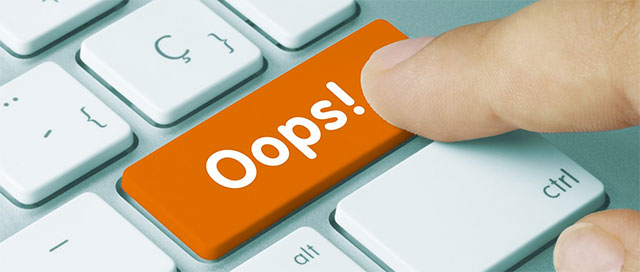 Failed ping tests
When doing a ping test, you may get "ping test fails" with a variety of error messages. Here are a few examples:
You will most likely see this warning if the IP address you're pinging cannot be recognized. Check if the nameserver is correct. If it is, there could be a problem with the name resolution process itself. In this case, you'll need to check the DNS or WINS server's availability status.
If you receive this notice, there could be a problem with your network card or wireless adapter on your PC or laptop. Examine your device driver and ensure that your device has an IP address.
This warning indicates that the destination you are attempting to ping is unavailable. The issue could be caused by a firewall, so double-check your settings.
Destination host unreachable:
This is one of the common errors. The cause may be because the cable is not connected correctly, or because the firewall is too strong. If the error occurs often, it is most likely because the server is overloaded and cannot respond to requests from the workstation. First of all, you should see if the modem has any problems by lifting the modem and pressing the reset button at the modem to reset the whole thing. Then you check the connection again with the Ping command.
In conclusion
Run ping tests is the quickest way to evaluate the quality of internet connection. By using a ping tester or Command Prompt windows you can determine how fast data travels from your computer to the Internet.