How to reduce high ping: Best gaming wireless routers [Updated 2022]
Feb 18, 2021 - Views: 5502 Share
Investing in a 2022 router is the best thing for gamers to play online games with a smoother, lag-free experience.
Therefore, if possible, go for a 2022 best router instead of purchasing exciting peripherals to put together your gaming rig.
Today, MySpeed will introduce you to some best budget routers 2022, a good way to lower your ping.
Do not ignore this interesting topic!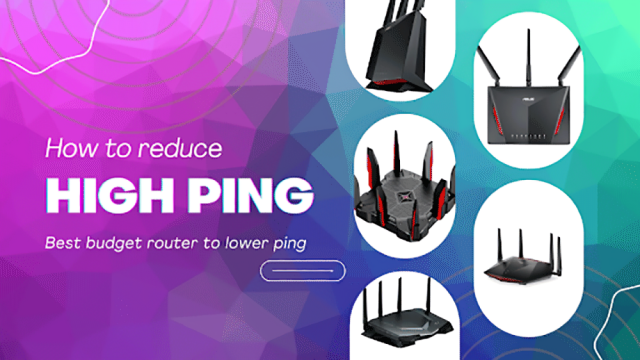 How to reduce high ping?
What is ping internet?
Ping is the time data packets are sent and responded to between a host and a server. 
In online gaming, ping means how latency is between your computer and the game server.
To illustrate, when you want to choose a weapon for fighting, you send a request to the server and after that, a weapon list is shown on your screen. 
Ping is the time after sending a request, the weapon list appears on your screen.
Ping is an important spec in online gaming
For online gamers, speed is considered a key to deciding the winning-losing.
Gamers will want to own a ping as low as possible. 
High ping means the increase in loss rate in the match. 
Not only does it increase the loss rate but also a high ping causes players some trouble, an annoying feeling.
Before firing a match, video game players often measure their internet connection speed with a reliable ping test online. 
Why is my ping so high?
A ping rate less than 150ms is considered a good rate. 
In general, our ping time ranges from 100ms to 150 ms. 
If it is lower than 50ms, that's so great. 
However, what if higher than 150ms? 
What causes high ping?
Look at the picture below to get the answer: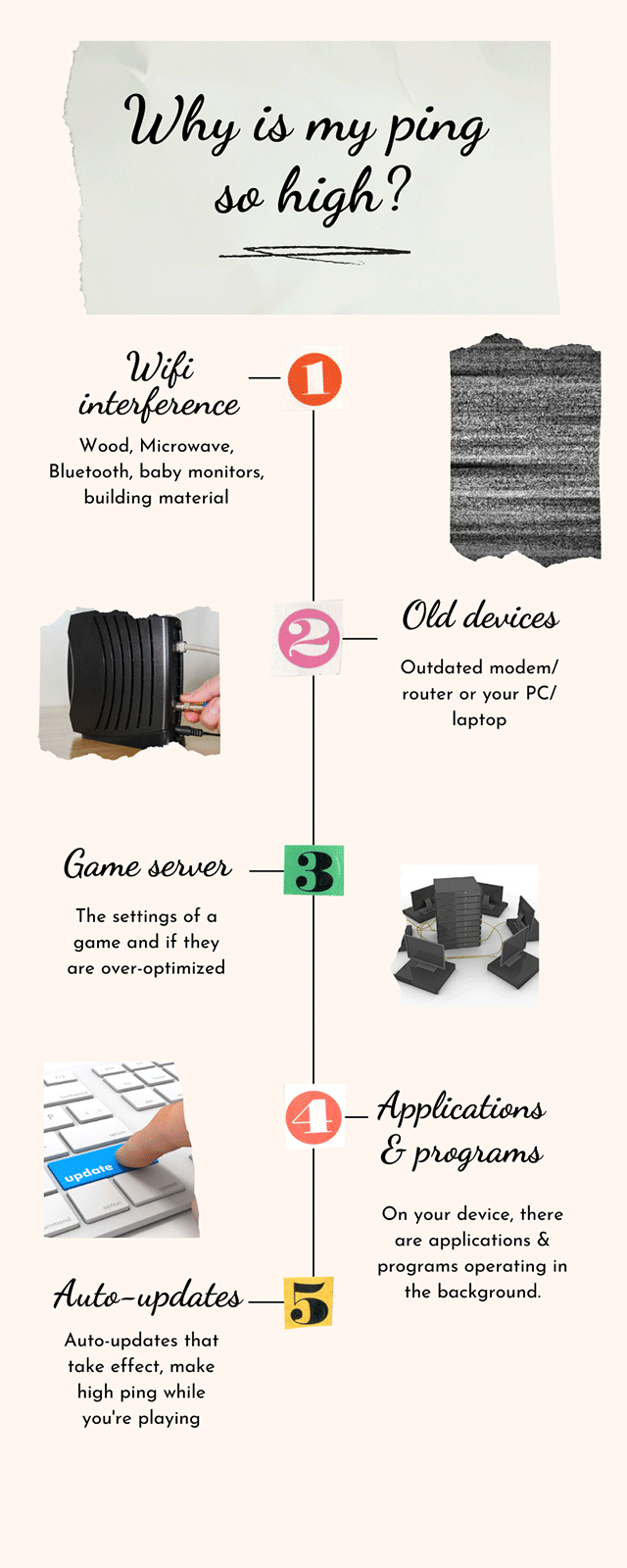 What causes high ping?
How to improve ping speed?
If the average ping is high, they could try out some tips on "How to reduce your ping" such as: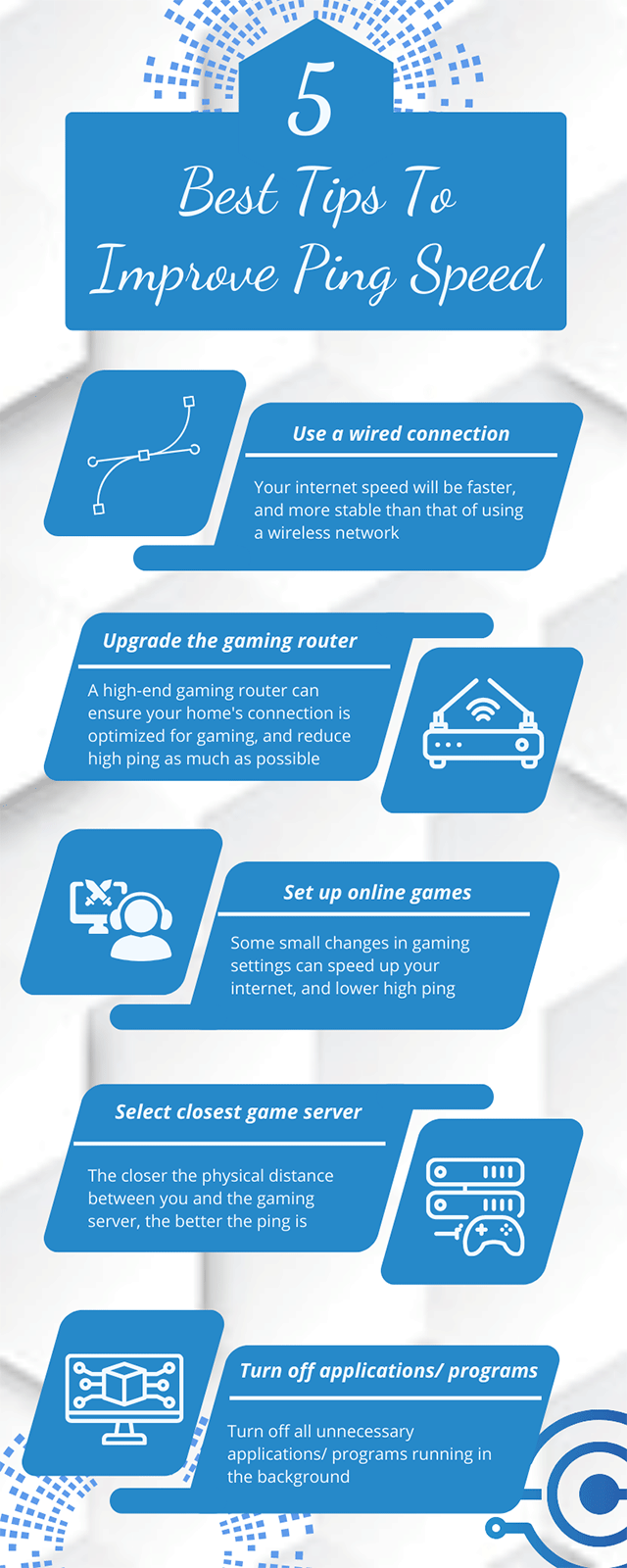 Tips to reduce ping
However, after all, investing in a good wifi router is highly recommended for gamers.  
They can do more than provide a dependable connection. 
Not only do they prioritize network bandwidth for your PC but also they are able to minimize lags and other intermittent problems. 
In other words, with the help of these routers, gaming players can get a rock-solid connection throughout their entire gaming session.
It's especially helpful at the most essential and intense moments. 
Reducing high ping becomes easier. 
That is something most typical routers just are not able to do.
What's different about gaming routers?
Indeed, traditional routers have been upgraded to become gaming routers.
They are made to boost performance and simplify user administration.
Also, in contrast to a standard router, gaming routers offer the ability to optimize the local internet traffic.
Although these devices are wonderful for people, you'll experience much greater advantages if you live in a multi-user or high-traffic household.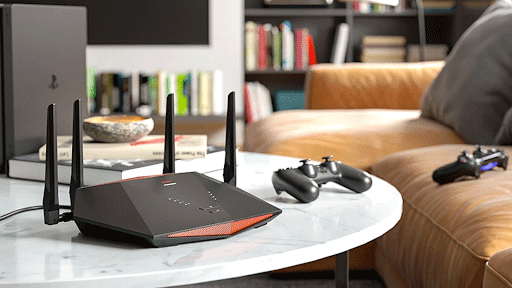 Gaming routers have great benefits
Nowadays, there is a wide variety of products on the market with various prices and features.
Yet, some solutions might only provide a slight improvement.
But don't worry!
Read on more to find out the top 5 wireless routers of 2022.
They are good at both price and quality, so don't miss out on them!
Best gaming wireless routers 2022 
How to lower ping? 
How can a gaming router reduce high ping? 
Let's take into account some outstanding best routers for 2022, you should own.
Asus RT-AC86U
Specifications

Wi-Fi Spec: Wi-Fi 5 AC2900

Number of Antennas/Removable: 4/3 Removable

Ports: 1 WAN/4 LAN gigabit per second, USB 2.0, USB 3.0Peak 

Throughput: 667.8Mbps

Size: 8.7 x 6.1 x 3.5 inches
How to lower your ping? 
The Asus RT-AC86U is one of the best gaming routers.
It offers a collection of advanced features, helping the gaming experience well without as lag and frustration-free as possible. 
Moreover, this device has a straightforward yet powerful interface along with comprehensive QoS settings.
Especially, the spider-like design can make you look strange but the eight antennas serve the purpose of directing the Wi-Fi signal throughout your home. 
Thanks to this, this good gaming router is able to provide signals in a remarkable range and reduce negative effects, solving slow internet effectively.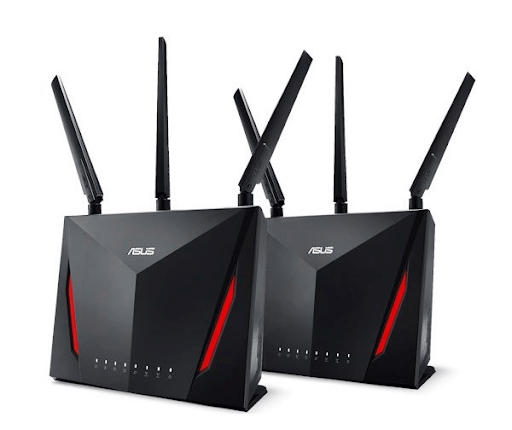 The best gaming router Asus can reduce your ping well
How to reduce ping in games? 
This best gaming router 2022 will allow GPN automatically to choose the best server for any game server you are playing. 
As a result, your router will have lower ping and play games without lag.
Pros:
Powerful interface

Comprehensive QoS settings

Provide signals in a remarkable range

GPN automatically chooses the best server
Cons:
Not suitable for wall mounting

No broadband modem
TP-Link Archer C5400X
Specifications

Wi-Fi Spec: 802.11ac/Tri-Band

Number of Antennas/Removable: 8/No

Ports: 1 WAN, 8 1-Gbps LAN, 1 USB 2.0

Peak Throughput: 859.5 Mbps

Size: 11.2 x 11.2 x 7.6 inches
Another good gaming router we highly recommend is TP-Link Archer C5400X.
Of course, it is considerably more expensive than other products on our list.
However, its quality won't disappoint you!
With that price tag, your game might be very excellent in online games.
Also, you will feel an amazing ping rate of your router, and your computer.
Its Broadcom BCM 4366 Wi-Fi chip has a 1.8GHz quad-core processor with three auxiliary co-processors along with 512MB of storage space and 1GB of RAM. 
It can offer the highest-performing home networking available. 
It became outstanding as the gaming-router competition with a top speed of 859.5Mbps at 15 feet, 16%, and 53%, respectively.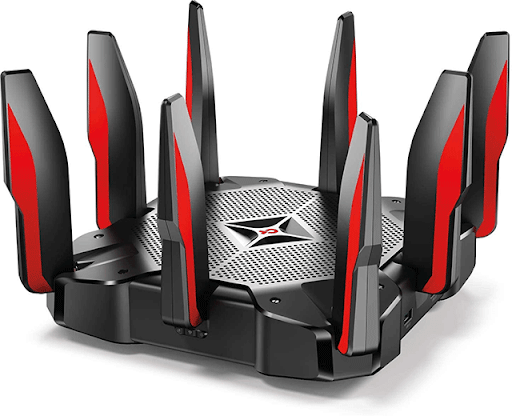 TP-Link Archer C5400X becomes the best gaming router TP-link
In detail, the device makes signals more and more melodramatic, all adding up to a screamer. 
The ability of this router TP-link gaming is to deliver 1Gbps over its 2.4GHz band, and 2.167Gbps over each of its two 5GHz channels. 
To reduce lag or high ping of your network is certain with this device.
Pros:
Provide high-performing home networking

Incredible range

Fast
Cons:
Netgear Nighthawk Pro Gaming XR500
Specifications

Wi-Fi Spec: AC2600

Number of Antennas/Removable: 4/Yes

Ports: 1 WAN/4 LAN gigabit per second, 2 USB 3.0

Peak Throughput: 715.4 Mbps

Size: 12.6 x 9.6 x 2.2 inches
What if you are playing a thrilling game match, your roommates are watching a movie on Netflix, or downloading their own large files at the same time? 
That is really mad!
Luckily, it is also a good time to consider Netgear Nighthawk XR500. 
What makes it special? 
This elite gaming router delivers a ridiculously fast 2.2Gbps speed.
Plus, thanks to MU-MIMO support with unique gaming features, you can play games all night without hitting a paralyzing lag spike.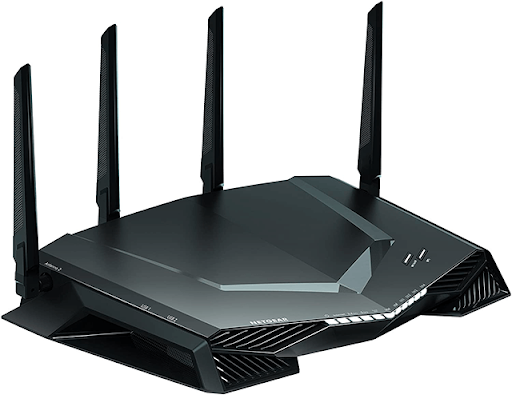 Top Wifi routers 2022 - Netgear Nighthawk XR500
Read Also | How to improve internet ping
Having no doubt, this best router 2022 will be sure to make you satisfied with both its design and amazing features. 
This device has a series of LED status indicators along the front edge for power, internet service, Wi-Fi bands, guest Wi-Fi, both USB ports, and four LAN ports. 
Also, you can connect through USB thanks to two USB 3.0 ports on the left side. 
Furthermore, the Netgear Nighthawk XR500 router Wifi 2022 offers the Geo-Filter feature.
It can help lower ping by restricting the distance to the host servers you play on.
Pros:
High performance

Location-based connection filtering and QoS

LED status indicator

Geo-Filter feature

Available for USB connecting
Cons:
Asus RT-AX86U
Specifications

Wi-Fi Spec: Wi-Fi 6/Dual-band

Number of Antennas/Removable: 3/Yes

Ports: 1 WAN/1 Multi-Gig WAN/ 4 LAN gigabit per second, 2 USB 3.0

Peak Throughput: 929.7Mbps

Size: 9.0 x 6.7 x 3.1 inches
Performance wins when it comes to the best gaming router. 
With a Wi-Fi 6 powerhouse, the Asus RT-AX86U offers incredible speeds, top-notch gaming features, and fantastic customizability possibilities.
Simply said, this device is a wonderful option for securing your entire home network.
It offers high-end performance, lifetime protection from viruses and intrusions, long-term protection without a monthly fee, and a two-year warranty.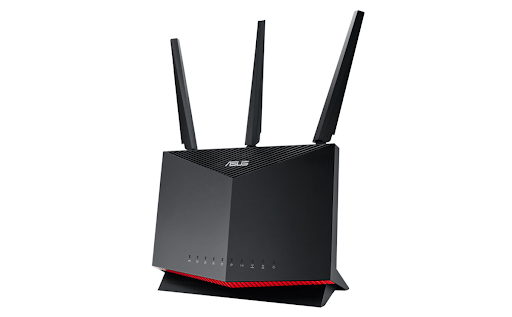 Asus RT-AX86U is a good choice for the best gaming router in 2022
The RT-AX86U's ability to manage latency is perhaps its greatest strength.
When playing online games, latency spikes like this can be quite frustrating. 
Fortunately, the RT-AX86U achieved a low average ping time, never exceeding 25ms. 
What a fantastic outcome!
Pros:
Deal well with latency

Long-term protection

Excellent performance

Customization options
Cons:
Not equipped with specialist tools like a ping heat map
Netgear Nighthawk XR1000
Specifications

Wi-Fi Spec: Wi-Fi 6/Dual-band

Number of Antennas/Removable: 4/Yes

Ports: 1 WAN/4 LAN gigabit per second, USB 3.0

Peak Throughput: 860.7Mbps

Size: 11.6 x 7.9 x 2.5 inches
Our last choice for this list is the Netgear Nighthawk XR1000.
This product has a lot of outstanding features that you need for an ideal router.
First, with Wi-Fi 6 speeds, it is a potent router that outperforms many other gaming routers with exceptional speeds and top-tier gaming features. 
Its high-throughput, low-latency architecture offers excellent Wi-Fi 6 performance and hacker protection.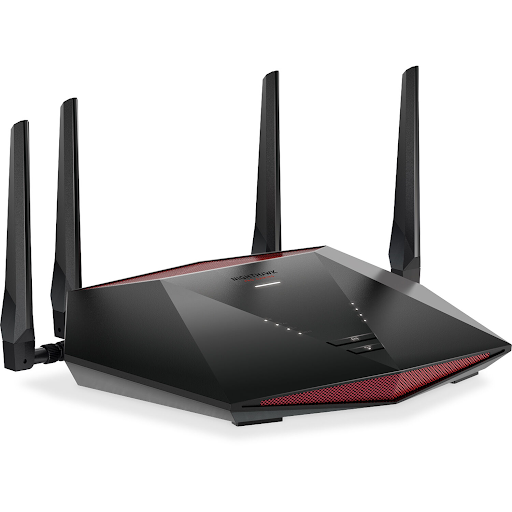 Some good points of Netgear Nighthawk XR1000
Notably, with a range of 105 feet, this device is perfect for somewhat larger homes.
That's because it can easily cover the excess space that other routers couldn't quite cover. 
The XR1000 is one of the best gaming routers we've ever seen, so if your existing router can't keep up with your gaming skills, consider upgrading.
Pros:
Wi-Fi 6 speeds

Offer malware protection

High-throughput and low-latency architecture
Cons:
Lack of port aggregation or multi-gig input 
Wrapping up
How to improve ping? Let's take one of the best gaming routers for 2022. That time, you can reduce your ping and improve the game-playing experience. Besides, you can also try out the aforementioned tips on how to reduce high ping at the same time.