How to check your ping in LoL? Explore these 3 hidden ways from PRO gamers
Dec 30, 2021 - Views: 5206 Share
HIGH PING.
It is one of the most hated enemies of gamers as it causes interminable delays.
Your ping in LOL is high or low? how to check your ping in LoL?
This post will provide you with an ultimate guide on this, as well as amazing tips to reduce your high ping so that the game can work flawlessly.
Let's dive in
What's a ping?
Ping refers to how long it will take to send a packet of information from your computer to a server over the internet and back to you. 
It is measured in milliseconds (ms).
LOL is a competitive and fast-paced MOBA, where response time is significantly essential.
The higher your ping, the more delay you'll experience in-game. This can be devastating if you're always 1-2 seconds behind the game.
High ping might result in poor performance and a large number of lost games.
The lower ping means a better gaming experience with no lag.
What is a ping
How to check ping in League of Legends
There are three ways you can follow to check ping in Lol.
Show LOL ping in-game
The game contains a simple keybinding that displays your current ping on the top-right of your screen by default. 
All you need to see ping is to press "Ctrl + F".  If that doesn't work, try the following steps on how to check ping:
Press ESC to open the menu.

Navigate to the Hotkeys menu and then to the Display settings. After you've discovered the display settings, Choose "+".  The option "Toggle FPS Display" will appear.

Enter a shortcut key to either view or hide the ping from the display. After that, shut the settings tab and press the shortcut key you created.
Check ping in League of Legends
Use an LoL ping checker tool
Using a tool to check your ping is one of the most effective methods. 
There are numerous free tools available for this purpose (i.e. leaguepingtest.com)
The League of Legends Ping Checker estimates your in-game ping to an order of magnitude. 
The findings will be slightly wrong because the pings are transmitted via HTTP rather than typical command terminal techniques. 
It's more helpful in determining whether you'll be lagging in-game rather than your exact ping.
Check your LoL ping with cmd
To ensure your gaming experience won't be interrupted by lag or delay, we recommend checking ping before you begin the game.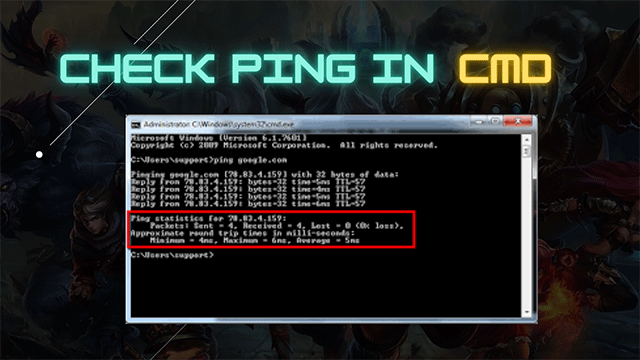 Check LoL ping with cmd
There's an easy way to check your ping before you play League of Legends: Using cmd. 
Here is how to do it:
Just open the run menu by hitting the Windows + R key.

Type "Cmd" into the box popping up and click Enter.  A black box will be displayed on your screen. 

Type "ping" followed by a space, then type the IP address that you want to ping. If you're living on the North American server, type: Ping 104.160.131.3 -t
This way can also be applied to how to check ping Osrs, how to check ping in heroes of the storm, how to check ping in Archeage, how to check ping in Pubg, how to check ping in Overwatch.
How to show LOL ping in team chat?
Your internet connection may not always be as steady as it should be.
This causes your character to move more slowly and you to be unable to escape other champions' abilities.
At these instances, you'd like to inform the rest of your teammates that you're not intentionally playing poorly. 
Some players will appreciate knowing this and will take appropriate action.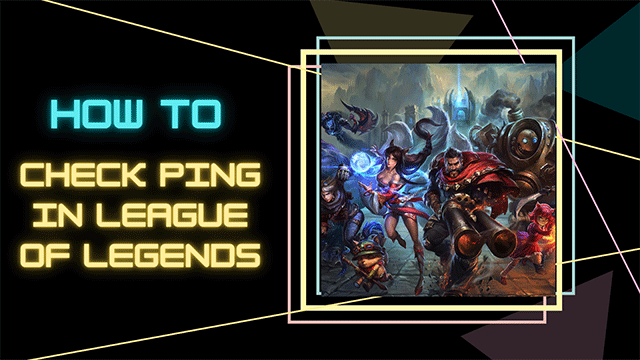 Show ping in LoL
Besides, entering match-deciding combat while everyone teleports around you and you can't respond at all would be foolish.
You may also show your ping to receive guidance or support from team members. Here's how to display your ping in the game's chat.
Switch on your FPS display. The keybinding is "Ctrl + F" by default.

Hold down the "Alt" key and then left-click on your ping number. 
This should be done precisely or else the game will ping the map below.
A short message with your username, champion, and current ping number will be displayed in the game chat.  
Only players on your team will be able to see this message.
Also read: How to test ping on ps4
What is good ping for Lol?
Take a look at several parameters for good ping in Lol: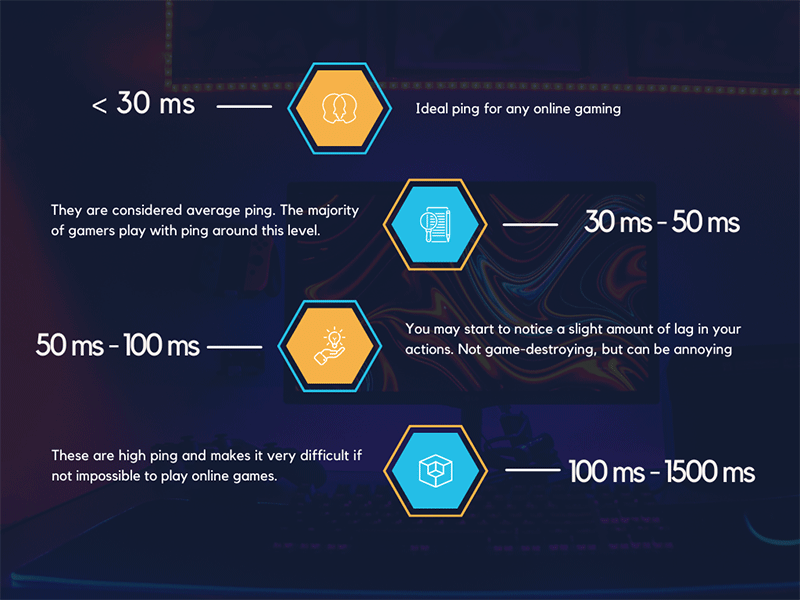 What can affect my ping?
Here are several things that can influence your ping:
The physical distance between you and the server: The longer packets must physically travel, the higher your ping.

Inadequate bandwidth: Inadequate bandwidth affects the time it takes for data to be sent out and then returned.
Hence, it results in excessive ping (latency) and, most likely, lagging throughout the game.
How you're connected to the internet: A wifi connection is less stable than a cabled Ethernet one.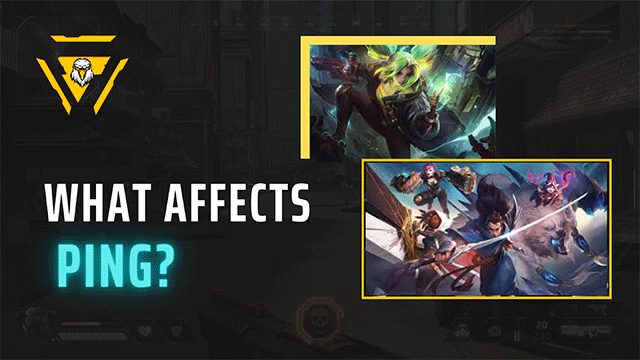 If you're using opening internet-based programs, they can eat up your bandwidth and cause a lag spike in Lol.

If too many people are connected to a shared network, each of your pings will rise slightly.

Weather conditions and technical difficulties can have a negative impact on your ping. 
The first step in troubleshooting any LoL issues is to check your ping and see how you might enhance it.
How Can I Reduce My Ping in League of Legends?
Many gamers are simply confronted with poor ping all the time, uncertain of how to handle it. This has the potential to ruin your online gaming experience.
If you observe a sudden rise in your ping, there are a few things you can do to troubleshoot the problem and try to get it under control:
Close other programs while playing
Programs that are downloading files or streaming content can cause problems with gameplay as they hog up bandwidth. 
Thus, closing them may lead to lower ping.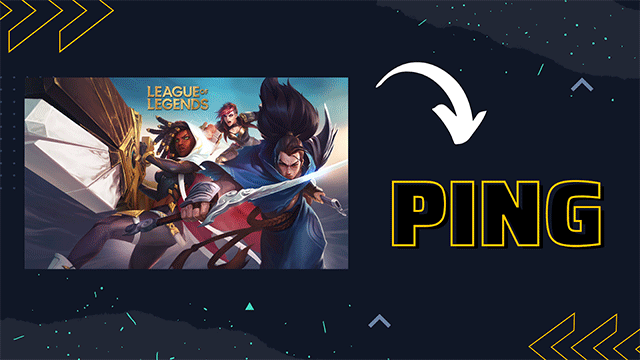 Connect to a wired connection 
A Wi-Fi signal can be blocked by walls or distance. 
A cabled connection, on the other hand, is more stable and faster. 
If you can't use a cable, move closer to the modem.
Reset your connection
It will cause an interruption in your game until you reconnect.
However, it can be a realistic solution for removing unexpected snags in connectivity and resetting your routing pattern to a more efficient one.
Change to a closer server 
This is a great way to get a lasting decrease in ping. 
Because you can't undo anything without paying again, this is only a last resort.
Change your internet provider
Consider switching to another Internet plan or internet provider for faster and more reliable connections.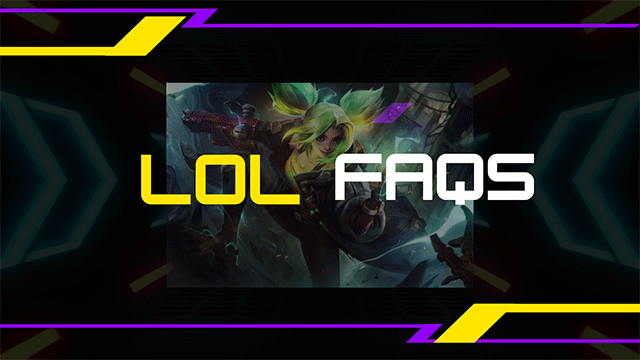 Frequently asked questions about LoL
Frequently Asked Questions (FAQs)
1. What is ping in League of Legends?
Ping refers to the amount of time taken for data to travel from your computer to a game server.
The lower the number, the less lag, and the better gameplay.
2. Does ping matter in LoL?
Sure. Ping can make or break your Lol gaming experience.
Especially, a high ping means the time it takes for something to happen in the game to reach the player's screen can be extended.
Many professional players believe that a delay like this can reduce the level of talent expression available.
3. Why is my ping so high LoL?
There is a host of reasons for your high ping in LoL. Here are some of the main ones:
You're too far away from the server

Inadequate bandwidth

A weak wifi connection

Running background apps

Too many connected devices
………………………..
4. What ping is bad for LoL?
In general, if your ping time is less than 20ms, your network connection is lightning fast.
If your ping time is greater than 150ms, you may experience significant lag spikes.
Closing Thoughts
When it comes to playing League of Legends without any handicaps, low ping is critical.
If you've ever wondered how to check your ping in LoL, the quick guide above should provide you with all the information and advice you need to enable the setting in-game.
Now it's time to head into the game and get yourself closer to victory!