How to check Ping in ArcheAge? 4 EASY WAYS you should not ignore
Feb 27, 2022 - Views: 2391 Share
We are here to help you know How to check ping in ArcheAge?
Don't miss out on this post if you don't see your ping game in the ArcheAge game.
Or you have tried all its menu but still not seen the display network settings.
Don't worry. Easy and quick ways to check the ping game will be guided clearly.
Let's check!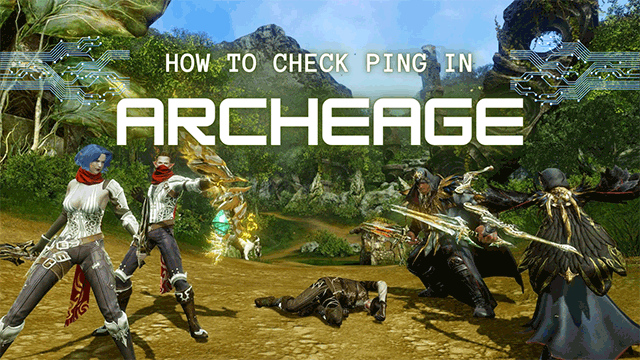 How to check ping in ArcheAge?
How to check ArcheAge ping?
Similar to how to check blade and soul ping, how to check ping in tera, maybe you don't set it to display ping rate on the playing screen. 
Luckily, you can still measure it through a resmon command, Task manager, or ping speed test online. 
Indeed, there are many different ways to help you do that.
Read on for more details…
Way 1: Task Manager
One of the easiest ways to check ArcheAge ping is to use the task manager.
Let's see what to do!
Step 1: Press the key combination "Ctrl + Alt + Delete" while playing the game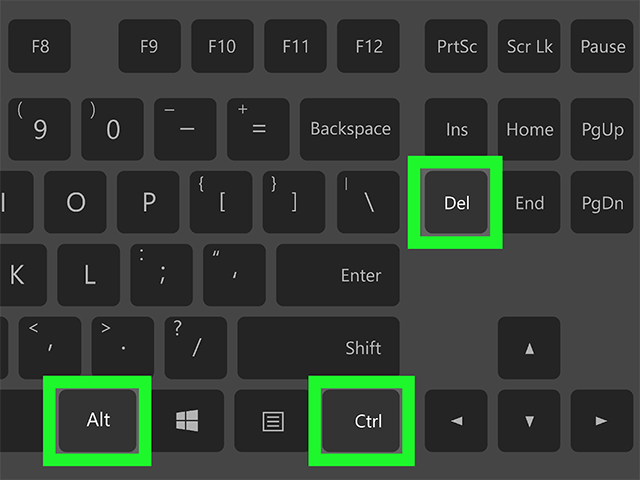 Step 1
Step 2: Open Task Manager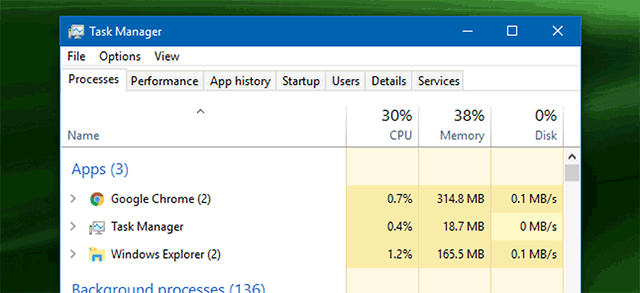 Step 2
Step 3: Click the performance tab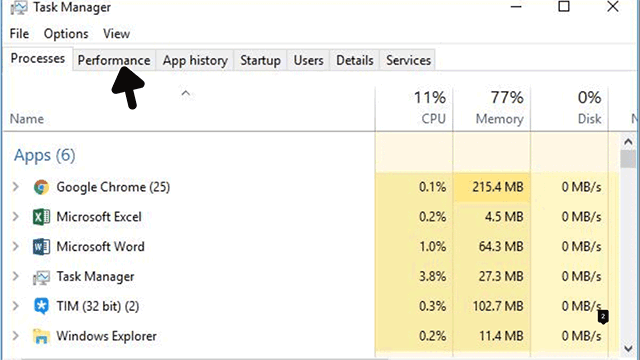 Step 3
Step 4: Open resource monitor at the bottom of the page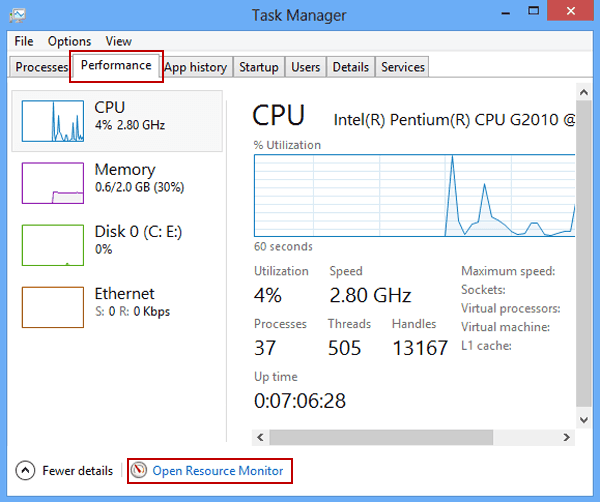 Step 4
Step 5: Click the network tab and find ArcheAge.exe
Step 5
If you are finding "how to check your ping in blade and soul", your Blade and soul game will be shown, click it. 
Tera how to check ping, do similarly.
Step 6: You will see 2-3 TCP connections on the bottom window, two of them will have close to the same latency value. 
This latency value is your ping.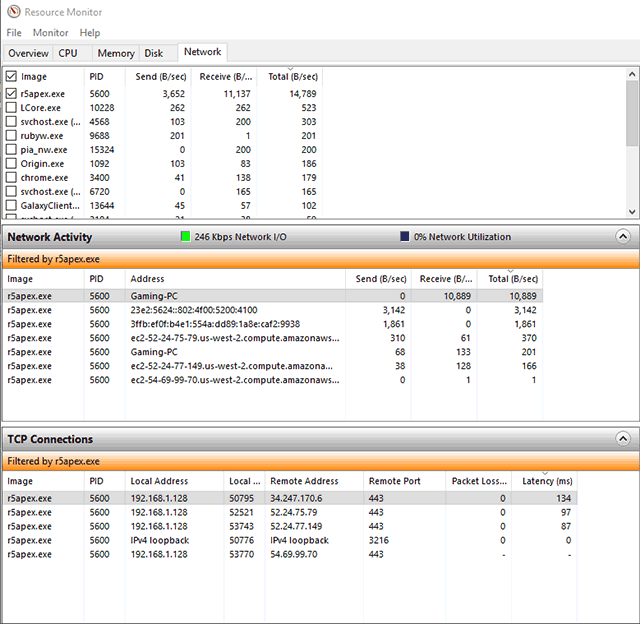 Step 6
Way 2: Resmon command
You can also use Resmon command to check ping in ArcheAge.
Let's see what to do:
Step 1: Press Windows key + R on your keyboard to open the Run window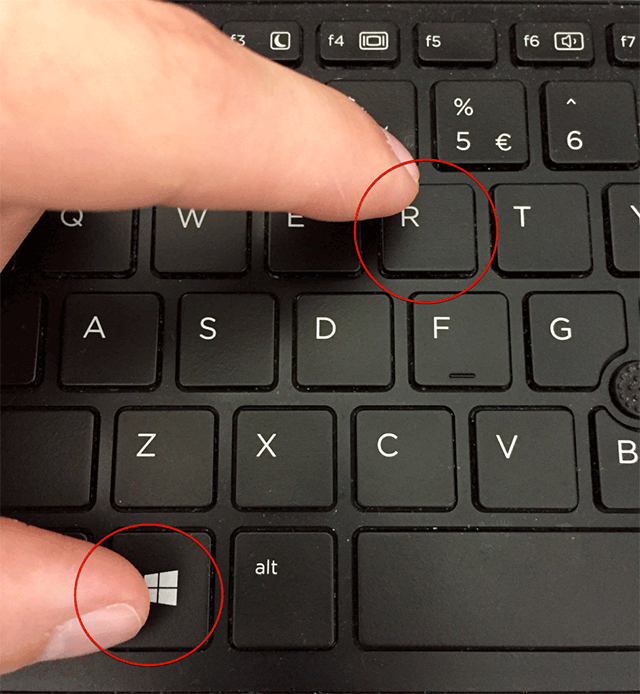 Step 1
Step 2: Type "resmon" in the open box
Step 2
Step 3: Once Resource Monitor is open, navigate to the NETWORK tab which sorts the processes with network activity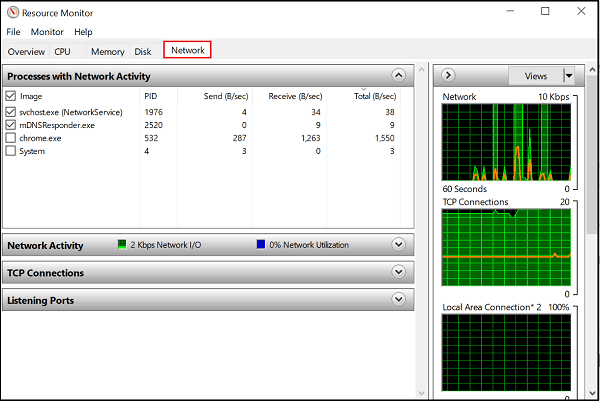 Step 3
Step 4: Find out ArcheAge and tick it on the left square 
Once that is done, take a look at the TCP connection.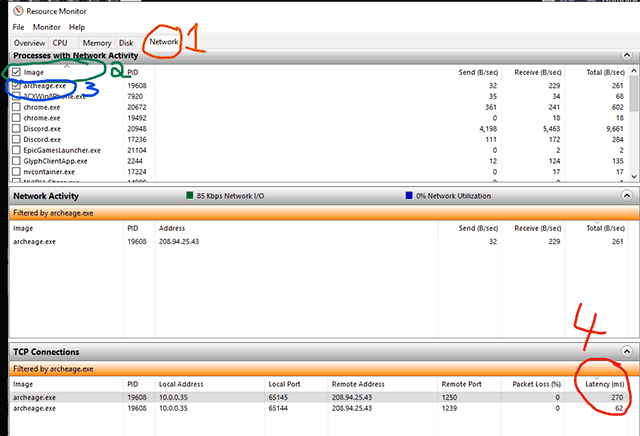 Step 4
You will see ping rates in the ArcheAge game measured in milliseconds.
They are 270 ms and 62 ms. 
Moreover, it also shows the ping game on different gaming servers.
Way 3: Ping test server
Ping test server online can help you measure latency in all ArcheAge gaming servers. 
It sends HTTP requests to Arche Age servers and collects ping statistics and server status by analyzing response timings. 
This allows you to determine which servers have the lowest ping and select them for the best gameplay experience.
Taking Pingtestlive.com as an example, follow our instruction:
Step 1: Visit https://pingtestlive.com/archeage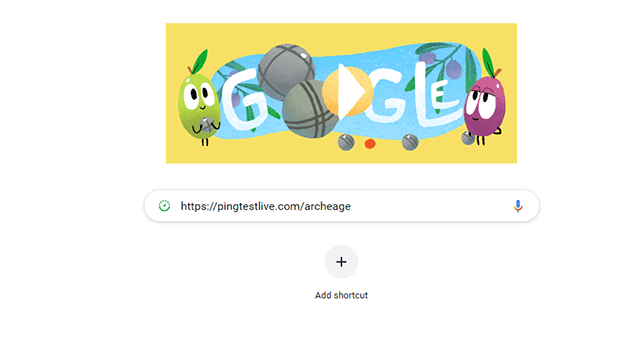 Step 1
Step 2: Select the gaming server you want to check or click select all
Step 2
Step 3: Select ping and then wait for results

Step 3
Moreover, the pingtestlive also shows you know which Archeage server is active or not.
This tool is available for plenty of online games such as DOTA 2, WOW, BDO, Fortnite, etc, you can check. 
So, if you are wondering blade and soul how to check ping, let's try it.
Way 4: Ping speed test online 
In general, gamers often use a ping test online when they want to check the internet performance before enjoying a match. 
The reason is that it provides full results of the network including ping, download, and upload speeds. 
Therefore, players can understand their network more through those results.
For example, you conduct the MySpeed test to measure the ping ms in Archeage.
How to check Ping? 
Step 1: Visit https://gospeedcheck.com/ 
Step 2: Tap the "Go" button on the circle
Step 3: Wait for seconds and get results
Now, have a look at how this website works: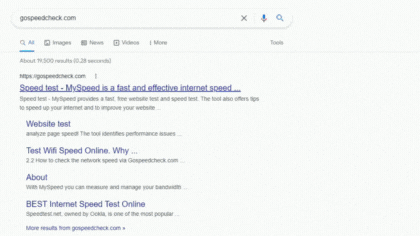 MySpeed is a free speed test tool so that you can be comfortable using it. 
You can conduct tests several times per day, per week to make sure whether your connection works well or not.
Frequently Asked Questions (FAQs)
These are 4 effective ways to check the ping in ArcheAge.
Now, let's move on to some commonly asked questions about this interesting topic.
You'll be surprised at the following information:
You can tell if the connection is stable enough for gaming by looking at the ping rate on the results of a speed test.
Generally, the average ping rate is between 20 and 50 ms and is good for online gaming.
Your Internet connection will be more responsive and, yes, you can play more aggressively if your ping rate is lower than that.
Is 30 ms ping good in ArcheAge?
As mentioned previously, from 20 to 50 ms ping is considered acceptable for online gaming, not except for ArcheAge.
So if your ping rate is 30 ms, congrats!
Is 14 ms ping good in ArcheAge?
The 14 ms ping rate is lower than 20 ms, which is considered to be a pretty decent ping.
At this rate, your Internet connection is good and you can experience ArcheAge gameplay to its best.
Is 0 ping possible in ArcheAge?
The excellent ping time of 0 ms allows the gadgets to communicate with a distant server immediately.
Still, the rules of physics dictate that the data packets must travel slowly.
You cannot send data faster than the speed of light, even if all of your data flows over fiber-optic lines.
Thus, obtaining a ping rate of 0 ms in ArcheAge or any online game is practically impossible unless you host an internet speed test server.
Is 2 ms ping good in ArcheAge?
Milliseconds are used to measure ping (ms).
Anything 20 ms or less is typically regarded as excellent in ArcheAge.
In fact, the lowest you can go is about 2 ms.
Conclusion
Above are the 4 different ways to check the ping in the Archeage game or even you can try them to measure ping in any online game.
Hope you don't feel confused before questions like how to check ping in ArcheAge, blade and soul, WOW or Tera when you don't find its settings.
Also, follow MySpeed to get more and more interesting sharings.