Google Search Console Discover report will soon include all data
Feb 19, 2021 - Views: 697 Share
This will also include, of course, data from the Chrome browser. Reading along for more details!
On February 2nd, Google officially announced that the Discover performance report within its Search Console will now include all data, including data from the Chrome mobile browser.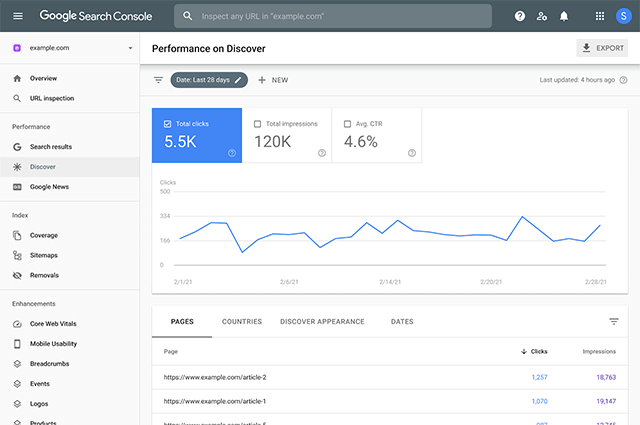 Discover performance report in Google Search Console (Image Source: developers.google.com)
As you may know, the Discover Search Console's Discover performance report has not previously included traffic from Chrome. The report only surfaced Google app metrics. But by incorporating Chrome data, website managers can have the full picture of what is coming from Google.
When will Discover data from Chrome appear?
According to Google, Discover data from Chrome will "gradually appear" in the Search Console's Discover performance report "over the course of the next few months." So, look for the data to be added gradually in your Discover performance report.
With new data being added to the report, be advised that the reported traffic levels of your site may increase from where they were previously.
Another backend stats change coming out gradually is a new origin referrer for the Discover traffic from Chrome. The previous origin referrer www.googleapis.com/auth/chrome-content-suggestions is being replaced with the new  https://www.google.com/ referrer.
See also: Amazing business benefits of website performance optimization
Sources:
developers.google.com/search/blog/2021/02/search-console-performance-discover-chrome
9to5google.com/2021/02/02/google-search-console-discover-chrome/