California caps 90% int connection, but low-income users lack access
Apr 16, 2021 - Views: 617 Share

California caps 90% int connection, but low-income users lack access
According to new statewide survey conducted by USC and the California Emerging Technology Fund, California owns a digital milestone when nearly 91% of its households have fast internet connection speed.
California internet access survey reveals income's role as a digital gatekeeper
That is up compared to 88% reported in 2019 by the biennial Statewide Survey on Broadband Adoption that monitors Californians' digital access.
Moreover, about 85% of residents have used a desktop, laptop or tablet to connect to the internet. And fewer households connect to the Internet through smartphones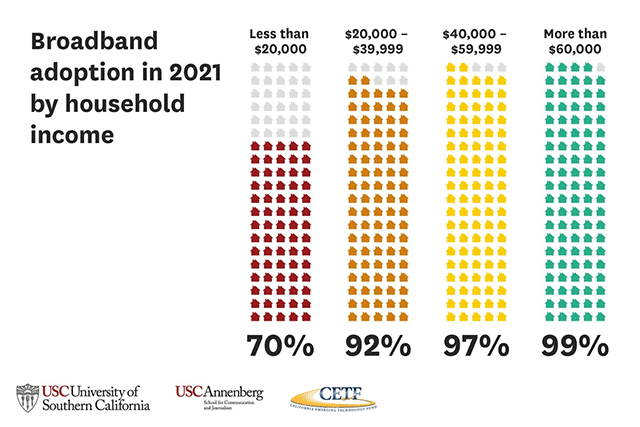 However, the latest survey also reveals some shortcomings of low-income California: 16% are unconnected and 10% depend on smartphones. They lack home internet when most officials are in response to the coronavirus pandemic.
California has the highest number of low-income of any state, even it is the fifth-largest economy in the world. Income is a key determinant in whether a household has internet access. In detail, 29% of households having less than $40,000 income a year have no network connection or just access through a smartphone.
These residents had made progress in internet plans for home from 2014 to 2019, according to prior surveys, but the progress has slowed due to the pandemic.
See also:
Nearly 1 in 5 low-income households in the survey that currently have access reported going without internet for extensive periods. The main reason for the disconnection is expensive cost.
Some ISPs offer affordable plans for primarily low-income families with school-age children, unluckily, those programs are not known widely. There are 2 out of 3 unconnected and smartphone-just used did not know these opportunities.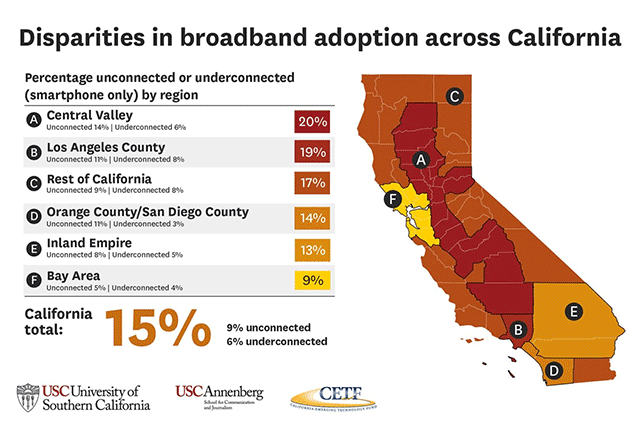 Notable regional, demographic disparities in access
The digital divide is both an urban and a rural issue: 19% of L.A. County and 20% of Central Valley households either have no connection or rely on smartphones.
24% of Hispanics disconnected the Internet or limited using smartphones. While other groups connect to the Internet more. In detail, only 5% of whites are unconnected and only 4% of them are limited to smartphones.
Inequity is displayed clearly among Hispanics justs speaking Spanish. There are 65% connecting to the Internet while 25% disconnection and 10% rely on smartphones.
23% of Californians from 65 and older lack broadband, compared to an estimated 10% of Californians ages 50 to 64 and less than 5% ages 18 to 49. However, when including smartphones, 77% of seniors 65 and older are connected, an improvement from 68% two years ago.
27 percent of disabilities are unconnected or used smartphone to access the Internet, compared to 15% of the overall population.
Source from: https://news.usc.edu/183952/california-internet-access-usc-survey-broadband-connectivity/