Worldwide PC market just had its very big growth in a decade
Jan 14, 2021 - Views: 589 Share
2020 was the biggest year for the worldwide PC market in 10 years. It experienced big growth despite challenges thanks to the soar of consumer demand driven by the Covid-19 pandemic. \
In 2020, PC shipments reached 297 million units, increasing an impressive 11% from 2019, reported the market research Canalys. Annual PC demand has not been this high for the last 10 years when smartphones were starting to take off. 
During last year, PC vendors shipped a total number of 302 million units worldwide, which is a 13.1% increase year-over-year, according to the global market intelligence firm IDC. The research company Gartner also agrees that 2020 was a big year for the PC market with the biggest growth ever seen since 2010.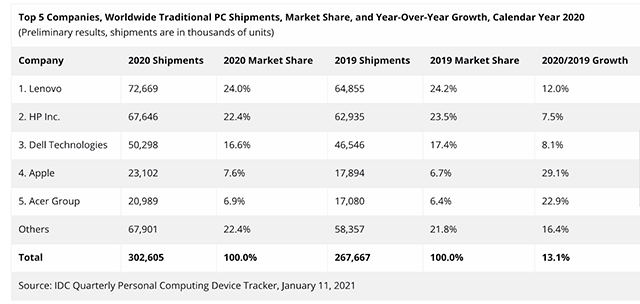 Top PC vendors in 2019, 2020 (Source: IDC)
IDC and Canalys both agreed that 2020's top PC vendor was Lenovo, followed by HP and Dell in the second and third place, respectively. Apple also had impressive growth with its shipments up 29.1% based on IDC's report or 17% based on Canalys's estimate.
Covid 19 - The obvious driver for 2020's global PC market growth
The growth of PC shipments are up thanks to consumer demand related to the ongoing Covid-19 pandemic, according to theverge.com. The pandemic boosted the need for working and learning from home, causing demand for PCs, especially laptops, to soar throughout 2020. While remote learning and home working have been important drivers, people also buy more PCs for entertainment.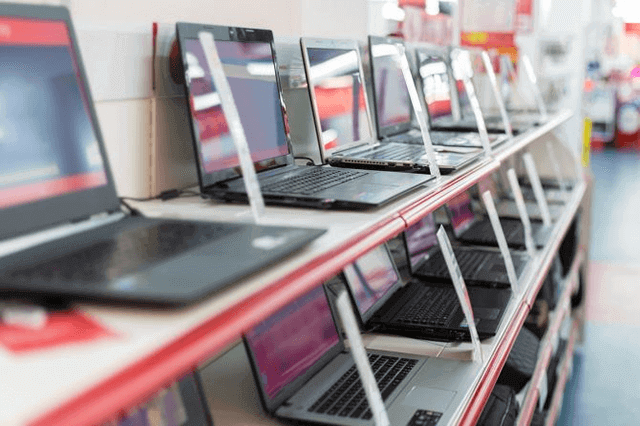 2020 was a very big year for the worldwide PC market
Google Chromebooks was one of the laptop categories riding high in 2020. Shipments for the products increased by 80% last year, mainly due to heavy demand in North America, Gartner analyzed. 
Despite the big growth in PC shipments driven by the Covid-19 pandemic, demand for desktops fell by 20%, likely because of businesses spending less on their office IT systems, according to pcmag.com.
As for the future, it's expected that the high PC demand in the global market to possibly linger into 2021.
See also: Check WiFi Speed: Top reasons for slow WiFi connection
Sources: 
theverge.com/2021/1/11/22225356/pc-sales-shipments-2020-growth-idc-canalys-remote-work
sea.pcmag.com/laptops/41262/2020-was-the-biggest-year-for-pc-demand-in-a-decade