Why is my browser download speed so Slow? 7 potential causes
Sep 09, 2022 - Views: 1072 Share
If you are annoyed by slow browser download speed and wonder why is my browser download speed so slow?
This article is for you.
Here, we will show you the reason that leads to slow download speed.
Also, we provide some simple tips that will help you improve your situation quickly and easily.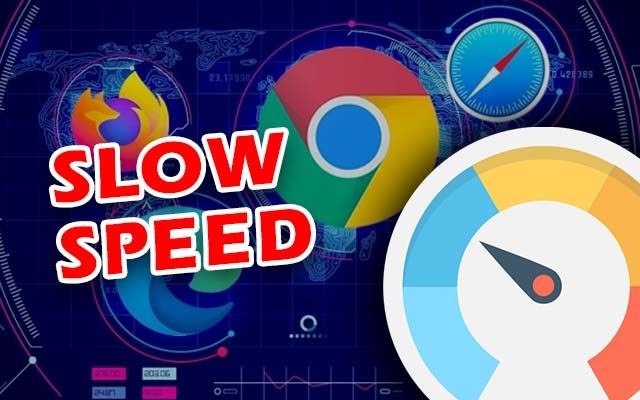 Why is my browser download speed slow?
What is a web browser?
A web browser is a software tool that allows you to see and interact with all of the information on the World Wide Web such as websites, movies, photos, and so on. 
Many individuals today use web browsers to access the internet, the most popular browsers on the market recently include: 
Mozilla Firefox

Google Chrome

Apple's Safari

Opera

Microsoft Edge
Every internet user understands how to run a web browser but sometimes they complain that "I'm having an issue with my browser's internet speed (Chrome). I also tested Firefox and Edge. And it's still the same".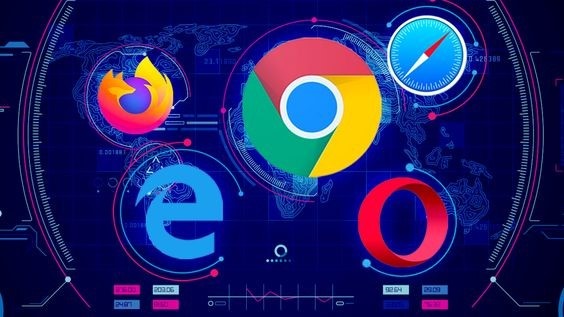 Internet browsers
So, what factors cause slow download speed? 
We will show you some possible reasons in the next part.
Why is my browser download speed so slow?
There are many factors affecting the browser download speed.
Your slow browser download speed can be caused by one or several reasons.
Check all possible reasons below to find out fix it.
Internet cookies, cache, and history are overloaded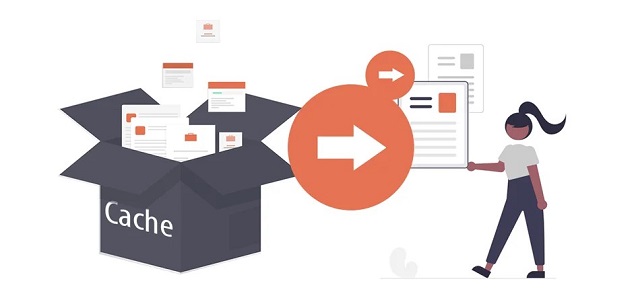 Overloaded caches can affect the download process
To speed up your browsing experience, your browser saves (or caches) certain files while you navigate the web. 
When you return to a website, the cached files are already there, so your browser simply needs to download any new parts from the web. 
This means you'll spend less time waiting. 
However, when overloaded, it can get unwieldy and can cause issues with the download process.
The outdated browser version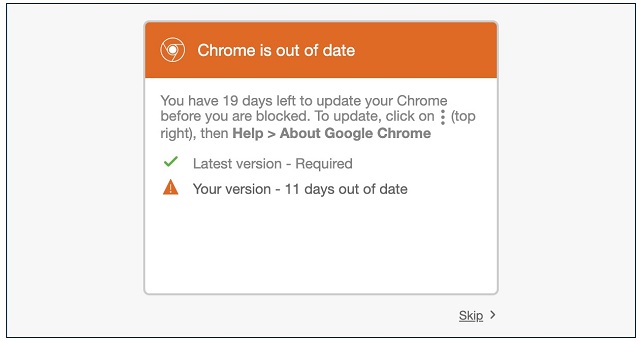 An outdated browser version may prevent your browser from working smoothly
An outdated browser version may have corrupted data caches and unwanted applications.
That prevents your browser from working smoothly. 
Because being up to date is so important for addressing bugs and preventing security risks, most modern browsers download updates automatically. 
The firewall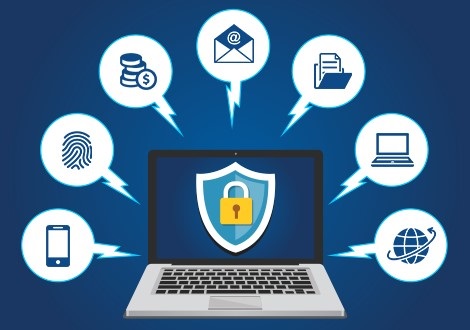 The length of time it takes is determined by your system configuration
The firewall in the operating system was built to filter and scan every incoming and outgoing traffic on the computer. 
It checks data packets attempting to reach any of the computer's ports. 
The firewall seems comparable to a roadside checkpoint which interrogates the traffic, the measure can pass if it has the proper documentation. 
This can actually slow down your internet speed.
DNS server issue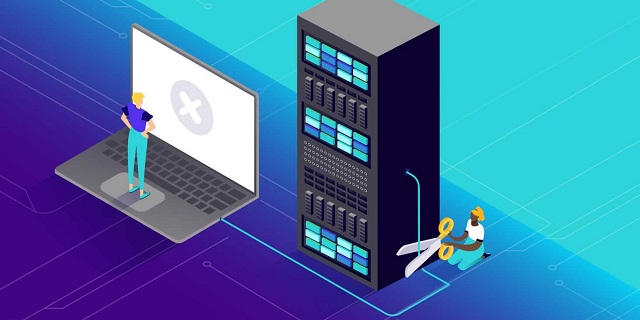 You won't be able to utilize the browser if DNS isn't operating 
If DNS isn't operating properly, this means that the decentralized naming systems responsible for turning hostnames into IP addresses failed to respond. 
As a result, your browser will be unable to establish a connection to the internet, even if your computer or router shows a fast internet connection. 
This directly affects your slow download. 
DNS server problem is also one of the main reasons why is my blizzard download speed so slow?
High ping times
Ping or latency refers to how long your device sends a small packet of data to the Internet and returns.
It is measured in milliseconds and represents how much delay between your internet browser and a specific server.
Of course, this is determined by your location, network connection, bandwidth, and more.
If your ping rate is so high, as a result, your browser downloading might be slow.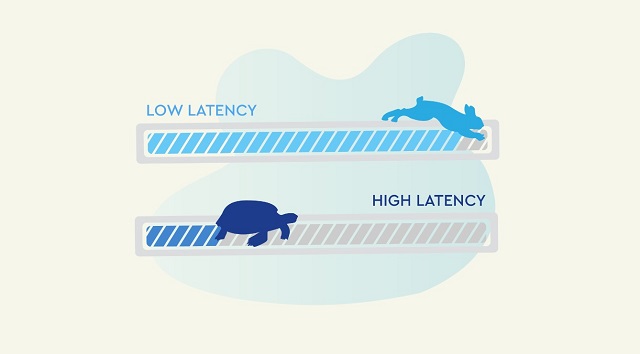 Hig ping vs low ping
Slow web server
The internet is likely a superhighway of data.
When there are a few connections, users can access the Internet as fast as possible. 
However, when the number of connections increases, many users connect and dispute bandwidth with you, and slow downloads are obvious.
Even if you have the fastest internet connection available, you can only download a file as quickly as the server can send it. 
As a result, if you download from slow web servers, expect a slow download speed.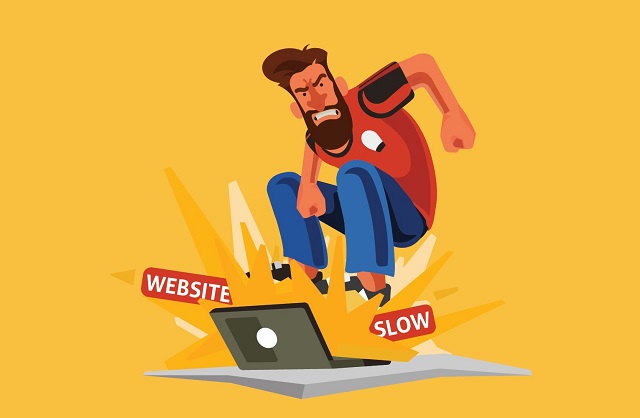 Slow web server
Viruses or malware
Viruses and malware are malicious pieces of code written specifically for malicious purposes. 
They are frequently used to steal data or, more recently, to mine cryptocurrency using your computer. 
Some malware requires an internet connection to function. When this type of malware infects your computer, internet browsers like Chrome, Safari, or Opera are forced to compete for bandwidth.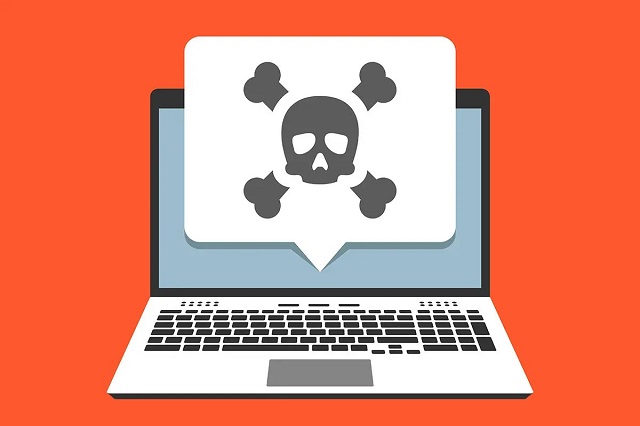 Viruses and malware can slow down browser downloads
How to increase browser download speed?
You can feel hopeless when having slow download speeds with internet browsers.
Fortunately, you can try some tricks to increase your download speeds. 
Although some of these may not work for you, they are worth a shot if it means squeezing the last drops of bandwidth out of your system.
So, how to increase download speed? 
Take a look at a  list of common methods below:
Delete your browser's temporary Internet files, cookies, cache, and history.

Update the browser version.

Uninstall antivirus software.

Change the DNS servers. 

Delete any unused browser extensions.

Disable VPN

Reset Network Settings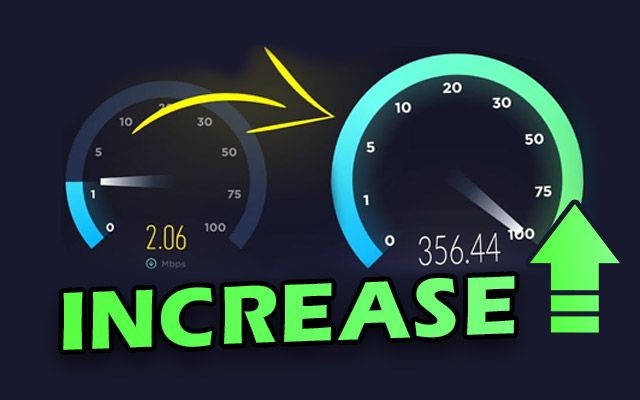 How to speed up browser download speed?
Delete cookies, cache, and history
As mentioned above, being full of cache, cookies, and history will slow down the internet browser's performance.
Thus, deleting all is a good solution.
Note that each browser has a different display but the settings menu is quite similar.
Take Chrome as an example, follow the step-by-step guide to do it:
Step 1: Open the Setting pane in Chrome by clicking the three-dot section in the top-right corner. Select More tools => Clear browsing data.
Step 2: Select the time range and browsing history, cookies, and cache to delete.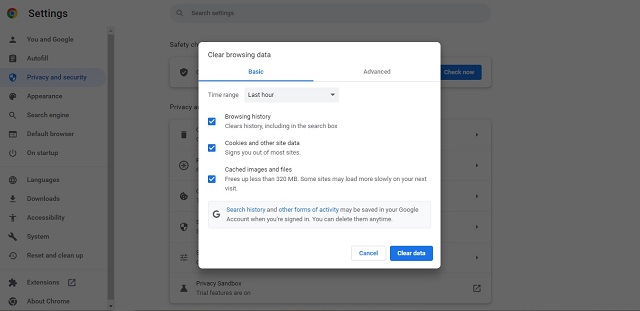 Clear browser cache, and history
How to speed up origin downloads? You also can apply this tip to speed up downloads on Origin.
Uninstall antivirus software
Viruses and malware are able to decrease your download speed. 
Thus, a simple and quick way to speed browser download speed is to prevent your devices from any viruses and malware.
However, antivirus software can be running in the background when unnecessary and taking up bandwidth which leads to slow download issues.
Thus, the best way is to disable the antivirus program while downloading. 
Moreover, you should scan viruses, spyware, and malware regularly to make sure your devices are not infected by harmful factors.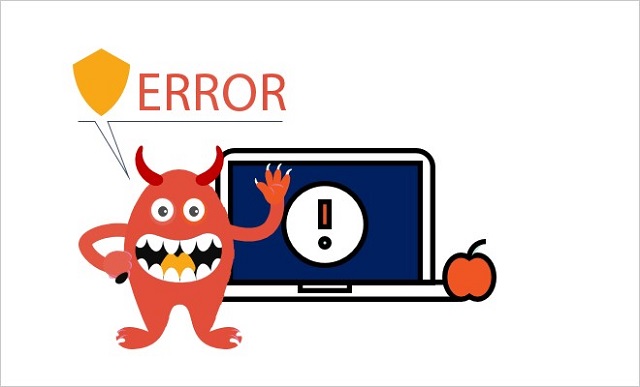 Enable antivirus software when necessary
Change the DNS servers
Change your DNS server to the fastest server.
Instead of connecting to slow servers, switch to popular DNS servers like Google DNS, Cloudflare, or OpenDNS to get faster speed while performing file downloads.
Follow the steps below:
Open the Chrome settings and select Privacy and security

Choose Security

Scroll down and you will see the Advanced section, select secure DNS in the second dot.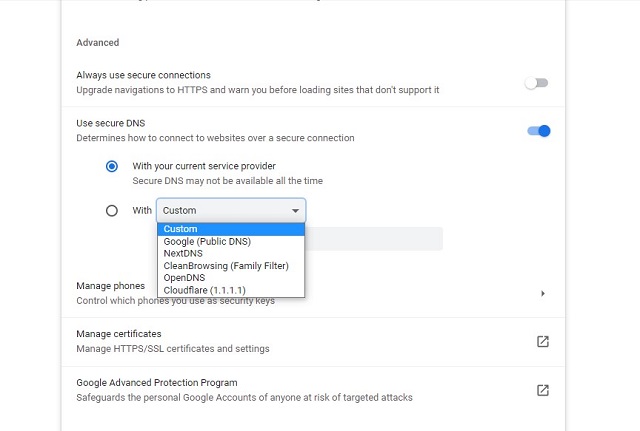 Change the DNS server
Delete any unused browser extensions
Browser extensions are so beneficial but it's not denied that these tools are also resourced hungry.
Some of them can make or break your browser, thus, turn off all unused extensions.
To check whether any harmful extension exists or not, you do the steps below:
Chrome Settings => Privacy and Security => Safety check => Check now.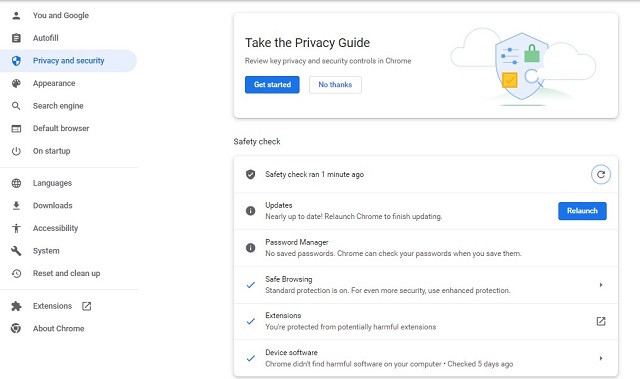 Safety check on Chrome
If there is no harmful extension, you should disable unused extensions. Follow the guide below:
Step 1: Open Chrome Settings => More tools => Extensions
Step 2: Check all existing browser extensions, and turn off any extensions you no longer use them.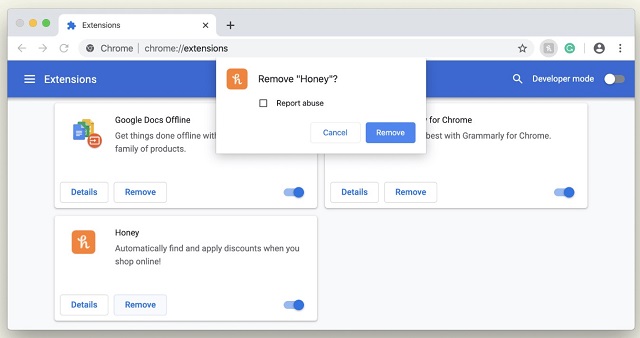 Remove browser extensions
Reset Network Settings
After trying all fixes above, there is nothing changing, you might have an internet network issues. 
Let's do a network settings reset.
Follow the instructions:
Go to Start > Settings > Network & Internet > Status and select Network reset > Reset now.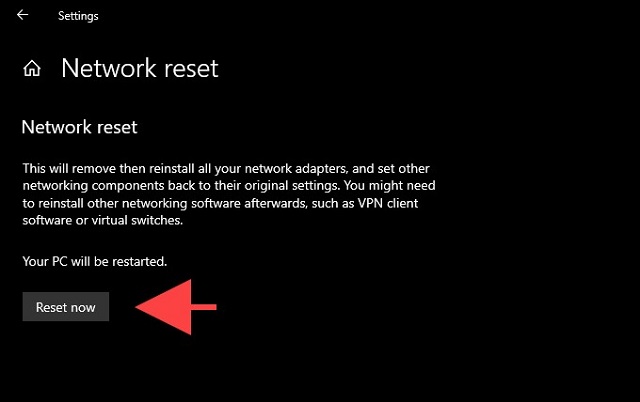 Do Network reset now
Frequently Asked Questions (FAQs)
Which browser has the fastest download speed?
| | |
| --- | --- |
| Internet Browser | Runs per minute |
| Google Chrome | 144.9 |
| Microsoft Edge | 131 |
| Opera | 108.2 |
| Brave | 108 |
| Google Chrome | 144.9 |
| Vivaldi | 107 |
Although Google Chrome is not the fastest internet browser, it is popular and worldwide used.
What is being cleared if you remove cache and cookies?
When you use a browser, such as Chrome, it saves data from websites in its cache and cookies.
Clearing them resolves certain issues, such as loading or formatting issues on websites.
How often should you clear cookies?
If you're using a public computer, delete them as well as any other data, such as browsing history, immediately after your session.
To keep your device light, remove all cookies at least once a month if it's your personal device.