How to check ping in WoW? Easy to get a good ping in World of Warcraft
Mar 04, 2022 - Views: 11596 Share
What is WoW? What type of game is it?
WoW is one of these games that are loved by millions of players worldwide.
Given its popularity, several concerns still go unaddressed, which bothers a lot of online gamers, especially about its ping.
To find out the answers to each of these queries, read this post.
Here we go!
How to check ping in WoW?
What is WoW?
WoW, or World of Warcraft is an MMORPG (massively-multiplayer online role-playing game) created by Blizzard Entertainment. 
The game was officially released in 2004 and is considered one of the greatest MMORPGs of all time.
Until 2022, an average of 5,101,447 people are anticipated to have signed in to continue their WoW journeys, reaching nearly 120 million total players.
WoW - World of Warcraft
Set in the fictional world of Azeroth, this game involves going on quests around a fantastical realm and fighting monsters in a welcoming social setting.
It also allows players to customize their play style.
For instance, the availability of many realms enables the user to decide whether to participate in player-versus-player combat.
Additionally, socializing with other players in their domain is encouraged.
Characters gain experience by eliminating other creatures in order to advance.
When a character has accumulated enough experience, they level up, which enhances their power.
Ping latency in WoW
Measured in milliseconds (ms), ping time or latency refers to how long it takes for the communication between your device and the WoW server. 
For example, a ping latency of 50 ms means that a packet requires 50 ms (0.05 seconds) to be sent to and received from the WoW server.
In online gaming:
The higher the ping ms number, the higher chances are that you will encounter lag. 
Poor ping latency is likely to be a big hindrance to proper gameplay. 
Things like out-of-sync battles, delayed messages, and more are what gamers could experience when gaming with high ping.
Since World of Warcraft is also an online game, low latency is always desired as it lets players enjoy the game more seamlessly. 
Low ping means less time for the communication between control input and the action reflecting that on the player's screen.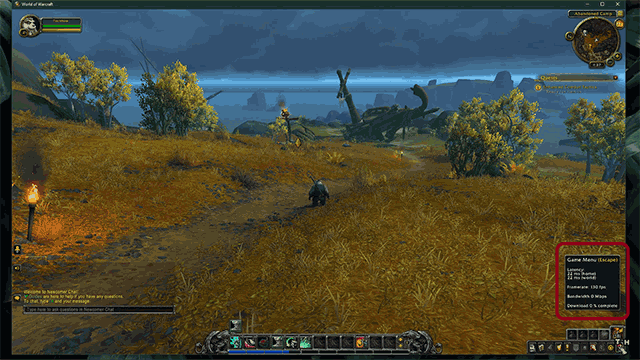 The lower the ping, the better
What is a good ping in WoW?
Before jumping into how to check ping in WoW, we need to find out what a good ping is to play this game.
Well, as mentioned previously, lower latency is always better. 
It ensures smooth gaming experiences, not only in an MMORPG like WoW but also in many other online games, especially ones requiring fast responsiveness. 
According to windowsreport.com, ping latency amounts that are lower than 100 ms are acceptable for gaming.
For MMORPGs like WoW, the latency of less than 100ms is playable. 
For ideally smooth gameplay, it is better to aim for as lower latency as possible.
Note that the latency of between 100 ms - 150 ms might result in minor issues. 
If it gets higher than 150 ms, especially more than 200 ms, players will notice slowdowns and slower responses.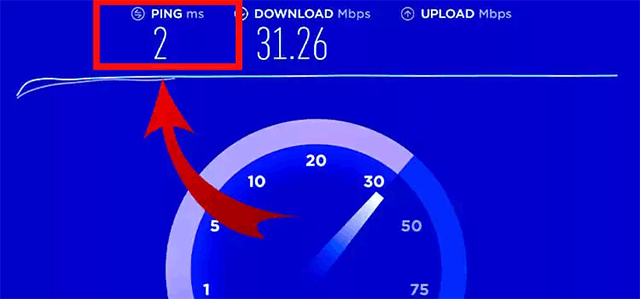 A good ping for MMORPG is less than 100 ms
How to check ping in WoW?
Now, you know some basics of ping and ping in WoW.
Having said that, how to check ping in the game? 
To know ping latency ms in WoW, simply follow our guidelines:
Step 1: Start the "World of Warcraft" game. 
Select a character, then launch the game. The character you select has no bearing at all on your ping.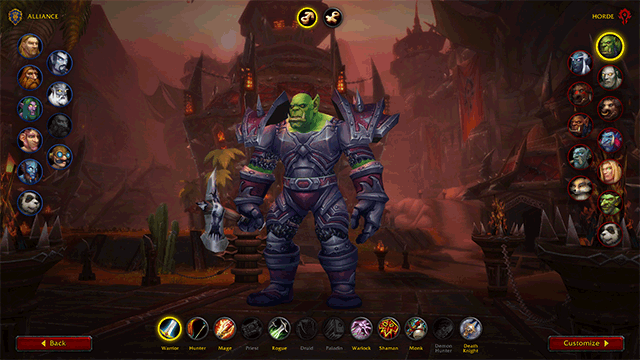 Step 1
Step 2: Activate the micro bar. 
The micro bar is turned on by default. 
You might need to activate the micro bar from the add-on preferences if you have an action bar add-on installed.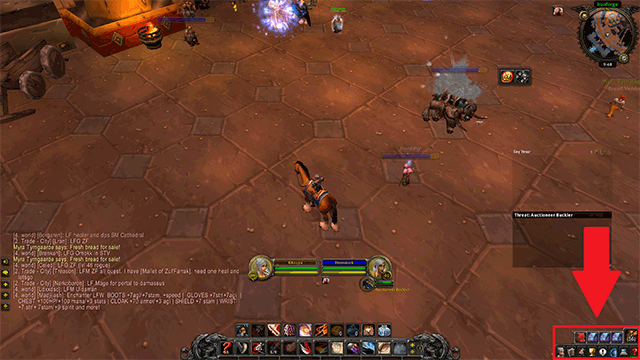 Step 2
Step 3: Hover your mouse over the Game Menu icon. 
Above the section with the user interface's icons should be the game menu. Your world latency is visible among the other data.
Simply hover over the interrogation icon once again to refresh your Ping and attempt to detect any server slowdowns.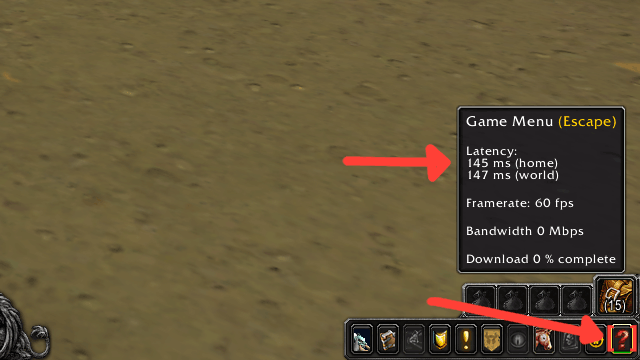 Step 3
Now that you know how to check ping in WoW.
If you don't know how to show ping on Mac, check out our post on how to run ping test on Mac!
Frequently Asked Questions (FAQs)
In addition to knowing how to check ping in WoW, there are other questions that gamers are looking for answers to.
They are concerns related to ping in WoW, which can enhance gamers' gaming experience.
Understand that, MySpeed has created a list of frequently asked questions.
Check them out!
1. Do you need good ping to play WoW?
For regular use, low ping levels are not necessary.
Yet, they are crucial for competitive gaming, such as WoW since it reduces the amount of time that passes between control input and screen occurrences.
High latency can make it difficult to play effectively.
Delays in messaging, erroneous fight timing, and trouble completing in-game tasks necessary for advancement are all potential issues.
Therefore, if you want to get the most out of this game, have low ping.
2. What does home and world mean in WoW?
Some have hypothesized that "Home" represented your own latency and "World" represented Blizzard's delay.
That is wrong!
The connection you have to your realm server is essentially what "Home" refers to.
The term "World" refers to the link to the servers carrying all the other data, such as information about nearby people, mobs, NPCs, and combat.
3. What is the difference between home and World latency in WoW?
The in-game latency monitor only displayed the "World" latency prior to version 4.0.6.
Hence, it generated a lot of confusion for players who could cast spells and interact with NPCs without experiencing lag while chatting and being kicked offline.
You might notice discrepancies between the two timings because a lot more data is being delivered over the "World" connection.
The ping to the server will have to wait its turn in line if there is an amount of data "queued" up on the server and ready to be transferred to your client.
So, the actual number will be quite higher than the connection for "Home".
Wrapping up
Looking for a great MMORPG? Well, World of Warcraft (WoW) is one of the very best choices. MySpeed shared with you some basic things related to ping latency in WoW. Now, you already know what is a good ping in this MMORPG, right?
That's all for this post; hope you found it helpful. Do you want to know how to check FFXIV ping?
Check out the upcoming posts on MySpeed's blog besides how to check ping in WoW to find out.