Ethernet port not working: Common causes & 10+ fixes [updated]
Oct 17, 2022 - Views: 1223 Share
Ethernet port not working is not a new issue that you may have to deal with.
If the router's Ethernet ports aren't functioning, the problem could be software-related with your PC or even a cable defect.
In this article, you should go over every option to resolve the issue or at the very least identifying its cause.
Check it out now!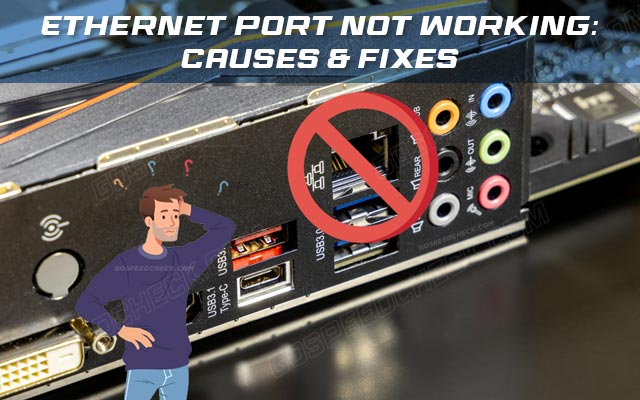 Ethernet port not working issue
Can an Ethernet port go bad?
A computer's Ethernet port is a place where an Ethernet cable can be inserted. 
On the back or side of your device, it connects wired network hardware to an Ethernet LAN.
If you have Ethernet in your home, you undoubtedly understand its many advantages and know it is a great investment. 
It's likely that you've run across issues with Ethernet connections before, like corrosion and damage. 
When you run into these problems, getting a new cable is an easy solution.
However, your Ethernet cable may not always be the issue; rather, it may be the port.
That's why many people search the Internet for the reason why their Asus RT-AC68U ethernet port not working.
Well, Ethernet port in wall not working goes bad and it can happen for several reasons.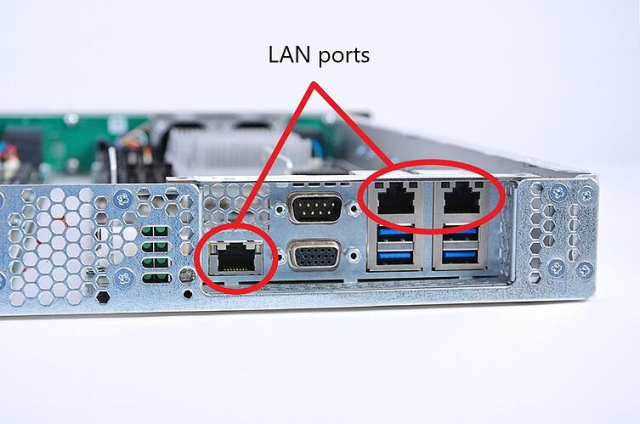 An ethernet port go bad
Electronics in ports, particularly switch ports at the panel, are static-sensitive and prone to malfunction.
If you have troubles with the internet connection on your computer, the Ethernet port is typically the first place you should investigate because occasionally it is the source of problems.
Let's expand on this in the sections that follow.
Reasons why the ethernet ports not working on router?
The Ethernet connection must first receive software approval from your PC.
No internet will be transmitted from your router to the output device where you plugged the Ethernet cable if the cables are not active.
Here are a few common reasons why is my ethernet port not working: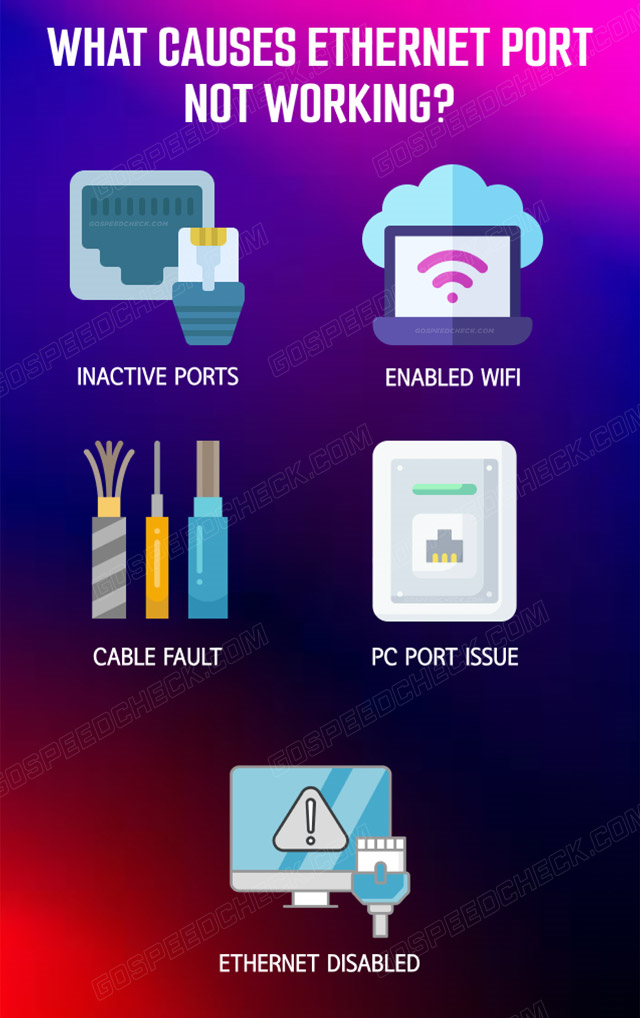 What causes the ethernet port not working?
Inactive ports
Some of the Ethernet ports on your router might not be functional. 
On your router, you can test with all 4 of the yellow ports.
Enabled Wifi
In the event that WiFi is on but you have run the wifi speed test and the result shows slow WiFi speeds, this can interfere with the Ethernet connection. 
If so, it's possible that the port isn't blinking.
Cable fault
The connection won't work if the cable is damaged because the connector is its most delicate component.
As a result, it causes ethernet port not working on motherboard.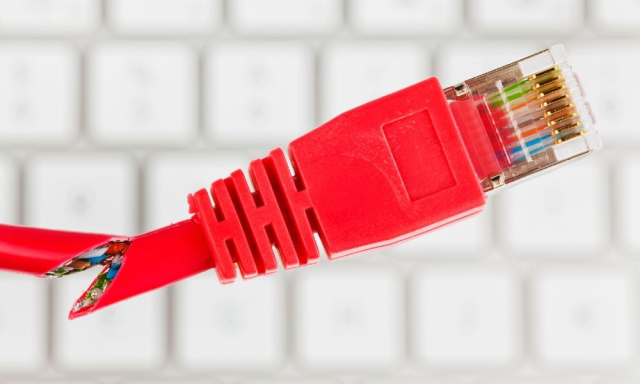 Ethernet Cable is broken
PC port issue
Even though it is extremely uncommon, your computer's motherboard's Ethernet port could malfunction.
Now that you are aware of your options, feel free to implement our suggestions to try and solve your problem.
Ethernet disabled
There issue of ethernet port not working on PC will also happen if the Ethernet network is disabled in your network properties.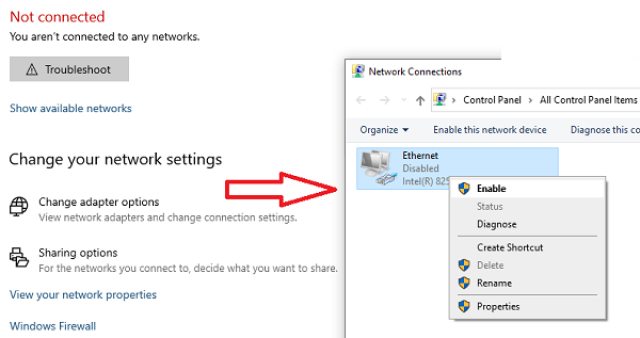 Ethernet disabled
How to fix the ethernet port not working on router?
Before continuing, double-check that the Ethernet connection is firmly plugged into your network and computer.
There won't be any feedback if the cable is slack, so don't count on it.
One end of the Ethernet wire needs to be linked to your PC, and the other side to one of the yellow ports.
Follow the first recommendation once you have the Ethernet wire connected correctly:
Check network cable
The cable may be an issue itself to Ethernet ports not working or Orbi keeps dropping Internet.
Therefore, remember to chek the network cable.
By opening the Network Connections window and choosing it from the drop-down menu, you can check to see if the Ethernet connection is operational.
Finding the root cause of the issue requires completing this step.
For instance, if your computer does not immediately recognize the cable, there will be no connection. 
Several reasons could be given for this omission. 
For instructions on checking the network cable's functionality, see below.
Hold down the Windows + I key, you can access the Settings.

Choose Network and Internet

Choose Ethernet

Check your Ethernet connection
Imagine that the state of the ethernet connection is Not Connected. 
In that instance, it suggests that there is a problem with your adapter, cable, or the software that should be able to identify the cable as it isn't being picked up right away.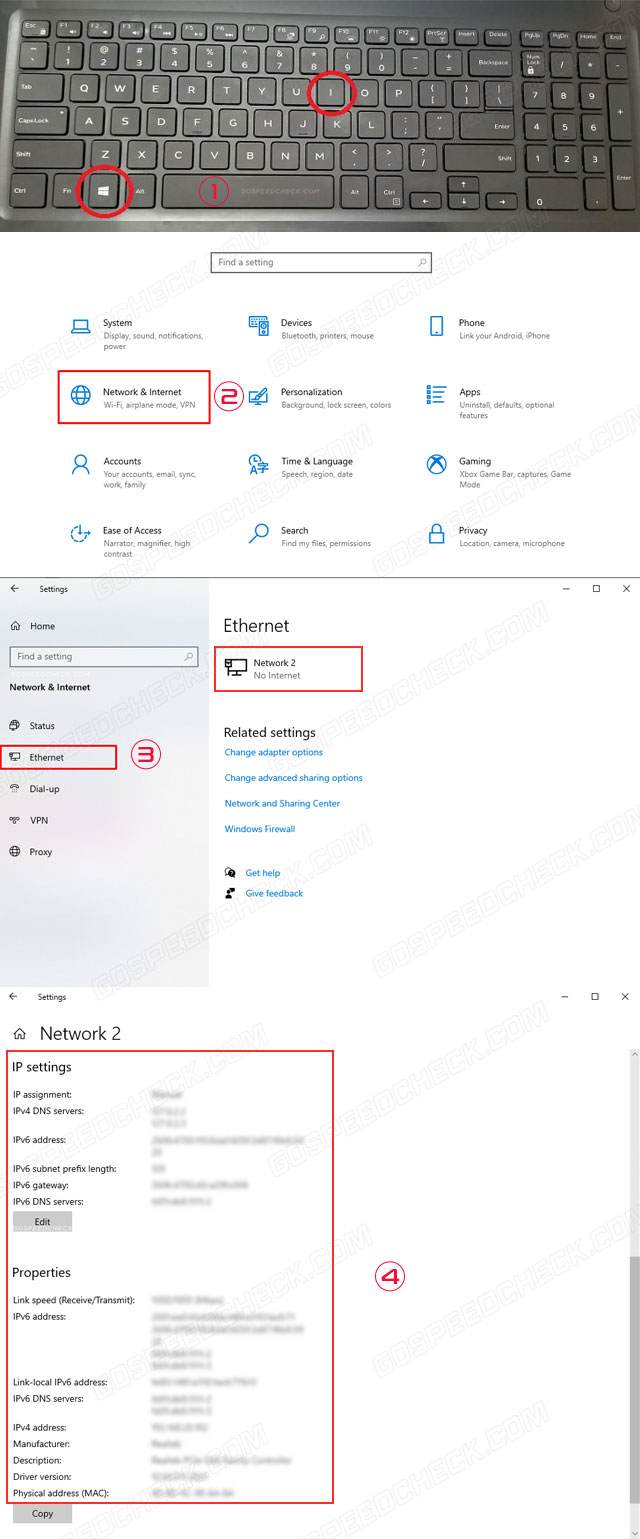 Check network connections
You might try removing and reinstalling the cable. 
Cables can deteriorate and become less dependable over time or as a result of negligence.
If your Ethernet adapter continues to show it as disconnected, try a different network cable. 
You could also try a different port on the modem, switch, or router (if there are any available).
Run Internet connection troubleshooter
If your ethernet connection is still giving you issues, you might try running the internet troubleshooter to see what causes slow WiFi speeds. 
It describes the cause of your ethernet problem and makes an attempt to cure it.
How to use a troubleshooter for internet connections to fix ethernet port not working windows 10:
To open the settings, hold down the Windows key and press I.

Click Troubleshoot after selecting "Update & Security" from the Settings menu.

To successfully run this troubleshooter on your computer, pick the "Network Connections" option, then click "Run the troubleshooter."

Run the troubleshooter by adhering to the directions displayed on the screen.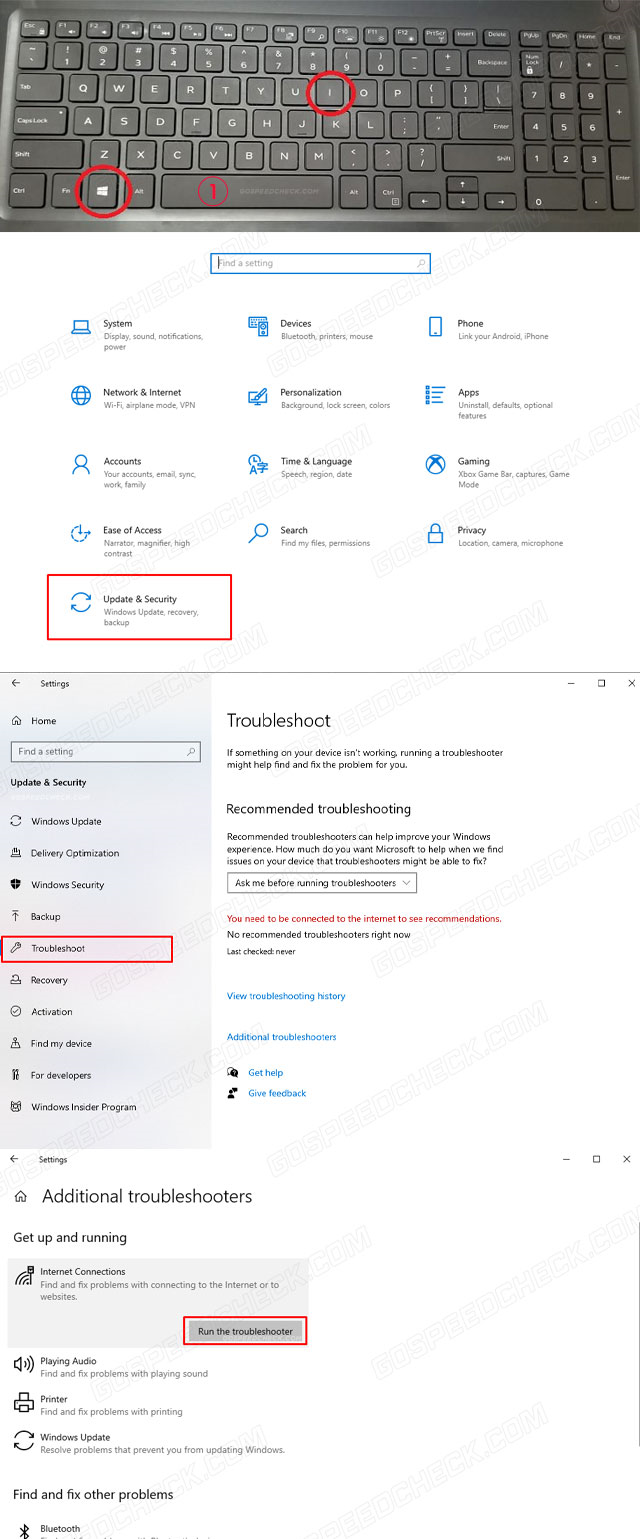 Run Internet Connection Troubleshooter
Verify router's firmware
New firmware updates can cure several router/Access Point problems. 
These are designed for older electronics that are still running the factory firmware. 
The product manuals or the manufacturer's website contain specifics and instructions on how to make an update.
Access point/router manufacturers frequently improve their goods by adding new features. 
It's true that not all linked devices can benefit from these extra features. 
Consult with authoritative authorities to determine whether turning off these features is required.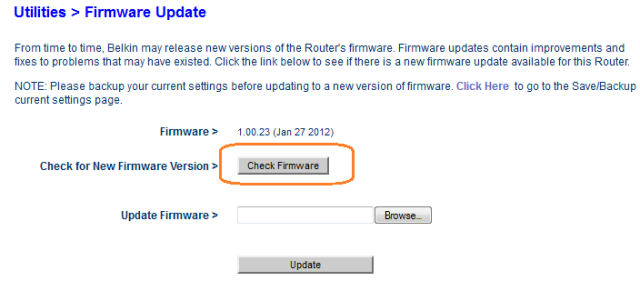 You can check Firmware Update
Reset network stack
Computer ethernet port not working?
If you are unable to fix it, your computer may have developed this issue as a result of a broken DNS cache or an improper network cache. 
As a result, you should reset the network stack and make sure that the outdated cache is replaced with a new one.
How to restart a network stack:
To launch the Run window, hold down the Windows key while pressing the R key.

To enable admin control, type cmd into the prompt and then simultaneously press the Shift, Ctrl, and Enter keys on your computer.

After that, enter each of the following commands by pressing the Enter key: ipconfig /release, ipconfig /flushdns, ipconfig /renew, netsh int ip reset, netsh winsock reset.

Restart your computer after completing the aforementioned steps.

Verify to check if the problem with the ethernet port is now fixed.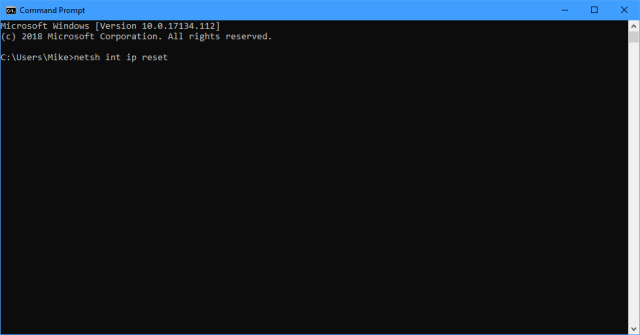 Reset Network Stack
Disable virtual ethernet devices
If you installed virtual Ethernet drivers, there could be a problem with your PC's internet connection. 
If you've taken them out but are still experiencing Ethernet port issues, you should look into fixing the issue. 
Virtual Ethernet drivers come in a variety of forms, including VPNs and applications for packet loss reduction. 
Locate and disable any virtual Ethernet devices you encounter by following the steps listed below:
To open the Run prompt, hold down the Windows key and press the R key.

The network setup panel will open when you enter the command ncpa.cpl and hit Enter.

Now, right-click on any software option.

To sever the virtual network connection, select Disable.
If you are unsure, conduct a Google search for it if you are unsure before turning off each network equipment.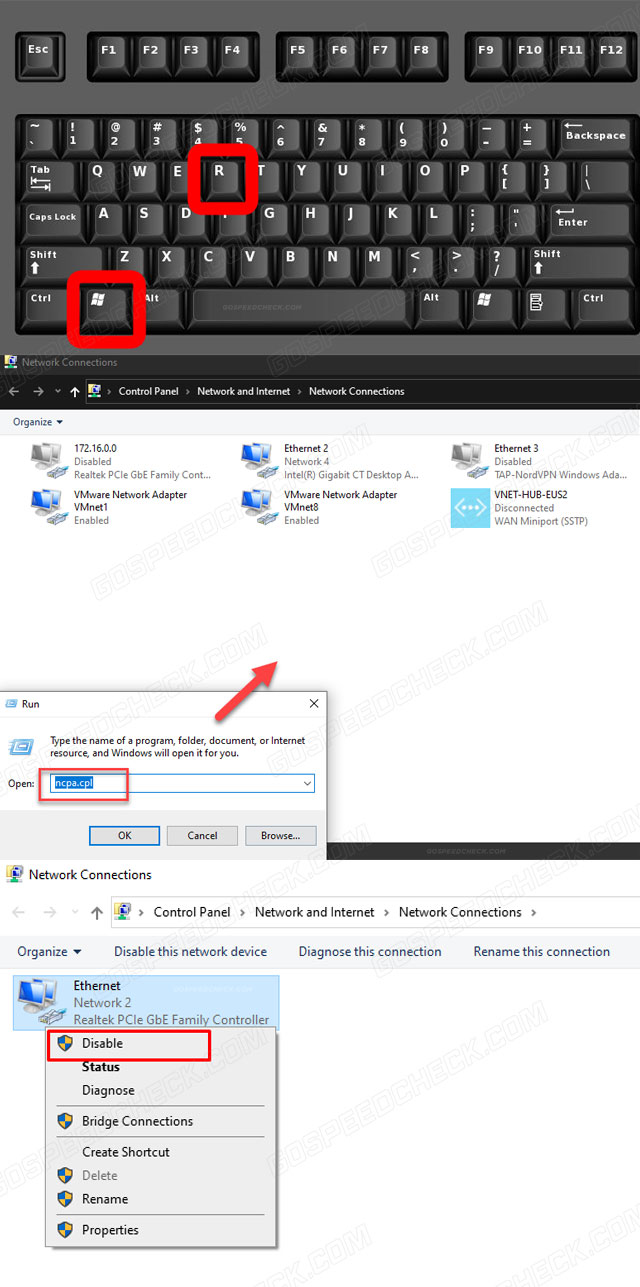 Disable virtual ethernet devices
Turn off Wifi
If your laptop ethernet port not working, try turning off Wifi.
Although it is not necessary to disable Wi-Fi for Ethernet to function, doing so will stop network traffic from unintentionally being sent over Wi-Fi rather than Ethernet. 
As there would be fewer entrance points for outside forces, it will also increase the security of your device. 
So, once you've connected the Ethernet connection, go ahead and disable the Wi-Fi on your computer.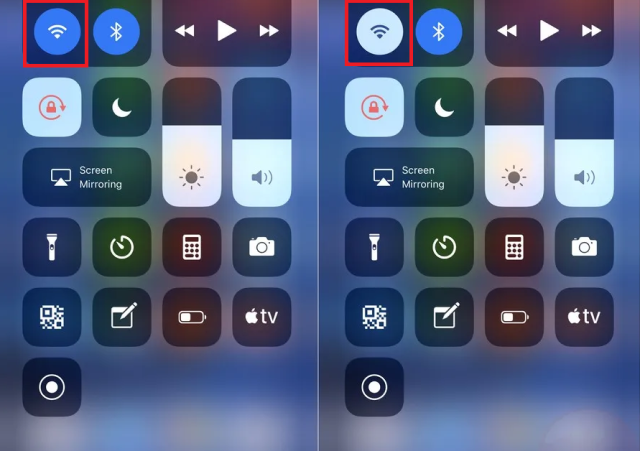 Turn off Wifi
Ensure Ethernet is enabled
Wonder why is your Acer Nitro 5 ethernet port not working?
The Ethernet cable may not be recognized since there is a disabled Ethernet behind it. 
Ethernet and other linked devices can be quickly disabled using Device Manager. 
Even if you don't think you remember turning off Ethernet, it's best to make sure. 
Anytime or regularly happening owing to a defect, the gadget may disable itself randomly. 
The straightforward methods below will let you check and enable your Ethernet.
Hold down the Windows + R key.

Press Enter on your keyboard after entering devmgmt.msc in the text field.

Double-click the entry under Network Adapters.

Now choose Enable by doing a right-click on the Network Device.
Inspect the Ethernet to determine if it is now operating properly after turning the device back on.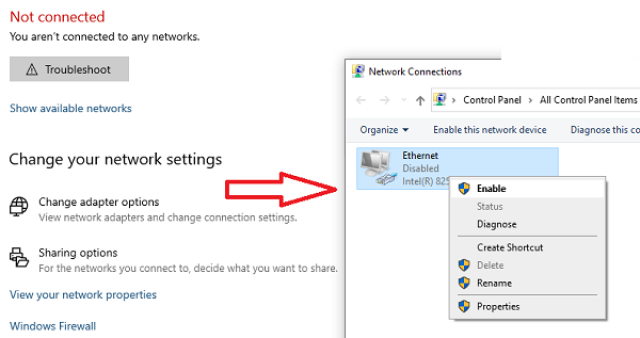 Ensure Ethernet is enabled
Plug Ethernet into a different port
Change the Ethernet cable's port on the router by trying a different one. 
To prevent any inconvenience, you must replace your router if opening a different port on the router resolves your Ethernet issue.
To rule out whether the Ethernet cable is faulty or broken, you must try switching Ethernet cables if changing the router's ports does not work.
Restart your computer
There are times when the simplest answer is the most successful. 
In this case, restarting your computer is required if the Dell ethernet port not working. 
Your computer might have a glitch right now, and restarting it will cure it and bring your ethernet connection back to normal operation.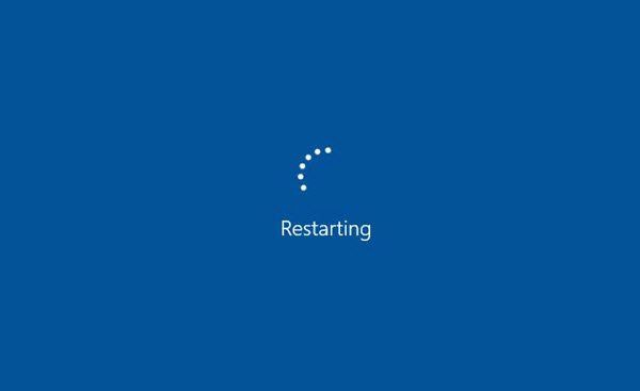 Restart your computer
Update drivers
The driver of an old Ethernet adapter might cause a number of connection issues. 
The actions listed below will ensure that your Ethernet adapter is using the most recent driver version:
In the Start Menu, click the Search box.

Make a Device Manager search.

Select Device Manager > Network Adapters from the context menu.

Choose Network Adapter and click Update Driver Software.

Restart your gadget
You can go online using Device Manager to see if your Ethernet adapter has been updated. 
When your search is complete, some newly available information will be displayed. 
The next step is to install the updated driver, restart your device, and test the stability of your Ethernet connection.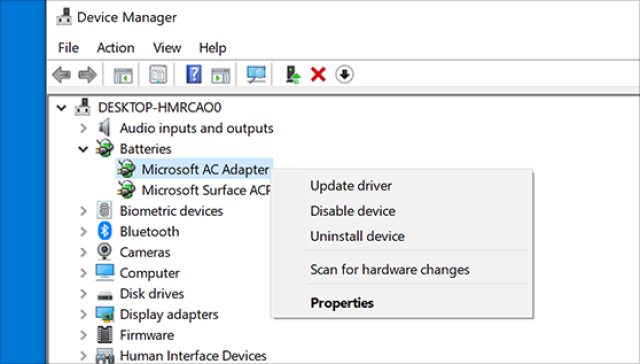 Update driver
Uninstall/reinstall drivers
Although unlikely, a new driver could be the root of this issue. 
If you recently installed the most recent version of the software, trying to go back to an earlier version can be helpful.
While holding down the Windows + R key

Enter devmgmt.msc into the search box.

Click twice on the Network Adapters option now.

Locate and click twice on your network device.

Click the Driver tab now, and then select Roll Back Driver.

To successfully roll back the version, follow the instructions.
Restart your computer after switching to an earlier version to determine if the problem has been fixed. 
After updating the driver, if the problem still exists, speak with the maker of your computer for advice.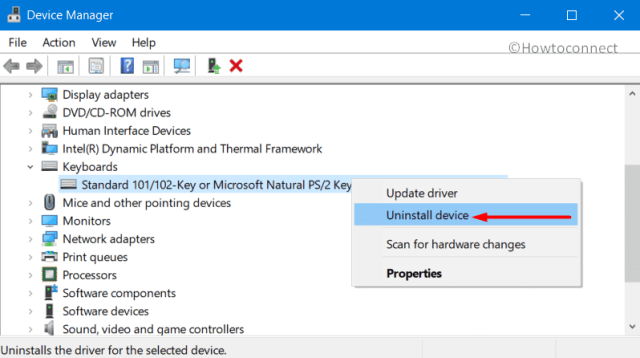 Example: Uninstall Keyboard Driver
Reset network settings
Possible causes of the issue include network reconfigurations that, up to this time, did not fully address it. 
The only way to fix this is to thoroughly shake up the network setup by resetting it. 
This may be caused by corrupted root system configurations or cache.
Resetting network settings:
Go to Status after opening the Settings tab and selecting the Network & Internet option.

Locate the option for network reset. This function allows you to set a network component as the default. You might need to reinstall your network software in some circumstances.

Click Yes after selecting the Reset now button.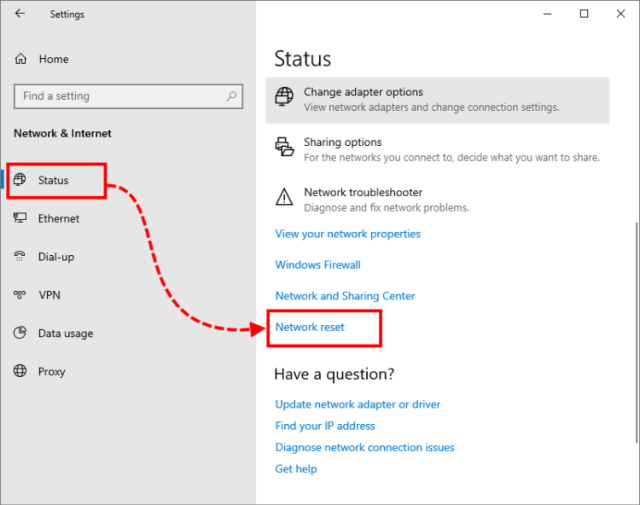 Reset Network Settings
Uninstall and get generic driver
You'll have to reinstall your driver if upgrading or rolling it back doesn't work.
After deleting a driver, Windows by default installs generic drivers for your device when you restart your computer. 
These generic drivers are the most recent among others, despite not being the most recent. 
So give it a shot and see if it works for you.
While holding down the Windows + R key

Press Enter after typing devmgmt.msc on your keyboard.

Click it twice on the Network Adaptors menu.

Locate and click twice on your network device.

The network device using the right click

Now, complete the function by following all of the directions on the screen.

Hold off until the uninstallation is complete.
Restarting your computer will finish the uninstallation. 
After restarting, the universal drivers must be installed. 
This ought to end any driver-related problems.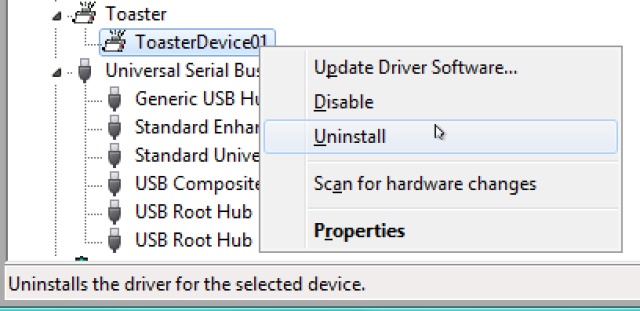 Uninstall and get Generic Driver
Read also: Cricket compatible phones list
Frequently Asked Questions (FAQs)
How do I fix my ethernet port?
By inspecting for damage, confirming the current cable connections, examining the connectors' condition.
Then, replacing any damaged ones as necessary, you can repair your ethernet port.
You might try inserting the ethernet cable into a different port on your router if the port is broken.
How do I know if my ethernet port is bad?
Examine the lights.
Most Ethernet ports should have a green light next to them.
The port appears to be operating with a strong enough signal, according to the green light.
The ethernet port not working red light or yellow suggests there may be a deeper problem.
If there is absolutely no light coming on, the port or the cord may be faulty.
Why is Ethernet not working but WiFi is?
Ethernet issues can range in complexity from incorrect wire terminations to something as simple as an unplugged connection.
The majority of Ethernet issues can be resolved, regardless of how serious they are.
Conclusion
The problem of ethernet ports not working on modem is not unusual because ports, like cables, can break down and malfunction. The good news is that a solution to Ethernet port not working is close at hand. Using some of our guidance, you can save money by repairing the port rather than replacing it.