Eero red light: A thorough explanation & helpful fixes [guide 2022]
Oct 24, 2022 - Views: 1736 Share
Have you ever seen the Eero red light?
This light will flash when your router gets problems.
What does the light system mean? Why does it appear on your router?
How can you solve the problem?
Let's read this article.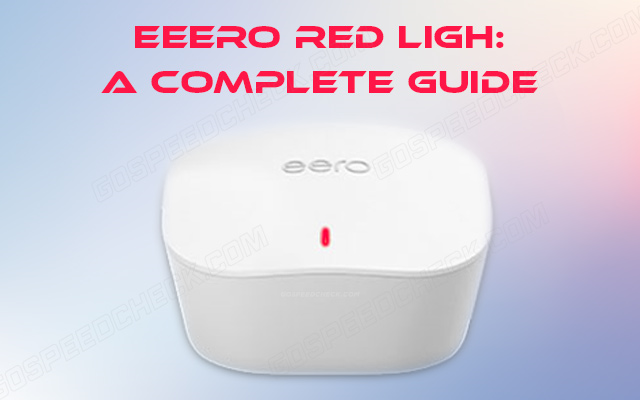 What does Eero red light mean?
Understanding Colors Of the LED Lights on The Eero?
Knowing the eero red light meaning can help you find the causes and fixes to this problem.
A LED light is located on the front of Eero. 
If your device works properly, the Eero light will be strong white. 
If your LED has changed condition, such as color, or is flashing, see the following list.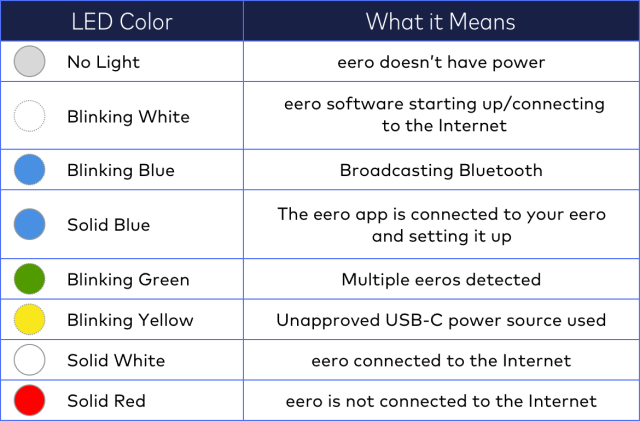 As you can see, a solid red light eero means it is not connected to the Internet.
It is quite similar to red light on Spectrum router, to some extent.
Reasons Why Eero Has Red LED Light
Various causes lead to the light on your Eero coming on. 
Below are some main reasons you should keep an eye on since they may cause Eero light red. 
No Internet Connection
The Eero light is red, which indicates that your router doesn't have an internet connection.
This problem can originate from both software and hardware. 
Gateway Problems
The router also has a red light if it faces gateway problems. 
For example, if you log in with a faulty credential into the gateway on your router, you will certainly face problems. 
Hardware Issues
Because Eero uses the mesh system, it will get eero wifi red light when its component is damaged. 
This is one of the causes leading to the red light on your Eero router.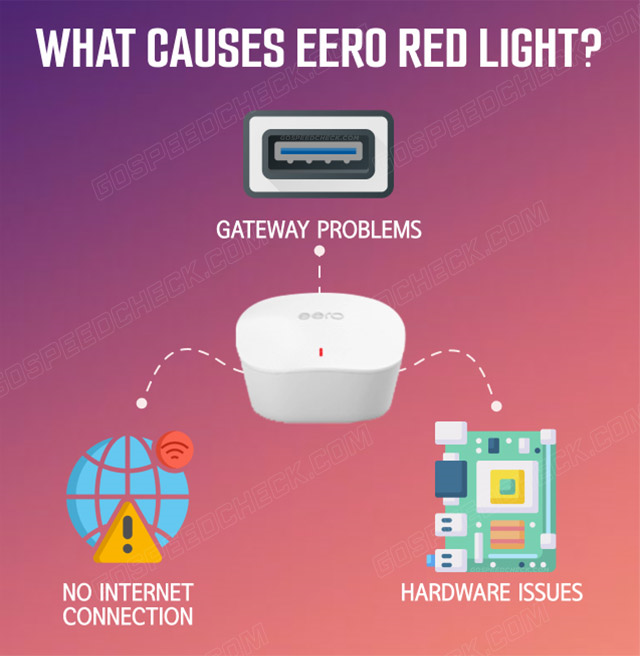 Factors cause Eero red light
What Does Red Light on Eero Mean – Quick Fixes
After knowing the common causes of the red light on Eero, you can follow the simple process below to repair this problem. 
How to fix eero red light? Check now!
Check Internet Speed or Cable
Follow the simple steps below to check the Internet speed or cable connected to your router: 
Step 1. Access the "Eero" app on your phone. 

Step 2. Choose an online option on the top. 

Step 3. Check the signal strength on the right side. 
In this situation, you need to check your internet cable to identify what is happening with your router. 
If you have slow Wifi speeds and the Eero router red light appears on the ethernet cable, you must replace the damaged cable with the new one. 
Power Cycle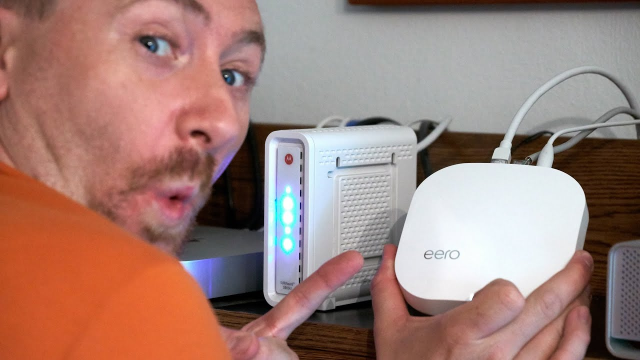 Power cycle the Eero router
If you run a wifi speed test and find the network signal strength, but the red light is still on the Eero router, you may consider power cycling the device. 
Here are detailed steps to power cycle your router: 
Step 1. Unplug your router 

Step 2. Replug it into the power source

Step 3. Use the "On/Off" button to switch your device off

Step 4. Unplug the router and wait for about 30 seconds

Step 5. Plug the router back on the power source
Check the Devices
Inspect your router individually to find the problems. 
Here is a complete guide you can follow to check your device: 
Step 1. Open and access the "Eero" app. 

Step 2. Choose the "Number of Devices" link with your network. 

Step 3. Two options, including "Currently connected" and "Recently connected," will appear. 

Step 4. Look for your router to Nickname or MAC address. 

Step 5. Check connection settings. 
Bridge Mode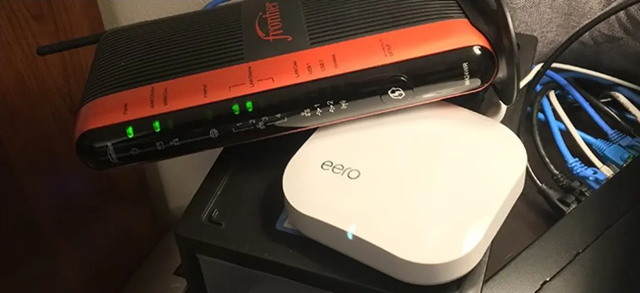 Bridge mode
When using bridge mode on the Eero router, it will automatically disable the internet connection. 
In this situation, a red light will appear on it. 
Below are several simple steps to disable bridge mode on your device: 
Step 1. Open the "Setting" option in the Eero application. 

Step 2. Tap on "Advance". 

Step 3. Choose "NAT& DHCP".

Step 4. Change into automatic. 

Step 5. Choose the "Save" button. 
Reboot Router/Modem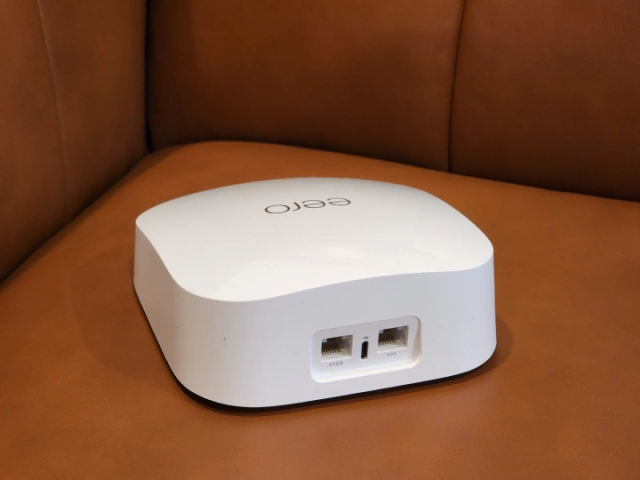 Restart the router
This is an easy but effective method to fix Eero red flags. 
Unplug Eero from power

Wait 30 minutes

Plug it in again 
Ideally, the Eero's red light should be replaced with white light.
If rebooting one Eero does not resolve the issue, you can reboot the entire Eero network.
Contact Internet Service Provider
Contacting your ISP (Internet service provider) is one of the simple and effective ways to solve the problem of red eero light. 
You must keep in touch with them to check if they blocked internet access. 
Placement of Eero devices
Placement of Eero devices
Careful placement of Eero ensures strong and stable signal coverage throughout your home.
Here are some recommendations you can follow to make sure eero has red light doesn't happen:
Eero must be in range for it to be able to  communicate effectively

Place it on a hard and high place

Do not place  Eero in cupboards or similarly closed rooms

Make sure there are no obstacles between the aeros if possible.

Make sure there are no devices near the Eero that may interfere with the signal. 
Check power cable, ethernet port
You should check whether your Eero is attached to the router and, if so, if it is correctly connected. 
Also, ensure that both the router and the modem are turned on.
Check that the two devices are connected correctly to the appropriate ports with an Ethernet cable. 
You must notice a click once you plug the Ethernet wire into the port.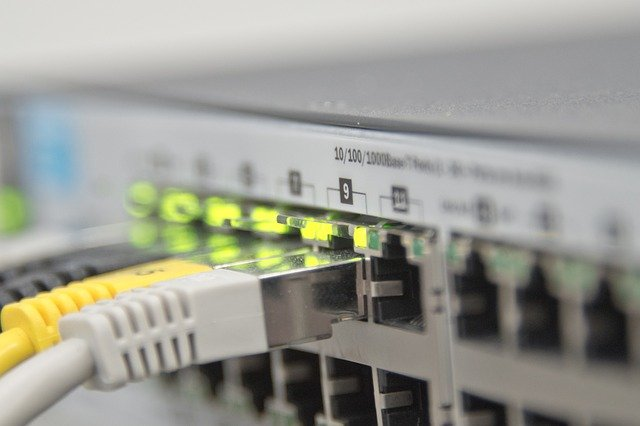 Check power Ethernet or port
Check with ISP
No network connectivity is lost due to ISP service outages or maintenance.
Contact your ISP to see if there is a service outage in your area or if there is a network issue.
Another method is to apply to a site like DownDetector. Simply enter your ISP name to see if others are reporting service interruptions.
If you have a problem with your ISP, you should wait patiently until they fix it.
Contact Eero customer support
If you tried various ways but still face the Eero red light, you need to contact Eero support for better help. 
So, let's look at 10 effective fixes to this problem in this info:

Tips to fix Eero red light
If you are interested in this kind of topic, check our post on g3100 router yellow light for more information.
Final Thoughts
The above is useful information you should learn more about the red light appearing on your Eero router. It can originate from a faulty gateway, no internet connection, or hardware issues. You follow the simple steps in a complete guide in this article to fix the Eero red light on your router without hassle.