Chromebooks demand doubled in 2020 due to the pandemic
Feb 15, 2021 - Views: 621 Share
2020 was more than a successful year for Chromebook as its sales increased twofold through the year. And the likely reason behind that surge lied in the rise in people learning and working from home during the Coronavirus-induced pandemic.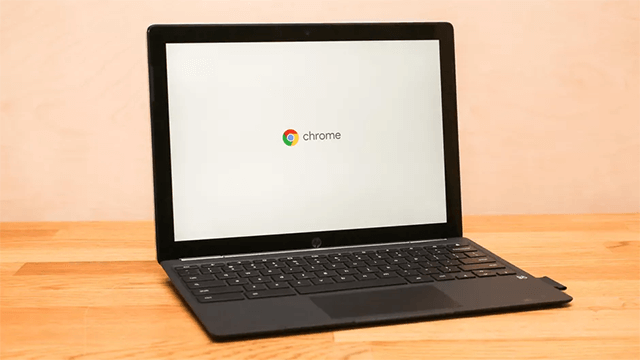 Chromebooks demand doubled in 2020 due to the Covid-19 pandemic
As reported by 9to5Google last week, Canalys estimated an increase of more than double in Chromebook shipments in 2020, from 14.7 million to 30.7 million laptops. In which, the fourth quarter last year saw the Chromebook demand at an all-time high with over 11 million units shipped compared to just about 2.5 million in the same period (Q4) in 2019. 
Breaking down the number of 30.7 million units in 2020, HP was the biggest winner by selling 9.4 million Chrome-based laptops, followed by Lenovo with 6.8 million, and Dell with 4.6 million. Samsung, Acer, and other manufacturers also contributed to the overall market.
Logically, this big growth makes sense since a lot of people were forced to transition to working and learning from home. For many, especially students doing remote learning, having an affordable and relatively easy-to-maintain Chromebook must seem like a very cost-effective solution, Mobilesyrup.com noted.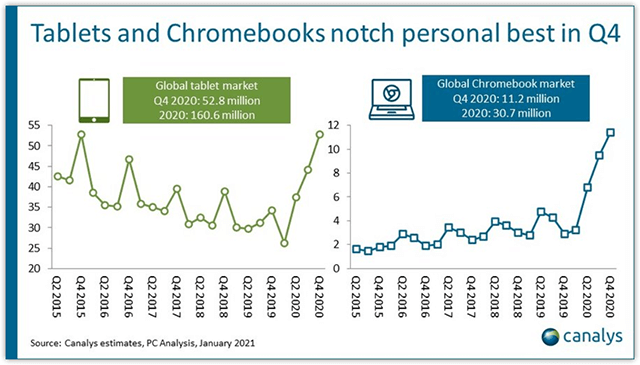 Tablets (left) and Chromebooks (right) notch personal best in Q4, 2020
Tablets also saw a spike in demand
With nearly 53 million tablets shipped in the fourth quarter alone, that market saw the highest peak since the second quarter of 2015. Apple dominated the tablet market with its excellent iPad lineup, while Samsung had a strong second position with almost the same 40% growth year-over-year, according to 9to5Google.
See also: Things to consider when choosing broadband Internet plans for home
Sources:
9to5google.com/2021/01/29/chromebook-covid-19-demand-market-growth
mobilesyrup.com/2021/02/01/chromebook-sales-doubled-worldwide-2020