What upload speed do I need to stream? Top live game stream platforms
Mar 21, 2022 - Views: 789 Share
Ping is an important speed in online games but if you want to stream those, you should take concerned about upload speed. What upload speed do I need to stream? Find out top live game streaming platforms where you can be free to express yourself.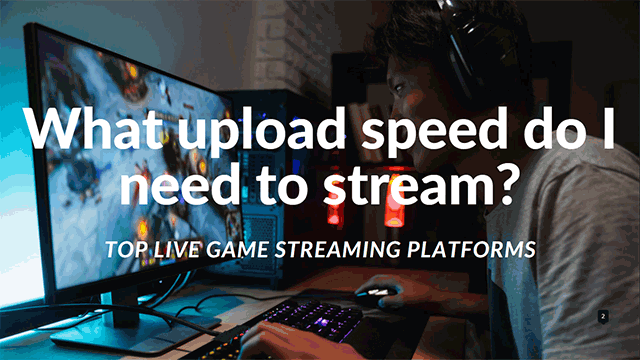 What is a good upload speed Mbps?
What is upload speed?
Internet connections work in 2 different directions: downloading and uploading. Download speed dedicates how many bits of data are delivered from the Internet to your computer or device. 
In contrast, when you create online content (text, video, photo) and want to share it online, that's time you need to consider an upload rate. This shows how many bits of digital data is shared per second. Both download and upload speeds are measured in megabits per second or Mbps.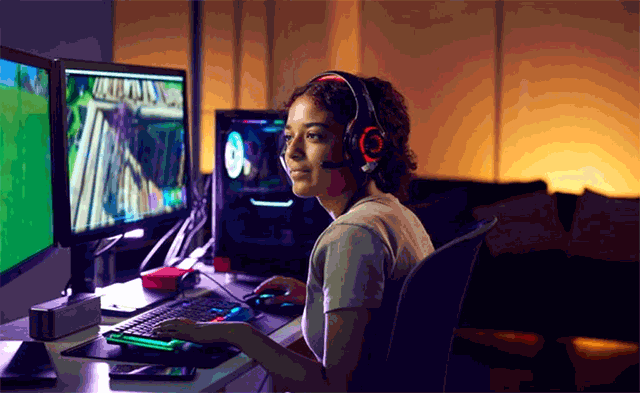 what is an upload speed?
Livestreaming is the transmission of real-time live video to audiences via the Internet. It means that you upload online content to the Internet and share it with everyone online. That time, you're consuming uploading data. 
Streaming requires a lot of bandwidth to occur smoothly without lag. Thus, you will need fast speed enough.
What is a good Mbps upload speed? It depends on which Livestream platform you choose as well as several factors such as encoding, resolutions, frame rates of your stream.
According to Restream.io, for a live streaming video resolution of 720p, your upload speed should be at least:
Facebook Live suggests a maximum video bandwidth of 4,000 kbps, as well as a maximum audio bitrate of 128 kbps. 3-7 Mbps upload speed is considered a good rate.

YouTube Live suggests a video bitrate of 1,500 to 4,000 kbps, with an audio bitrate of 128 kbps, you will need at least 3 Mbps upload speed.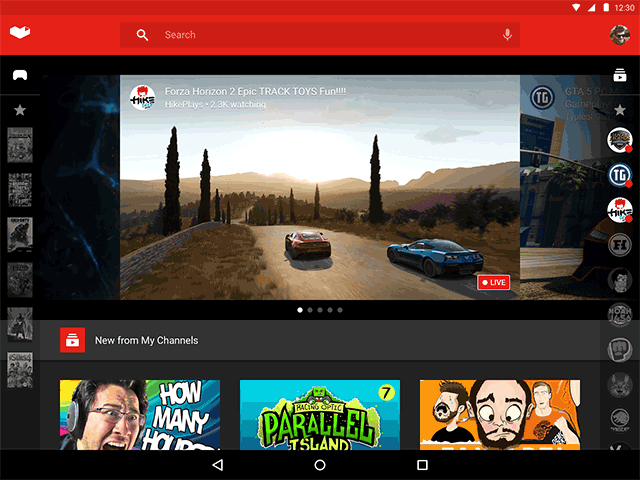 Streaming games on Youtube
Twitch recommends a video bitrate of between 2,500 and 4,000 kbps, with an audio bitrate of up to 160 kbps, your upload speed should be from 3.2 Mbps to 6 Mbps.
Take an upload speed test to check whether your upload speed is good enough or not. 
Top live game stream platforms
After knowing "what is a good upload speed Mbps?", it can be influenced by a live streaming platform you choose. Therefore, if you want to Livestream games online smoothly, do not ignore the top live game stream platforms below:
#1. Twitch
Ranking in the first position is Twitch. This platform allows game lovers to stream their gaming videos with ease. It is compatible with almost all popular video streaming utilities. Moreover, It continues to show total followers, total views, and live viewing for your updated videos so that streamers can feel free to stream.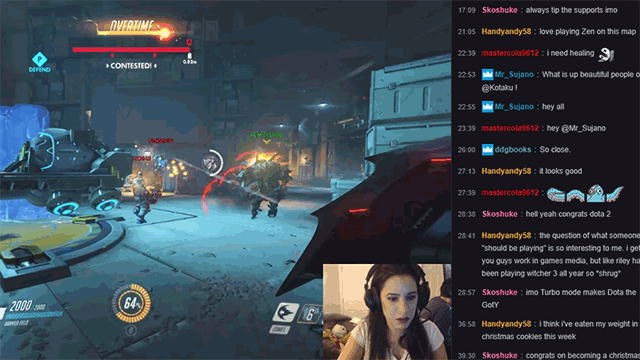 Twitch platform
Several key features:
It disseminates material from both pros and amateurs.

Playlists of videos are available.

It is available for free.

Twitch Turbo accounts get access to additional chat rooms, special emoticons, and enhanced functionality.
#2. HitBox
Similar to other game streaming platforms but HitBox impresses users with a nice color scheme. Users may quickly search for their favourite films here, and streams can be classified as private, public, or adults-only.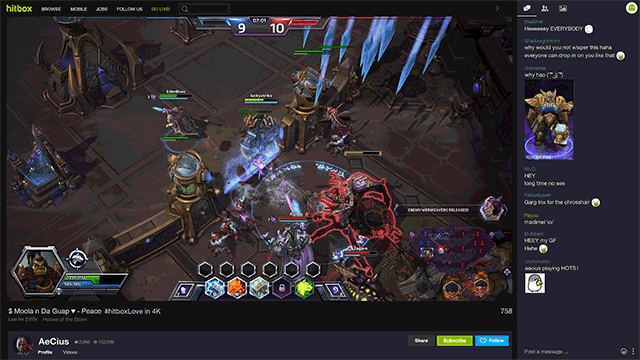 Streaming on Hitbox
Several key features:
Access freely

It provides useful streaming choices as well as simple video classification.

The interface is straightforward and appealing.

Require a high-performance computer to work in Hitbox
#3. Beam
This platform has the sleekest designs for video streaming requirements and operates as smoothly as butter during the surfing process. Every month, Beam attracts over 100,000 new and unique viewers, and its community is rapidly expanding.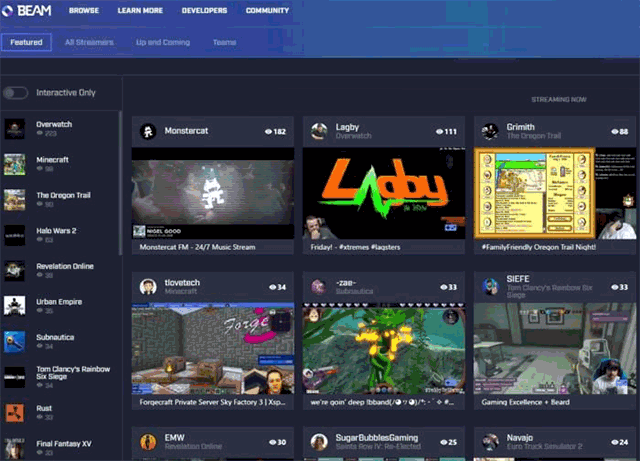 Streaming games on beam
Several key features:
It works well on iOS, Apple TV, Chromecast, and Android devices.

On this site, everything is properly arranged.

Heavy video games have been noted to have a little lag throughout the streaming process.

It can capture video in 4K resolution at a frame rate of 60 frames per second.
#4. Azubu
Azubu focuses on providing high-quality content to audiences so that many streamers choose it to expand its audience count. This site's streams are neatly arranged, and viewers can readily locate renowned streamers for their favorite games.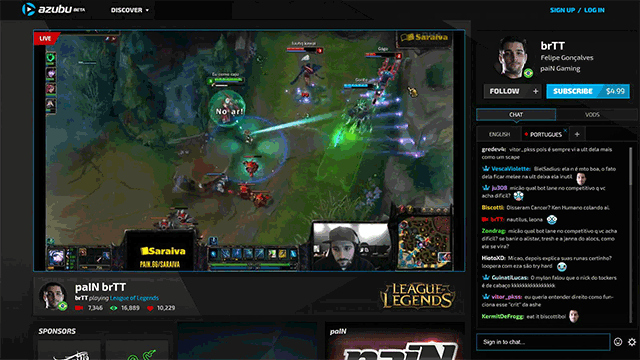 Streaming games on Azubu
Several key features:
Good stream videos organization

Focus on eSport activities

High-quality content
#5. Bigo Live
Gaming streamers can choose Bigo live because of its fastest-growing speed. Its most recent upgrade added lots of features, making it easier to meet game broadcasting demands. 
It will enable users to connect directly with the Bingo Live community, and the video streaming on this platform is well-positioned to bring people together.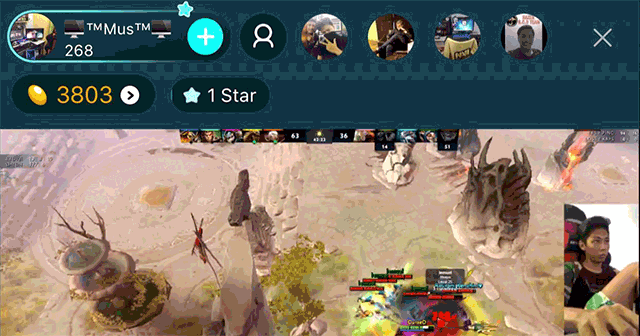 Streaming games on Bigo Live
Several key features:
Available on Mac, Google Play, and Android APK.

Allow users to broadcast quickly to social media

Provides several choices for broadcasting online games
Ending words
Generally speaking, evaluating your upload speed good or not replies on some factors such as streaming platform, your types of content, frame rate. What is a good upload speed for Xbox one? This is another important factor streamers need to consider if they want to broadcast stream smoothly. Hope this post can explain some wonders about game streaming. Follow MySpeed to find more attractive information.