Internet Cancellation: 6 Steps to Break Up With Your ISP [Guide]
Sep 26, 2022 - Views: 678 Share
Are you going to relocate or just find a better Internet plan at a lower cost?
This post will help you learn everything about Internet cancellation, regardless of the reason you want to terminate your Internet service.
We'll guide you through how to overcome difficulties like early termination fees (ETFs), phone calls with customer retention service, and others.
After all, properly terminating your Internet service can result in significant financial savings.
Check the details now!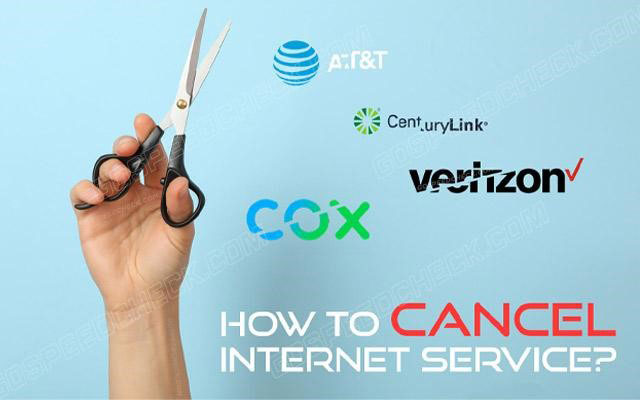 What you need to know about Internet cancellation
When should you cancel your Internet service?
It may be necessary for you to switch Internet service providers (ISPs) if you are relocating.
If your existing provider is not offered in your new location, you will need to switch even if you are satisfied with them.
Alternatively, if finding a service provider that provides faster speeds at a lesser cost, many customers also decide to quit their Internet subscription.
Indeed, switching ISPs could also be a wonderful decision if you are dissatisfied with your current Internet service provider.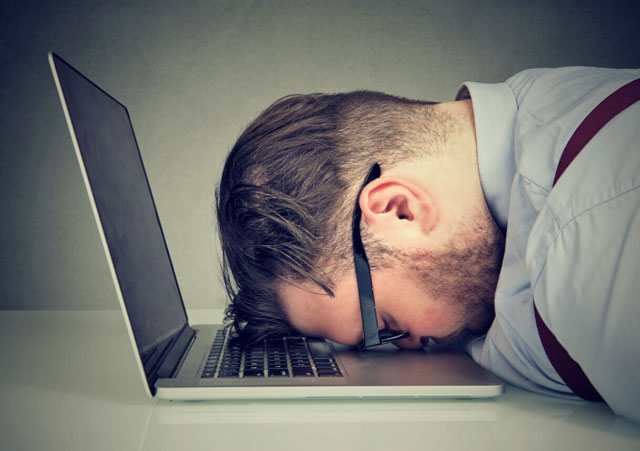 Many reasons may lead to Internet cancellation
Wonder how to switch Internet provider?
When to cancel internet when moving?
Of course, it's not always so easy, but we'll assist you anyway!
So, read on…
Internet cancellation: Step-by-step guide
You must terminate your current plan whether you go with a new provider or stop using the Internet. 
Below is an instruction on cancelling Internet service.
Find a new ISP

Consider termination fees

Cancel your service

Negotiating if possible

Return your rented equipment

Enjoy your new Internet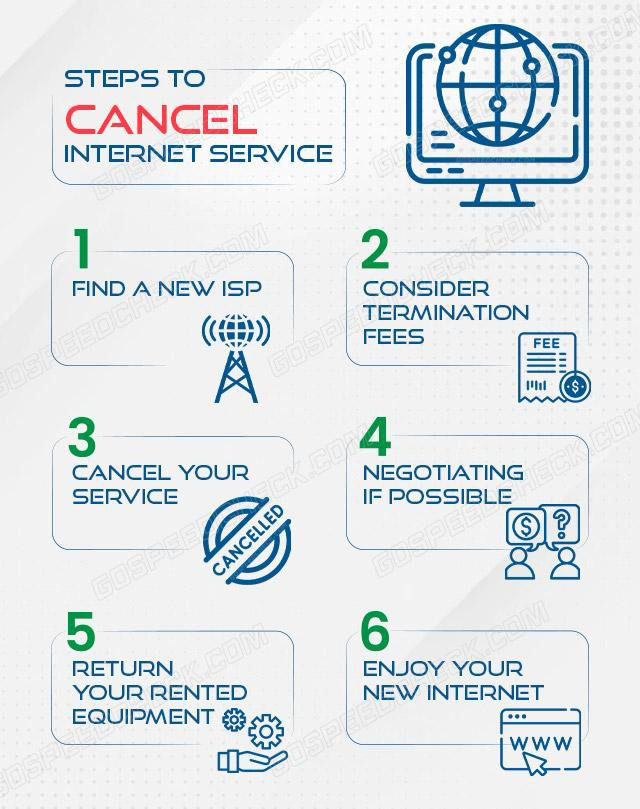 6 steps to cancel Internet service
No problem, isn't it?
Keep in mind that this is only the overall process, which may be divided into a few easy steps.
Now let's get into the details on how to cancel Internet service!
Step 1: Find a new provider and plan
First, ensure you get a new Internet package in place before stopping your connection. 
In this manner, there won't be any delays or waits involved in switching from one provider to another.
You can select a provider and a plan that works for you more easily if you bear in mind the following suggestions and tips.
Make certain to read all of the fine print in any agreement:
Many of the annoyances customers have when working with ISPs are extra charges or add-ons making the bill more expensive than they had expected. 
To avoid any unforeseen problems when you receive your first payment, take the time to inform yourself of all monthly costs and ETFs.
Take the chance to shop around: 
People frequently have access to a variety of suppliers. 
Thus, search for a plan or package that meets all the criteria, find all the providers available in your area, and read customer feedback.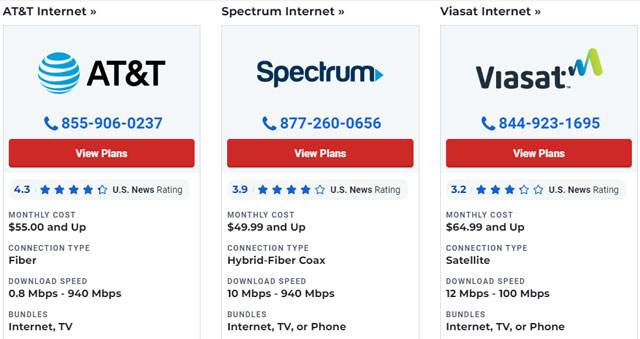 Some popular Internet providers and their plans
See more: Internet speed test
Ensure your current equipment function with your new provider:
Finding a service supporting your device could help you avoid paying monthly fees or the cost of buying the equipment altogether if you already have one.
Find out whether there are any switching incentives available:
If you switch providers, many may pay for a portion of your ETFs. 
Utilizing the offers for clients who transfer Internet service providers could further reduce the cost of your monthly payment.
Step 2: Figure out your early termination fees
You might have to pay ETFs to cancel WiFi if your current plan has a yearly commitment. 
ETFs range in price from $10 to $15 per month which is left on your contract, based on the provider.
However, you can change Internet providers with some providers' no-contract services without paying any costs. 
To avoid the dreaded ETFs when you switch providers, think about enrolling in a no-contract plan.
Below is a summary of some Internet provider's ETFs, as collected by highspeedinternet.com.
Looking at this table, you can easily answer questions like how much does it cost to cancel AT&T Internet or what is Xfinity early termination fee. 
| | | |
| --- | --- | --- |
| Internet provider | ETFs | No-contract options |
| Google Fiber | $25/mo., max $300 (for construction fee only) | ✔ |
| AT&T | None | ✔ |
| CenturyLink | None | ✔ |
| Xfinity | $10/mo. left on contract month | ✔ (+ $10 per month) |
| EarthLink | Up to $200 | ✖ |
| Spectrum | None | ✔ |
| Cox | $10/mo. left on contract month | ✔ (+ $10 per month) |
| T-Mobile Home Internet | None | ✔ |
| Verizon 5G Home Internet | None | ✔ |
See more: home Internet data caps
How to cancel Google Fiber and how much do you have to pay?
Well, only customers paying a $300 construction charge to properly set up fiber Internet when they sign up are qualified for Google Fiber's ETFs. 
Otherwise, you must pay $25 for each month still on your subscription if you terminate your service before the first 12-month period. 
To disconnect Cox service, you'll need to pay $10 per month left on contract month.
But until you have a construction charge, don't worry about these fees.  
Step 3: Call customer service to cancel
To cancel Internet service, cancel AT&T Internet for example, you must contact customer service, which is typically the only option with most ISPs. 
It's extremely unusual that you will be able to cancel your service online. 
However, you should make some preparations before joining the call.
Plan your cancellation
Make a plan for when you want to end ATT service or any others and do some research beforehand so you'll be prepared when the time comes.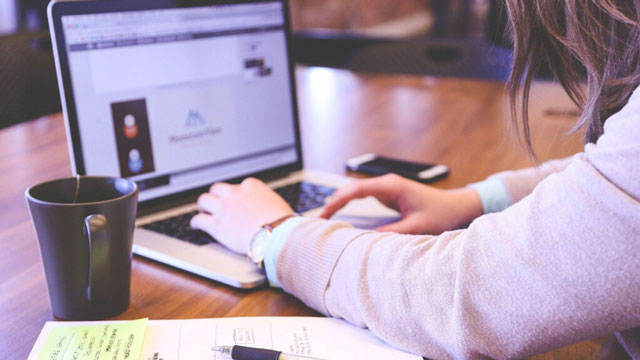 Plan for your cancellation beforehand
The following tips may be helpful to you:
Keep in mind the beginning of the next billing cycle:
Once you cancel, some providers might charge you in full for the following billing cycle. 
Thus, it would be wasteful to pay for a full month of service if you only use it sometimes.
Check for contract buyout offers if you are under contract:
To assist with early termination penalties, which are normally up to $500, providers like Verizon Fios or Optimum will cut a check or provide bill credits.
Call to cancel
You will be connected with a person from your ISP's customer retention department, like Verizon Fios retention department as you call. 
So, you should be ready for the possibility of being placed on hold or having to endure a drawn-out talk because the agent will want to keep you signed up.
When stating your intention to cancel, be polite yet strong. 
If required, make up an excuse to ensure a clean break, such as moving to a new place where the ISP's service isn't accessible.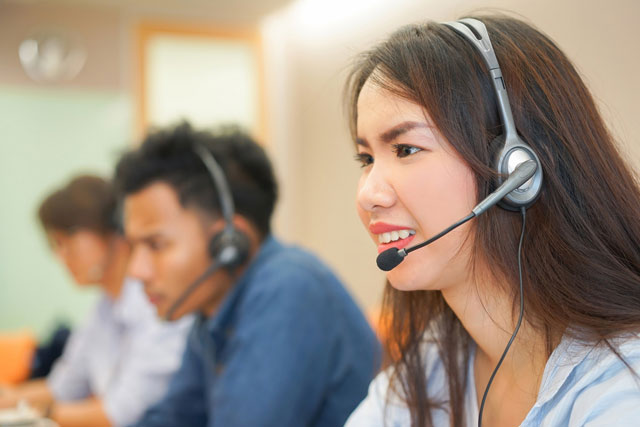 Be polite when calling to cancel the Internet
Although not all ISPs permit online cancellation of service, for those that do, it's definitely your best alternative. 
The canceling process is typically less stressful than coping with retention over the phone, whether it is automated or via online chat with a person.
Step 4: Consider negotiating 
To retain you with your ISP, the customer retention department typically has considerable discretion to increase your service or provide you extra benefits. 
They may offer you with something like Verizon Fios retention deals. 
Therefore, rather than canceling outright, think about negotiating for a better offer if you'd like a faster speed or a lower price.
So, you'd better get an idea of the cost of your service now and bring information on rates from other providers. 
Then, the customer retention agent might be able to perform the following:
Offer to match the pricing on your plan

Get your monthly bill's original promotional rate back

Increase Internet speed at a cheaper price

Include premium channels in your cable TV plan

Combine Internet and mobile service at a good price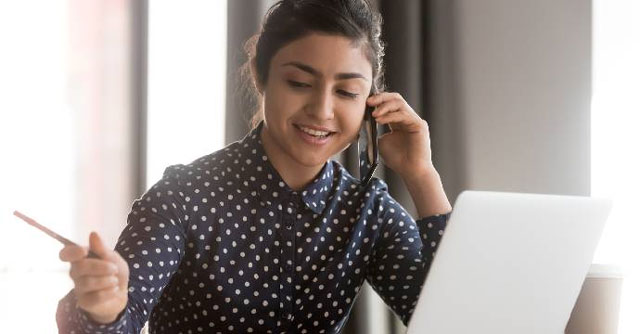 Try negotiating if you can
Step 5: Return your rented equipment
The Internet cancellation is finished. 
Now, it's time to package up and return any rented equipment!   
This is crucial since it could be expensive to not return Internet equipment on time, unlike forgetting to return a few sweatshirts to a former significant other.
What happens if you don't return Spectrum equipment?
If you don't return the rental modem, receivers, router, and other equipment on time, your ex-provider may easily charge you hundreds of dollars in fees. 
Are those things worth the costs your ISP levies? 
Most likely not, but it is a strategy for the business to respond against you for canceling. 
So, don't give it the satisfaction!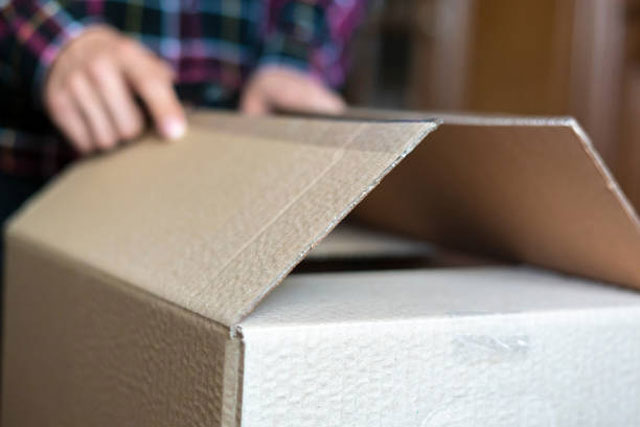 Unless you return the item, you can be charged heavily
How to return Google Fiber box?
How to return att modem?
You can apply the following tips on returning rented belongings:
Return to a brick and mortar store if you can

Check to see whether your ISP offers shipping supplies and pay the expenses.

Pay the fees as well as any other outstanding charges
Step 6: Enjoy your new Internet
The most crucial phase of all is now reached: becoming acquainted with your new Internet connection. 
After successfully terminating service with your ex-provider and switching to a new one, you are now free to game, stream, or download anything you like. 
Awesome!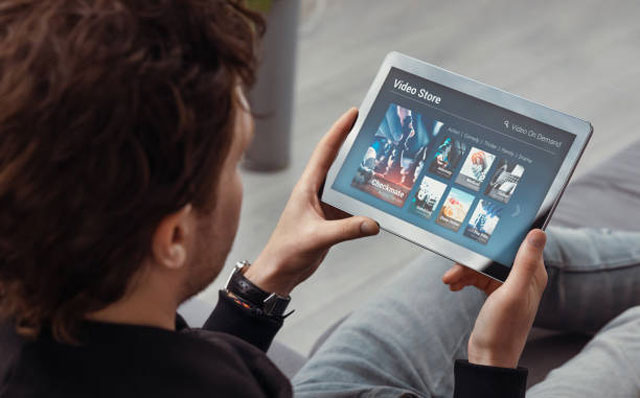 Enjoy your new Internet service
Frequently Asked Questions (FAQs)
1. Can you cancel your service if you're behind on your bill?
Even if you continue to owe money for past-due payments or unpaid bills, you can probably terminate your service.
However, you must pay off any outstanding debts or arrange a payment schedule before breaking up with your ISP.
Otherwise, your credit score will suffer because the ISP will send unpaid bills to a collections company.
2. How fast can you cancel the Internet?
The majority of businesses can stop using your services immediately, however, there can be fees.
If you intend to cancel, you should typically provide your ISP with 30 days' notice.
Doing so allows your ISP to make arrangements for the pickup or return of any rental equipment and confirm your contract cancellation.
3. Do I have to give 30 days notice to cancel my Internet?
The provider is required to give you 30 days' notice before raising prices so you have time to make a change.
Any broadband provider may utilize this; they are not required to adhere to any voluntary codes.
Conclusion
By now, the process of canceling Internet service is easier, right? After all, be prepared to talk on the phone for a half-hour, be aware of contract termination fees, and ensure to return any rented equipment to avoid getting charged for it. If you find this post helpful, share it with others so that they will also know how to have Internet cancellation.