Frontier vs AT&T: which internet provider should I choose? [Full answer]
Sep 26, 2022 - Views: 902 Share
Each Internet service provider offers different features to attract its customers.
Frontier vs AT&T do too.
If you are wanting to choose a suitable internet plan and are confused between 2 of these ISPs, you're in right place.
This post will compare 2 ISPs with important aspects that help you make the right decision.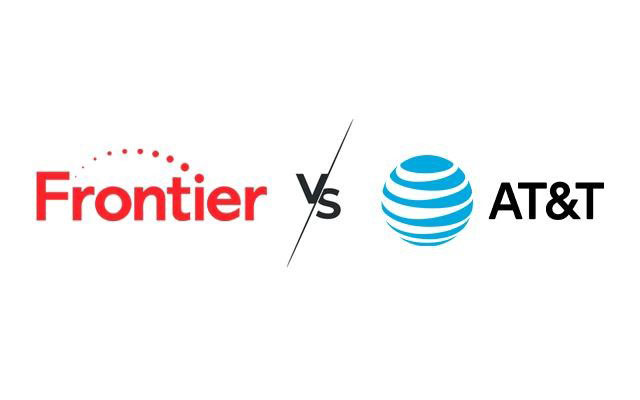 Frontier vs AT&T
Frontier vs AT&T: overall comparison
Take a look at the table of overall comparison between Frontier AT&T:
| | | |
| --- | --- | --- |
|   | Frontier | AT&T |
| Price | $49.99–$149.99/mo | $55.00–$180.00/mo |
| Speed | 500–2,000 Mbps (Fiber speed) | 25–5,000 Mbps |
| Internet type | DSL, fiber | DSL, fiber, fixed wireless |
| Data cap | None | None–1 TB |
| Contract | 1-year fiber contract | Monthly |
| Customer rating | 3.8/5 | 3.8/5 |
Frontier vs AT&T: Pros and cons
Not only often compare AT&T Centurylink, Frontier vs Cox, or Verizon vs Frontier, but also there is a comparison between Frontier and AT&T.
When placing Frontier internet and At&T at the same place, AT&T seems to be better than Frontier.
AT&T provides 4 fiber plans at attractive prices and gamers really prefer these internet services for their gameplay.
Although Frontier also provides fast fiber speeds, this ISP is not available as much as AT&T.
If fiber isn't available in your area, both primarily provide DSL internet, though AT&T has the advantage in terms of megabits-per-dollar value.
 

AT&T

Frontier

Pros

Super affordable Gig plan

Hyper-Gig speeds

Symmetrical upload and download speeds

Symmetrical upload and download speeds

Affordable low-tier plans

Two-year price lock

Cons

Expensive installation fee

Fiber not available everywhere

Equipment fees

Two-year contract

Fiber not available everywhere
Who AT&T and Frontier internet are for?
Generally, both AT&T Frontier internet provider offer 2 main types of internet services: Fiber and DSL.
Fiber connection brings in speedy experience to users, however, for home internet, most internet users don't need such a fast speed like that.
DSL connection is enough.
In this case, the main online activities in your household are streaming, playing online games, and live streaming, you also should consider the AT&T fiber option.
These common activities consume a lot of bandwidth so a 1000Mbps internet plan is ideal. 
Furthermore, you just need to pay about $80 per month for a gigabit plan, is it so great?
AT&T Internet plans
A DSL package is a good option for households with light internet usage and little to no HD video streaming or gaming. 
Both ISPs provide DSL service, but Fronier internet is the more affordable option on the most basic plan.
Frontier provider has several lower-tiered plans like a 300Mbps plan at $100/ month.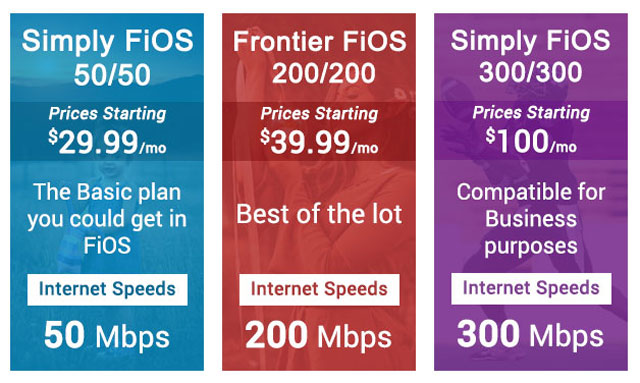 Frontier internet plans
Frontier vs AT&T: Internet plans and prices
Let's get right down to it.
Which internet plans do Frontier and AT&T provide?
Both DSL and fiber, AT&T still dominates. 
Moreover, you also select a fixed wireless connection if you choose the AT&T plan.
Frontier
| | | | |
| --- | --- | --- | --- |
| Plan | Price | Speed | Type |
| Frontier Basic Internet 3-9 | $32.99/mo. | 9 Mbps | DSL |
| Frontier Internet 12-25 | $39.99/mo. | 25 Mbps | DSL |
| Frontier Internet 45-115 | $49.99/mo. | 115 Mbps | DSL |
| Frontier Fiber 500 Mbps  | $49.99/mo. | 500 Mbps | Fiber |
| Frontier Fiber Gig | $74.99/mo. | 940 Mbps | Fiber |
| Frontier Fiber 2 Gig | $149.99/mo. | 2000 Mbps | Fiber |
Compared to AT&T plans, Frontier has more options for customers with low prices. 
For about 100 Mbps speed, if you choose Frontier, you just need to pay $50 while the AT&T plan costs $55. 
Also, Frontier fiber plans are concerned. 
There are 3 options: 500 Mbps, 940 Mbps, and 2Gbps.
However, Frontier does not currently offer a fiber plan that competes with AT&T's 5,000 Gbps service.
AT&T
| | | | |
| --- | --- | --- | --- |
| Package | Price | Speed | Type |
| AT&T Internet 300 | $55.00/mo.* | 300 Mbps | Fiber |
| AT&T Internet 500 | $65.00/mo.* | 500 Mbps | Fiber |
| AT&T Internet 1000 | $80.00/mo.* | 1,000 Mbps† | Fiber |
| AT&T Internet 2000 | $110.00/mo.* | 2,000 Mbps† | Fiber |
| AT&T Internet 5000 | $180.00/mo.* | 5,000 Mbps† | Fiber |
| AT&T Internet up to 75 Mbps | $55.00/mo.# | 75 Mbps | DSL |
| AT&T Internet up to 100 Mbps | $55.00/mo.* | 100 Mbps | DSL |
| AT&T Fixed Wireless | $59.99/mo.** | 10–25 Mbps | Wireless |
AT&T is primarily a DSL internet provider—at least for now. 
AT&T intends to extend its fiber network to 30 million locations by 2025.
When compared to Frontier, AT&T's two DSL plans are relatively more expensive in terms of megabits per dollar. 
Internet speed test results of fiber connection are always faster than that of DSL.
However, if fiber isn't available in your area, AT&T's DSL is also a good option unless you have access to cable internet.
Frontier vs AT&T: Bundle Packages
In terms of bundle packages, both Frontier and AT&T offer bundle packages.
Customers can combine the internet with a phone, and TV.
Bundling can help you save a lot of money. 
In terms of Bundling options, AT&T wins due to its abundance of options and higher ratings.
This is not to say that Frontier is a slouch because it provides such services in rural areas.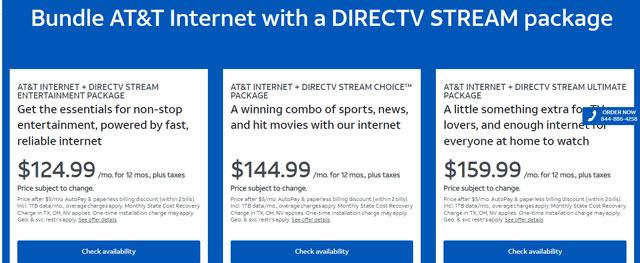 AT&T bundle plans with a Direct TV stream
DIRECTV STREAM combines the advantages of live TV and sports with the convenience of on-demand movies and shows. 
It includes 20 hours of Cloud DVR storage, as well as the ability to watch on a variety of devices. 
Instead of settling for a traditional cable and internet bundle, a DIRECTV STREAM and AT&T Internet bundle will bring you the best online moments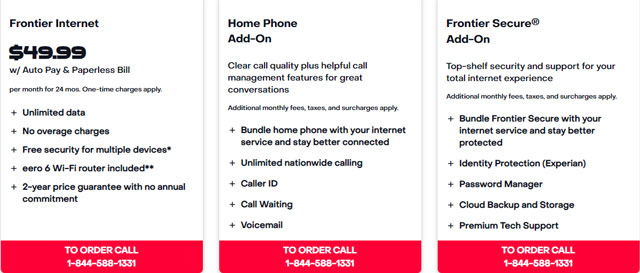 Frontier bundle packages
If you opt for Frontier, the Home phone bundle and DISH TV are what you should not ignore.
With Frontier internet plan, you can get clear call quality, stay better connected as well as unlimited nationwide calling.
Similar to DIRECTTV  STREAM of AT&T, DISH TV allows you to record up to 16 shows at once that you can watch anytime for the ultimate entertainment experience. 
| | | | |
| --- | --- | --- | --- |
|   | Internet speed | TV channels | Price |
| DIRECTV ENTERTAINMENT All-Included Package + AT&T Internet | Up to 100 Mbps | 160+ | $129.99/mo |
| DIRECTV CHOICE™ All-Included Package + AT&T Internet | Up to 100 Mbps | 185+ | $134.99/mo |
| Fiber 500 Mbps + DISH America's Top 120 | Up to 500 Mbps | 190 | $119.98/mo |
| Fiber 500 Mbps + DISH America's Top 120+ | Up to 500 Mbps | 190+ | $134.98/mo |
Frontier vs AT&T: Cost, Data, and Value for Money
Price is also an important criteria when comparing 2 ISPs.
Let's have a look the comparison under monthly cost, installation fees, data caps as well as additional fees.
Monthly cost
In terms of monthly costs, Frontier outperforms AT&T. 
Frontier communication bill pay is roughly twice as cheap as AT&T's. 
However, when it comes to higher-tiered Internet plans, AT&T has more reasonable offers, but the gap narrows.
In general, Frontier wins in terms of affordability.
Installation fees and other fees
AT&T does not offer self-installation, whereas Fronier internet does. 
This means you can purchase your equipment and install the internet and other utilities. 
Aside from the fact that AT&T does not provide self-installation options, they extend free installation deals to the majority, if not all, of new customers.
People who already own compatible equipment with the provider can avoid the company's rental charges. 
However, if you need to use AT&T equipment, you must pay monthly rental equipment fees. AT&T has the lowest equipment rental fees on the market.
 

Installation 

AT&T

Up to $99.00 for pro installation

$35.00 for self-installation

Frontier

$85.00 for DSL activation

Free pro installation*
Data Caps
Data caps are a big factor when it comes to choosing an ISP.
Frontire internet has no data caps on their Internet plans. 
This means that you won't need to worry about your internet suddenly being throttled just right after you exceed the data cap.
There is only one AT&T plan that includes unlimited data access. 
All of the plans below AT&T's gig plan have data limits. 
Fortunately, AT&T allows users to upgrade to unlimited internet-only plans separately.
 

Data Cap

AT&T

No cap for fiber

150 GB for DSL6

1 TB for 75 Mbps or slower

350 GB for fixed wireless plan

Frontier
Customer service
According to a customer satisfaction survey of highspeedinternet in 2021, both AT&T and Frontier got a 3.8 point of the overall rating.
AT&T ranked slightly higher in every category in 2020, for example, scoring 4.09 in speed satisfaction versus Frontier's 3.98. (based on the 2020 customer satisfaction survey). 
In 2021, however, AT&T's speed, reliability, and customer support satisfaction scores were lower, while Frontier did not rank at all.
Indeed, both need to improve customer service to avoid being asked how to block calls on Frontier communications or how to block calls on Frontier landline phone.
| | | | | | |
| --- | --- | --- | --- | --- | --- |
|   | Overall rating | Speed rating | Price | Reliability | Customer Service |
| AT&T | 3.8 | 3.8 | 3.5 | 3.7 | 3.8 |
| Frontier | 3.8 | 3.9 | 3.5 | 3.8 | 3.8 |
Additional Fees
Additional fees

AT&T

Frontier

One-Time Activation

 

$85 ($49 for FiberOptic in NY)

Equipment Rental

$10.00/mo.

None

Broadband Processing Fee (Upon Disconnection)

None

$9.99

Early Termination Fee

$15 for each remaining month

Up to $400

Others

$5.00 (late payment)

$85.00 activation fee*

$10.00 disconnect fee

$9.99 equipment fee for extra devices

$5.00/mo. no AutoPay fee

$2.99/mo. Paper bill fee

$6.99/mo. Internet infrastructure surcharge
Similar internet providers in the market
Asides from Frontier vs AT&T, you still have a lot of options for a suitable internet provider.
You can consider others such as Mediacom vs Centurylink, Xfinity, RCN,...
Xfinity
Comcast Xfinity is actually among the best ISPs in the US because it has covered almost all states in the US.
Xfinity is evaluated to give superfast internet speeds as well as reliable connection, and reasonable prices.
This is an excellent option for you.
RCN
Do you prefer to stay in urban areas? 
If you answered yes, RCN is the best ISP for you. 
Its primary service area is in metropolitan areas. 
The internet speeds are excellent, and the plans are reasonably priced.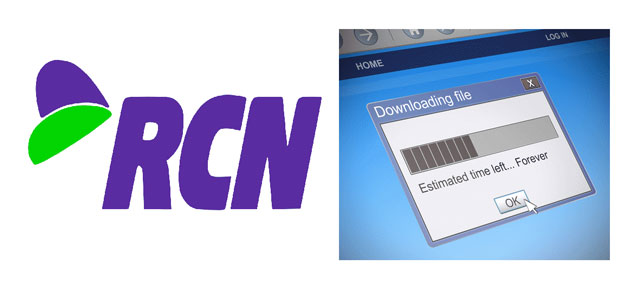 RCN internet provider
Verizon
If Verizon FiOS is available in your area, there are some attractive deals for you.
All internet plans deliver superior speeds at affordable prices.
You will be able to enjoy symmetrical internet speeds.
Furthermore, there are no contracts. Is it great?
Frequently Asked Questions (FAQs)
1. Is Frontier owned by Verizon?
Frontier Communications ILEC Holdings, Inc. was founded in 2009 by Verizon Communications.
The company, which was purchased by Frontier Communications on July 1, 2010, serves as a holding company for former Bell System, Contel, and GTE telephone operating companies that were previously owned by Verizon.
2. How to know AT&T fiber available in my area?
AT&T Fios internet service is available in 21 states and more including
Alabama

Arkansas

California

Florida

Georgia

Illinois

Indiana

Kansas

Kentucky

Louisiana

Michigan

Mississippi

Missouri

Nevada

North Carolina

Ohio

Oklahoma

South Carolina

Tennessee

Texas

Wisconsin
Besides, you can visit the website att.com to check whether the AT&T plan is available or not.
3. How to know Frontier fiber available in my area?
Fontier internet DSL service is available in 25 different states while Frontier fiber is expanded across the US including
Corona

Fontana

Long Beach

Los Angeles

Sacramento

San Bernardino

Kissimmee

Lakeland

Saint Petersburg

Sarasota

Tampa

Fort Wayne

Saint Paul

Durham

Rochester

Akron

Dayton

Toledo

Garland

Plano
To make sure, visit the website frontier.com to check if our address is suitable to choose Frontier internet.