Compare Mediacom vs CenturyLink: Which Internet Provider should I choose?
Sep 26, 2022 - Views: 714 Share
Mediacom vs CenturyLink is available in dozens of states as well as offers plenty of attractive speed packages.
We've made an in-depth comparison between them to show how the two ISPs go head to head with each other.
If you are still interested in this topic, don't miss out on this post.
Let's get started.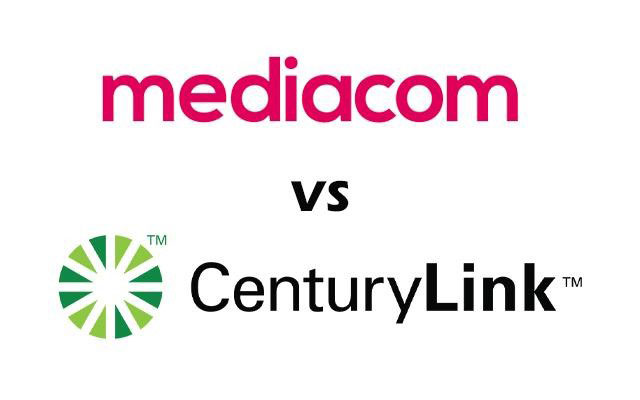 Mediacom vs CenturyLink
Mediacom vs CenturyLink: Overall comparison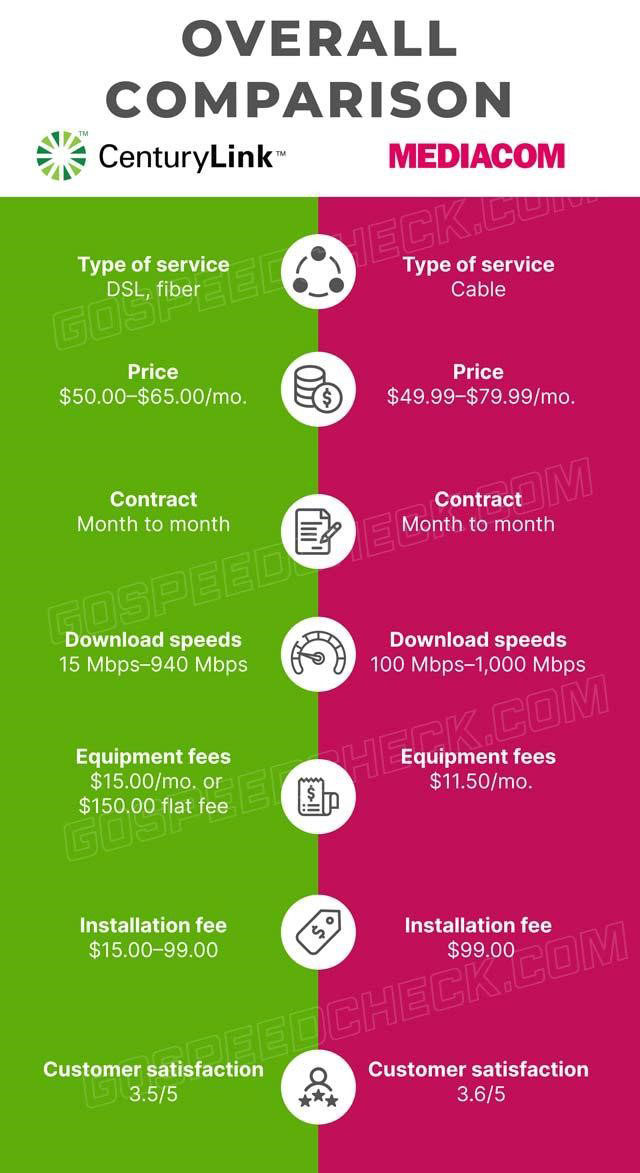 A comparison of Mediacom vs CenturyLink
Mediacom vs CenturyLink: Packages and pricing
Mediacom provides cable connection mainly that can reach a 1Gbps speed. 
Whilst, CenturyLink Internet plans are DSL and fiber connection. 
Here are CenturyLink and Mediacom packages prices.
Mediacom
| | | | | | | |
| --- | --- | --- | --- | --- | --- | --- |
| Provider | Plan | Starting Price | Connection | Download Speed | Data Cap | Contract |
| Mediacom | Internet 200 | $39.99 | Cable | 200Mbps | 2000GB | 12 months |
| Mediacom | Internet 100 | $29.99 | Cable | 100Mbps | 1000GB | 12 months |
| Mediacom | Internet 1 Gig | $59.99 | Cable | 1000Mbps | 6000GB | 12 months |
| Mediacom | Access Internet 60 | $19.99 | Cable | 60Mbps | 200GB | 12 months |
CenturyLink
| | | | | | | |
| --- | --- | --- | --- | --- | --- | --- |
| Provider | Plan | Starting Price | Connection | Download Speed | Data Cap | Contract |
| CenturyLink | Simply Unlimited Internet | $50 | Copper/DSL | up to 100Mbps | 1TB | None |
| CenturyLink | Fiber Gigabit | $65 | Fiber | up to 1000Mbps | Unlimited | None |
Mediacom vs CenturyLink: Who has the fastest Internet speed?
Which ISP has the fastest Internet speed: CenturyLink vs Mediacom?
This depends on several factors such as Internet speed, Internet types, and others.
Internet speeds
Similar to Frontier vs AT&T, CenturyLink has 2 main Internet packages: basic DSL and fiber optic Internet CenturyLink.
The basic DSL Internet plan delivers up to 100 Mbps at about $50/month which allows customers to do basic stream and browse the web.
For larger households with many heavy-bandwidth activities, you need to pick the CenturyLink fiber plan.
Mediacom offers a variety of Internet plans, making it simple to select one that meets your specific budget and needs. 
For example, the basic Access Internet 60 Mediacom package costs only $19.99 per month, has speeds up to 60Mbps, and can connect up to four devices at the same time.
In terms of the 100 Mbps plan, Mediacom goes ahead when providing it at $30 while you need to pay $50 for a CenturyLink plan.
Gig Internet that always gives fast Internet speed test results. 
However, a Gig plan over a cable network performs worse than that over a fiber connection.
Thus, if you want a cheaper price, you can pick the Mediacom plan.
If you want a reliable connection, let's take the CenturyLink plan although the price is not higher too much. 
| | | | | | | |
| --- | --- | --- | --- | --- | --- | --- |
| Provider | Plan | Starting Price | Connection | Download Speed | Data Cap | Contract |
| Mediacom | Internet 1 Gig | $59.99 | Cable | 1000Mbps | 6000GB | 12 months |
| CenturyLink | Fiber Gigabit | $65 | Fiber | up to 1000Mbps | Unlimited | None |
Internet types
CenturyLink has fiber and DSL Internet.
Mediacom has cable Internet.
Fiber can give a super fast and reliable connection but it is also the least common of the 3 Internet types.
DSL Internet plans don't have nearly the spectrum as cable plans.
DSL has a maximum speed of around 100 Mbps, and a recent survey showed that in some cities where 15 Mbps or less was the only option available to CenturyLink's DSL customers.
In comparison, Mediacom's cable network can comfortably reach speeds ranging from 100 to 1,000 Mbps and everything in between, so you won't have to choose between "kinda slow" and "needlessly fast," as you might with CenturyLink.
Internet availability
CenturyLink is available in nearly 50 states and fiber service is in certain cities throughout the US.
Birmingham

Mesa

Phoenix

Tucson

Aurora

Colorado Springs

Denver

Orlando

Tampa

Minneapolis

Saint Paul

Raleigh

Omaha

Albuquerque

Las Vegas

Portland

Salt Lake City

Seattle

Spokane

Tacoma
Media com Internet service is available in 22 different states.
Enter your ZIP code into the search bar at the top of the page to see if Mediacom offers service in your area.
Huntsville

Mobile

San Tan Valley

Milton

Panama City

Pensacola

Albany

Columbus

Valdosta

Cedar Rapids

Davenport

Des Moines

Dubuque

Iowa City

Waterloo

Duluth

Columbia

Jefferson City

Joplin

Springfield
Internet data caps
Both CenturyLink vs Mediacom Internet have data caps.
Mediacom has various data caps with cheaper plans. 
If you exceed their data cap, you will be charged $10 per 50 GB of data. 
On the other hand, CenturyLink has a 1TB data allowance on its plan.
If you find yourself exceeding your limit on a regular basis, you may want to consider switching plans. 
Examine your fees to see if they exceed the cost of the upgraded plan.
Buddle deals
CenturyLink provides a wider range of bundle packages to customers, including Internet, streaming TV, home phone, and cable TV deals.
Mediacom also provides 50 to 170-channel cable TV, home phone, and Internet packages.
You can also select TV packages, which group together curated programs for casual to avid TV viewers.
Mediacom vs CenturyLink: Fees and contracts
| | | |
| --- | --- | --- |
| Fees | CenturyLink | Mediacom |
| Modem rental | $15/mo. (or $150 flat fee) | $11.50/mo. |
| Installation | $15–$99 (free with gigabit fiber Internet) | $99.99 (waived if you order online) |
| Secure Wi-Fi service | $5/mo. (optional) | None |
| Declined payment | $10–$25 | None |
| Late fees | $5 or percentage of bill | Up to $10.00 |
| Cancellation fee | N/A | $120.00–$240.00 ( 1-3- year contracts only) |
| Taxes | Cost may vary | Cost may vary |
| Activation | None | $10.00 |
| Overage charge | None | $10.00/50 GB |
CenturyLink month to month contracts are convenient to switch providers without incurring penalties.
Mediacom also offers monthly contracts that do not require an annual commitment from the customer, so feel free to make a Mediacom change service.
Also, Mediacom modem rental fee is cheaper than CenturyLink, meanwhile CenturyLink installation fee is somehow more cost-saving than Mediacom installation.
So, consider additional fees of the 2 ISPs before choosing a suitable one.
Mediacom vs CenturyLink: Equipment
Rent a modem and router
If you don't have much patience with technology, renting a router/modem from your Internet provider will save you a lot of trouble.
Mediacom charges $13 per month, while CenturyLink charges $15.00. 
In the case of CenturyLink, you can simply pay $150.00 upfront to purchase the modem and router.
Buy a modem and router
You are also able to own a modem and router yourself.
This way allows you to have more control over security, advanced features, and prices.
Or it's just because you want to boost your Wifi signal as much as possible.
Mediacom vs CenturyLink: Customer service
CenturyLink and Mediacom both rank in the bottom percentile of our customer satisfaction survey in terms of overall satisfaction. 
In a list of 12 providers, Mediacom came in second-to-last, while CenturyLink came in last.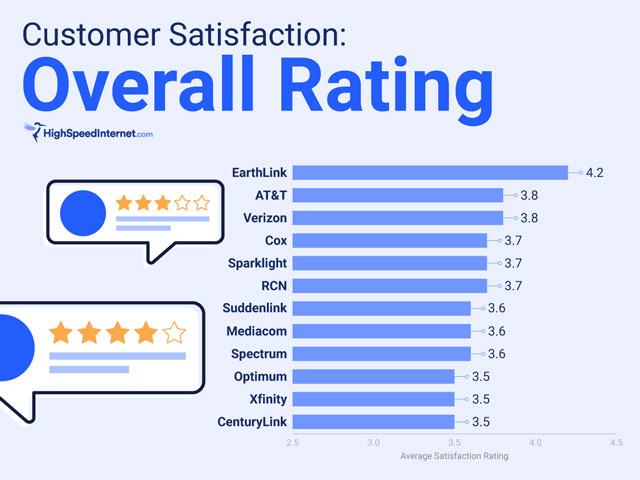 Overall rating of customer satisfaction
In terms of speed, 72% of Mediacom customers said in our survey that they usually or always get the promised speeds. 
This is average when compared to other providers, but it is an improvement over Mediacom's previous survey results. 
CenturyLink received low-speed ratings, most likely due to its extensive network of slow DSL service. 
Drilling down between Internet types, CenturyLink's fiber customers received a much higher speed score of 3.7, no doubt because CenturyLink's fiber network can deliver smooth, gigabit speeds. 
Mediacom vs CenturyLink: Pros and cons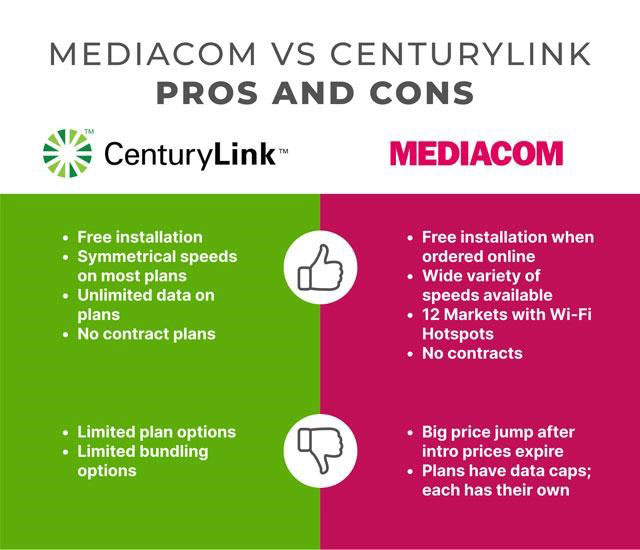 Pros & cons of Mediacom and CenturyLink
Similar Service Providers And Good Alternatives
If you are looking for CenturyLink and Mediacom similar companies, you have notable options such as AT&T vs Suddenlink, Cox or Verizon.
Cox 
Cox Internet is a telecommunications company that offers Internet-only plans as well as customizable bundles that allow you to mix and match TV and Internet packages. 
They cater to both residential and commercial clients, with the latter receiving additional options for integrating security systems and cloud services.
AT&T 
AT&T provides 3 Internet plans with speeds of 100Mbps, 300Mbps, and 1Gbps. 
Their most affordable plan begins at around $50 for the first 12 months of subscription. 
However, due to popular demand, AT&T now offers a 5Mbps Internet speed plan for those on a tight budget.
This ISP is a good option for you if you want to save money.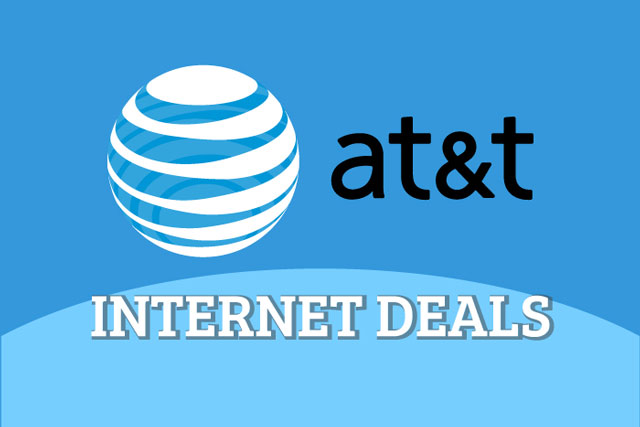 AT&T Internet plan
Verizon FiOS
Verizon Fios is well-known for providing residential and business clients with a dependable, stable, and high-speed Internet connection. 
It's a top service provider for professional gamers and streamers.
Currently, Verizon fiber has limited coverage so you need to check its availability before installing it.
Frequently Asked Questions (FAQs)
1. How long does CenturyLink installation take?
Installation can take up to six hours, depending on how much work is required, so you may need to take time off work.
2. Does Mediacom charge for modem?
Mediacom is a midsize cable Internet provider, and customers can rent a cable modem from the company for $13 per month.
You can avoid the fee by using your own modem, which must be at least a DOCSIS 3.0 model (and Mediacom recommends going with a newer DOCSIS 3.1 model).
3. How do I cancel my CenturyLink subscription without fees?
Normally, CenturyLink cancellation fee is $200 for a 24 month contract/
If you cannot cancel your account or remove services online, you must call or chat with CenturyLink directly.
Monday through Friday, 8 a.m. to 6 p.m., at 800-244-1111. You can also use the help portal to chat online.