Different kinds of websites, of course, have their very own uses. Do you know which type of website is suitable for which usage purpose? The answers are all right below here in this writing "11 Different types of websites and their uses"! Let's check out now!
As of today, there is an enormous number of websites online. Perhaps, that is even a countless number. It's thought that as many as nearly 400 new websites are created each minute. That means over 6 new websites every single second. What an amazing number!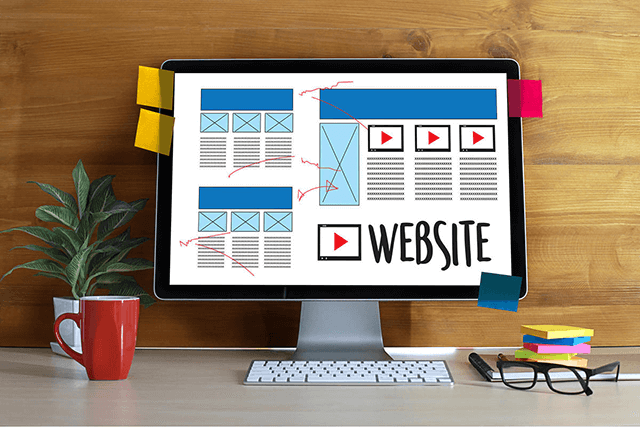 Different kinds of websites, of course, have their very own uses
Well, these websites, of course, belong to different categories. As there are so many, many different websites out there, it does make sense to sort them into many different types, right? In fact, when it comes to types of websites, we could make a list that goes on forever and forever. But in this article, we are going to narrow them down to the 11 most common instead. Here are more than 11 different types of websites and their uses. Let's find out!
Business or corporate website
A business or a corporate website is any kind of website that represents a specific business. In other words, this type of website is an online presence of a business in today's digitally-minded world.
By now, every business out there, including small local ones should have a website. Because a website is nothing but one the easiest and most effective ways to show what your business is about as well as find those all-important new customers.
Today, every prospect or potential customer of your business will assume that if they search on Google looking for more information, they will find a website. If they won't, it makes the business look much less professional, and credible.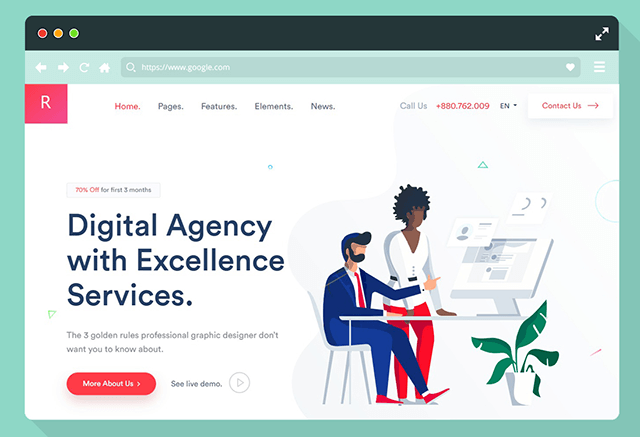 Different types of websites and their uses: An example of a business and corporate website
E-commerce websites (that's mentioned right below here) are also business websites but they aim to sell products or services directly.
In fact, there are many business websites not selling anything directly but rather encourage their visitors to get in contact or come to a physical store if they are interested in buying something. So, it's necessary to have an "About" page, contact information as well as details of how people can find you.
See also: Website test: Benefits of performance testing for your business
E-commerce websites
The next one in this list of 11 different types of websites and their uses is E-commerce websites. We can think of an e-commerce website as an online store or an online shopping destination where users can shop and make purchases for products or services from a business. 
Any website that contains a shopping cart together with ways to make payment falls into this category. Actually, there are also various different types of eCommerce websites and we will explore all of them in another article.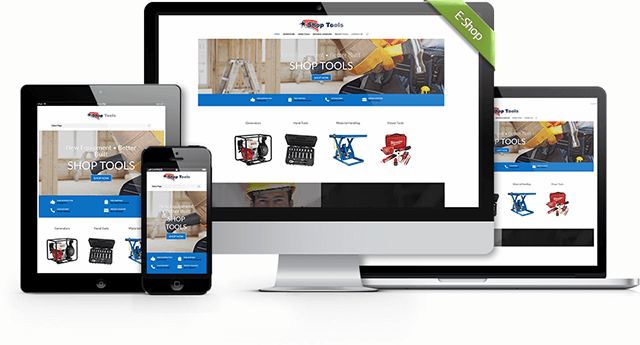 An e-commerce website
This type of website, in fact, can either function as a standalone website or be integrated into a blog or a business/corporate website. But not to be confused with a business/corporate website. Though a purely business website without e-commerce functionality can indirectly encourage users to purchase something, it cannot accept any payments.
These days, there are many cost-effective or even free platforms and software to set up an e-commerce website. WordPress, WooCommerce, Wix, or Squarespace are a few examples of these. 
Blogs
Different from e-commerce and business websites, a blog can just offer reading material, featuring regularly updated articles, and even photos and videos as well. However, this type of website can also be used to sell products such as a book written by the author of the blog or advertising space, for example.
The blog firstly started as a trend for individuals, then it grew when businesses have made use of this type of website to update customers and offer valuable, informative content. These days, it's more and more common for businesses and brands to have their own blogs.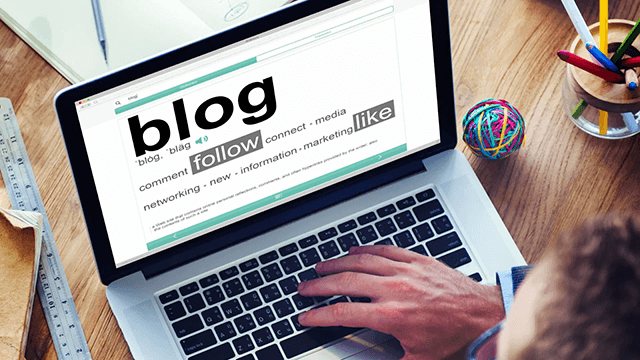 A blog can just offer reading material, featuring regularly updated articles, and even photos and videos as well
Adding expert content will help improve the overall credibility of a company, a brand, or an individual. Plus, blogs are also a good source of material for email campaigns and social media posts. That's how this one and other different types of websites and their uses benefit your business.
However, it's essential to keep the blog content fresh and regularly updated. You might not need to launch a blog if you find it cumbersome or keep it never updated.
Portfolio websites
What type of website to use if you want to showcase your abilities, your skills, and your previous works? It's nothing but portfolio websites. Just like a physical portfolio, this type of website is used to display and promote examples of past works that you have done.
Primarily utilized by those in the creative industry such as artists, writers, photographers, …, and freelancers as well, a portfolio site can be used as a CV, demonstrating your abilities to impress your customers, clients, or your future employers.
Brochure websites
When it comes to categorizing different types of websites and their uses by functionality, brochure websites are the simplest ones. They are considered the simplified form of business websites. You can also think of brochure websites like digital business cards.
As its name suggests, brochure websites really act as an online brochure, providing an overview of what your business is, as well as ways to get in touch with you. This type of website is mainly used by small businesses that just want a simple online presence.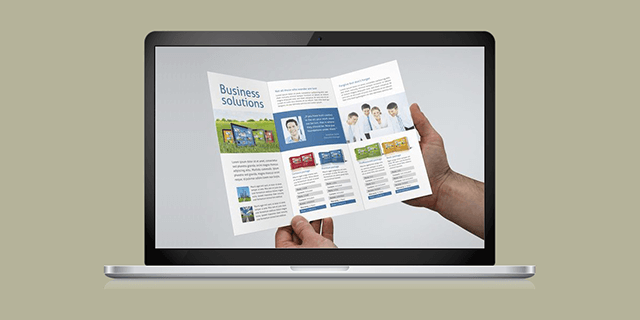 As its name suggests, brochure websites really act as an online brochure
Typically, brochure websites just have a few pages that might include a homepage to show contact information, an "About Us" page to introduce basic information and descriptions about the company, and maybe a few photos of the company's projects, … Also, the content on brochure websites is generally pretty 'static' or rarely updated.
Personal websites
Does the phrase 'personal brand' sound familiar to you? Well, we are pretty sure that you have heard it somewhere. And you know, having a personal website can form an essential part of it.
If you want to feature yourself or a person as a brand, then this type of website is probably what you need. Its defining characteristic is the title, which is the person the website is about.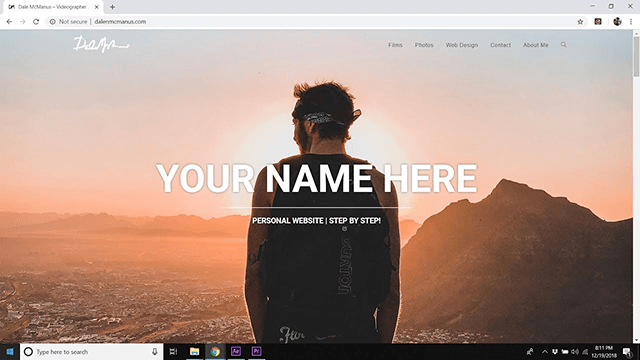 Different types of websites and their uses: This is a personal website
A personal website is, as its name suggests, personal. That means it's a place where people can put their own thoughts, their own point of view out into the world.
Many people choose to share their feelings, thoughts, insights, photos, and art with friends and strangers who might be interested in it. That sounds quite similar to a blog, right? Yep, that's the reason why you can choose to just create and publish blog posts, or you can expand the site and sell goods, or create a community, and more.
See also: Website test: Important things to check before launching a new website?
Non-profit websites
In the same way that brands and businesses need websites to be their presence on the internet, non-profit organizations do too. These types of websites aim to provide visitors with both information on a charity and ways for people to donate.
Generally, non-profit websites are fairly simple, outlining what the nonprofit is about as well as showing visitors how they can get involved, support, and/or donate in some other way.
A nonprofit website is one of the fastest and easiest ways for many potential donors to give donations. It will also be the first place a lot of people looking to learn more about a non-profit and determine if they want to support it.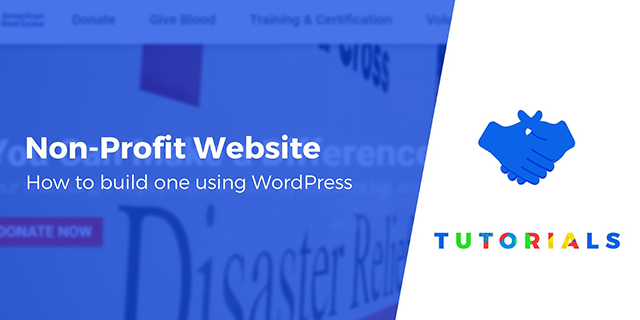 Non-profit websites
Educational websites
The term 'educational' covers a quite broad range of websites. Generally speaking, educational websites are ones that use any combination of articles, games, images, and videos to educate their audience.
The websites of educational institutions and those providing online courses fall into this category. The primary goal of these websites is to provide educational materials to their visitors or to provide them with information on an educational institution and its courses.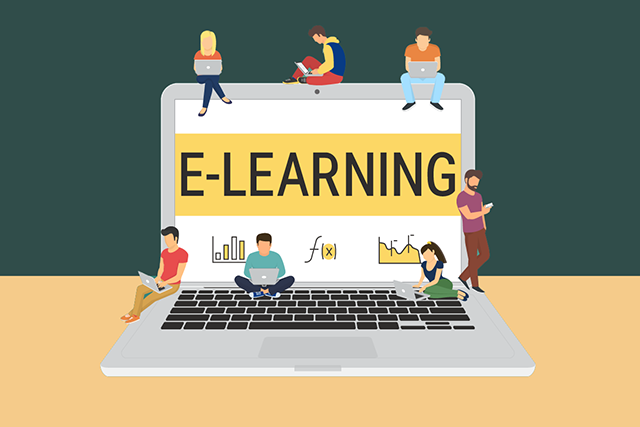 Educational websites
Like some other different types of websites and their uses, some educational websites have advertisements showing up on the site as news and entertainment websites do. Some others offer subscription models or educational products and services for purchase. Also, some are serving as the online presence for educational institutions.
News and Magazine websites
Unlike blogs, news, or/and magazine websites are focused on journalism, news stories, or other reporting rather than personal interests.
While the major purpose of news websites is to keep the readers up to date on current affairs, online magazines focus more on entertainment. Well, entertainment sites like ELLE and news sites like CNN both fall into this category.
Generally, these types of websites make money through either advertisements showing up on the website, or subscription models, or even some combination of the two. Of course, the content on news and magazine websites is dynamic or regularly updated.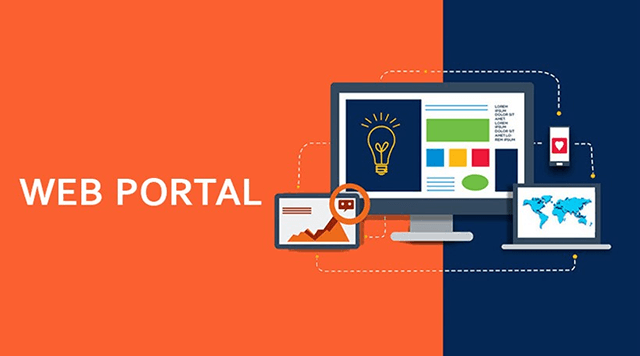 Web portal
Web portals
Another one in this list of 11 different types of websites and their uses is Web portals.
Web portals are often websites intended for internal purposes at schools, institutions, or big businesses.
It's like a centralized place to share all relevant news, information, training, and updates to the people who need to see them. It's also a place for students and employees to access their e-mails and files.
These websites often involve a specific login process to access. In general, web portals will require more complicated programming and design than the majority of websites mentioned in this article.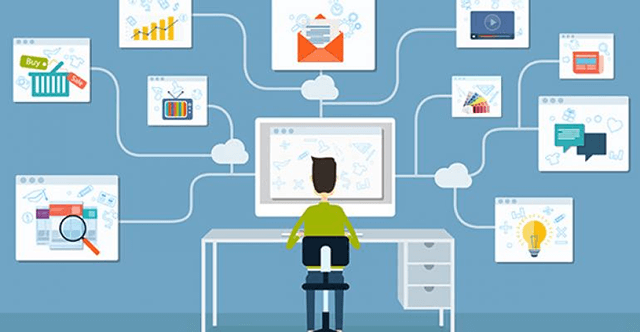 Different kinds of websites, of course, have their very own uses
Different types of websites and their uses: Forums
Forum types of websites are great places for people to communicate and share thoughts with individuals with similar hobbies and interests through the internet. Users need to register to start and contribute to discussions and even to view more topics.
You could create a forum to discuss anything, including tips, hobbies, academic topics, and more. Many businesses also make use of forums as a way to provide their customers with self-serve support. That way, users do not need to contact customer service as often.
Others
Along with 11 different types of websites and their uses listed above, of course, there are still so many other ones that we don't list out here. Social media websites, photo sharing websites, writers/authors' websites, crowdfunding websites, and so on are a few more examples of that.
Conclusion
Recently, we explored more than 10 different types of websites and their uses. As you can see, there are always so many types of websites for us to use. Each one of them, of course, has different uses and is appropriate for specific purposes. Well, that's all for today's article. Hope that you have found all the things and information listed above interesting and useful.
Sources:
websitesetup.org/types-of-websites-examples/
expertmarket.co.uk/web-design/different-types-of-websites
hostgator.com/blog/popular-types-websites-create
websitebuilderexpert.com/designing-websites/types-of-websites/