Beating out Facebook, TikTok was the most-downloaded app in 2020
Jan 07, 2021 - Views: 688 Share
According to the download charts for 2020 by App Annie, the short-video-making platform TikTok surpassed Facebook to officially become the most-downloaded app in 2020. 
App Annie, a well-known Mobile app analytics firm, has released its annual report on the mobile app trends of 2020. The report revealed the list of top 10 most downloaded apps globally in 2020 (from January to November), in which TikTok, Facebook, and WhatsApp Messenger was No.1, No.2, and No.3 most downloaded apps, respectively.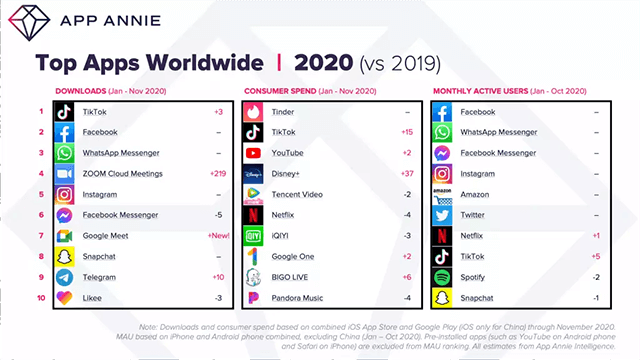 App Annie's Top App Worldwide reports for 2020
According to App Annie's report, TikTok has jumped the list by three, overtaking Facebook to officially become the No.1 most-downloaded app of 2020 when factoring both Android and iOS downloads. TikTok is also expected to reach 1 billion monthly active users in 2021.
While TikTok surpassed Facebook for downloads, apps owned by Facebook have still dominated the top 5 ranks in this list. Facebook itself had the second spot followed by WhatsApp in the third, while Instagram in the fifth position. 
The fourth position in this list belongs to the video conferencing app Zoom Cloud Meetings. It jumped up to 219 spots to become 2020's No.4 most-downloaded app. 
Along with the download charts, App Annie's annual report for 2020 also included the list of top 10 apps of the year in terms of "Consumer Spend" and "Monthly Active User." Accordingly, though Facebook was not 2020's most-downloaded app, it had the highest monthly active users globally. 
Besides, streaming video services also saw an unsurprising big jump in consumer spend last year as people looked for various entertainment options while staying home. Youtube and especially Disney+ all jumped on this list, while Netflix downed 4 spots. Generally speaking, streaming services dominated the list of App Annie's Consumer Spend chart for 2020. Did you spend a lot of time streaming video last year? Which was your most favorite streaming service? Let us know in the comment section below here. 
(*Attention! If you are a big fan of streaming, don't forget to check out here to get your speed test results and see if your streaming video internet speed is good or bad! It's good to check your internet speed, especially the download speeds, to ensure the best streaming experience.)
Back to App Annie's report, it also suggests that the ongoing Covid-19 pandemic situation has increased mobile usage by two or three years. As people spent a lot of time on mobile devices in 2020, mobile usage was one of the biggest areas of growth last year.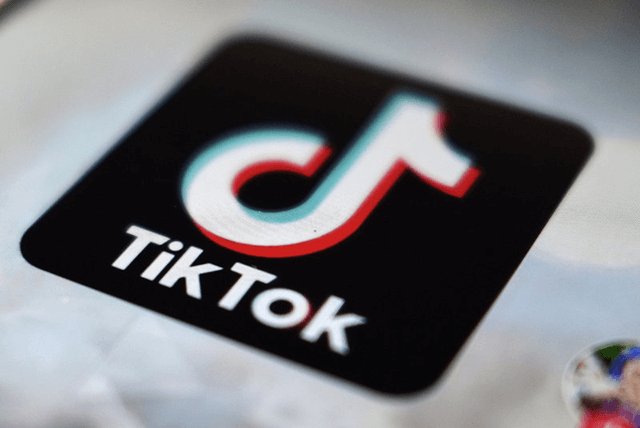 TikTok/Douyin was launched in 2016
Where has Tiktok been downloaded the most in 2020?
TikTok, known as Douyin in its home market, was launched in China in 2016. This short-video-making platform was pushed out worldwide as TikTok the following year.
In August 2020, TikTok revealed its detailed user number for the very first time, reporting approximately 700 million monthly active users in July 2020 with more than 2 billion global downloads by August 2020.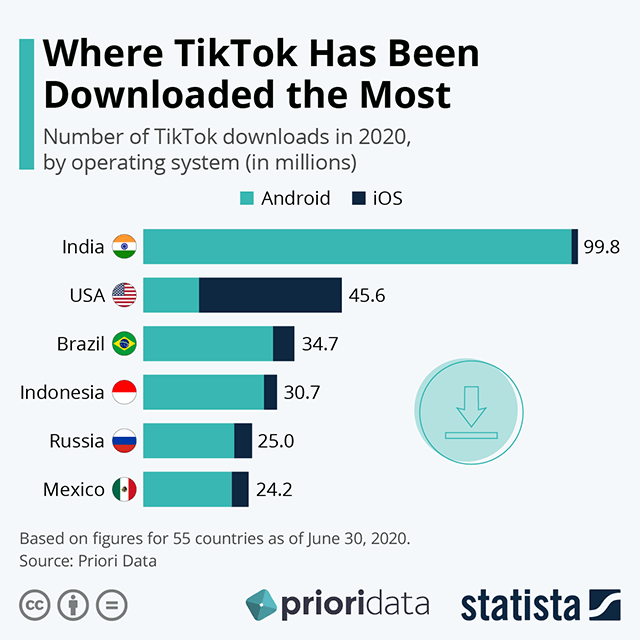 TikTok downloads in 2020, by country
Out of the countries where TikTok was downloaded the most last year, India had the No.1 position with 99.8 million downloads by June 30, 2020, according to Statista. However, a majority of TikTok downloads in India were recorded on the Android system.
Sources: 
newsweek.com/tiktok-most-downloaded-app-2020-beating-facebook-1553611
financialexpress.com/industry/technology/tiktok-was-the-most-downloaded-app-of-2020/2147384/
statista.com/chart/16939/tiktok-app-downloads/