Apple is about to fix the iOS issue that blocks any searches containing the word "Asian" for almost a year, according to Mashable's new report. 
The issue shows up when you're using an iOS device with the "Limit Adult Websites" content restriction turned on.
Not just adult websites; but also almost any searches relating to Asian culture were clocked such as "Asian market," "Asian culture," and even "stop Asian hate."
Though users could get access to the search results page by tapping "Allow Website", this step is unnecessary for content that is not in any way "adult."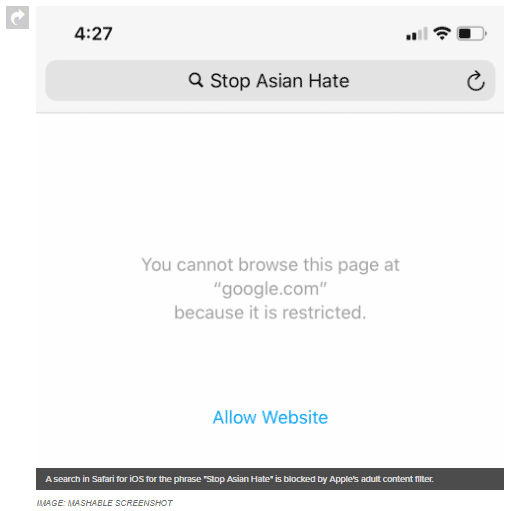 The above searches were blocked on iOS devices running current versions of iPadOS 14.4.1 and macOS 11.2.3 with the content restrictions turned on. 
Although the searches are blocked on both Safari and Chrome on iOS devices, Chrome still performs them on macOS. 
The good news is running the iOS 14.5 beta can help resolve the issue, according to reports from Mashable.
Still, it took this long to fix: The issue has been reported since February 2020. Undoubtedly, it's extremely difficult to create a filter for adult content, but completely blocking a word used to describe 60% of the world's population is clearly incorrect.
It's not clear how long the adult content filter issue has been around, but it became widely known in February. Several major tech papers have reported the issue of adult content filtering after a tweet from developer Steven Shen brought it to light.
Currently, the filter in non-beta software works very strangely. While "Asian restaurants" is blocked on macOS only, "Asian food" is blocked on both macOS and iOS. 
In the context of accelerating anti-Asian sentiment and violence, It's great to see the issue be solved in the next versions of iOS, but this shouldn't have taken this long.
Read also: Apple's Phone Sales Surpasses Samsung for the first Time Since 2016