How do I Test My Wifi Connection?
Sep 29, 2021 - Views: 461 - Share this post if you find it interesting!
I have been experiencing Internet drop and lag for no reason, so I decided to test my WiFi connection to diagnose the problem and just to see if I have good download and upload speeds. If you encounter the same problem, follow the guide to check connection quality, and learn some ways to troubleshoot the most common problems as well.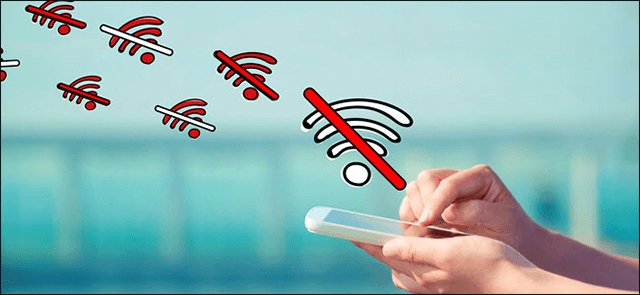 Test my wifi connection within a few seconds
Test my wifi connection
The first thing I tried was unplugging my cable, waiting for a minute, and then plugged it back in. Then, I did the same exact thing with the router.
There are many cool online tools that help test my connection. I chose Gospeedcheck.com as recommended by some friends. This is a reliable site that floored me with its simple interface and impressed me with high accuracy.
Apart from providing me the transfer – both upload and download speeds, it also allows me to compare and share the results via social media.
It doesn't matter if you have little coding knowledge. All you need to do is:
First, access the website Gospeedcheck.com.

Second, Click on the "Go" button and wait for the results to appear.
Gospeedcheck.com allows you to test wifi speed online on any device, at any time. Whatever ways: test internet speed on laptop or test Internet speed on phone, you can easily get the results by following the same steps above.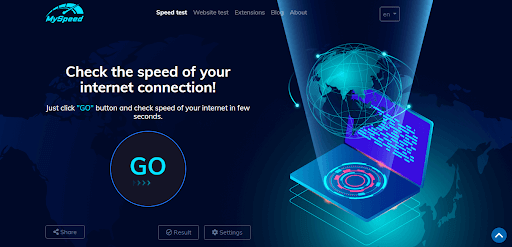 Test my wifi connection on Gospeedcheck.com
Online Activities and Speed Required
After I test my WiFi connection, the next step should be analyzing if I have a great connection or not.
Internet service providers often advertise their Internet packages with speeds of up to 25GB or unlimited data per month.
So, when I test my connection, the download speed should be as close to what is advertised by my ISP. Otherwise, I am not really getting the most of my money.
Below are some minimum requirements of speed for different types of tasks:
1 Mbps: For browsing the Internet, sending emails, texting, streaming online music, and SD-quality videos.
2 Mbps: For streaming lossless music and SD-quality videos.
5 Mbps: For streaming HD-quality videos (720p), video calls. These speeds are fine for online gaming, but not recommended for games with super high-quality graphics.
10 Mbps: Great for HD videos (1080p) and online gaming.
25 Mbps: Ideal for watching 4K or Ultra HD video online, and for playing games that have high-quality graphics.
Knowing these will allow you to determine if your current connection is just fine or requires improvement. To ensure a smooth online experience, you should test wifi speed online first.
Common Mistakes That Lead to Inaccurate Results
These are common mistakes that I made when I test my wifi connection, which leads to inaccurate results. So, I've rounded up them here to helo you know and avoid them as much as possible.
1. Run one test
The Wi-fi speed is often unstable, so one test just tells a part of the whole story. Hence, running the speed test multiple times and compare the results if you want to have a more accurate view of the actual speed.
2. Run speed test during peak hours
Your connection is often slower than usual during peak time as many users connect to the same network. If you want to get the most accurate results, run the test at both peak and low hours.
3. Choose the wrong test location
Choosing an improper testing location also one of the most common mistakes while running a speed test. The results will vary among different test positions.
When I test my wifi connection, I often choose a well-ventilated and closest place to the router for the best results.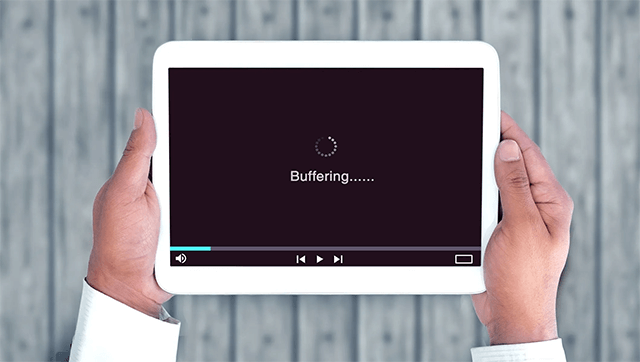 How do I test my wifi connection?
4. Run the test when another device is using the Internet
The more devices, the slower your Internet is as the bandwidth will be divided to handle them. So, make sure to disconnect all irrelevant connections before testing speed.
5. Do not restart the device
The speed test can be run on different devices, but whatever device used, remember to restart it before testing. The devices that are not restarted for a long time can have applications running in the background, causing the network access speed to decrease.
Ways to increase my connection
With the COVID-19 hitting all corners of the world, the demand for Internet use has increased dramatically. Thus, slow Internet or Internet outages are expected.
Below are some tips to help optimize the Internet connection at home:
Switch to a different WiFi channel: One of the best ways to speed up your connection is to switch to a WiFi channel that's less crowded.

Use the 5 GHz band instead of the 2.4 GHz band: Switching over to the 5 GHz band, which provides less coverage but faster speeds than the 2.4 GHz band. Moreover, it also provides more WiFi channels to choose from.
Set up a strong WiFi password: Well, your slow Internet can be caused by others from outside your household who use your WiFi and steal any available bandwidth. There are many ways to check if someone is on your wifi, but it's best to keep your WiFi network protected and set up a strong username and password.
Upgrade your WiFi network: You can either add a WiFi booster to your network or upgrade to a mesh network to increase your WiFi speed. I recommend choosing one or two of the above options and test wifi speed online again to see if there is a difference.
Conclusion
Hopefully, after reading this article about how I test my wifi connection, you know how to manually check the Internet speed by yourself. If you have any questions or experiences to share, drop a comment below. Good luck!